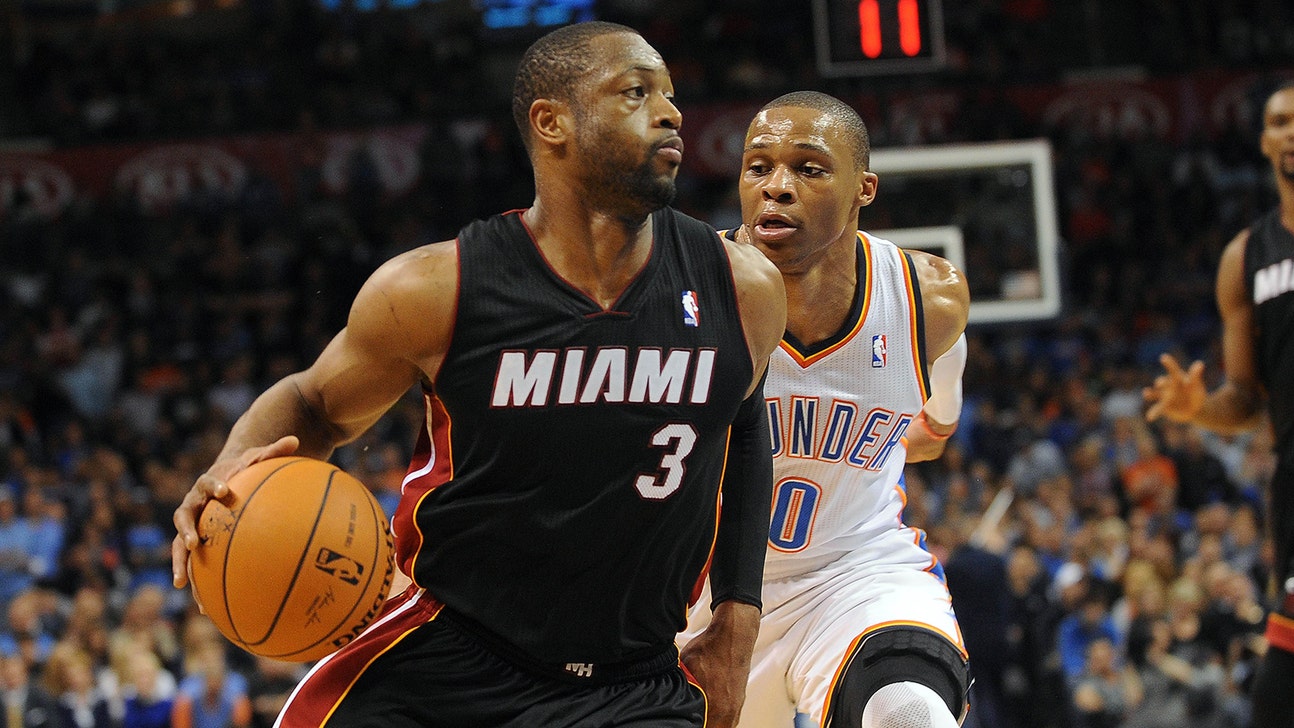 No reason to panic for the Thunder
Updated
Mar. 4, 2020 6:04 p.m. ET

OKLAHOMA CITY - The Thunder have lost two games in a row both at home and have played their worst stretch of defense this season.
Their intensity ranks somewhere below a golf clap after a two-putt par.
And their hold on the top spot in the NBA doesn't seem very strong, if in fact they are ever were that top team.
But there is some really good news:  The Thunder are one day and one practice closer to getting Russell Westbrook back to where he once was, and that's way more important to the long-term success of the team.
So, on a day when we found out Kendrick Perkins won't be playing for the next six weeks because of a groin injury, combined with the Thunder's abstention from trade deadline day, it seems like the perfect time to panic.
Don't.
Take some relief in knowing Westbrook is improving, and it might be slowly, but he is improving. And while it's certainly hard and frustrating waiting on Westbrook, realize we've seen all this before.
"What do you want me to do, score 30 every night?," Westbrook countered. It's going to be there."
Thirty points on a nightly basis would be welcomed, but it shouldn't be expected. Westbrook says he's healthy, and he's played two games since missing 27 in a row, but he hasn't been the same as the Russell Westbrook who finished the calendar year with a triple-double against the New York Knicks, who was playing the best basketball of his career and who was the player likely to lead the Thunder back to the Finals.
But empirical evidence says things will get better.
After missing all but two games of the playoffs last season, Westbrook missed the first two games of this season. When he returned, he went 5-of-16. He scored 11 points from the free throw line and finished with 21 in a home win against Phoenix.
In his next three games, Westbrook combined to go 19-of-55 with 14 turnovers and 18 assists. Not exactly the same efficiency he had after warming up a bit. In the next three games, Westbrook went 7-of-18, 13-of-20 and then 10-of-20.
His too-fast approach slowed down. Just like it will again.
"I can go down the list of things," Westbrook said when asked what he wants to improve on, before naming "wind" and "agility." For now, Westbrook is on a minutes limit – about 25 per game. That wasn't the case earlier this year, as he played 33 minutes in his first game of the season.This new restriction may be having an effect on his approach, knowing he has to do something in the limited time he's playing.
"There are adjustments to make," forward Nick Collison said. 'It's going to take some time. Russell is an incredible player. We all know that. It's more about him being comfortable and getting back into rhythm."
What it's not about is suddenly becoming reactionary and thinking the Thunder need to go out and acquire another piece. This team was good enough to win, and it did at a prolific pace, without Westbrook, so it can certainly win with him. Even a limited Westbrook takes pressure of Durant, back-up guard Reggie Jackson and others.
Poor defense, especially in the last two games like the Thunder have displayed, is not a product of Westbrook returning and being less than full strength, it's the product of playing two of the top teams in the NBA.
"When you look at the last three games, we've been really bad defensively," Collison said. "I don't think we can point to Russell coming back as an excuse to why we've been bad defensively."
But an effective Westbrook makes up for a lot of defensive inefficiency. Not only will Westbrook be playing more minutes, but he'll be able to offset any defensive problems with his offensive game.
"Every team has injuries, and one thing about our team is that we're not going to use it as an excuse," coach Scott Brooks said. "We're going to adjust. We have ample practice times to work on things. Today was a step in the right direction."
Brooks was talking about losing Perkins, likely for the rest of the regular season, but he may of well have been talking about Westbrook.
There's ample time. Today was another step.
Relax.
Follow Andrew Gilman on Twitter: @andrewgilmanOK


---