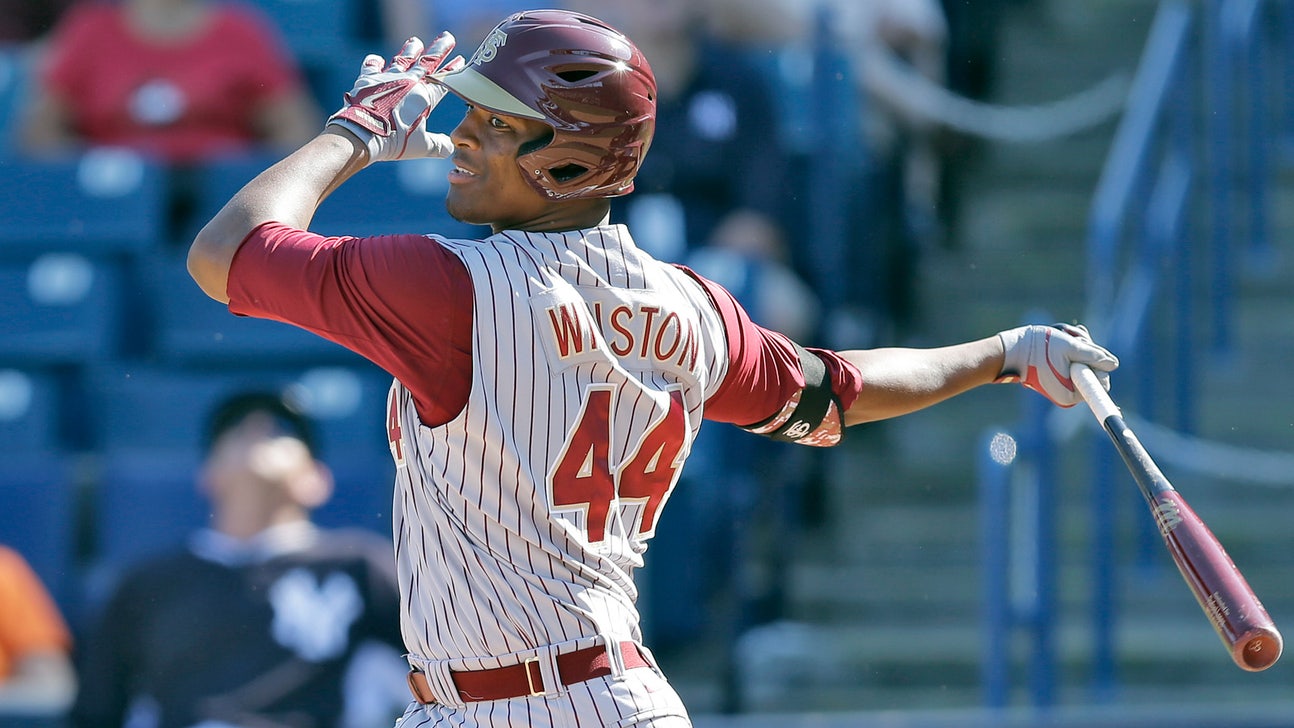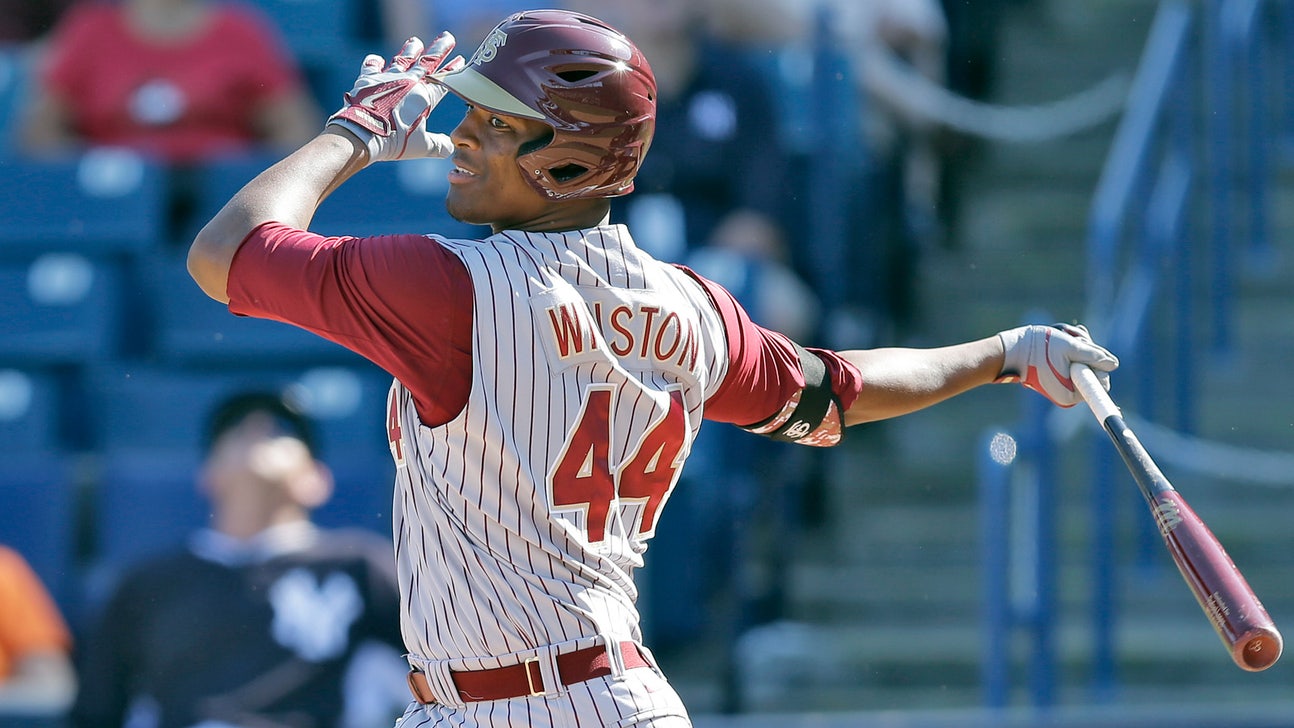 No loves lost for FSU's Jameis Winston as QB pursues baseball dreams
Published
Feb. 25, 2014 5:43 p.m. ET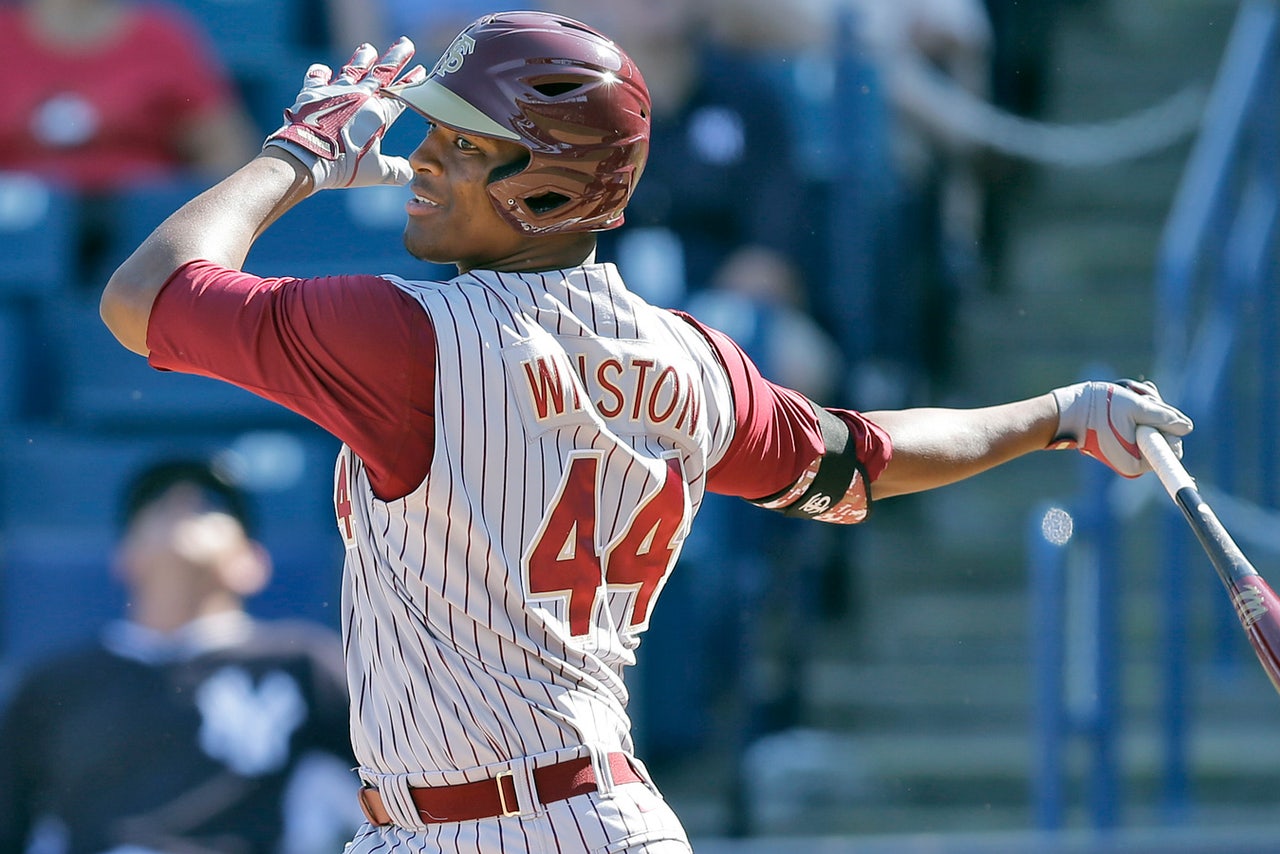 TAMPA, Fla. — Jameis Winston parked himself in a corner of Florida State's dugout, the arms and shouts directed his way at Steinbrenner Field proof of his appeal no matter the passion he pursues.
His outing in an 8-3 exhibition loss to the New York Yankees — he went 0 for 2 and played left field after entering the game in the bottom of the fifth inning — was unremarkable, but his presence was a spectacle. Here was the reigning Heisman Trophy-winning quarterback Tuesday, a "starstruck" star himself, channeling the spirit of former two-sport phenoms like Deion Sanders and Bo Jackson while living one dream after becoming famous for another.
Winston signed bats, hats and baseballs after the final out was recorded. Frank Sinatra's "New York, New York" rang over the loudspeakers. A male security officer barked gruff orders — "You guys back up!" — before Winston disappeared into a tunnel to enjoy a short break from his always public, forever prominent life.
"I grew up playing both," Winston said after the game of his interest in baseball and football. "That's important to me, and I always had the mentality you can do anything you put your mind to.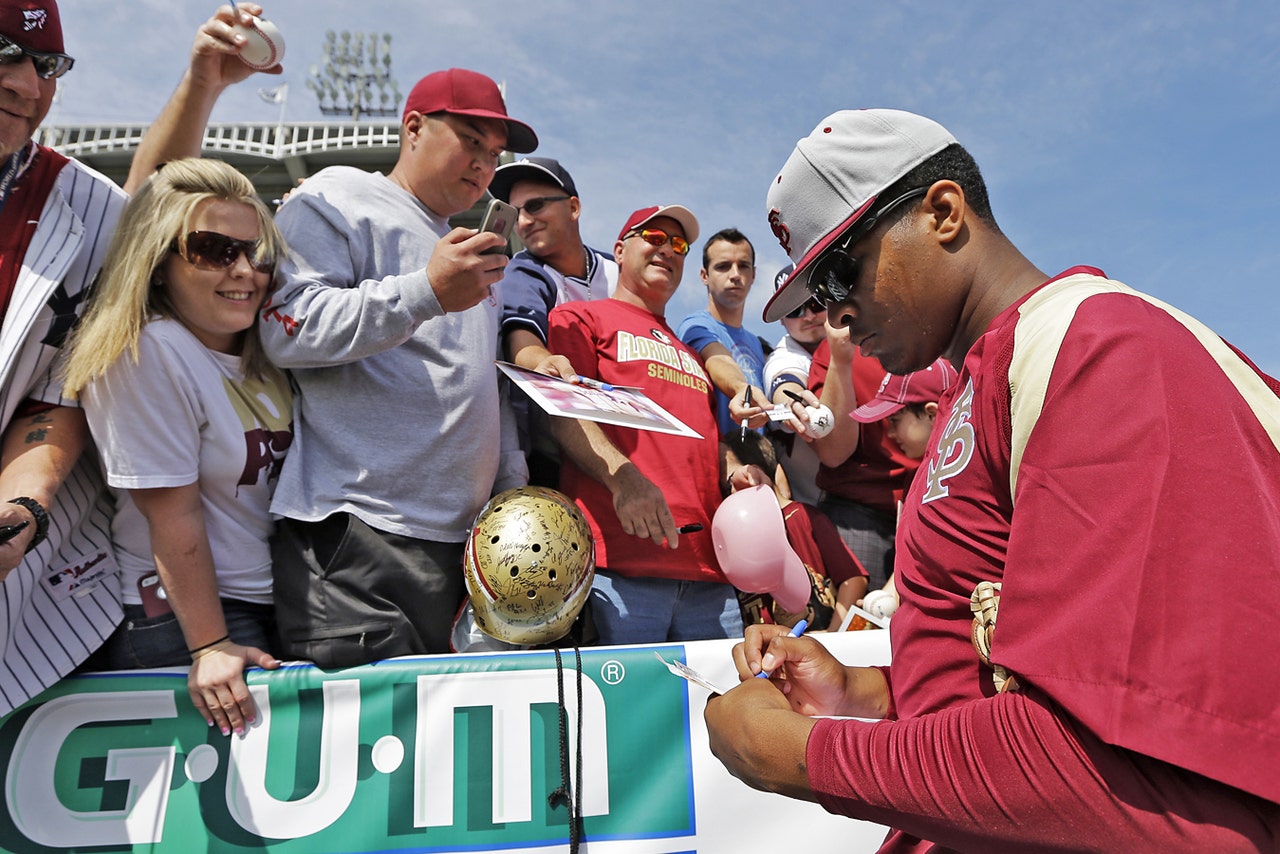 Jameis Winston signes autographs for a slew of fans before Tuesday's exhibition game against the Yankees.
"So I just kept that dream going, and I'm going to keep doing it for the rest of my life."
There are few visible dual-sport athletes like Winston for a reason. The grind at the major-college level — let alone in the NFL and Major League Baseball — is rough. There's such a demand to specialize, to become the next great thing on a lone stage as early as elementary school, that the race toward fame requires sacrifice of other loves along the way.
This is a personal choice, of course, but only to a point.
We're a society where National Signing Day has become a microwave holiday. We encourage a culture in which elite youth camps prosper and private quarterback tutors groom the next Andrew Luck, Tom Brady and Peyton Manning. We're desensitized to ridiculous headlines of middle school players offered scholarships to play on Saturdays, because we're obsessed with the now, now, now.
We like our athletes to be well-rounded — but only until they're good enough to become great if they pursue a single path.
This leaves little room for exceptions. Becoming one requires a rare mix of mental and physical gifts, and Winston's ability to accept this life says more about him than Florida State's willingness to let him try.
"The times have changed," Winston said. "I know it was easier back then (for Jackson and Sanders) to play both sports. But, I mean, I haven't changed. Athletes have changed. A lot of things have changed, but my mentality is still the same."
Does it matter if Winston becomes the next Jackson or Sanders, another former Florida State baseball star who produced a Hall of Fame NFL career? Not at all.
Winston can draw inspiration from both, but true greatness will be found if he makes this experience his own. He must create his own footprints.
From the way Winston carries himself — "freak of nature" and "rare breed" are words used by teammates and coaches to describe him — he's on his way. His patience and intelligence are his greatest traits.
Winston is a throwback, but his chase is a modern original that may not be seen again for a long time. That alone is worth celebrating. That alone is reason to appreciate his pursuit.
"I think Jameis, ultimately, in his heart, is a tremendous competitor," Florida State football coach Jimbo Fisher said. "He doesn't consider himself a football player, a (baseball) player. He considers himself a competitor and an athlete."
"Look at Jameis in practice when he's taking the offense down the field inside two minutes with no timeouts left," Florida State baseball coach Mike Martin said. "It's just fun to watch athletes like that, even though it's practice, even though it doesn't mean a thing. ... To him, it's about getting it done."
Winston is brave enough to remain sharp no matter his spotlight — on a diamond or a football field — and his hunger on both is revealing to what makes him tick. There's passion, yes, but also an insecurity to excel in all areas of his life.
Still, there are pitfalls. And that's why players like Winston are rare.
"Being with Jameis, he hardly ever gets to go home and be with his family," said Florida State outfielder DJ Stewart, drafted by the Yankees in the 28th round in 2012. "He's here all season for football, and he goes right into baseball. It's tough on someone like that."
Winston has time to manage his life's obstacles, and they'll become more defined next fall and beyond. Continuing this pace won't be easy — especially as his football stardom grows.
To Martin, Winston has a better chance of developing as a pitcher/quarterback than as an outfielder/quarterback. Last season, Winston hit .235 with nine RBI in 119 at-bats, and he had a 3.00 ERA with a 1-2 record and two saves in 27 innings. This year, he had one hit in a single at-bat, and he allowed one hit in four innings before Tuesday's game vs. the Yankees.
Winston's future seems brighter in football than in baseball. But who's to doubt him now?
"You don't find many guys like him ever, and I think just knowing him personally, you have to know his personality to see how he can handle all of this," Florida State right-hander Luke Weaver said. "Just the laid-back, funny, outgoing guy, just really helps him (drown out) all the pressure and all the media. It's impressive."
Because Winston won the Heisman Trophy, because he led Florida State to its first national title in 14 years, life will never be the same for him. He's different now. It was clear Tuesday, when he signed autographs in the dugout for a crowd three rows deep about two hours before first pitch, when Mark Teixeira's face lit up when shaking his hand during batting practice, when his broken-bat foul ball in the sixth caused a stir from the large Seminoles contingent in the stands.
This is Winston's choice. This is his challenge. And this could be his outcome: An uncommon journey where chasing one love doesn't have to mean the end of another.
You can follow Andrew Astleford on Twitter @aastleford or email him at aastleford@gmail.com.
---