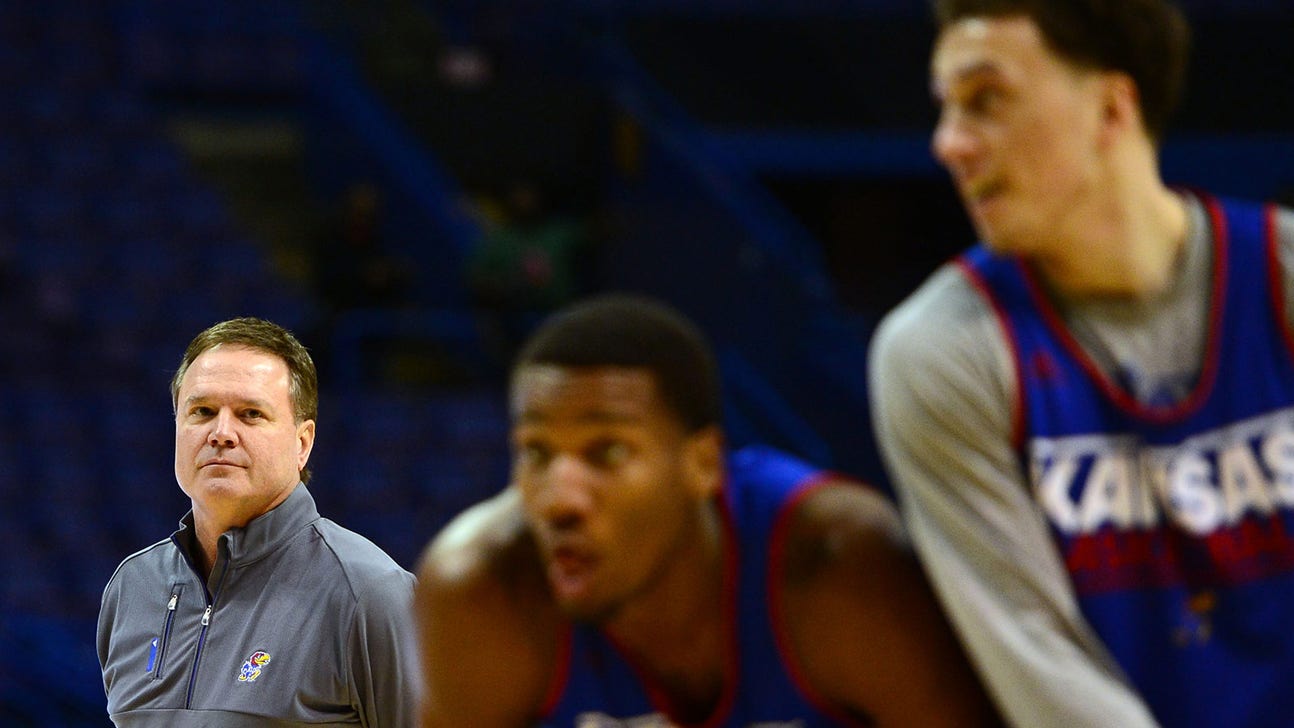 No Embiid would hurt any team -- but this is KU we are talking about
Published
Mar. 20, 2014 7:08 p.m. ET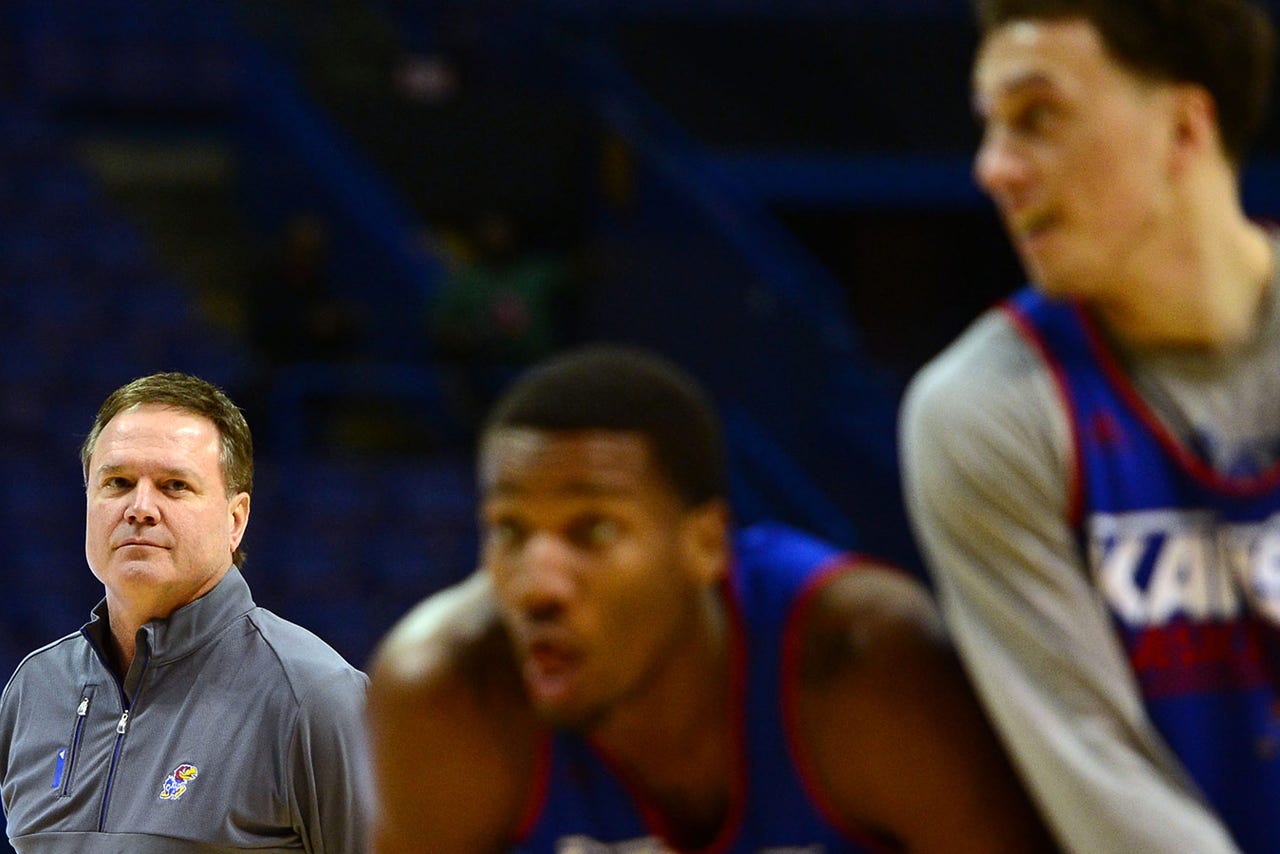 ST. LOUIS -- Not that anyone in this Mizzou flag-waving part of the world ever would feel sorry for the Kansas Jayhawks, but really, they shouldn't.
There's no need.
Sure, the No. 2-seeded Jayhawks will have to play this weekend in the NCAA Tournament without 7-1 star freshman center Joel Embiid, a leading candidate to be the first pick in this summer's NBA Draft. Yes, Kansas has struggled with two losses in four games since Embiid was sidelined with a stress fracture in his back. And yes, if the Jayhawks take care of business against Eastern Kentucky, they might have to face New Mexico and what Lobos coach Craig Neal calls his "two-headed monster" on the inside.
But remember, we're talking about Kansas, one of the rare schools in the land that doesn't usually come calling on a recruit unless he's a McDonald's All-American. It will be a surprise this summer if two Jayhawks, Embiid and freshman teammate Andrew Wiggins, aren't among the first five picks in the NBA Draft.
The Jayhawks aren't exactly hurting for someone to step in for Embiid, either. Senior transfer Tarik Black started games in all three of his seasons at Memphis and entered this season as the starting center in Lawrence.
"The guy we recruited from Memphis I recruited to start over Joel," Kansas coach Bill Self said Thursday. "I figured Joel would be a nice backup."
For Kansas' first eight games, Embiid was the backup. But when Black couldn't stay out of foul trouble, Self gave Embiid a chance and the young man from Cameroon took off. Embiid, who just turned 20 on March 16, started every game until his injury, averaged 11.2 points (on 62.6 percent shooting), 8.1 rebounds and 2.6 blocks and was named Big 12 Defensive Player of the Year. Sometime in December, he shot past Wiggins and everybody else on many of the mock draft boards.
This was a player Black admits he knew nothing about until they arrived on campus last summer. Once they started playing pickup games, it didn't take anyone long to see that Embiid had the ingredients to be special. Like many freshmen, it just took him a while.
Lookin' good! CLICK HERE to check out our gallery of cheerleaders from around the Big 12.
"You could see he was going to be good from the get-go, but early in the season he hadn't shown us everything he had," Black said. "Then it was like he came out of nowhere and was exploding on the scene."  
Black had nothing to complain about when Embiid took his starting job. Embiid is taller, more athletic and, says Self, can impact the game on both ends of the court as much as anyone in the country. Black, 6-9, is more offensively limited as well as three inches shorter, but he brings considerably more beef to the paint. He is listed, conservatively, at 260 pounds. He's not a rim protector like Embiid, but Black still can rule the paint.  
"He's that enforcer, the power guy that no one can really box out because he is so strong," Wiggins says.
Black scored 19 points in his return to the lineup and, over the past four games without Embiid, has averaged 8.5 points on 68.2 percent shooting and 8 rebounds.
Against Eastern Kentucky, Black and the Jayhawks should not have to worry about blocking inside shots as much as contesting long shots. The Colonels finished fifth in the nation with 9.2 made 3-pointers a game on 39 percent shooting from long distance.
"They have eight guys that can shoot it," Self says. The lone starter who isn't a 3-point threat is their lone starter over 6-5, 6-8 junior Eric Stutz, "one of the better big men in the country," according to Self.
Defensively, Eastern Kentucky sets up farther from the basket than most teams, hoping to pressure teams into turnovers to offset their lack of size. That could make for an interesting matchup Friday afternoon (3:10 CT).
"Defending the line and taking care of the basketball are two areas that we haven't been great at," Self said. "And that (plays into) the two things they do the best."
Since Black has taken over for Embiid, he has heard all about how the Jayhawks will be hard-pressed to make a real run at the Final Four without the prized freshman. "It's something you have to roll with the punches with," Black said.
The Jayhawks could get Embiid back if they advance to the Sweet 16 next week, Self repeated Friday. In the meantime, they will be counting on Black to stay out of foul trouble and control the paint.
"He's a guy that every program in the country wishes they could have coming off the bench," Self said. "Now he gets a chance to do more. He's playing very well."
Black took advantage of an NCAA rule that allows graduates to transfer without sitting out a year if they have eligibility remaining. He chose Kansas in large part for the opportunity to make a deep run in March. In his three years at Memphis, his hometown school, the Tigers never won more than one game in the tournament.
During Thursday's media festivities, Black clearly enjoyed his moment. He was one of two Jayhawks appointed to appear at a press conference and after answering reporters' questions there, he headed back to a locker room stuffed with media. An official advised him to skip that scrum and to show him another room, but Black didn't respond. He walked into the locker room, took a seat and started talking some more.
As he clearly was enjoying his moment, it was obvious there was no reason to feel sorry for him, or his team.
You can follow Stan McNeal on Twitter at @stanmcneal or email him at stanmcneal@gmail.com.
---