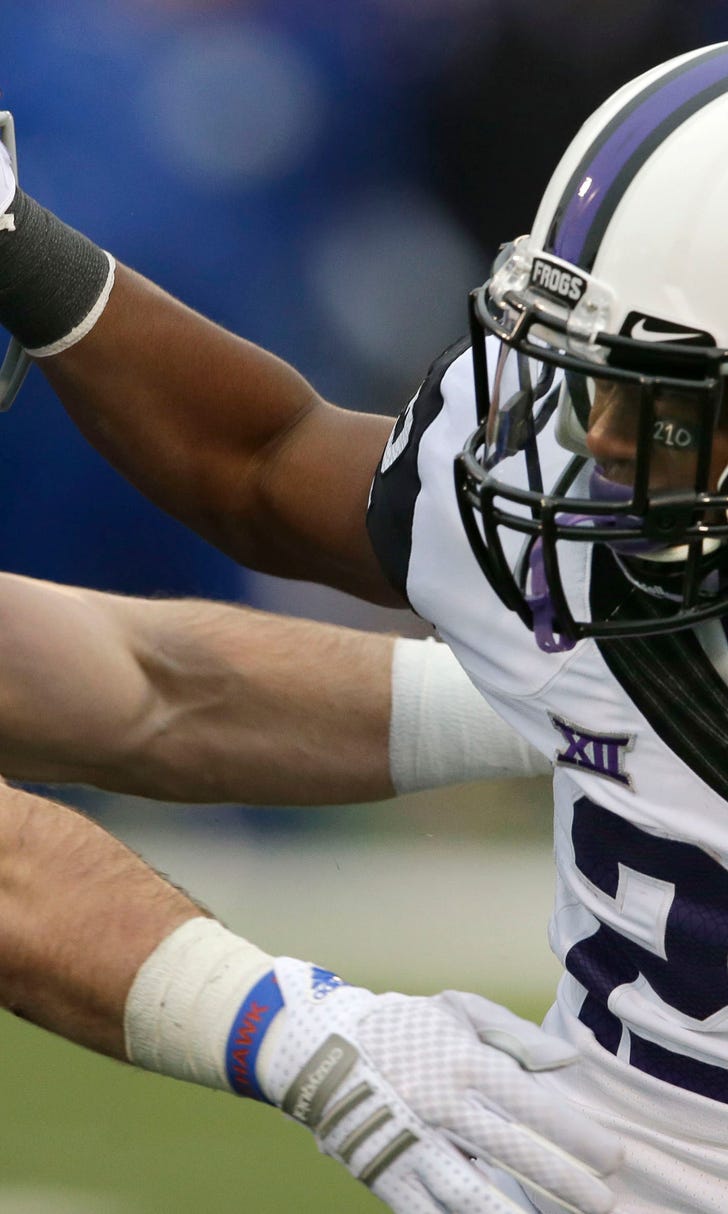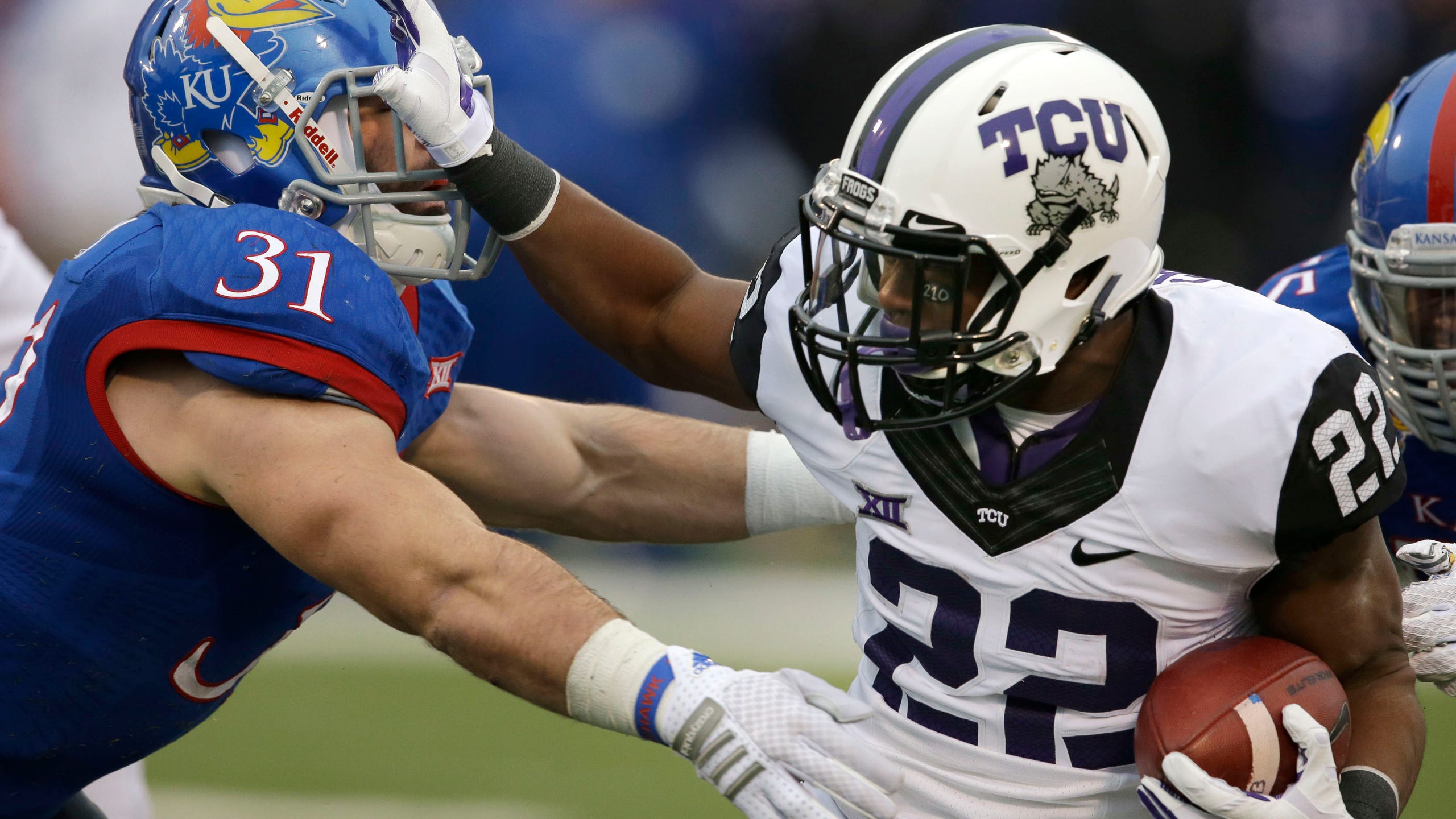 No. 5 TCU turns back Jayhawks' upset bid
BY foxsports • November 15, 2014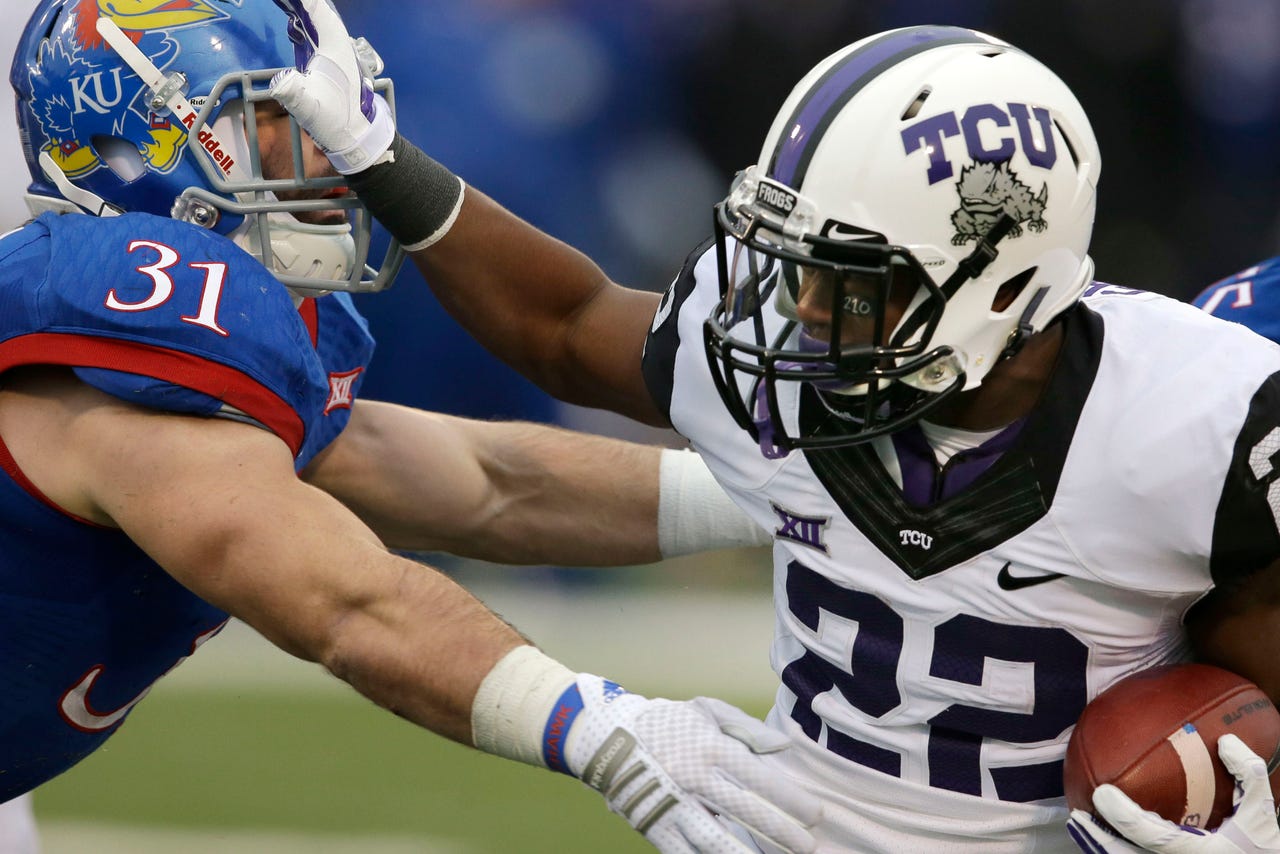 LAWRENCE, Kan. (AP) -- Aaron Green ran for 128 yards and two touchdowns, Cameron Echols-Luper returned a punt 69 yards for another score and No. 5 TCU turned back a spirited upset bid from Kansas in a 34-30 win Saturday that kept the Horned Frogs in playoff contention.
Trevone Boykin added 330 yards passing and a touchdown for TCU (9-1, 6-1 Big 12, No. 4 CFP), which trailed 27-17 midway through the third quarter before a big finishing kick.
Chris Hackett's interception with 3:26 left in the game sealed the victory.
Michael Cummings had 332 yards and two touchdowns passing for the Jayhawks (3-7, 1-6), who were trying for their first regular-season win over a top-five team since beating Colorado in 1995.
The Horned Frogs won their fifth straight, even without top running back B.J. Catalon. And with a trip to Texas followed by a home game against lowly Iowa State, they may have the easiest road standing between them and the inaugural four-team playoff.
Jimmay Mundine had 137 yards and a touchdown receiving, and Nigel King had 128 yards and a score, as the Jayhawks nearly gave a sparse crowd of about 10,000 fans a reason to celebrate.
Still, Kansas made another strong statement in support of interim coach Clint Bowen, who has steadied the program after Charlie Weis was fired and become a strong pick for the full-time job.
TCU did what most expected on the game's opening drive, going 67 yards in just over 2 minutes for a touchdown. But after that, nothing went as expected for quite some time.
After holding Kansas, TCU was flagged for roughing the punter. Later in the drive, the Jayhawks attempted a field goal and holder T.J. Millweard dropped the snap, scrambled to his left and threw a pass for a first down instead. Then, a TCU player batted a third-down pass and it was caught by the Jayhawks' Nick Harwell for another first down.
Finally, Corey Avery capped the bizarre 17-play drive with a 2-yard touchdown run.
The Horned Frogs quickly went the other way, but Kansas held on fourth-and-1 at its 11 to get the ball back. The Jayhawks promptly headed 89 yards the other way, Mundine hauling in a 13-yard touchdown pass to give Kansas the lead.
By that point, the few thousand fans in Memorial Stadium sat in stunned silence.
Not everything went perfectly for Kansas. A 22-yard pick-six was wiped away by an illegal substitution penalty, and a 16-yard pass into the red zone for first down was taken away by a review that showed the ball had skipped off the turf. The Jayhawks wound up punting.
Still, they headed into the locker room clinging to a 13-10 lead.
Kansas pushed the lead to 20-10 with an 82-yard drive to start the second half, and the Horned Frogs answered with a 72-yard drive that Green capped with a short touchdown run.
That set up one of the game's highlights: Cummings threw a pass to King down the sideline, and the big wide receiver caught the ball after three bobbles and ran 78 yards for a score.
There was still plenty of time, though, and the Horned Frogs showed plenty of poise.
After a quick drive downfield, Green's 24-yard touchdown run pulled TCU within 27-24. And after the Horned Frogs' defense forced a punt, Echols-Luper sliced through the coverage for his big return that gave them their first lead since the game's opening minutes.
TCU held on through a tense fourth quarter to avoid the upset bid.
---