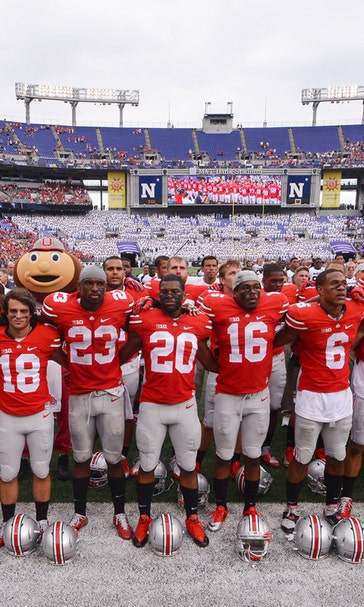 No. 5 Ohio State pulls away to beat Navy 34-17
August 30, 2014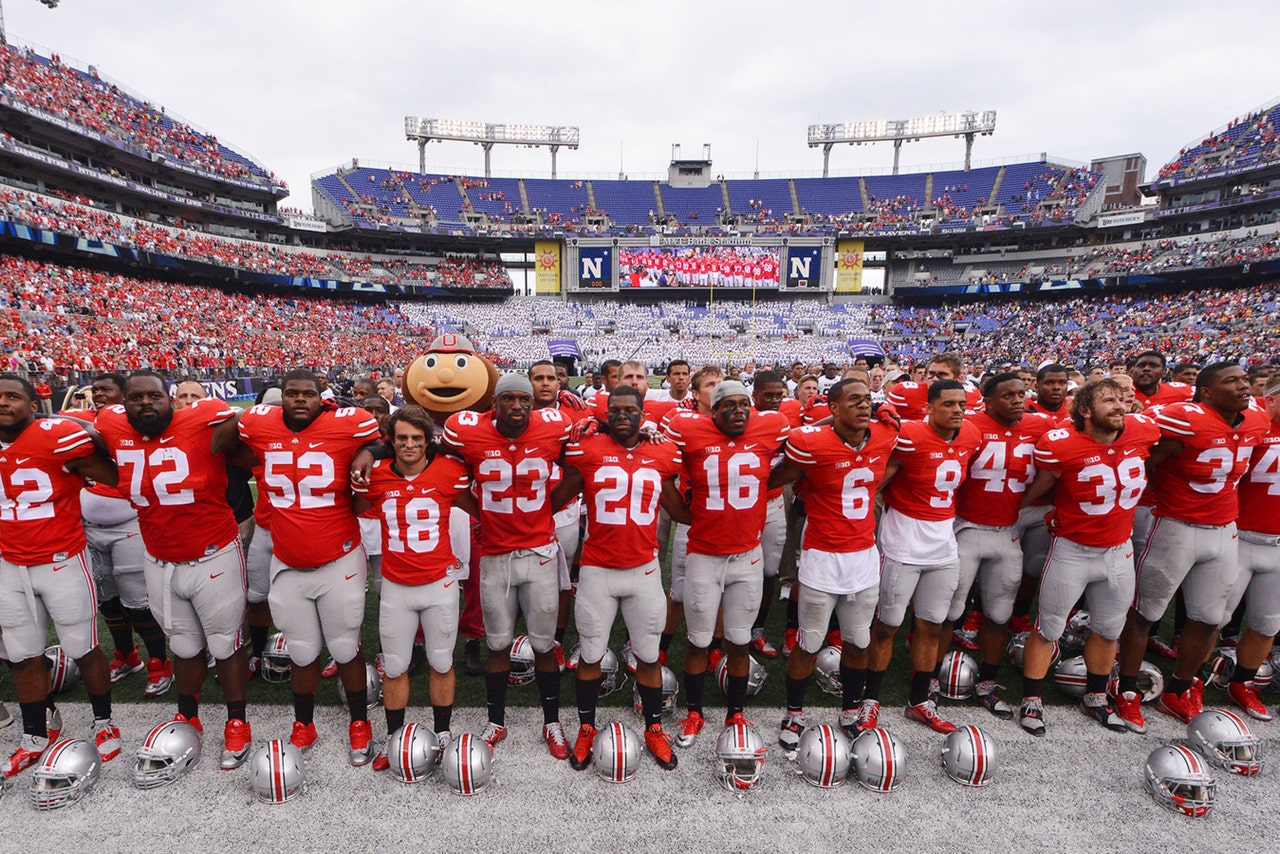 BALTIMORE (AP) -- There might come a time when Ohio State coach Urban Meyer expands his offensive playbook to include various long passes, reverses and bootlegs.
Until his young quarterback gains confidence and his line grows up, the No. 5 Buckeyes will likely count on the kind of conservative game plan that proved good enough to beat Navy 34-17 Saturday.
Redshirt freshman J.T. Barrett threw for 226 yards and two touchdowns in his college debut as Ohio State earned its 25th consecutive regular-season victory.
"The best thing about this game," Meyer said, "is we won it and it's in our rearview mirror."
Elevated into a starting role after senior Braxton Miller injured his right shoulder two weeks ago, Barrett went 12 for 15 -- including an 80-yard TD pass to Devin Smith that put the Buckeyes up 20-14 with 4:10 left in the third quarter.
"I thought J.T. did OK," Meyer said. "He was good. I never felt he was rattled."
Ohio State (1-0) managed only two field goals in the first half. Although Barrett threw an ill-advised interception, he wasn't entirely to blame for the poor showing.
"We wanted to open it up a little bit more in the first half but we didn't. It wasn't because of him; it was because of our offensive line," Meyer said. "There's a standard set for offensive line play for many, many years. It didn't resemble an offensive line at Ohio State the first two quarters."
Ohio State won despite allowing the Midshipmen (0-1) to gain 370 yards on the ground, including 118 by Ryan Williams-Jenkins.
But a Navy fumble turned into an OSU touchdown and a blown coverage assignment by the Midshipmen led to the pivotal 80-yard score.
"We had some uncharacteristic mistakes that we don't normally have, and against a team like Ohio State you can't do that," Navy coach Ken Niumatalolo said. "We knew coming into the game we had to play perfect and couldn't make turnovers or give up any big plays."
Barrett became the second freshman since 1950 to start a season opener at quarterback for Ohio State. He ran nine times for 50 yards, did not throw downfield often and relied heavily on a ground game that finally wore down the Midshipmen in the fourth quarter.
"It was better at the end than the start," Barrett said.
After Navy closed to 20-17 with 13:54 remaining, the Buckeyes launched a 10-play drive that featured just one pass. Ezekiel Elliott converted a fourth-and-1 from the Navy 45 and Barrett threw a 19-yard completion before Elliott ran in from the 10.
Barrett's 9-yard touchdown pass to Mike Thomas made it 34-17 with 2:09 left, and Meyer could finally breathe easy.
"We have nine new starters on offense," he said. "That's not a normal transition."
Navy held a 7-6 lead and was driving on the opening series of the second half when Joey Bosa hit Keenan Reynolds as the quarterback was tossing a pitch to Demond Brown. The ball got loose, and Darron Lee took it 61 yards the other way for a touchdown.
The Midshipmen responded immediately. Williams-Jenkins ran 67 yards to the Ohio State 17, and Reynolds scored from the 1 to put Navy up 14-13. That gave Reynolds a touchdown in nine straight games, tying the school record.
The momentum turned when Smith got behind the Navy defense on the right side, broke a tackle and scored on the longest touchdown against the Midshipmen since an 87-yarder by Tulane in November 2004.
Navy drove to the Ohio State 18 on the final possession of the first half before Nick Sloan missed a 36-yard field goal, keeping the Buckeyes' deficit at 7-6.
Throwing mostly short, safe passes, Barrett went 8 for 11 for 96 yards and an interception before halftime.
Barrett's first play at Ohio State was a pass completion for 14 yards. Although he appeared comfortable in the no-huddle offense, the Buckeyes quickly punted.
Ohio State's next possession began with four straight runs, followed by a sack. A shovel pass on a third-and-21 gained 16 yards to set up a 46-yard field goal by freshman Sean Nuernberger.
Navy answered with an 11-play drive, 10 of them runs, capped by a 1-yard touchdown sweep by DeBrandon Sanders.
Midway through the second quarter, Barrett went 4 for 4 for 54 yards to bring the Buckeyes to the Navy 8. But he hurried a first-down pass and was intercepted by Parrish Gaines.
"After the interception, I was like, `J.T., you knew you shouldn't have thrown it.' And I still threw it," Barrett said.
Barrett's inexperience showed again on the next series, when Ohio State had to settle for a field goal. On a third-and-2 from the Navy 4, Barrett rolled right and pitched too late to Elliott, who was smothered for a 7-yard loss.
---