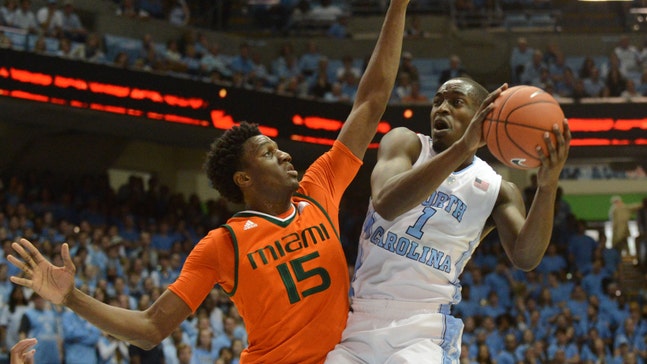 No. 5 North Carolina routs No. 11 Miami to take lead in ACC
Published
Feb. 20, 2016 3:30 p.m. ET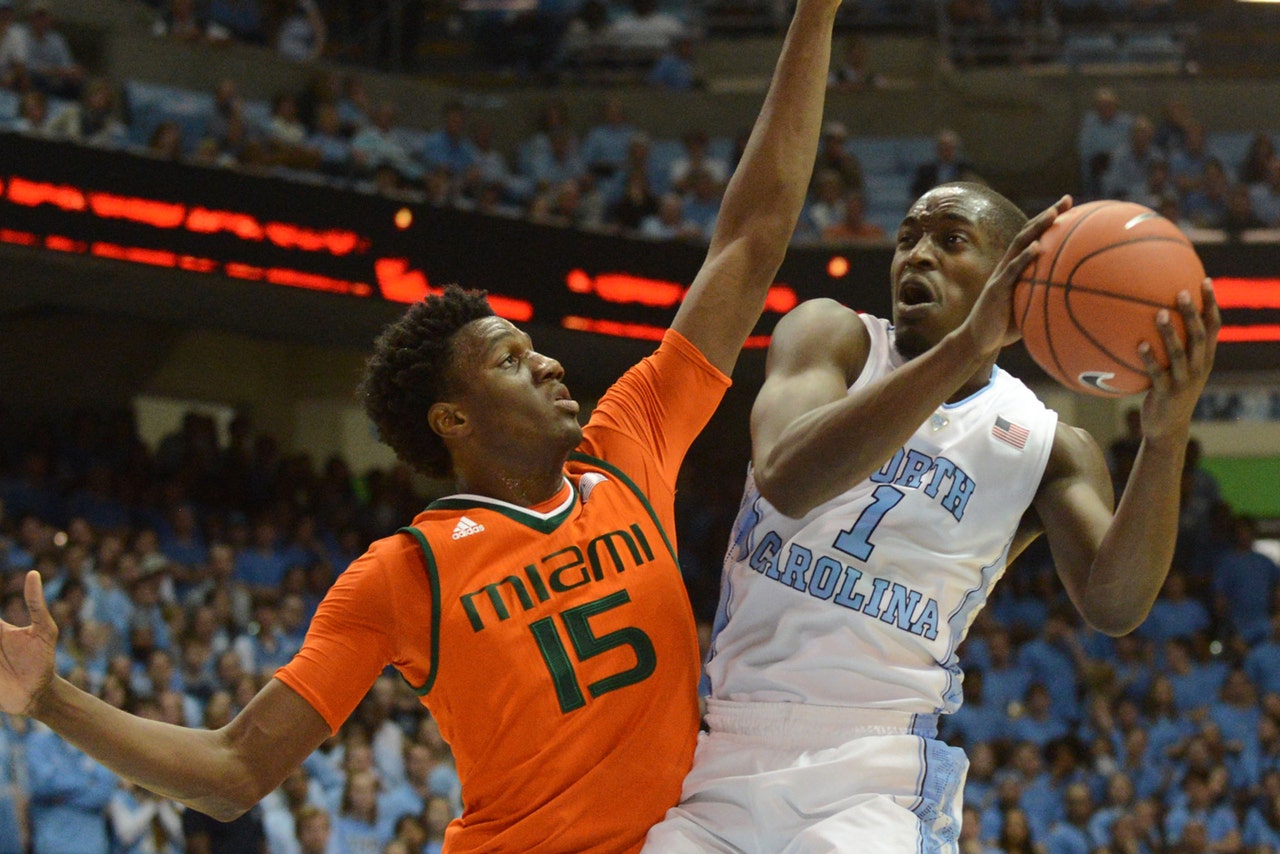 CHAPEL HILL, N.C. (AP) -- This wasn't what Miami coach Jim Larranaga expected.
The 11th-ranked Hurricanes had won five straight to climb into a tie for first place in the Atlantic Coast Conference with No. 5 North Carolina. They never looked like themselves in a struggle-filled Saturday afternoon.
When it was over, UNC had led by as many as 38 points on the way to a 96-71 win that had Larranaga stumped.
"They put the ball in the paint, offensive rebounded -- did all the things we talked about before the game," Larranaga said. "But I think for some reason, I don't know exactly what it is and we'll have to talk to the players about it but ... we just didn't compete at a high enough level."
There were no shortages of breakdowns. The Hurricanes didn't shoot well, couldn't slow the Tar Heels and didn't keep them off the glass. The Hurricanes trailed 42-33 at halftime, only to see UNC run off 10 straight points to turn it into a rout.
Larranaga said he thought the Hurricanes were in an "individual mode" instead of playing as a team, while Sheldon McClellan said the Hurricanes "didn't execute the game plan at all."
"Even in the first half, we just weren't playing like ourselves at both ends of the floor," Miami guard Angel Rodriguez said. "A lot of stuff happened that's just not really us. But I guess there are days like that."
Brice Johnson had 16 points and 15 rebounds as the Tar Heels regrouped from an emotional loss to rival Duke.
Justin Jackson added 15 points for the Tar Heels (22-5, 11-3), who shot 54 percent and shut down Miami at every turn.
The Tar Heels were coming off Wednesday's crushing 74-73 loss to the Blue Devils, a game in which they led nearly all night only to lose control in the final 3 minutes. And that allowed the Hurricanes (21-5, 10-4) to climb into a first-place tie to set up a critical game in a wide-open league title chase.
It turned into a dud, thanks to the Tar Heels turning in the kind of dominating performance they haven't shown consistently this season -- the kind that reminded why they were picked the nation's top-ranked team in the preseason.
Six players scored in double figures, while the Tar Heels made 9 of 20 3-point attempts only days after going 1 for 13 from behind the arc against the Blue Devils. UNC also dominated the glass by a 46-29 margin, committed just nine turnovers and flirted with its second 100-point performance this season.
Johnson even hit a shot from his own charge circle, only it came well after the halftime horn.
As for the Hurricanes, they managed just five shots and five turnovers over an 8-minute stretch while the Tar Heels went on a blowout-producing run.
Rodriguez and Ivan Cruz Uceda scored 12 points each to lead Miami.
------
TIP-INS
Miami: Miami shot 42 percent, though it hit 9 of its last 11 shots after the outcome was decided to boost that figure. ... Miami made 15 of 26 free throws and was outrebounded 46-29. ... The Hurricanes lost Ja'Quan Newton in the second half to what Larranaga said appeared to be a bone bruise to his left shin.
UNC: Isaiah Hicks started over Kennedy Meeks and scored 12 points. ... Freshman reserve Kenny Williams III had a scary first-half fall and landed on the back of his neck, but was back on the bench for the second half.
BIG BLOWOUT
The 25-point margin of victory was North Carolina's largest against an AP Top 25 team since beating No. 13 Michigan State 98-63 in Detroit in December 2008.
POOR EXECUTION
Miami had nine assists on 25 baskets, with only three in the first half.
UP NEXT
Miami hosts No. 7 Virginia on Monday.
UNC is at North Carolina State on Wednesday.
---
---