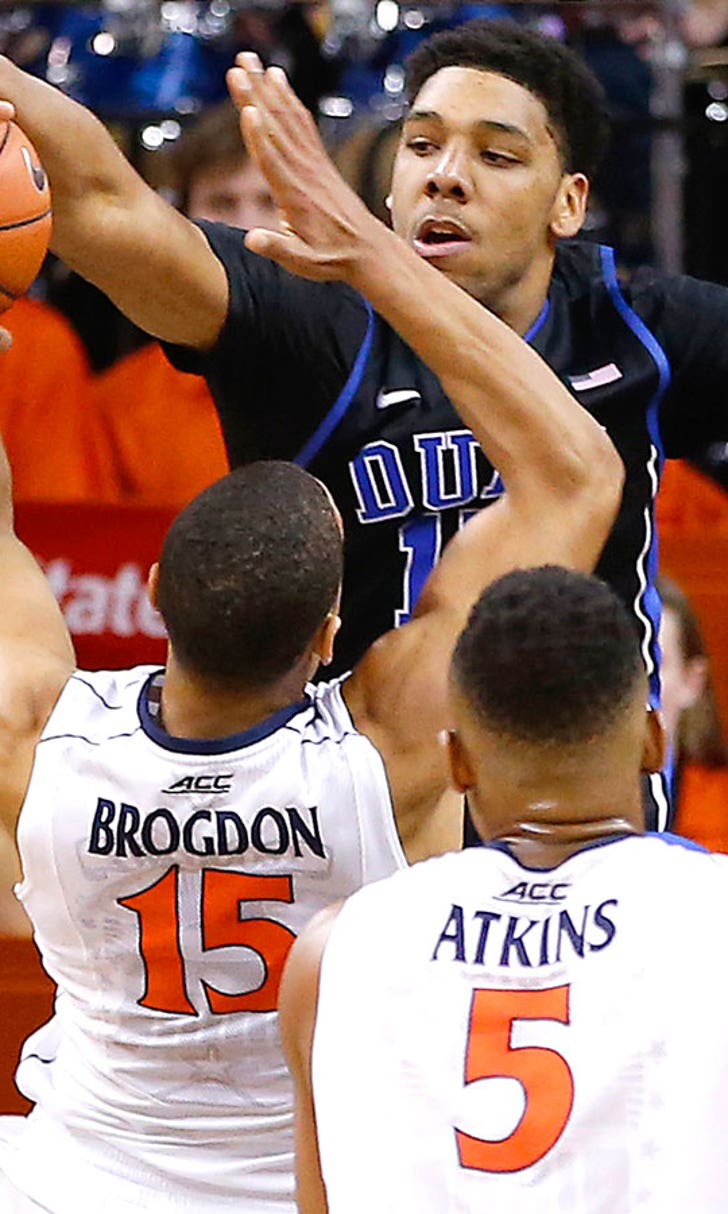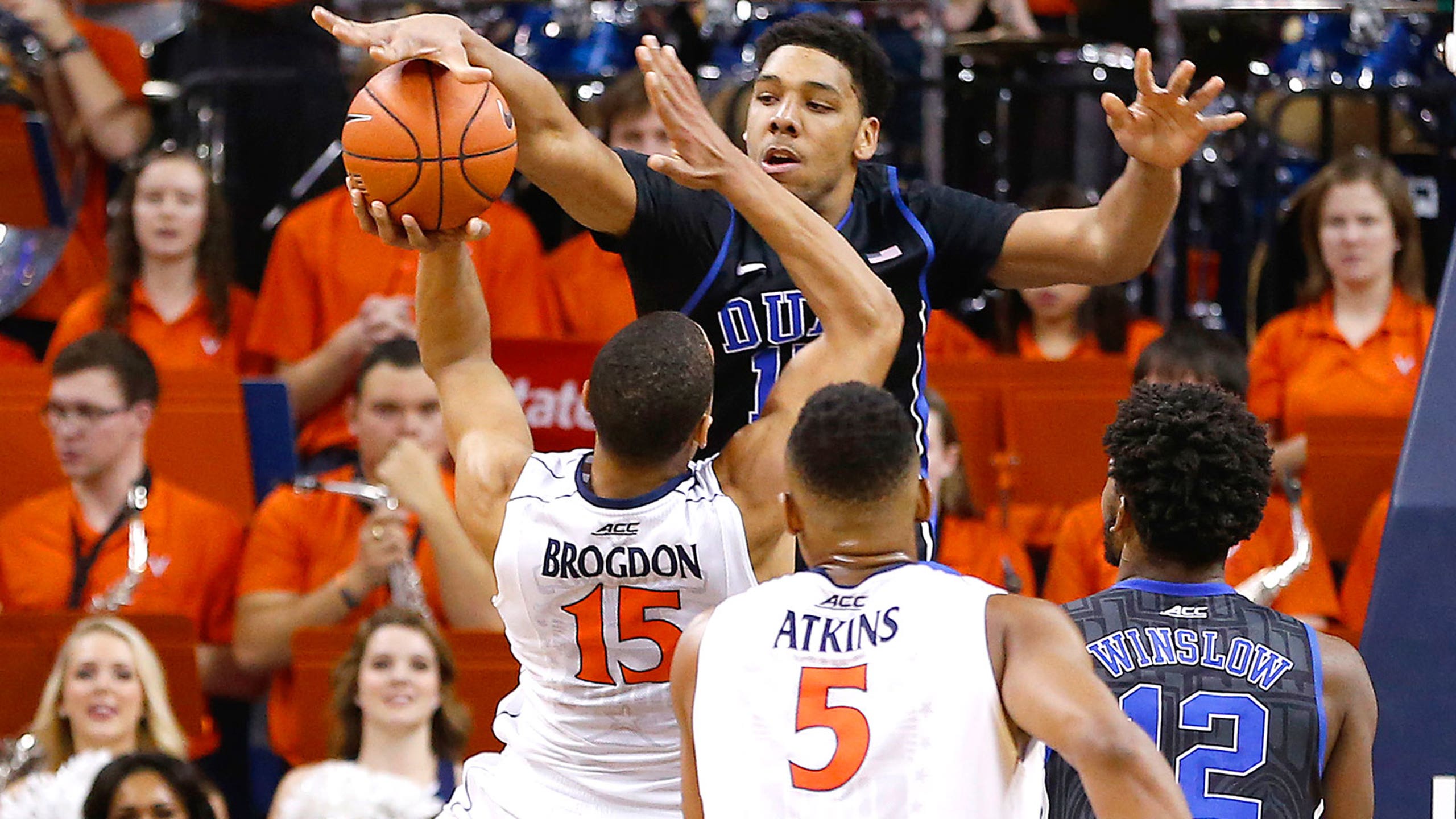 No. 4 Duke stuns No. 2 Virginia with 11-0 finishing kick on the road
BY foxsports • January 31, 2015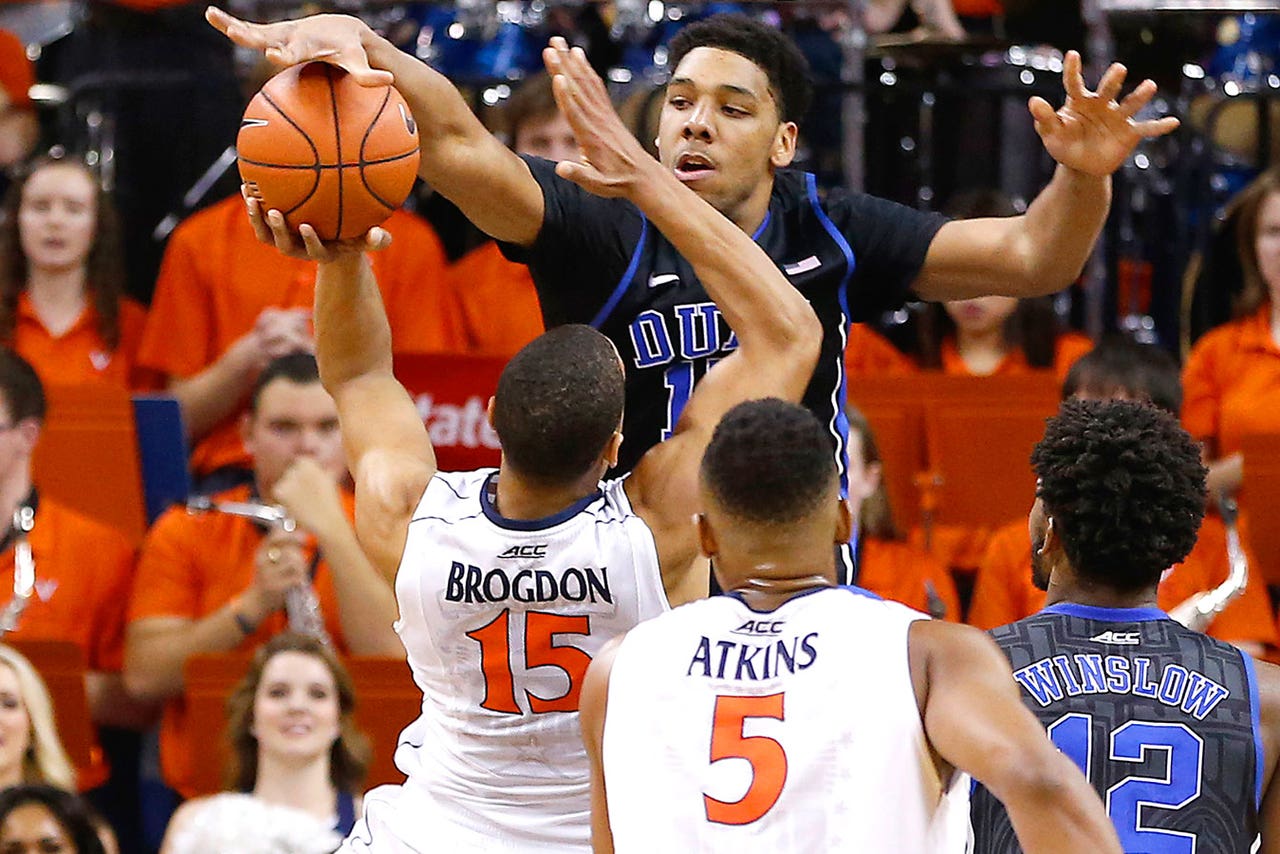 Here are three detailed thoughts from No. 4 Duke's incredible road upset over No. 2 Virginia (69-63) -- a game that seemed like a no-brainer victory for the Cavaliers with four-plus minutes remaining:

1. The Virginia fans must be muttering to themselves, Did that really happen? ... after seeing their beloved Wahoos disintegrate down the stretch
At one point midway through the second half, Duke center Jahlil Okafor -- the likely No. 1 pick in the June NBA draft -- had more personal traveling calls than actual points. Around that same point, Duke had missed all nine of its three-point attempts.
And then with 5:37 left in the second half, Virginia had seemingly iced the game with a four-point possession -- the result of a flagrant foul against Duke freshman Justise Winslow (holding onto the leg of Justin Anderson, who made the two free throws) and then an athletic layup from Anthony Gill.
Armed with a nine-point lead (56-47) and 5:21 left in the game ... there was absolutely zero evidence that Duke would mount a frenetic flurry for all time -- program-wise.
The Comeback started rather innocently, with freshman Tyus Jones (17 points) registering an and-one layup (free throw made) and Okafor tipping in a basket off a lenghy Jones miss.
Things started to snowball after that, though, with Quinn Cook (two triples) and Matt Jones burying three combined three- pointers and Winslow executing a running layup. Within that two-minute span, Duke had quickly transformed a six-point deficit into a three-point lead.
Equal parts shocked and flustered, the bewildered Virginia offense looked sloppy in the final minute, with reserve center Mike Tobey (8 points, 5 rebounds) getting the majority of touches down the stretch ... which might have been Duke's plan all along.
Every offense has a weak spot, and Tobey shouldn't have been entrusted with busting the Blue Devils' 2-3 zone when trailing by three.
Most zone defenses collapse on the elbow-based ball recipient. But in this sequence, Duke was more than happy to let Tobey pick up his dribble early and then aimlessly search for a perimeter-based outlet. And even if he had found an open man, it might not have mattered ... since Virginia made only 3 of 13 triples on the night.
Put it all together, and maybe we shouldn't have been surprised by Jones' back-breaking three-pointer with 9.9 seconds left, extending Duke's lead to six.
Yes, the rainbow jumper came from 21-plus feet ... but it was also an in-control shot from a scalding-hot offense that suddenly had no conscience.

2. Okafor (10 points, 9 rebounds) would make a great stunt double for Tim Duncan -- if the latter turned to acting upon retiring from the NBA
The similarities between the 38-year-old Duncan and 19-year-old Okafor are uncanny:
**Both players stand at 6-foot-11, but appear taller on TV.
**Both players have a robotic charm when jogging down the court or expertly passing out of double teams.
**Both players are similarly stellar at spinning baseline (away from double teams) and using the glass on baby hooks.
**They both show more outward passion on the defensive end.
**Flashing back to Duncan's freshman year at Wake Forest -- when he was just 17 years old at the time of the NCAA tourney -- both players required time to develop better habits with footwork.
**And as we mentioned in the first declarative statement ... history will eventually connect both players as No. 1 overall draft picks -- albeit 18 years apart.

3. Devastating defeat aside, Virginia still has the goods to beat you-know-who in the NCAA tournament
I had the good fortune of watching No. 1 Kentucky (21-0 overall) cruise past South Carolina last week, on a day when the early-start-time Wildcats were far from an offensive juggernaut.
But even with that sluggish performance (on offense, that is), it's still difficult to rattle off a large handful of national programs that can beat Kentucky in a high-stakes situation.
Duke? Not enough depth.
Louisville? Not enough offense.
Wisconsin? Not enough offensive continuity.
Villanova? Meh, not enough top-end rebounders.
Arizona, Gonzaga and Virginia. That's the list ... and I'll be shocked if anyone else comes close in this year's tourney -- barring any unforeseen major injuries to the Wildcats.
The recipe for beating Kentucky -- outside of the aforementioned Wildcats, Zags and Cavaliers -- remains quite simple: The victorious squad must bury a range of 8-12 three-pointers ... and get either Willie Cauley-Stein or Karl Anthony-Towns in early foul trouble.
Regarding the Big Three (in my subjective world), Arizona has the athleticism to beat Kentucky. Gonzaga has the requisite size in the frontcourt to do the job. And Virginia has the offensive patience (basket cut ... after basket cut ... after basket cut) and absurd positional defense to pull off an upset that frankly wouldn't be seismic, in retrospect.
After all, the Wildcats aren't a scary offensive unit, now that junior Alex Poythress has been lost to a season-ending knee injury.
In fact, Virginia (19-1, 7-1 in ACC) wouldn't even have to live in fear of Kentucky pulling off an 11-0 spurt to close a tight game ... similar to Duke on Saturday night.
---