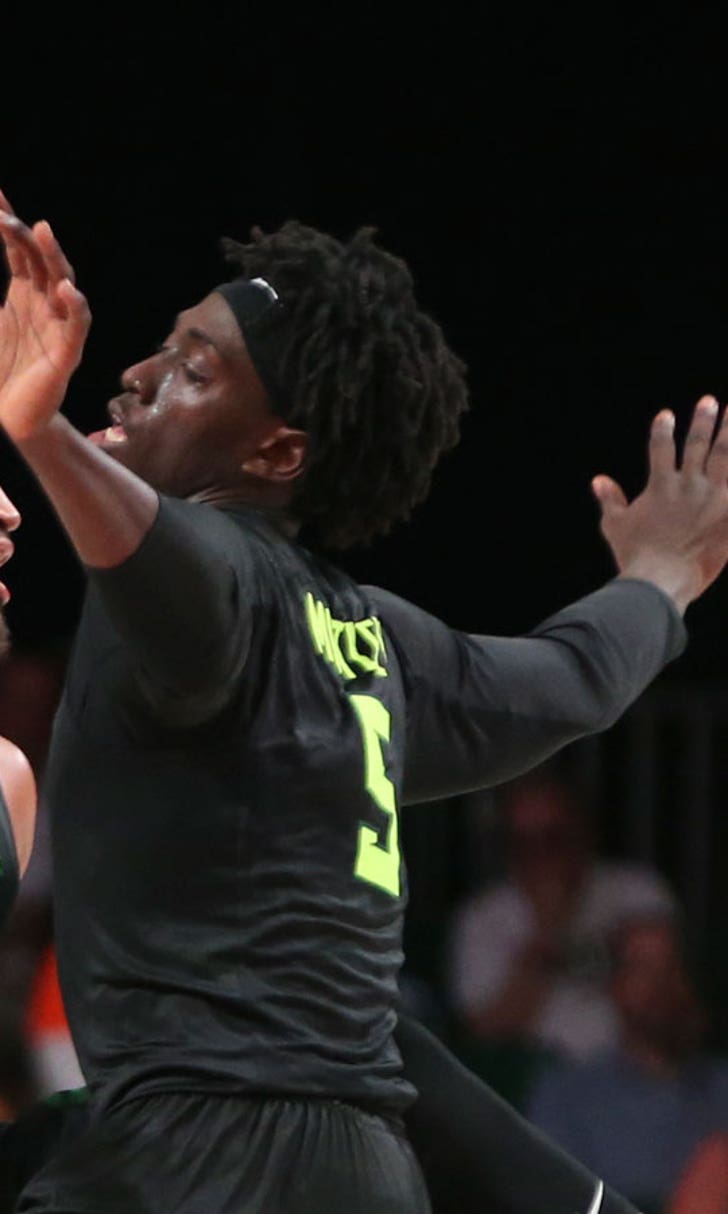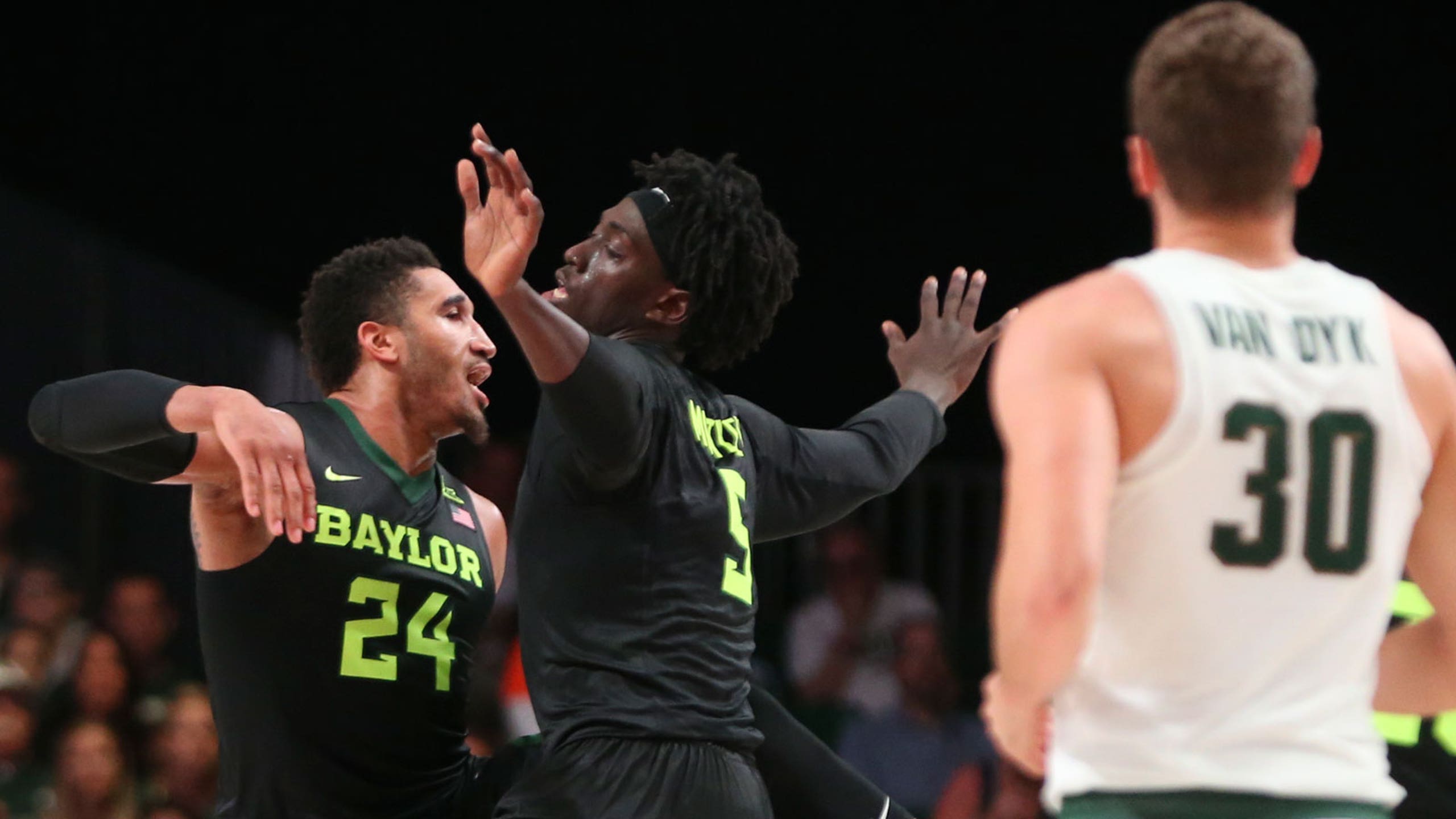 No. 20 Bears beat No. 24 Spartans 73-58 with strong second half
BY foxsports • November 24, 2016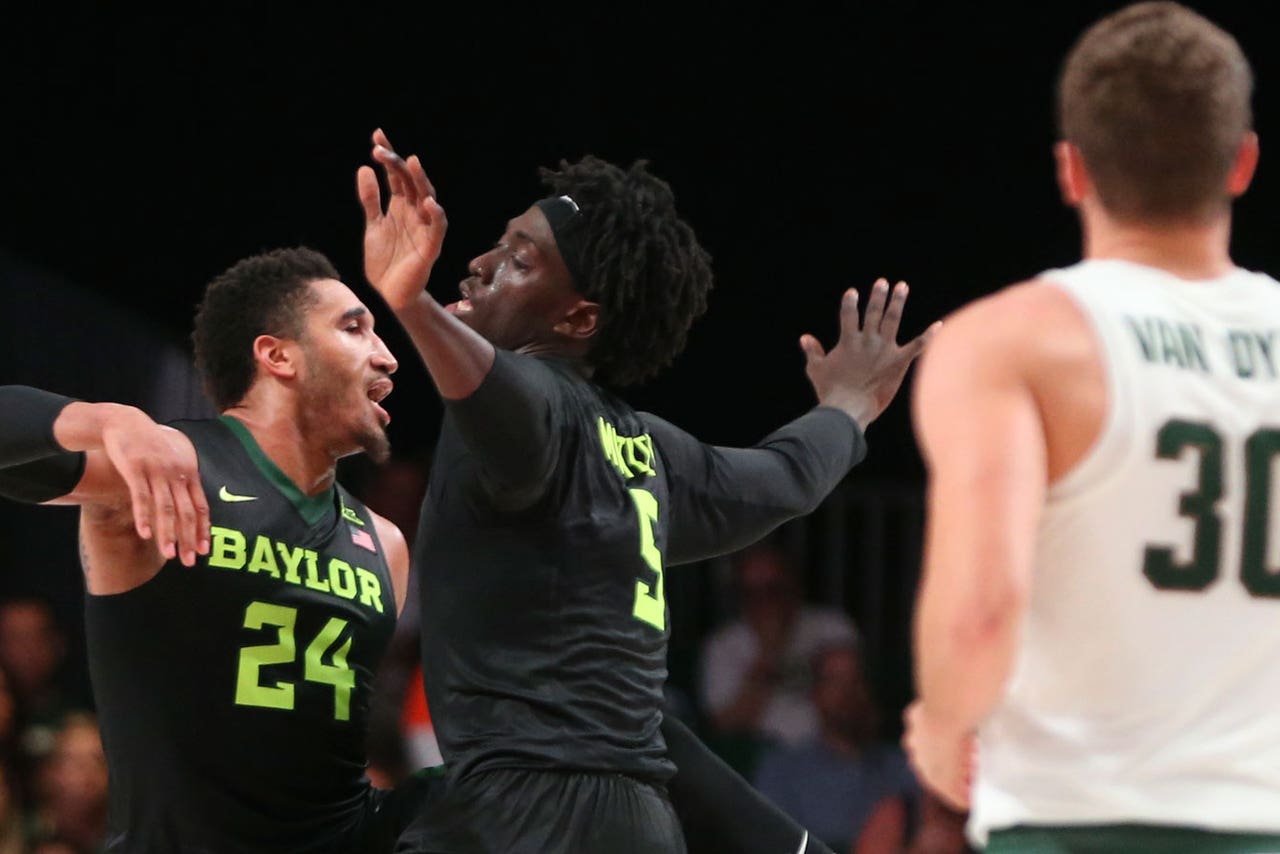 PARADISE ISLAND, Bahamas (AP) -- Baylor dominated Michigan State inside with its size advantage, got out in transition and kept knocking down shots.
The result was a second lopsided win against a ranked team in 10 days, along with the No. 20 Bears earning a trip to the Battle 4 Atlantis championship game.
Johnathan Motley scored 20 of his 26 points in the first half and the Bears shot 55 percent after halftime to beat the 24th-ranked Spartans 73-58 on Thursday.
Jo Lual-Acuil Jr. added 14 points and eight rebounds -- nearly all in the second half -- for the Bears (5-0), who sprinted out of the break with a 12-2 run on the way to shooting 55 percent in the second half. That quickly turned a 33-30 halftime deficit into a double-digit lead against the cold-shooting Spartans (3-3).
"We were able to get stops and we were able to get some transition buckets," Baylor coach Scott Drew said. "And when we're able get in transition with some easy ones, that loosens things up."
The Bears did a lot of things well. They controlled the boards. They had 24 assists on 30 baskets. They scored 19 points off turnovers.
The Spartans just weren't able to mount much of a pushback. They went 7 minutes between baskets spanning halftime as Baylor made its push, while the Spartans' thin front line was no match for the 7-foot Lual-Acuil and 6-10 Motley.
"We were bigger than them in the paint and we think we're tougher," Motley said, "so we just used that to our advantage."
Freshman Miles Bridges scored 15 points for the Spartans, who shot 39 percent after halftime -- including 1 for 10 on 3-pointers -- in a demanding opening month of the schedule that has them crisscrossing the country.
"We were moving the ball and really playing well I thought through the first half, and we quit doing that," Michigan State coach Tom Izzo said. "I just think we looked awfully tired. I can accept that that's my fault, not theirs."
BIG PICTURE
Baylor: In their first two games in the Bahamas, the Bears have notched a tough win against VCU and now a rout against the Spartans in the span of 24 hours -- about as good of a start as Drew could've hoped to see.
Michigan State: The concerns about the Spartans' injury-depleted front line showed up in a big way in this one. Motley went just about anywhere he wanted in the first half, while Lual-Acuil led Baylor's effort on the boards. Izzo said Wednesday there would be some growing pains while this group sorted things out -- and this performance illustrated it perfectly.
POLL IMPLICATIONS
The Bears vaulted into this week's AP Top 25 after beating then-No. 4 Oregon last week and could be ready to climb after beating VCU and Michigan State, depending on their finish Friday. As for the Spartans, they've slid from their No. 12 preseason perch and could be set to fall all the way out despite -- or maybe because of -- that schedule.
IZZO'S APOLOGY
Michigan State has already lost to Arizona in Hawaii and Kentucky in New York. The Spartans travel to Duke next week in the ACC/Big Ten Challenge.
Izzo said he did a terrible job putting together a schedule that has left little time to practice and try to develop his team.
"I actually apologized to my team," he said. "And yet, I've always played a tough schedule. ... You know what? You can take it as an excuse, you can take it as the truth, I don't give a damn. I'm telling you what I did. This ain't on them. It's on me."
UPFRONT SIZE
With Michigan State down two big men because of injuries, Lual-Acuil, Ishmail Wainright (eight rebounds) and Motley helped the Bears control the inside. Baylor outrebounded Michigan State 36-29 and held it to three offensive boards while scoring 44 points in the paint.
UP NEXT
Baylor: The Bears will play the Wichita State-Louisville winner in Friday's championship game.
Michigan State: The Spartans will play the Wichita State-Louisville loser in Friday's third-place game.
---