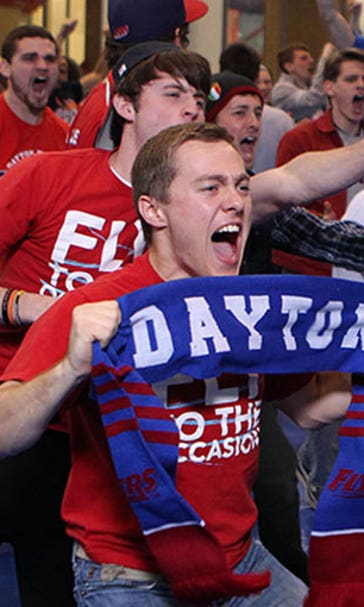 No. 17 UConn holds off Dayton 75-64 in Puerto Rico
November 21, 2014

SAN JUAN, Puerto Rico (AP) -- Last season, Connecticut was mostly unproven and unnoticed until the Huskies peaked late and won the NCAA title.
Through two games at the Puerto Rico Tip-Off, No. 17 UConn is playing like a team focused on defending its title.
Ryan Boatright had 20 points, Rodney Purvis added 19 and Connecticut rallied from five points down in the second half to defeat Dayton 75-64 in the semifinals of the Puerto Rico Tip-Off on Friday.
The Huskies (3-0) led by as many as 10 in the first half, but had to fight off runs by the Flyers throughout the second half.
"That's what we demand," coach Kevin Ollie said. "It's going to be some ups and downs...Everybody wants to beat the champion, so our team is understanding that. I'm glad we had those different tests early."
Connecticut 7-footer Amida Brimah added four blocks.
The Flyers (2-1) used their quickness to briefly put the Huskies behind, but turnovers and empty offensive possessions down the stretch proved costly. Jordan Sibert led Dayton with 18 points.
The second half was full of effort plays on both sides.
During one sequence Dyshawn Pierre got a steal at midcourt, drove and missed a layup, and rebounded it twice in traffic before finally getting it to drop as he was fouled. He then coolly completed the three-point play.
Later, it was Connecticut's turn with Brimah blocking point-blank layup attempts by Dayton players three times at the rim, forcing a shot-clock violation.
The play helped ignite the Huskies, who took a 70-62 lead with about two minutes to play.
"Really just a huge momentum shift. Their crowd was into it. And they had two close shots and Amida was there to block it," Boatright said. "Daniel just sealing it off with a 3 (on the ensuing possession) got everybody uplifted. And we got it going from there."
Dayton coach Archie Miller said it was one of a handful of plays that helped decide the game.
"They're a double-edged sword with a great point guard that really controls the game, and a great rim presence," Miller said. "They make things very difficult on you."
Dayton had the last of several back-and-forth spurts to end the first half, capped by a fastbreak dunk by Kendall Pollard that gave the Flyers a two-point lead with less than a minute to play.
It erased what had been a 10-point deficit early in the half.
But Pollard was called for a technical foul for hanging on the rim during the play, allowing the Huskies to go into halftime tied after connecting on the two free throws.
TIP-INS
Dayton: The Flyers shot just 28 percent (8 for 28) in the second half after shooting 53 percent (14 for 26) in the first.
Connecticut: In a tight game, the Huskies were mostly unflappable at the free-throw line, connecting on 19 of 23 attempts.
NO HANGOVER
Miller said the thing he will be stressing heading into their final game on Sunday is avoiding a letdown after coming up short against the Huskies. "When you get into these events like this, the one thing you don't want to do is lose to UConn sort of twice," he said. "If there's a hangover or if there's negative vibes. Right now our approach has to be what we can do to keep getting better."
UP NEXT
Connecticut plays the winner of Boston College and West Virginia in the championship game on Sunday.
Dayton gets the loser of that game for third place.
---