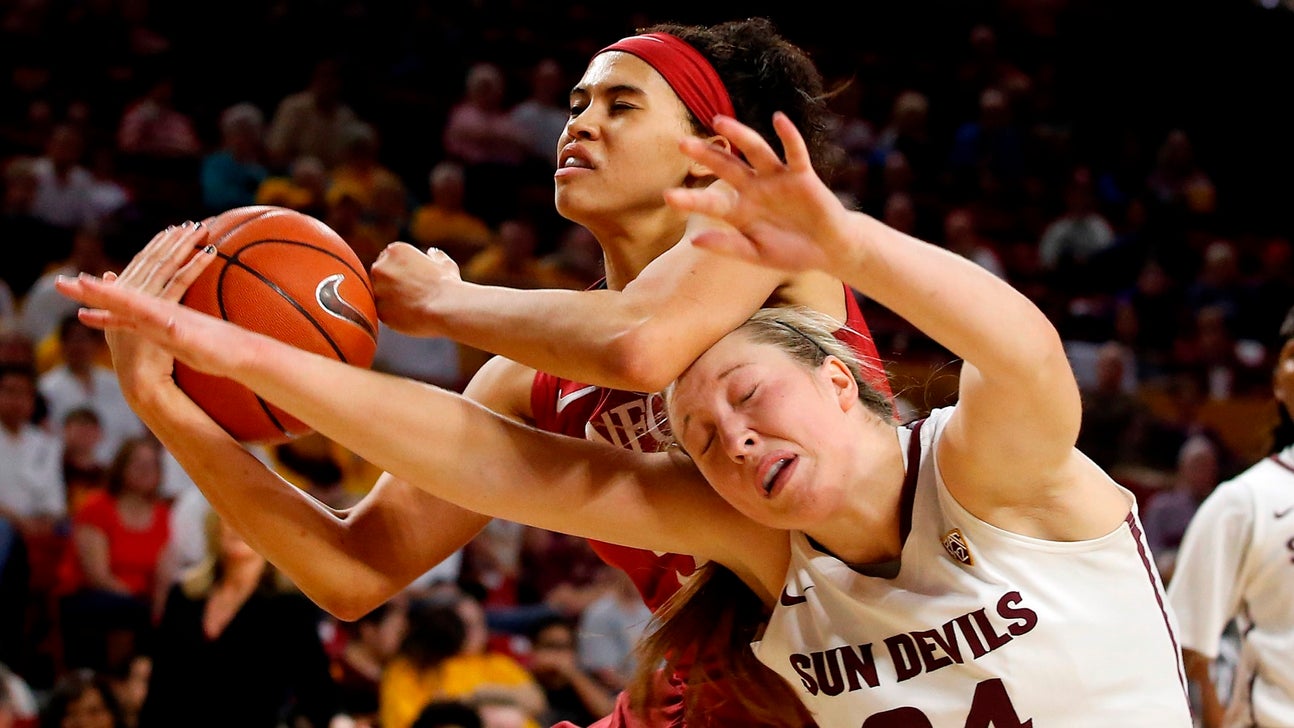 No. 10 ASU women rally past No. 12 Stanford
Published
Feb. 7, 2015 12:16 a.m. ET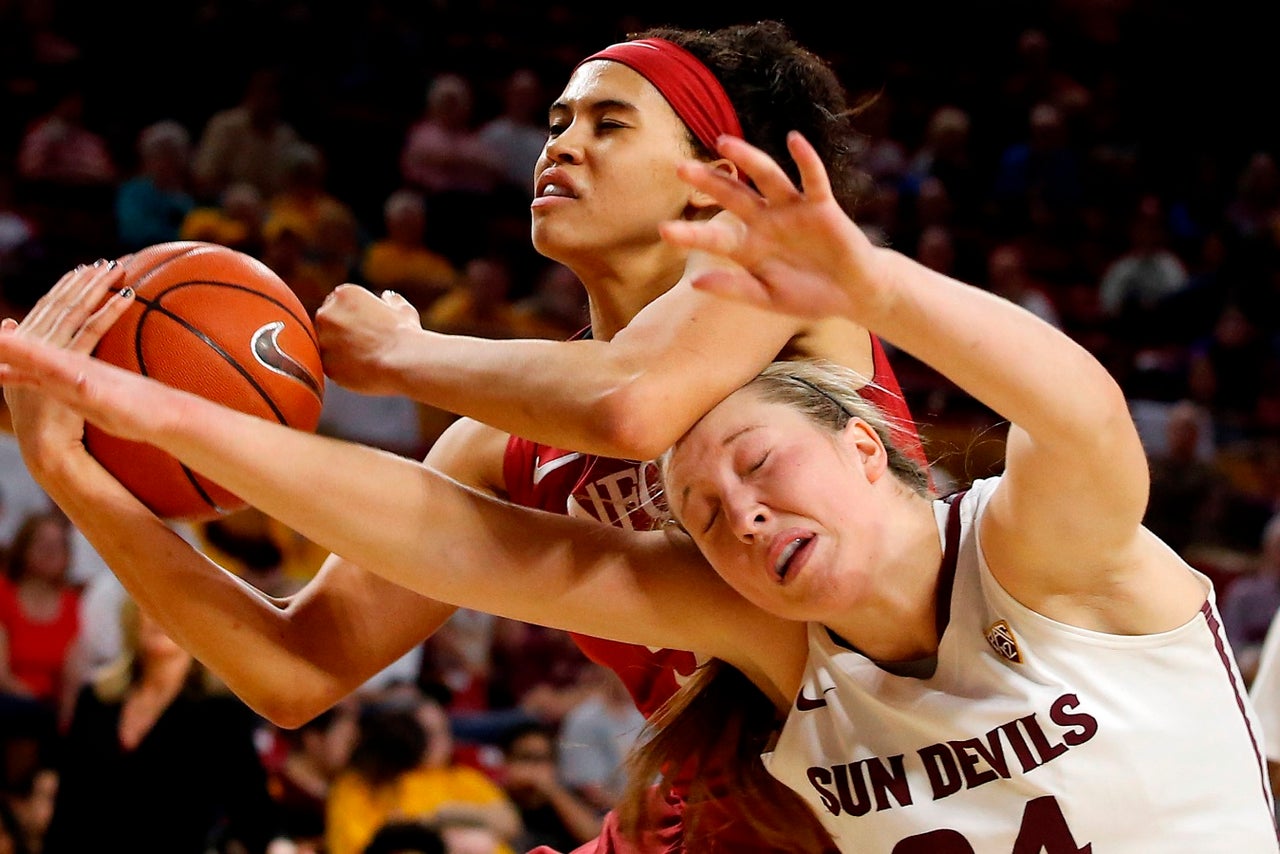 TEMPE, Ariz. -- Arizona State trailed by 12 points in the second half against a perennial power and conference rival. The 10th-ranked Sun Devils also didn't score in the final 5:38 of the game.
Still, Quinn Dornstauder scored a career-high 22 points and blocked a key shot down the stretch to help Arizona State rally for a 53-52 victory over No. 12 Stanford on Friday night.
Briana Roberson missed a 15-footer with 1 second left and Sophie Brunner got the loose ball for the Sun Devils (21-2, 10-1 Pac-12) as time expired. Coupled with Oregon State's loss to Washington, Arizona State moved into a tie for first place in the Pac-12.
"What makes this special is that Stanford is such a well-coached team, such a strong program," Arizona State coach Charli Turner Thorne said. "They just came out and punched us in the face, and we kind of staggered back and they punched us in the face again and we just stood around. I said, `are you just going to let them kick you in the butt all day or are you going to punch back?'"
Kelsey Moos added 12 points -- all in the second half -- and seven rebounds to help Arizona State sweep Stanford since 1984 and the first sweep by a Cardinal conference opponent since UCLA pulled it off in 1987-88.
"This team keeps making history," Turner-Thorne said. "Obviously that was a great team we just beat. It's a great team win."
Amber Orrange had 15 points and Lili Thompson added 11 for Stanford (17-6, 9-2).
Neither team scored in the final 4:35.
"It was a heavyweight fight," Stanford coach Tara VanDerveer said. "We didn't do what we needed to do."
The Cardinal got possession with 20.6 left when Elisha Davis was called for carrying the ball after she had stolen the ball from Roberson. Roberson had stolen the ball from Arizona State's Katie Hempen on the other end of the floor.
Stanford ran the clock down to 5.1 seconds remaining and called timeout, setting up Roberson's final attempt.
"I think beating Stanford is such a mental hurdle for our team," Moos said. "They bring a great team every year. Then when you finally overcome beating Stanford, that's when you know that your team has reached mental toughness."
Arizona State erased a 12-point deficit with a 16-0 run, taking advantage of four Stanford turnovers and a stretch during which the Cardinal missed eight straight shots. Moos had eight points during the run.
"It was awful," VanDerveer said. "We were playing really well and then we made some substitutions. We just made a lot of mistakes in that stretch and I used a lot of my timeouts in that stretch. But during that stretch we made a lot of mistakes and unfortunately they took advantage of them, they made big shots, they got the momentum."
The Sun Devils led 46-42 with 7:43 left and 53-47 with 5:37 left. Thompson hit a 3-pointer with 4:35 left but the Cardinal missed its last five shots.
Stanford had won four straight since losing to Arizona State on Jan. 19 and won 11 of 12 before Friday.
Stanford held Arizona State's inside players scoreless in the first half in taking a 31-23 lead at the break. Brunner averages 12.1 points a game and was held scoreless, although she had 10 rebounds.
THE HOOK
Dornstauder came in a half an hour early before Friday's shootaround to work on her hook shot. She made six of them and finished 9-of-13 from the field. "I've been working on those all week," she said. "I mean it did go in, but I was pretty confident in the shot."
TIP-INS
Stanford: The Cardinal does not have at least a share of first place in the Pac-12 this late in the season for the first time since 2009. . All six of the Cardinal's losses have come to teams currently ranked in the AP Top 25. Stanford is 57-2 in February since the 2007-08 season. . The Cardinal had beaten Arizona State in Tempe seven straight times, last losing Feb. 16, 2006.
Arizona State: The Sun Devils have not swept Stanford since 1984. Arizona State beat Stanford 60-57 on Jan. 19, ending 16-game losing streak to the Cardinal. . Arizona State came into the week fourth in the nation in defending the 3-point shot, allowing 24.5 percent from beyond the arc. The Sun Devils were 11-1 at home, averaging 16.3 points per game more than their opponents. . Arizona State has used the same starting lineup in all 23 of its games this season.
UP NEXT
Stanford: At Arizona on Sunday.
Arizona State: Hosts California on Sunday.
---