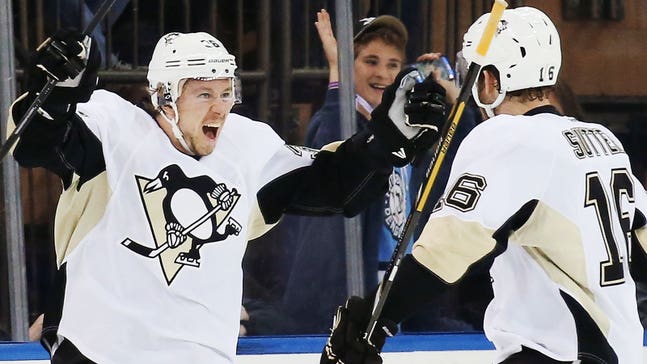 NHL takeaways: Rangers long on excuses, short on offense
Published
May. 6, 2014 12:46 p.m. ET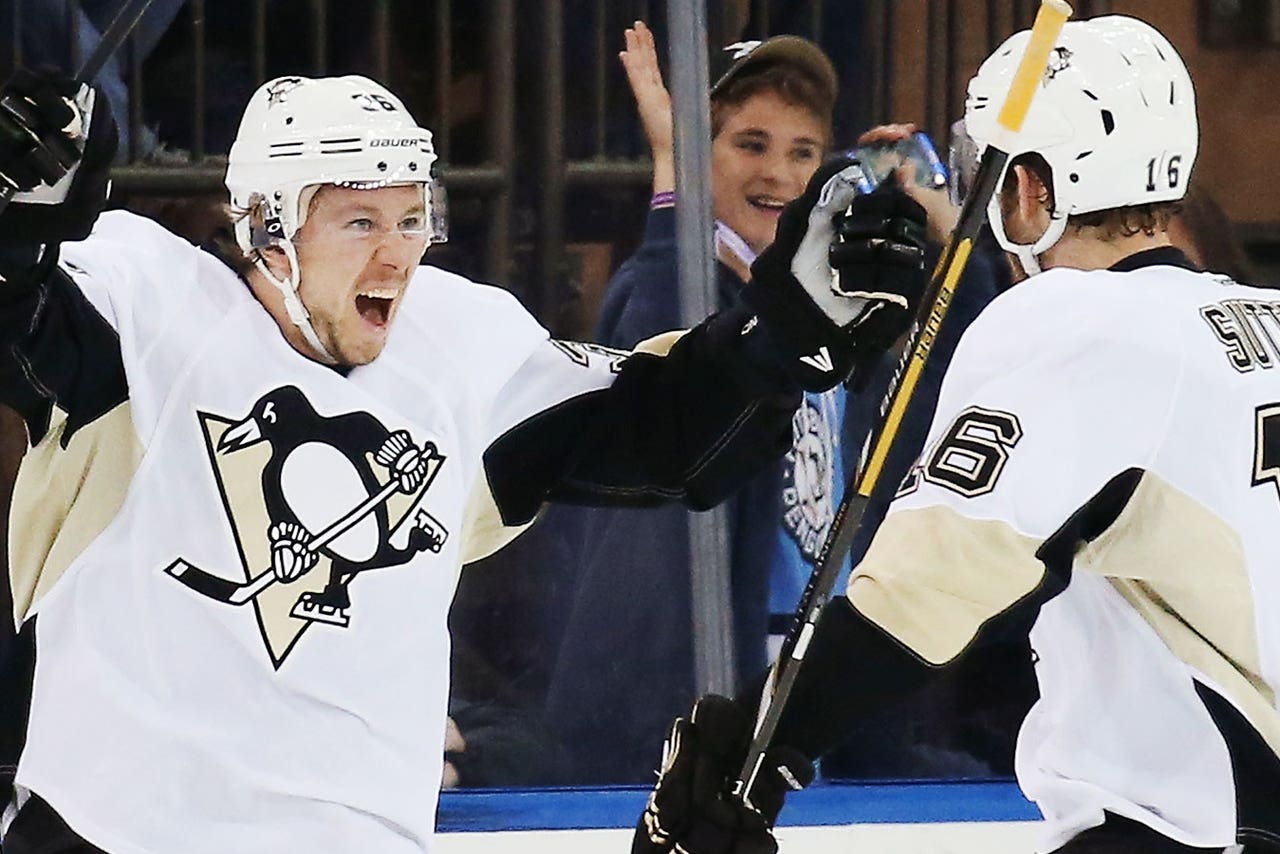 The team that traveled the fewest miles and tied for the seventh-fewest back-to-backs in the regular season was whining about its fate --€" and complaining about the NHL --€" Monday.
Following his team's second straight shutout loss to Pittsburgh, New York Rangers coach Alain Vigneault chose to focus on the team's recent schedule, rather than his anemic power play.
"We tried real hard," Vigneault told reporters. "We were forced to play a stupid schedule, five games in seven nights, and I'€™m real proud of how our guys handled it."
Billy Joel and Lady Gaga concerts at Madison Square Garden and Pittsburgh'€™s Consol Energy Center were the main culprits in this condensed schedule, but the Rangers could have avoided this stretch by winning in fewer than seven games in the first round. And they certainly didn't complain during the season when they traveled about half as many miles as the San Jose Sharks.
So let's examine the other reasons the Rangers lost, starting with Pittsburgh goalie Marc-Andre Fleury. And of yeah, let's check in on that other Western Conference series before its over — the one where L.A. matched streaks with the Chicago Blackhawks by winning its sixth straight playoff
GAME OF THE DAY: We'd prefer to abstain here since both games were snooze fests. New York fired lots of harmless shots from the perimeter without any net presence. Anaheim did likewise against Kings goalie Jonathan Quick. A total of six goals were scored in the two games. We can't wait to watch Chicago, Boston and Montreal get back in action.
PLAY OF THE DAY: L.A. lightning: The Kings jumped on Anaheim 34 seconds into Game 2. Kings center Anze Kopitar led Marian Gaborik on the left wing while Ducks defenseman Ben Lovejoy was out to lunch in the neutral zone, skating backwards when Gaborik already had more than a stride on him. Gaborik beat Ducks goalie Jonas Hiller over the glove hand to the short side to get L.A. rolling. Gaborik leads the NHL with six goals in nine playoff games.
THREE STARS:
1. Marc-Andre Fleury, G, Pittsburgh: Fleury turned aside all 35 Rangers shots for his second consecutive playoff shutout and the eighth of his career. Through nine playoff games, he has a .925 save percentage and a 2.22 goals against average, his best postseason numbers since 2008.
2. Jonathan Quick, G, Los Angeles: Quick stopped 36 of 37 Anaheim shots but he had a lot of help from the forwards and defensemen, who kept the Ducks from patrolling the paint and slot.
3. Alec Martinez, D, Los Angeles: Martinez scored the game-winning goal, blocked four shots and dished out three hits.
RECAPS
Pittsburgh 2, New York Rangers 0
Series: Pittsburgh leads, 2-1
Key stat: The Rangers were shut out in consecutive playoff games for the first time since 1937.
Key player: Sidney Crosby, C, Pittsburgh. The best player in the game finally relieved some internal pressure when he scored his first goal in 14 playoff games, taking a stretch pass from Robert Bortuzzo and beating goalie Henrik Lundqvist inside the far post for a 1-0 lead early in the second period.
What we learned: Offense is still the Rangers' Achilles' heel. Forget that New York outshot Pittsburgh, 35-15. Forget that Fleury played his best game of the postseason. Forget that Mats Zuccarello shot that painted the entire length of the crossbar but refused to enter the Pittsburgh net. New York just can't finish, and nowhere is that more evident than on the power play, which hasn't scored in its last 34 chances stretching back to the previous series with Philadelphia. This was a pop-gun offense during the regular season — the Rangers' 214 goals ranked 18th in the league — so it should come as no surprise that New York is struggling to score now that the competition is better. But New York's power play is so bad now that it's creating chances for its opponents. Just as Jussi Jokinen's holding-the-stick penalty was expiring, Zuccarello tried to pass the puck to Brad Richards at the point. He missed, instead feeding Jokinen for a breakaway that he buried for a 2-0 lead that felt like a 10-goal lead. The Penguins really haven't been that good in this series or in these playoffs — the Eastern Conference is simply that weak. Of Pittsburgh's meager 15 shots, one came in the third period — the entire period! The Penguins seemed ready to be had. The oddest turn of events was that Fleury saved them, becoming the first Penguins goalie to post back-to-back playoff shutouts. It's entirely fair to question Fleury's resume over the last four postseasons, and his play in the early games of Round 1 vs. Columbus. But since his infamous blunders in Game 4 against the Jackets (a 4-3 overtime loss), Fleury has stopped 128 of 135 shots for a .948 save percentage in five games.
Next game: Wednesday at New York, 7:30 p.m., EST
Los Angeles 3, Anaheim 1
Series: L.A. leads, 2-0
Key stat: The Kings have managed at least a six-game win streak in each of their last three postseasons.
Key player: Jeff Schultz, D Los Angeles. Schultz was in the Kings' lineup for the first time since the preseason, playing due to injuries to Willie Mitchell and most recently Robyn Regehr. Despite the rust, Schultz logged 19:58 of ice time and was credited with two hits and two blocks. Schultz played for Ducks coach Bruce Boudreau with the Hershey Bears (AHL) and Washington Capitals.
What we learned: L.A. is better-built for the playoffs than the Ducks. It starts in goal, of course, but the Kings are much more disciplined in their own end and through the neutral zone, which means less quality chances for opponents. Don't be fooled by Anaheim's 37-17 edge in shots on Monday. The Ducks didn't get many good looks at Quick and Anaheim isn't getting anything from regular-season scorers Nick Bonino, Andrew Cogliano, Mathieu Perreault or Kyle Palmieri, who was a healthy scratch Monday for the first time all season. When Anaheim entered this series the concern was goalie Jonas Hiller. But offense has been the problem, as is often the case against L.A. Since San Jose blitzed the Kings for 17 goals in the first three games of the first round, L.A. has allowed eight goals in its last six games. And though the Kings entered the game without the services of Mitchell and Regehr, the system is so sound that it didn't matter against the league's second-highest scoring team. The Kings are on a roll and this highly anticipated SoCal series is close to coming up lame.
Next game: Thursday at Los Angeles, 10 p.m. EST
FINAL THOUGHT
Sidney Crosby's now-concluded scoring drought made for interesting media theater. Crosby's defenders seemed to be fighting unseen demons -- attacks from all corners that, in truth, were rarely as harsh as they were made out to be. Most analysts saw that Crosby was playing well in all other phases of his game. He was creating offense for others, he was helping the Penguins' possession game and he was playing strong defense. But in their over-reliance on analytics, the defenders forgot one simple fact: When you're the game's best player and you average $8.7 million a year, you don't get a free pass when part of your game is off. It doesn't mean you're being ripped. It doesn't mean you're not playing well. It means you're held to a higher standard -- the highest standard. Always. That's just the way it is.
Follow Craig Morgan on Twitter
---