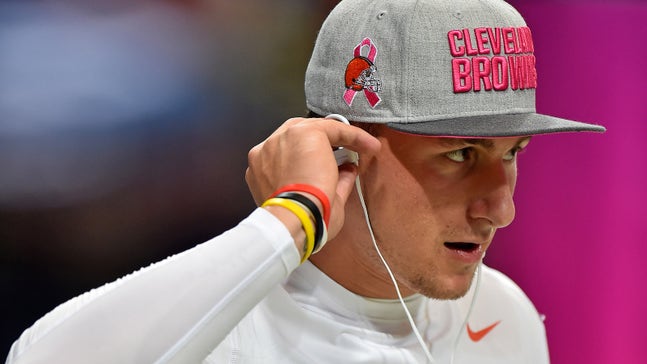 NFL still reviewing Johnny Manziel's domestic incident
Updated
Mar. 4, 2020 12:18 p.m. EST

BEREA, Ohio (AP) -- The NFL's investigation into Johnny Manziel's recent domestic incident remains open.
Spokesman Brian McCarthy said Thursday that "no decision has been made" on Manziel, who is facing a fine or suspension from the league if he broke its personal conduct policy during an Oct. 12 argument with his girlfriend. Colleen Crowley told police that Manziel hit her when the couple quarreled in his car.
Manziel was interviewed Wednesday night by NFL senior advisor Lisa Friel, a former New York prosecutor who handles many of the league's off-field matters, at the team's facility. Manziel was represented by an official from the player's union.
Browns coach Mike Pettine said the team expects the matter to be resolved soon, but maybe not before Sunday, when Cleveland hosts the Arizona Cardinals.
"Expect it soon, but I know they have their timetable," Pettine said. "I know there are reports out there, but we, especially from a coaching standpoint, are bunkered in, preparing for the game. When we get word, we get the word."
Pettine said he was not questioned by Friel.
The Browns are eager to find out if Manziel will be available because there's a chance he may have to start; Josh McCown is nursing a sore right shoulder and ribs. Manziel continued to take the majority of snaps with Cleveland's starting offense as McCown was limited in practice Thursday.
Browns Pro Bowl left tackle Joe Thomas anticipates the 36-year-old McCown being ready for Sunday's game.
"Until you tell me he won't be out there, I'd expect him to be out there," Thomas said. "He was limited today and it was pretty windy, but he looked like Josh McCown. He did a pretty good job out there."
McCown was injured in last week's loss at St. Louis. He was sacked four times, took a wicked shot to the chin and toughed it out before he was replaced by Manziel in the fourth quarter.
McCown only threw a few soft passes on the sideline during the early portion of practice. He was without a helmet or shoulder pads while chatting with Browns owner Jimmy Haslam as his teammates worked out.
Manziel has not spoken to reporters this week. He was not in the locker room again Thursday during the portion it was open to media members.
Last week, NFL investigators spoke to the Avon, Ohio, police officers who questioned Manziel after witnesses called them to report the couple was arguing. Crowley told police that Manziel pushed her head against the car window and hit her several times. On a dash-cam video released, Crowley said to an officer she feared for her life.
Manziel denied striking Crowley and the couple was allowed to leave the scene together. According to the police report, an officer smelled alcohol on Manziel, who admitted he and Crowley had been drinking earlier in the day. Manziel was not given a field sobriety test as officers determined he was not intoxicated.
It's not known if Manziel, who spent 70 days in a Pennsylvania rehab facility for alcohol and drug abuse during the offseason, is in the league's substance program.
The Browns have praised Manziel for a personal turnaround in his second pro season. He's been engaged in meetings and Pettine said Manziel didn't fall back on bad habits after he returned to his backup role after starting in Week 2 against Tennessee for an injured McCown.
"Never saw a drop off, at all," Pettine said of Manziel's preparedness. "I spend a lot of time on the practice field with those guys. There was maybe a day where he was (bummed), but a competitive guy, wanted to be the guy and was bummed out, but that feeling didn't last long. I never saw drop-off from him wanting to perfect his craft.
"Like we do with all of our players, we test him during the week on the opponent and on the game plan, and there wasn't a drop-off."
NOTES: LB Paul Kruger missed practice with an unspecified illness. ... Browns Pro Bowl CB Joe Haden is eager to play after missing two games with a concussion. His return, along with those of S Tashaun Gipson (ankle) and LB Craig Robertson (ankle), will help Cleveland's beleaguered defense. "We can give the team a burst, a jolt," Haden said.
---
---