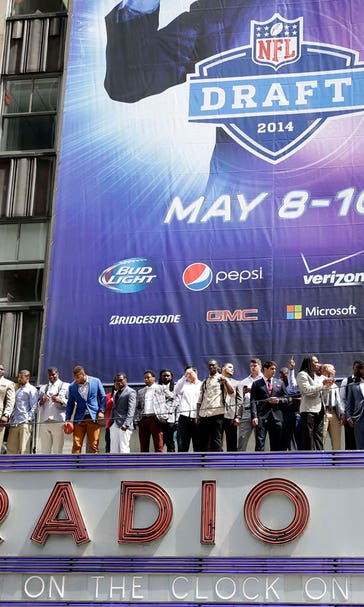 NFL Mock Draft: Draft Day
May 8, 2014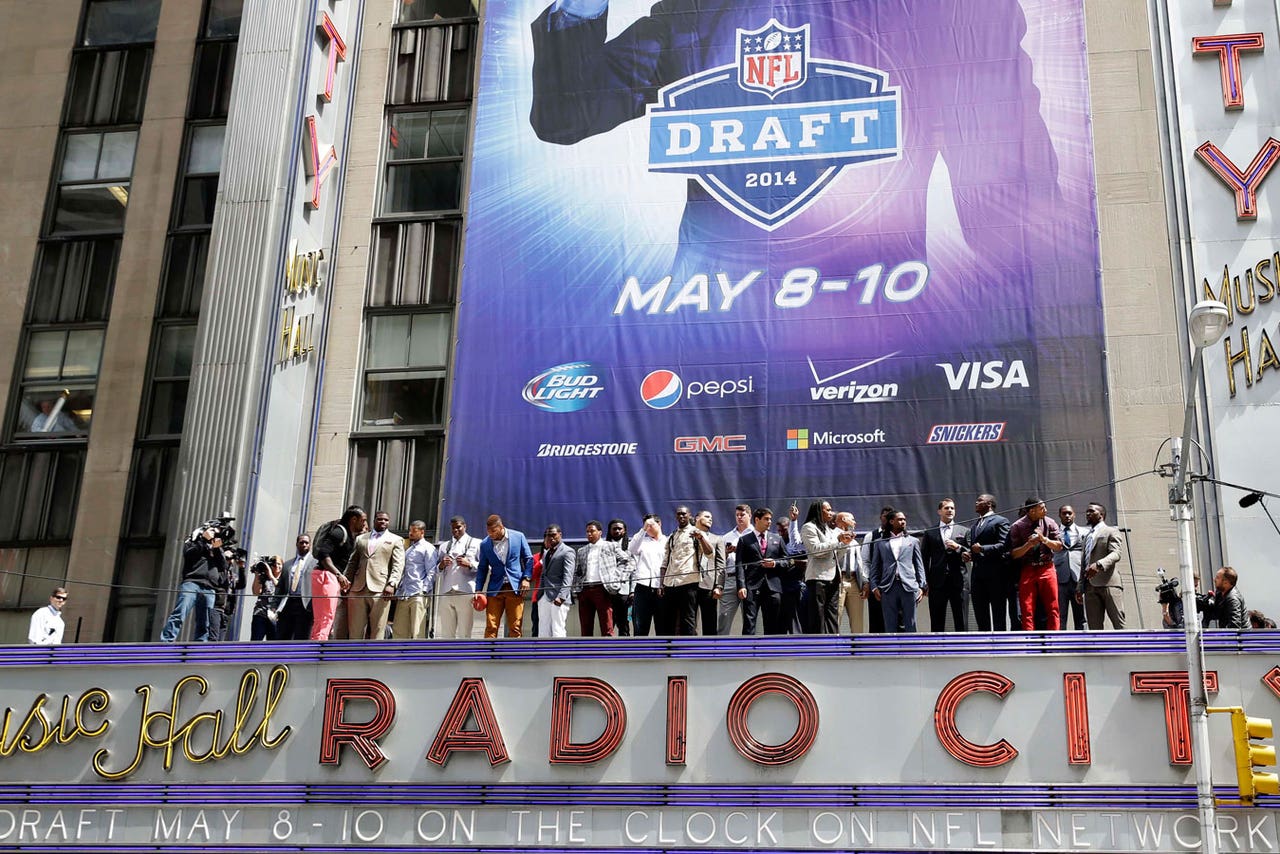 FOX Sports Ohio's Fred Greetham has done a mock draft every Thursday, including today's final installment. We will take a stab at prognosticating the entire first round of picks. For a bonus feature, we will also list who the Browns might take in the second-round -- 35th overall.
We feel there is a good possibility of a trade scenario up or down -- likely down with the first pick (4th) and likely up with the second (26th) -- with the Browns as Mike Pettine said the phone "has been ringing off the wall" and expects it to continue until the draft. GM Ray Farmer said he expects to talk with 8 to 10 GM's in the hours leading up to the draft.
WR Sammy Watkins is still the pick for the Browns selection as he is the best available playmaker. We're sticking with QB Teddy Bridgewater with the second first-round pick. If they want Bridgewater, QB Derek Carr or Blake Bortles they might have to trade up to get them. We have the Browns adding a cornerback at the top of the second round, but a trade down with the first pick could put a cornerback in play with the first pick.
We're going to lay out various scenarios that might play out on the first night of the draft followed by our best guess estimate as to what will take place in the first round. Normally, the first pick has been determined and is known. However, this year it appears the Texans have been looking to trade the pick and if they don't they will take either Jadeveon Clowney or Khalil Mack.
From all accounts, it appears that Farmer has done a masterful job in terms of keeping secret what the Browns plans are in the first round of the upcoming draft.
However, a recurring theme from the beginning of the week leading up to the draft has linked Johnny Manziel to the Browns with the fourth overall pick. After national reporters for ESPN and NFL Network said the Browns would take Manziel if he was available, FOX Sports' Jay Glazer said just the opposite Tuesday night -- that the Browns would not take Manziel with the fourth overall pick.
Here are some of the possible scenarios that could play out Thursday with their fourth overall pick:
1. Browns use their pick to take one of the non-quarterbacks, whomever is left after the first three picks among: LB Khalil Mack, DL Jadeveon Clowney, OL Greg Robinson, OL Jake Matthews or WR Sammy Watkins.
2. Browns take one of the quarterbacks: Johnny Manziel, Blake Bortles, Teddy Bridgewater or Derek Carr.
3. Trade down several spots and select one of the top-rated cornerbacks such as Justin Gilbert or Darqueze Dennard or take WR Mike Evans. It was no secret the Browns tried to trade for CB Darrelle Revis and tried to sign Antonio Rodgers-Cromartie in free agency.
Here are some of the possible scenarios that could play out Thursday with their 26th overall pick.
1. Keep their pick and make their selection.
2. Use some of their extra picks and try to trade up to select a quarterback such as Manziel, Bortles, Carr or Bridgewater.
Without trades, this is how we project the first round:
1. TEXANS--Jadeveon Clowney, DE, South Carolina
2. RAMS-- Greg Robinson, OT, Auburn
3. JAGUARS--Khalil Mack, OLB, Buffalo
4. BROWNS-- SAMMY WATKINS -- We almost took Watkins off the board last week because Farmer praised Watkins way too much in his pre-draft briefing with the media. We're sticking with the pick because if he is going to praise a player that much he has to be the pick if he's available, right? Pairing him up with Pro Bowl WR Josh Gordon and giving the Browns more offensive weapons for whomever is the QB just makes too much sense. If Watkins has been taken, it will likely be Mack or Jake Matthews.
5. RAIDERS--Jake Matthews, OT, Texas A&M
6.FALCONS-- Taylor Lewan, OT, Michigan
7. BUCCANEERS-- Johnny Manziel, QB, Texas A&M
8. VIKINGS--C.J. Mosley, ILB, Alabama
9. BILLS-- Mike Evans, WR, Texas A & M
10.LIONS--Justin Gilbert, CB, Oklahoma St.
11.TITANS--Darqueze Dennard, CB, Michigan St.
12. GIANTS-- Eric Ebron, TE, North Carolina
13. RAMS--Hasean Clinton-Dix, FS, Alabama
14. BEARS-- Aaron Donald, DT, Pittsburgh
15. STEELERS--Kyle Fuller, CB, Virginia Tech
16. COWBOYS-- Anthony Barr, OLB, UCLA
17. RAVENS-- Calvin Pryor, FS, Louisville
18, JETS-- Odell Beckham, WR, LSU
19. DOLPHINS--Zack Martin, OT, Notre Dame
20. CARDINALS-- Blake Bortles, QB, Central Florida
21. PACKERS--Ryan Shazier, OLB, Ohio St.
THE HOTTEST
Check out the hottest NFL cheerleaders. Which ones are your favorites?
22. EAGLES-- Brandin Cooks, WR, Oregon St.
23. CHIEFS-- Marqise Lee, WR, USC
24. BENGALS--Bradley Roby, CB, Ohio St.
25. CHARGERS-- Louis Nix, DT, Notre Dame
26. BROWNS-- TEDDY BRIDGEWATER, QB, LOUISVILLE -- Browns get QB who was considered the top-rated prospect by many at the end of the college season. Carr could be the Browns preferred pick.
27. SAINTS--Stanly Jean-Baptiste, CB, Nebraska
28. PANTHERS--Morgan Moses, OT, Virginia
29. PATRIOTS-- RaShede Hageman, DT, Minnesota
30. 49ERS--Kony Ealy, DE, Missouri
31. BRONCOS-- Joel Bitonio, OT, Nevada
32. SEAHAWKS-- Xavier Su'a-Filo, OG, UCLA
ROUND 2
35. BROWNS-- JASON VERRETT, CB, TCU -- Browns able to address a glaring need with a starting caliber cornerback.
BROWNS Sleeper pick at 35. -- CARLOS HYDE, RB, OHIO STATE -- Reports have said the Browns have Hyde on their radar but if they don't take him here it is unlikely he would be available much further down in the draft.
Follow on Twitter @FredGreethamOBR
---