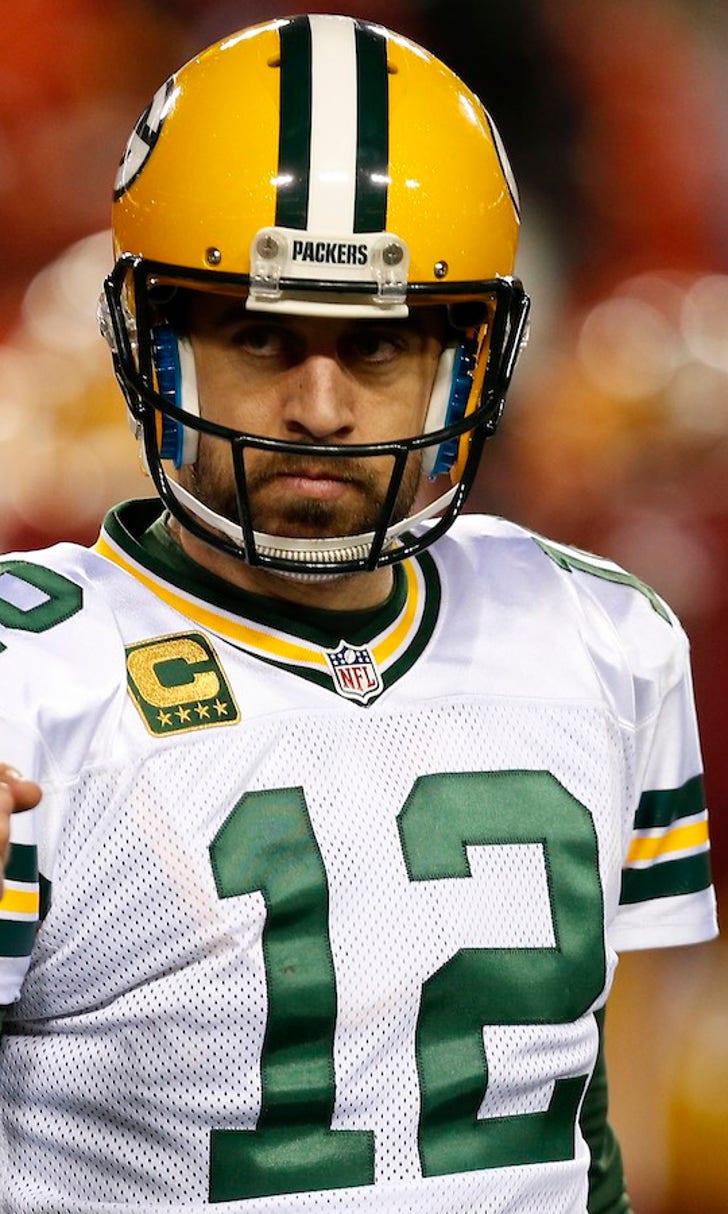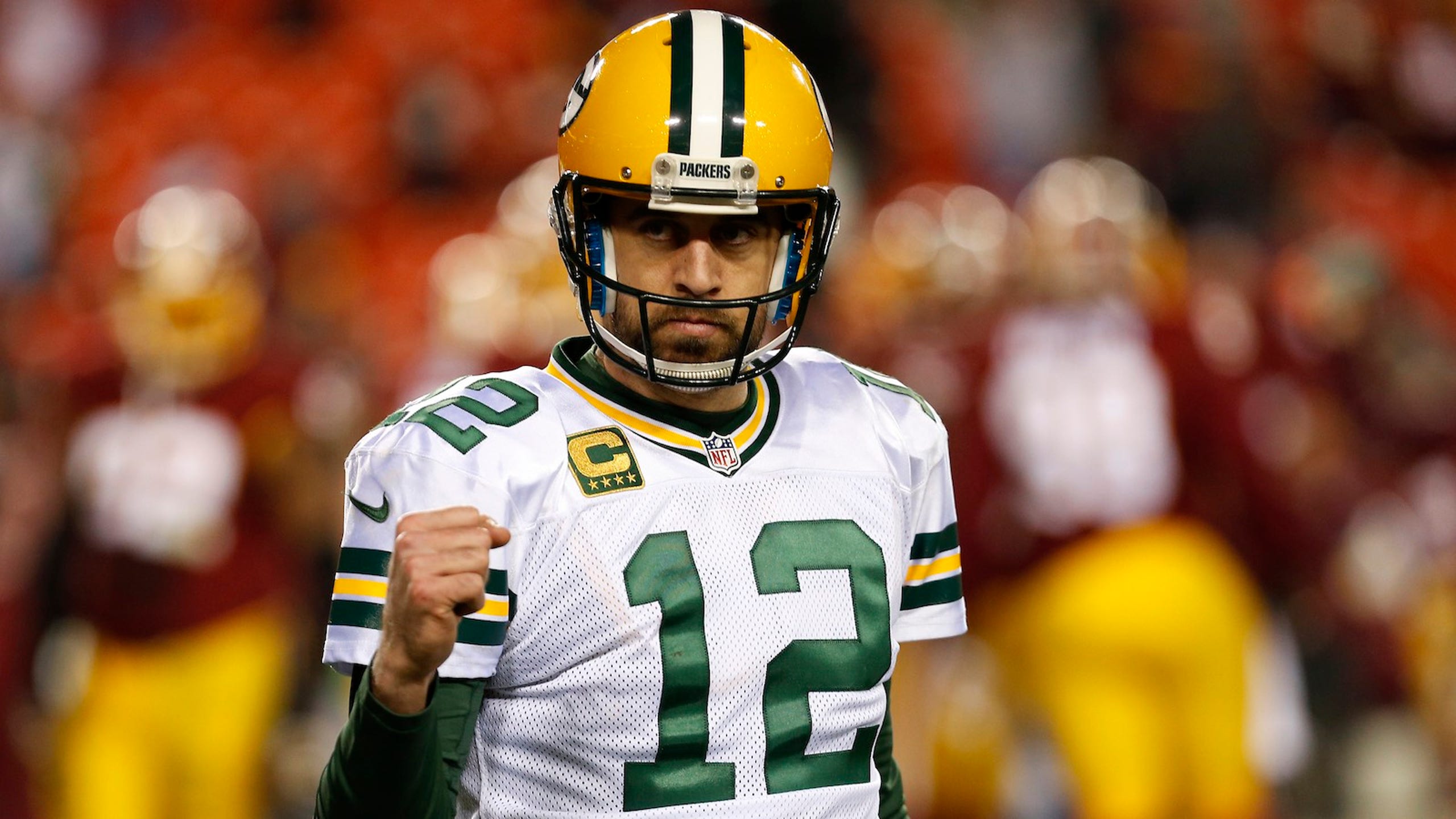 NFL Division Previews: NFC North
BY foxsports • August 24, 2016
In the NFC North, the Minnesota Vikings hope to build on their 2015 first place finish.  Standing in their way is a surgically repaired Aaron Rodgers, who will have his #1 receiver Jordy Nelson healthy this season.  Meanwhile, flying under the radar are the Detroit Lions, whose offense bloomed after Jim Bob Cooter took the reins.  The Lions finished with a 6-2 record to close the season, a better end than any other NFC North team.  The Chicago Bears are hoping they don't get left behind in what should be a very competitive division this year.
Green Bay Packers
In 2015, Aaron Rodgers had a terrible year.  And Aaron Rodgers recorded a 93 passer rating.  These two statements are completely contradictory for most quarterbacks, but for Aaron Rodgers, it's a testament to his greatness.  Aaron Rodgers was hesitant to release the ball last year at times because he lacked confidence in his receivers without Jordy Nelson out there to open up the offense, stretch the field and provide a reliable target.  But he missed throws.  Announcers and commentators were quick to blame his receivers for not gaining separation.  Those same commentators laud Rodgers when hitting covered receivers routinely.  You cannot have it both ways.  I saw Rodgers struggling & believed it was more than just a lack of confidence.  He wasn't playing well, and I thought some of that must have to do with some type of injury.  Sure enough, within days of his 2nd playoff game (an OT loss to Arizona), Rodgers had his knee scoped.  They may say it was a clean-up from an old injury, but players will resort to surgery as a last alternative.  If Rodgers could have avoided the procedure, he would have.  If the knee wasn't causing him any issues, it's unlikely he gets it scoped.  
Rodgers will rebound, because he's one of the best quarterbacks to have played the game.  He is also in an offense that he can run freely, at tempo and use cadence, to dramatically alter the defense's ability to adjust, something that far too few quarterbacks are allowed to do.  After going 6-10 in his first year as a starter in 2008, Rodgers has amassed a record as a starter in Green Bay of 74-29 (72%) and has made the playoffs every single one of those 7 seasons.  In the salary cap era, the only team with more consecutive playoff appearances was the Peyton Manning-led Colts for 9 straight seasons.  The Packers won the Super Bowl in 2010, so that means 6 times Rodgers lost in the playoffs.  Three came in overtime on the road.  Twice he was defeated by Jim Harbaugh and the innovative zone-read of the Fortyniners, which owned DC Dom Capers.  
The other loss was to the 2011 Giants, who won the Super Bowl that season.  While any great quarterback wants to win it all every single year, it is not as if Rodgers pulled out Andy Dalton playoff clunkers at home.  It is not as if Rodgers rarely makes the playoffs, and when he does, almost always goes 1 and done like Matt Ryan.  It's not as if Rodgers has a GM who frequently brings in free agent wide receivers, signing them to huge deals so Rodgers can play catch with them. What can the 2016 Packers anticipate with a cleaned up knee, Jordy Nelson and Jared Cook?  Hopefully more first half magic.  In 2014, Rodgers posted the best first half stat line in the NFL:  120.3 passer rating (#1), built with 25 TDs (#1), 0 Ints (#1), 66% completions and 8.8 yds/att (#1).  On deep passes, he posted a 136 rating, which was the NFL's best in at least a decade, as far as I traced the 1st half metric back.  That performance led the Packers to score TDs on 40% of their first half drives, 2nd best to only the 2007 Patriots since 1998.
If the Packers want to know an easy way to increase efficiency, they need to simply look to improve their 2nd and short run game.  It's the easiest way to convert a first down the NFL has to offer.  Yet the Packers converted 9% below average (26th in the NFL) last year, and have consistently ranked well below average for several years now on short yardage running.  A few key improvements would there would parlay efficiency across the entire offense.  Against an easier schedule, with 8 games against teams who finished bottom-12 in run defense, the Pack should be headed to an 8th consecutive trip to the playoffs.
Camp Notes:  The Packers finally removed WR Jordy Nelson from the PUP list, where he spent the first two weeks of training camp.  He's integral with this offense, so pay close attention to his health the last couple of preseason games.  Meanwhile, RB Eddie Lacy is fresh off his diet and new offseason workout system, and his weight dropped from 260 to what looks like a strong 240.
Vegas Perspective:  11 Wins, #1 in NFC North
If oddsmakers are any good at their job, and their projections are even the slightest bit sound, 2016 will be a fun year for Packers fans.  They won 10 games last year without Jordy Nelson and against a tough schedule.  This year, they are not underdogs in a single lined game (out of 15 lined thus far).  They are favored in 14 of the 15, and are projected to win 11 games.  Interestingly, the 2015 Packers played in just one game decided by a FG, and they lost.  They were 3-4 in one-score games, so there was no positive luck there.  Their game deciding stats were fairly neutral, but thanks in part to Aaron Rodgers' ability to draw opponents offsides with cadence (used too infrequently), the Packers were +15 in penalty margin.  Overall they were the 9th healthiest team (despite Nelson's loss), after being 3rd most healthy in 2014.  
Minnesota Vikings
The 2015 Vikings were a gambler's paradise, but were frustrating to watch from an efficiency standpoint offensively.  The Vikings covered the spread in 14 of 17 games last year, the most covers the NFL has seen and the 2nd best rate (82%), with only the 2004 Chargers at 13-2-2 ATS being slightly stronger.  How did they accomplish that feat?  For one, they caught the division and overall schedule in a down year.  Although the Packers won a playoff game (something the Vikings did not), Green Bay's offense was off all season due to the loss of Jordy Nelson in the preseason.  The Bears and the Lions both had down years, with 6 and 7 wins respectively.  The Vikings played a non-divisional games vs the AFC West and NFC West.  Historically, that would mean tough games vs the Broncos, Chargers, Seahawks, 49ers and Cardinals.  But Denver's offense was a shell of itself in 2015, despite winning the Super Bowl, and the Chargers won only 4 games.  Meanwhile, while the Seahawks and Cardinals were both strong, the 49ers were an embarrassment.  And in their other two NFC games, they drew the Falcons and Giants, neither of which finished with a winning season.
But it wasn't all about schedule.  The Vikings played well in metrics that help win games: +5 in turnover margin, +21 in penalty margin, and +6 in return TD margin, while not allowing any on the season.  They recorded the 7th most sacks of any team, though their sack margin was -2 due to a porous line.  While the Vikings won 11 games & the NFC North, looking closer at the best teams they played last year showed this Mike Zimmer-led team still has a lot of work to do.  The best teams they played last year were the Seahawks (twice), the Broncos & the Cardinals.  They lost every game.  Many were close.  But when you factor in the week 11 blowout loss in Minnesota to the Packers (30-13 final) and the week 13 blowout loss in Minnesota to Seattle (38-7 final), its clear the Vikings still have a long way to go.  The team must trust Teddy Bridgewater more (and he must deliver) to pass the ball on the early downs to gain more variety and make both the rush and pass attack more potent.
Last year the Vikings ran the ball on 66% of their 1st down plays in the first half.  The NFL average was 51%.  The next 5 teams in terms of run heavy on first down?  STL, CHI, BUF, TB, DAL.  No team had a winning season, most had losing seasons.  At the other end, are teams who passed the ball more often than the NFL average.  Playoff teams like NE, GB, PIT, DEN, KC, ARI, SEA and NYJ.  Notice that SEA & NYJ are two of the most run heavy teams in the NFL, but they realized it was smarter to pass more often on 1st down early in games.  Making it more odd is the fact that the Vikings were not efficient on 1st down runs, either.  They gained just 3.67 YPC (24th) worst of any of the other run heavy teams I listed earlier.  The implications of this strategy were as predictable as the play calling:  The Vikings recorded 1st downs on 1st or 2nd down play calls just 23% of the time (5th worst).  Thus, they faced a lot of 3rd downs, and on those 3rd downs, they passed the ball 88% of the time, 3rd most in the NFL behind only the pass happy Saints and Lions.  Being so predictable, they converted just 36.8% of those 3rd downs into 1st down, 7th worst.  It's hard to put into words how inefficient that strategy was, or how much more efficient this team could be with more intelligent play calling in 2016.  Behind a healthier offensive line, Norv Turner & Mike Zimmer must trust Teddy Bridgewater to pass on the early downs, which could provide the spark for a much more efficient 2016 campaign.
Camp Notes:  With WR Stefon Diggs being touted as "the most impressive offensive player" in camp, and other pass catchers including WR Laquon Treadwell, TE Kyle Rudolph, and receiving RB Jerick McKinnon all being solid options, it is only a matter of time for Teddy Bridgewater to come into his own.  And with the Vikings defense, led by DL Everson Griffen under Mike Zimmer's tutelage, the needle is pointing up on the Vikings potential in the NFC North the next rew years.  
Vegas Perspective:  9.5 Wins, #2 in NFC North
The Vikings were the 7th healthiest defense last year while their offense was middle of the pack.  However, they were fairly healthy during the season given they lost RT Phil Loadholt and C John Sullivan for the year before the season started.  Their turnover margin, penalty margin and return TD margin will be hard to improve in 2016, because they were +5, +21 and +6 respectively in those areas.  They recorded 43 sacks but finished -2 in margin due to protection issues along the offensive line and Teddy Bridgewater's decision making issues at times.  Surprisingly, the Vikings did not play in many close games, with just 4 of their total 11 wins coming by 1 score or less, 28th most in the NFL.  They went 4-2 in one score games, 4th best in the NFL, but many of their games saw them win (6 games) or lose (3 games) by double digits.
Chicago Bears
The Chicago Bears seem as if they are at the brink of something in 2016.  It feels like an important year.  If the results are strong, it will be a stepping stone for the franchise in John Fox's 2nd season, in the direction he envisioned.  If the results are poor, it really throws question on who he chose to replace OC Adam Gase and what the front office's plan is personnel, including paying Jay Cutler but not Matt Forte, and what they'll need to change moving forward.  One thing is certain, with half of their first eight games coming in Primetime, the entire nation will see them rise or fall.
Whether they rise or fall will have a lot to do with whether they run or pass.  The 2014 Bears were the most pass heavy team in the NFL.  They passed 63% of all play calls in one-score games, a 6% increase from 2013 and the 2nd largest jump in the NFL.  But then Fox came to town, with Gase in tow, and everything changed.  The Bears dropped all the way down to 51% pass in one score games, a massive 12% drop from the prior year.  It was the largest drop toward the run of any team.  They ran the 3rd most often when losing, the 5th most often when winning, and the 2nd most often in one score games.  The identity change was massive.  But it paid off big.  Ignore the 6 wins for a moment - the Bears went the most run heavy team of any in the NFL, and yet still produced the 5th best rushing efficiency against the 2nd most difficult schedule of opposing defenses.  It kept games close and allowed the Bears to be competitive:  they lost just 1 game by over 1 score (when Jay Cutler was not injured), as compared to 2014, when they lost 7 games by over 1 score, losing all 7 by 13+ points.  But what happened this past offseason was what was most perplexing, and leads me to realize how important 2016 will be for Chicago.
The Bears play calling was clearly limiting Jay Cutler's influence in 2015, despite signing him to a $126.7M deal the year before.  They intentionally took the ball out of his hands a lot more, and placed it into the belly of Matt Forte and the rushing numbers took off, as did Chicago's competitiveness in games.  But the team lost Adam Gase this past offseason, who helped lead the charge in the 2015 rushing revolution, and then they had no interest in paying Matt Forte.  And so the 30 year old Forte was able to sign a very affordable 3 year, $12M deal with the Jets.  Somehow, the Jets were able to work a 3 year deal for Forte which has cap hits of $3M, $4M and $5M, while the Bears saw him hit their cap for over $9M last year alone.  The 2016 Bears now have Cutler hitting the cap at $17M, Jeffery hitting the cap for $14.6M, and WR Eddie Royal rounding out their top 7 cap hits, at $4.5M.  No current RB hits the cap for over $715K.
The question now is, what will the 2016 Bears become with the former QB Coach Dowell Loggins calling plays?  Projected starting RB Jeremy Langford was significantly worse than Matt Forte last year in key situations, like rushing on early downs and rushing in the first half.  Langford made his hay by rushing for large chunks when the defense was trying to stop the pass and wasn't playing to stop the run, like on 3rd and long or in 2 minute drills.  The 2016 Bears made decisions and spent their money as if they plan to turn more back to Cutler and the pass game.  But that strategy was a failure in 2014, the year after Cutler signed his new deal.  It will be fascinating to see which direction the offense heads in Chicago, but regardless of how that plays out, the defense absolutely must play better (particularly in the secondary) to have any real shot.
Camp Notes:  Starting RB Jeremy Langford packed on an additional 10 pounds to withstand the pounding he's likely to take now that RB Matt Forte is with the Jets.  The Bears lost starting C Hroniss Grasu, and half the first team's offensive snaps resulted in no gain or losses in their week 1 preseason game.  The team signed multiple offensive linemen to compete for the position as a result.  
Vegas Perspective:  7 Wins, #3 in NFC North
The Bears haven't had much luck with injuries, and that bad luck from 2014 carried over to 2015, with the team being 5th most injured, after finishing 6th in 2014.  With that came 12 very close games, decided by one score or less.  They finished one win shy of flipping-coins, going 5-7.  But because they won just 6 games, all but one of those wins was by close margin.  For most of the critical metrics, they were close to being neutral, but the one which stands out the most was the -7 return TD margin.  The Bears didn't have a single return TD last year but allowed 7.  They are currently projected to win 7.5 games in 2015, but are favored in only 5 at the moment.  Fortunately, they do have one of the easier schedules in the NFL, and the back-to-back home stand against the Titans and 49ers would be sure to pump 2 more wins into most team's total.  And after their bye, they have the easiest schedule of any team in the NFL.
Detroit Lions
The 2015 Detroit Lions were a fascinating team, in large part because they evolved so much over the course of the year that it's extremely interesting trying to forecast what happens in 2016.  Picture this:  a team plays 6 playoff teams in their first 8 games, including a game against the ultimate Super Bowl champ, and drops 7 of those 8 games, with over half the losses by double digits.  Top tier defenses faced included #1 DEN, #3 ARI, #4 SEA, #6 KC and #14 MIN.
In their final 8 games, this team plays 2 games against playoff teams, and wins 6 of 8*  (*one of the 2 losses is to an Aaron Rodgers' Hail Mary).  Bottom tier defenses faced included #32 NO, #31 CHI, #27 SF, #17 PHI.
As such, its difficult to look at full season stats.  Weekly games are not played in isolation - they bleed into one another, and impacts from one week can carry to the next.  Playing (without a break) the defenses of the Vikings, Broncos, Seahawks and Cardinals can wear a team down and leave them battered physically and mentally.  Initially, I didn't agree with the Lions firing their offensive coordinator mid-season.  But it's also hard to not like the results the team's offense got with Jim Bob Cooter.
This offense turned into the #1 offense inside the red zone.  Not just based on touchdown rates alone, but play success in general.  And even though their run offense was nothing to write home about over the majority of the field, inside the red zone it was the 2nd most successful and between the 21-40, it was the 6th most successful.  However, it put up these numbers against poor defense and did so with Calvin Johnson. Johnson, and DET's 52% of all passes 15+ yards in the air that went his way, are gone.  Despite signing an 8 yr $131M deal in 2012, Johnson retired.  In his absence is the absence of the ability for other receivers to earn man coverage with Johnson doubled.  Detroit faces the Herculean task of replacing a player like Johnson in a pass-heavy offense.  
In the 8 games that Calvin Johnson was without a catch due to injury since 2009, the Lions offense averaged 14 ppg.  The Lions can overpay Marvin Jones ($40M for 5 yrs) but he's not going to scare any defense the way Megatron did.  This means it will be more difficult to run and pass.  Just ask Tom Brady about missing Rob Gronkowski, as the Patriots are 0-3 dating back to 2013 without his involvement, scoring just 17 ppg.
So where do the Lions turn?  They simply must get more out of their rush attack.  Ameer Abdullah must be more explosive for more of the season than he was in his rookie year.  The newly built offensive line must gel & perform better in run blocking.  Because without the threat of a run game, the pass heavy Lions will simply not be able to repeat their early down or red zone efficiency without the coverage-dictating Megatron.
Defensively, the Lions must improve EDSR defense & red zone defense.  Being inefficient on the early downs allows frequent 3rd down avoidance and more trips into the red zone.  And being poor in red zone conversion rate means the Lions will be playing with a deficit.  DC Teryl Austin needs his 9th rated pass rush to help the back-end (20th) even more.
Camp Notes:  Lions starting LB Jon Bostic will be out at least six weeks, and potentially much of the season, with a broken foot. This injury has put the Lions extremely thin at LB depth.  The Lions signed free agent WR Anquan Boldin, who will be their #3 WR, along with #1 Golden Tate and #2 Marvin Jones.  However, Jones has emerged in camp and looks poised to be the Lions top target this season, being quoted as "catching everything in orbit" and Stafford's favorite target and the clear deep threat on the team.
Vegas Perspective:  7 Wins, #4 in NFC North
Last year 71% of the Lion's wins were in games decided by one score or less.  In fact, they won just 2 games by over 8 points (vs SF wk 16 and PHI on Thanksgiving, both at home) while they lost 5 games by 9+ points.  They do get a nice schedule from a rest perspective, having more rest than their opponent 4 times.  But the Lions were -6 in turnover margin, -8 in penalty margin and -1 in sack margin.  If they bring all of those numbers closer to zero at a minimum, they would likely exceed their 7 game win projection, identical to their mark from 2015.  But many of those 7 wins came from week 10 onward, when they faced terrible opposing defenses and were tremendous in the red zone.   Games against LA, HOU and MIN in a 4 week span will be their offense's biggest test, but going against NO, CHI, NYG and DAL the last 4 weeks of the season should provide better offensive opportunities, despite 3 of the 4 being road games.
---