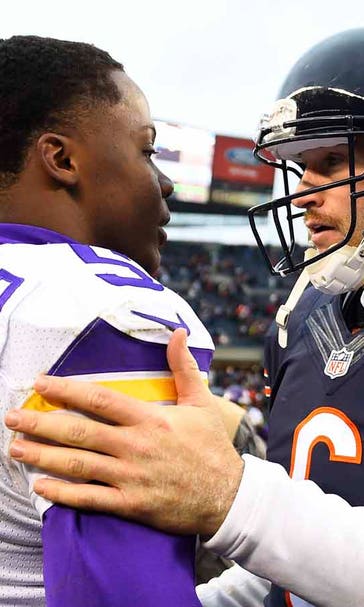 NFL countdown: Vikings at Bears
October 30, 2015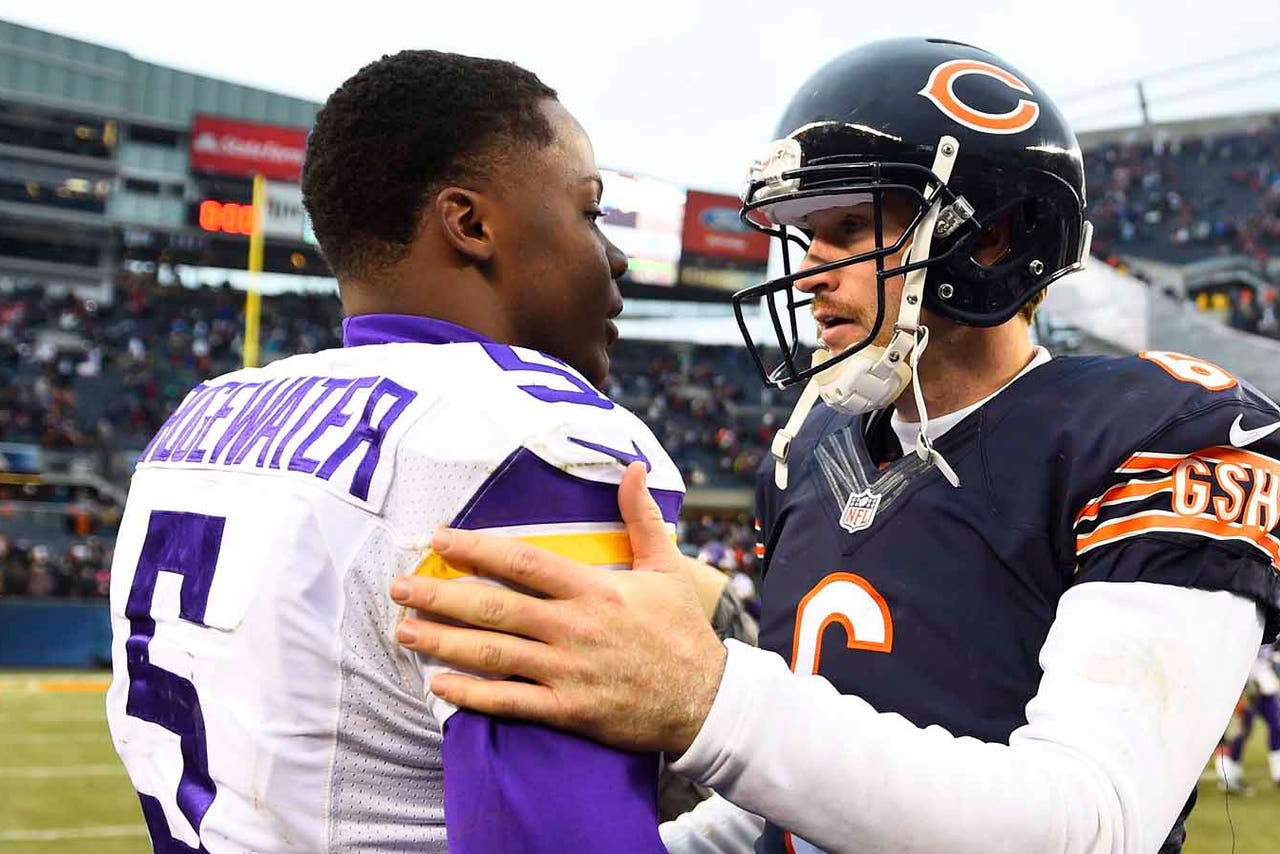 To put it mildly, Soldier Field has been a house of horrors for the Vikings in recent years.
This stat will send a shiver sprinting up your spine, Vikings fans: Chicago has won 13 of 14 home games against Minnesota -- including seven straight. Of course, the Vikings exorcised some demons last Sunday, when they won at Detroit, 28-19, posting their first road win against an NFC North foe since September 2012.
Vikings coach Mike Zimmer hails from Lockport, Ill., roughly 35 miles from Soldier Field, so he'll be especially eager for a strong showing this Sunday at noon, when Minnesota (4-2) aims to prolong 2-4 Chicago's struggles this season.
Let's take a closer look at this Sunday's NFC North showdown, in which the Bears are favored by a point.
-- Adrian Peterson's health. The Vikings' star running back has a laundry list of ailments entering this divisional matchup, to his hip, finger and ankle. The 30-year-old was held out of practice at midweek as a result. Peterson has had great success in Chicago in the past, though, so you can be sure he'll do everything possible to suit up on Sunday. In 12 career games against Chicago, "All Day" has rushed for 1,396 yards and 14 TDs. He currently ranks fourth in the league with 530 yards rushing.
-- Can the Vikings' offense put up points on Chicago? The Vikings have endured some rough sledding offensively against Chicago the past couple years. In the clubs' previous meeting, last Dec. 28, Minnesota squeaked out a 13-9 victory in Minneapolis. The Vikings have averaged 16.3 points per game against the Bears over the clubs' last three meetings. Getting the ball to rookie wideout Stefon Diggs would help; the young Vikings standout already has six receptions for 25 or more yards this season. Meanwhile, for all their deficiencies so far this season, the artists formerly known as The Monsters of the Midway possess a fairly decent defense this season, ranking 10th in the NFL overall and sixth against the pass. Head coach John Fox's squad will be rested, too, coming off a bye week. One Bears defender that will no doubt be circled on the Vikings' scouting report: linebacker Pernell McPhee, who has a team-high four sacks.
-- How do the Vikings handle Solider Field's notorious, natural-grass surface? In many ways, Chicago's field represents everything football should be, aesthetically. Heck, players can actually get grass stains in Chicago, which isn't a possibility in many other NFL locales in this age of ubiquitous FieldTurf surfaces. That said, visiting teams like the Vikings tend to look a step slow in Chicago, with planting and cutting made just a hair more difficult by natural turf that makes for more divots than a municipal golf course. One positive for Minnesota: In 2007, Peterson had one of his finest games as a pro in Chicago, rumbling for 224 yards -- the most ever by a Bears opponent.
-- The Vikings' defense is catching fire. After dropping Detroit QB Matthew Stafford for a season-best seven sacks last week, Minnesota will take aim at Chicago's Jay Cutler. And youth shall lead the Vikings, with rising stars like safety Harrison Smith (team-high nine tackles last week) spearheading a Minnesota defense that ranks seventh-best in the NFL and is yielding just 17.0 points per game. Linebacker Eric Kendricks, for example, is tied for the NFL rookies lead with four sacks. Chicago's offense has been sluggish this season, ranking 27th overall, but a recent return to full health of lanky receiver Alshon Jeffery helps.
-- Matt Forte is still quite dangerous. The Bears' star running back turns 30 on Dec. 10, but he's still running strong, by and large. The two-time Pro Bowler has rushed for 507 yards in six games this season. His versatility was never more apparent than on Oct. 4, when Forte had 155 yards from scrimmage -- including 64 yards receiving -- in a narrow win over Oakland. He currently ranks second among NFL running backs to Atlanta's Devonta Freeman with 698 scrimmage yards. In 13 career games against Minnesota, Forte has averaged 77.2 yards on the ground.
Vikings secondary vs. Jay Cutler
For all the criticism constantly heaped upon Cutler, the 32-year-old QB has a strong track record against the Vikings. Cutler boasts an 8-3 career record against Minnesota, with an average stat-line of 237 yards passing, 2.1 TDs, 1.2 interceptions and a 64.7 completion percentage. On Nov. 11, 2014, Cutler passed for 330 yards in Chicago's 21-13 home win versus Minnesota. His quick decision-making and short drops usually keep the Vikings' pass rush at bay, historically, which may inspire Minnesota's Zimmer to crank up the blitz calls this Sunday. Cutler, who has 7 TD passes and four interceptions in five games played this season, has 136 scoring strikes for the Bears and needs just one more to tie Hall of Famer Sid Luckman's team record.
Follow Kelly Beaton on Twitter
---
---