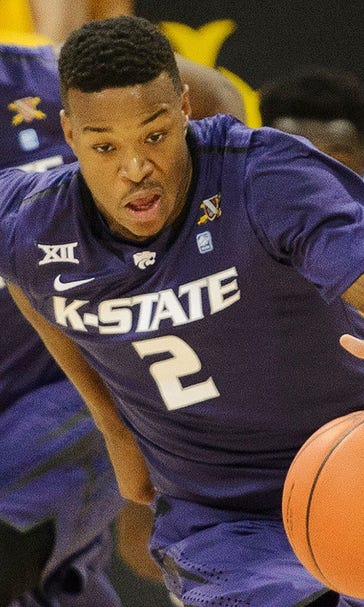 Newly dismissed Foster's 'love' for Coach Weber apparently unrequited
March 24, 2015

KANSAS CITY, Mo. -- In his final comments on a soap operatic, roller-coaster ride of a 2014-15 season, Marcus Foster told reporters that he "loved" Bruce Weber.
It's safe to say those feelings weren't reciprocated.
The men's basketball coach at Kansas State announced Tuesday evening that Foster, the gifted wing guard who's been his top scorer in each of the past two seasons, had been "dismissed" from the program -- the last crack in a relationship that appeared to be fracturing, publicly and privately, for nearly four months.
Foster's dismissal was one of two declared by the Wildcats' coach, who booted another shooting guard, freshman Tre Harris, off the squad after just one season. The school also announced that point guard Jevon Thomas, a sophomore from New York City, was electing to transfer out.
"Marcus and Tre have been unable to live up to the standards that we expect of our players," Weber said in a statement released by the school. "It is a privilege to represent Kansas State University and there are consequences when players don't live up to those expectations. Hopefully, they will learn from this experience and make the necessary progress to continue their basketball careers elsewhere."
The discontent between the Wildcats' coach and leading scorer has been brewing since late December, finally coming to a head when Weber benched the Wichita Falls, Texas, native before a 61-47 setback to open Big 12 play Jan. 3 at Oklahoma State. Foster and forward Malek Harris were suspended indefinitely on Feb. 4, before the Wildcats were to face Texas Tech in Lubbock, for "violation of team rules."
The off-guard wound up missing three games, returning before K-State's home date with Oklahoma on Feb. 14, netting 14 points upon his return and upsetting the Sooners -- who will face Michigan State on Friday night in one of the NCAA tourney's two East Regional semifinals -- on a last-second 3-pointer, 59-56.
It was the second time a Foster trey had sunk Oklahoma; Foster hit the game-winner in the Wildcats' marquee road win of a schizophrenic, 15-17 season, a 66-63 overtime upset of the Sooners on Jan. 10 in Norman.
Tuesday's announcement proved a puzzling end to a puzzling few months for Foster in Manhattan. He was one of the feel-good stories in the Big 12 as a true freshman in 2013-14, topping the roster in scoring average (15.5) and 3-point makes (79). Mississippi coach Andy Kennedy, after a loss at Bramlage Coliseum in December 2013, likened Foster to a second coming of former K-State great Mitch Richmond.
A preseason All-Big 12 first-team selection before his sophomore season, Foster spoke to reporters about taking on more responsibility as a leader and a go-to force, even expressing an interest in playing some minutes over at the point guard slot in order to broaden his pro prospects. Those minutes never quite materialized, and after Christmas, things started going completely off the rails. Foster was scoreless in a stunning home defeat to Texas Southern on Dec. 28 and contributed just two points in a four-point home loss to Georgia on Dec. 31.
Foster's exit and the expiration of eligibility for seniors Nino Williams and Thomas Gipson means the leading returning scorer for the Wildcats this fall -- at the moment -- is junior transfer Justin Edwards (6.3 points per game). It could also mean more court time for incoming recruits such as guards Kamau Stokes and Barry Brown and highly touted local prep Dean Wade, a 6-foot-8 forward.
The departures of Thomas (4.5 points, 3.3 assists per game) and Harris (3.8 points per game) had been reported earlier in the day, but the Wildcats' release Tuesday evening shed a little more light on the specifics.
Weber elaborated that Thomas, who was the Wildcats' primary point guard much of this past season, "has worked diligently to succeed in our program both athletically and academically. He has made tremendous strides during his time at K-State but he (has) come to the decision (that) he wants to be closer to home. We wish him the best as he moves forward in his college career."
Weber's parting words for Foster, who averaged 12.5 points per contest as a sophomore, came off as far less kind.
Which was even more curious given his now ex-star's statement following the Wildcats' season-ending defeat to Texas Christian in the Big 12 tournament:
"(Fans) really don't understand who me and Coach Weber are," Foster said at his locker stall. "Because me and him can be mad at each other, but at the end of the day, we still love each other."
You still love him?
"Yeah, I still love Coach. He's always going to be my favorite coach, because he gave me a chance when nobody else wanted to."
In basketball, though, love sometimes has to be a two-way street. And now Foster, whose collegiate career opened with such promise, finds himself staring at a one-way ticket out of Aggieville.
You can follow Sean Keeler on Twitter at @SeanKeeler or email him at seanmkeeler@gmail.com.
---