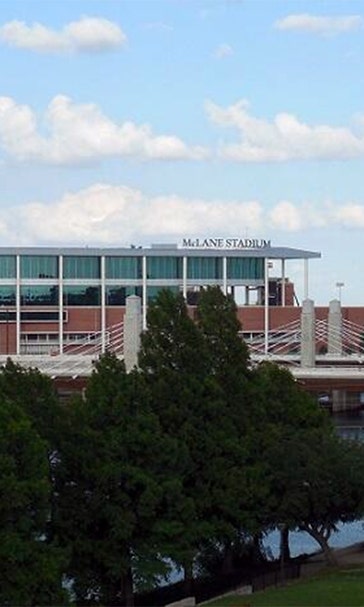 New stadium changing everything at Baylor
BY foxsports • July 9, 2014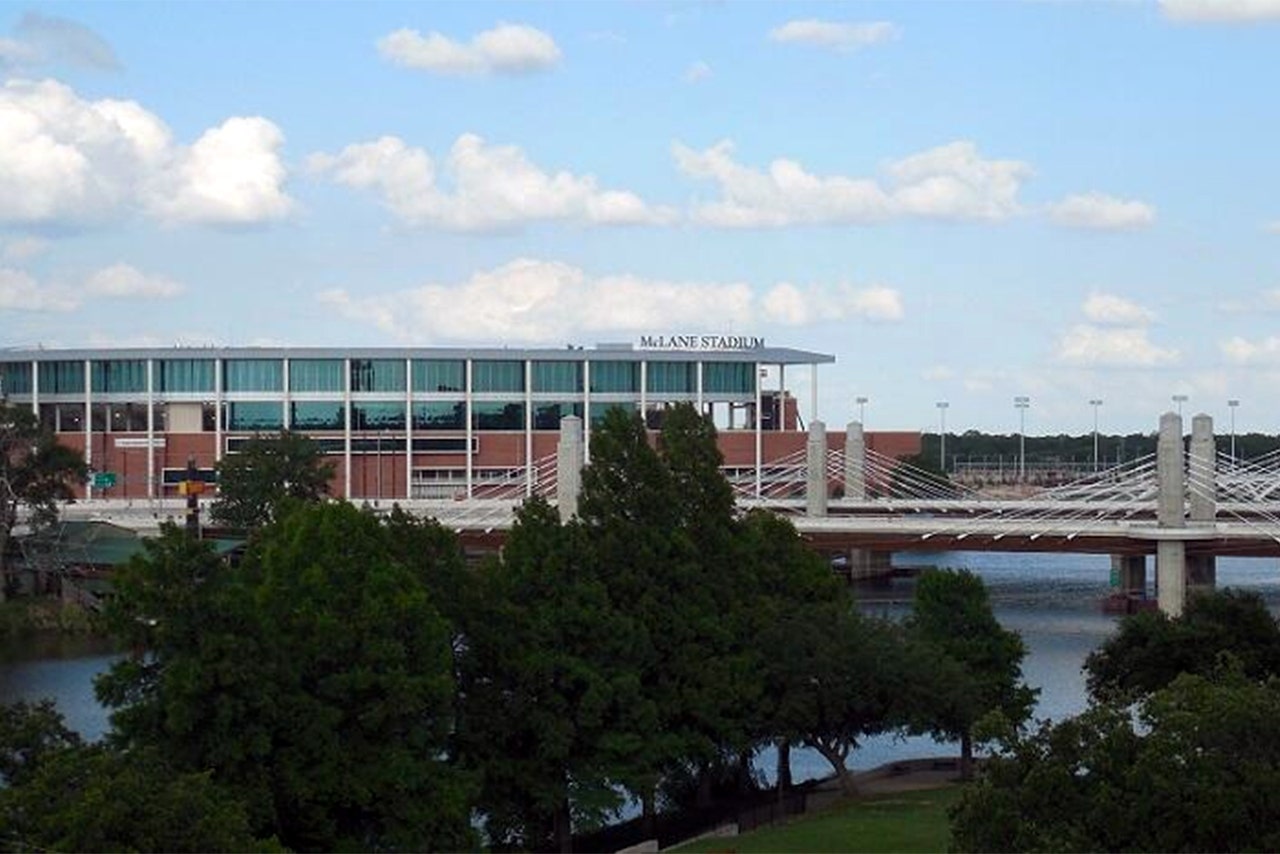 WACO, Texas --Two years ago, Art Briles had just stepped outside Baylor's football facility when a carload of fans from an out-of-state in-conference school stopped him in the parking lot.
They were driving through Texas and stopped to see Baylor's campus but had a problem.
"Where's the football stadium?" they asked.
Briles drew them a map and showed them how to make the three-mile trek south of campus and across the highway to where the Bears played their home games.
That'll never happen again.
However prominent you thought Baylor's new McLane Stadium would be on Interstate 35 probably undersells reality.
Drive south over the hill north of the Bears' campus and the name of the Big 12's soon-to-be nicest stadium rules the horizon like the Rocky Mountains dominates the drive from Denver to Colorado's campus in Boulder.
"When you come over that bridge, it's just right there. Everybody gets to see it." quarterback Bryce Petty said. "It's almost like the eighth wonder of the world.
It's comical, really. Almost as comical as the predictability of any piece in the past few years examining Baylor. Every one has to begin (or at least include) a retrospective about how it used to be before flashing forward to how it is now.
When the difference between the two realities is so stark, it's unavoidable.
Baylor is unrecognizable now from just five years ago when the Bears won one Big 12 game and went 4-8. No program in college football has enjoyed a more dramatic rise in that period.
Since then, they've snapped a 16-year bowl drought, won two bowl games, captured a Heisman Trophy and the first Big 12 title in school history. Improved recruiting has put the Bears in position to compete for a second consecutive title, and they've done it all without an on-campus stadium, something every team in the Big 12 and almost every team in college football enjoys.
"Now we're getting to play college football like 99 percent of other universities in the nation," Briles told FOX Sports Southwest this week.
That's a scary thought for the Big 12.
Sparkling, spanking-new McLane Stadium--complete with a statue of program legend Robert Griffin III--officially opens on Sunday, Aug. 31. Briles, and really everyone at Baylor, love to talk about how it changes the Bears' perception outside Waco, but it changes plenty inside the program, too.
Briles and his staff never take recruits to Floyd Casey Stadium on official visits.
"It wasn't anything that was going to help us," he said. "I don't really think it kept us from getting somebody at the end, it might have kept us from getting guys in the start."
Now, conversations with recruits on campus begin with the $260 million, 45,000-seat elephant in the room. Those conversations used to begin with questions about Griffin, the program's brightest star.
"They usually start it, too," Briles said. "It's transcended to that. RG's still got some stroke, but the stadium's working on him."
Baylor usually only practiced twice in preseason camp at Floyd Casey Stadium on stadium walkthroughs on Friday were their only team visits during game weeks in the season.
That'll change now. Visits during fall camp and game weeks will be commonplace. Spring practices will often take place at McLane and Kaz Kazadi's strength and conditioning staff will use the facility for offseason workouts, too.
As of this week, the turf is officially installed, and Baylor officials are hoping to have the stadium game-ready by mid-August, a couple weeks before game week.
The stadium will host the annual Traditions Rally on Thursday, Aug. 28 before DeSoto and Cibolo Steele play the first game on the turf the next day. Saturday, the stadium's club will host a donor event and Sunday is the official debut when the Bears take on former Southwest Conference foe SMU.
Everyone associated with Baylor will experience some level of change, not just current players who don't have to worry about bringing a car to campus or tackle the hassle of finding a ride to the stadium when necessary. Petty estimated that 20-30 players had to scrounge up rides from friends or teammates to the stadium when the team didn't bus there together.  
The signature horseshoe canopy atop the structure will provide shade to much of the stadium, addressing frequent fan complaints about the central Texas heat for day games. The stadium will be outfitted with Wi-Fi on the concourse and in the bowl and fans will be able to access replays and stats live via the Yinzcam app while inside the stadium. That added around $2 million to the price tag for the stadium, Baylor's associate AD for finance and administration Todd Patulski said.
Leave your seat, and the field will still be visible from the concourse of the 100 and 200 levels.
"If I'm out buying a hot dog, the play's behind me. There's no wall blocking my view of the game," executive associate AD Nick Joos said. "There will obviously be TVs and sound on the concourse, but you won't lose touch with the game."
Could food on the concourse include more than hot dogs, though? What about a Health Camp cheeseburger or legendary Gut Pak from Vitek's BBQ? Baylor is using the retail food service Savor for their stadium concessions.
"Like everything, we may evolve over time as demand dictates," Patulski said. "I think there's value in having local flavor in your concessions and I think they appreciate that value, too."
"Sailgating" on the Brazos River has been one feature that's been talked about, and Baylor installed 16 boat slips to allow tailgating on the water. School officials are exploring the possibility of installing a giant screen outside the stadium so fans will be able to watch the game live from the river.
All those upgrades are in response to dwindling attendance numbers across college football as high-definition big screens have enhanced the home viewing experience.  
A larger, 140-seat press box will make it easier for the school to accommodate demand for high-profile games, which had been a problem in Floyd Casey's tight quarters and limited seating for media. Even the national TV booth features its own bathroom.
Fans will be able to make year-round trips to the stadium and eat at The Baylor Club, a restaurant in the stadium's club seating area.
"It's just exquisite from a fan standpoint," Briles said.
Recruits will visit a lavish lounge at field level that overlooks the turf, reminiscent of ground-level suites at Cowboys Stadium.
Populous, the architecture firm who designed McLane Stadium, gave Baylor three possible designs for the stadium. Officials chose a tri-level design that also happened to be the most expensive.
Populous designed University of Phoenix Stadium, which hosts the Fiesta Bowl and the Arizona Cardinals. It also designed Heinz Field, FedEx Field, Reliant Stadium and is heading up the redeveloped Kyle Field at Texas A&M.
Baylor also hired SMG to manage the facility and seek to bring more events to the venue.
Baylor rebuilt its program with something of a handicap. It's not fair to say the Bears had one hand tied behind their back, but dealing with a few fingers taped together produces some limitations. Those are gone now, and the perception outside the program may be changing, but the excitement inside is justifiably building for what could be coming soon.
"With time, comes change," Briles said. "It was time for a change."
---