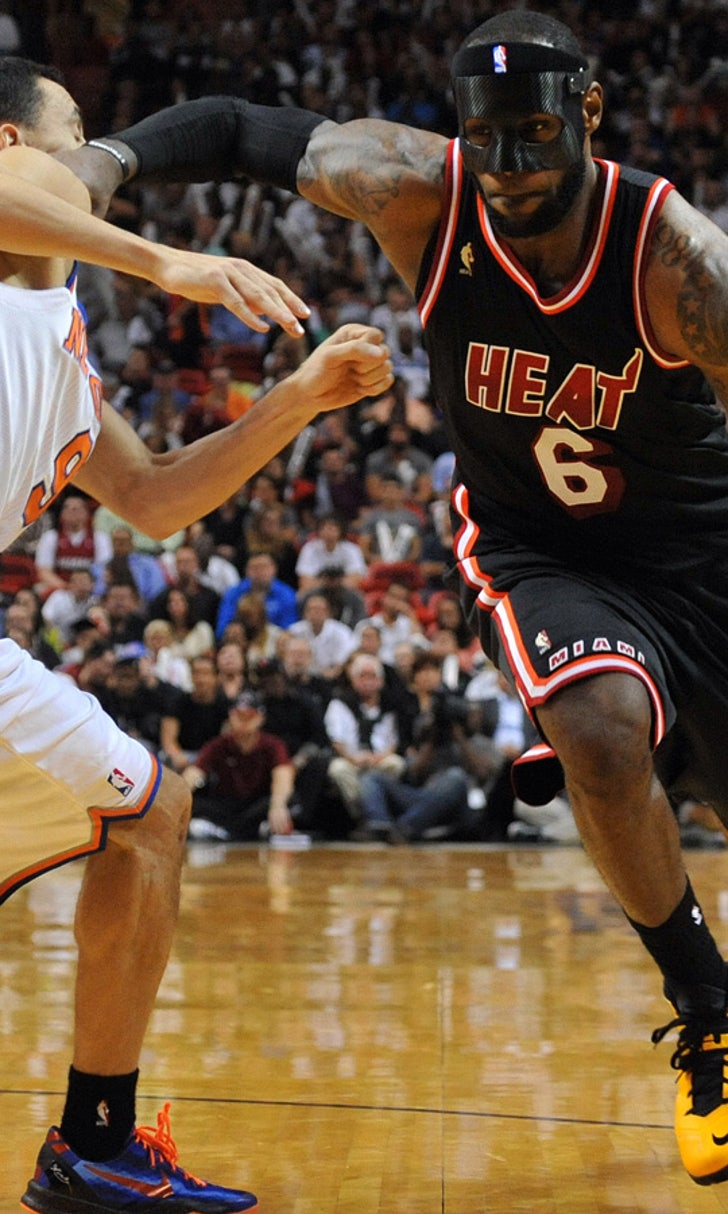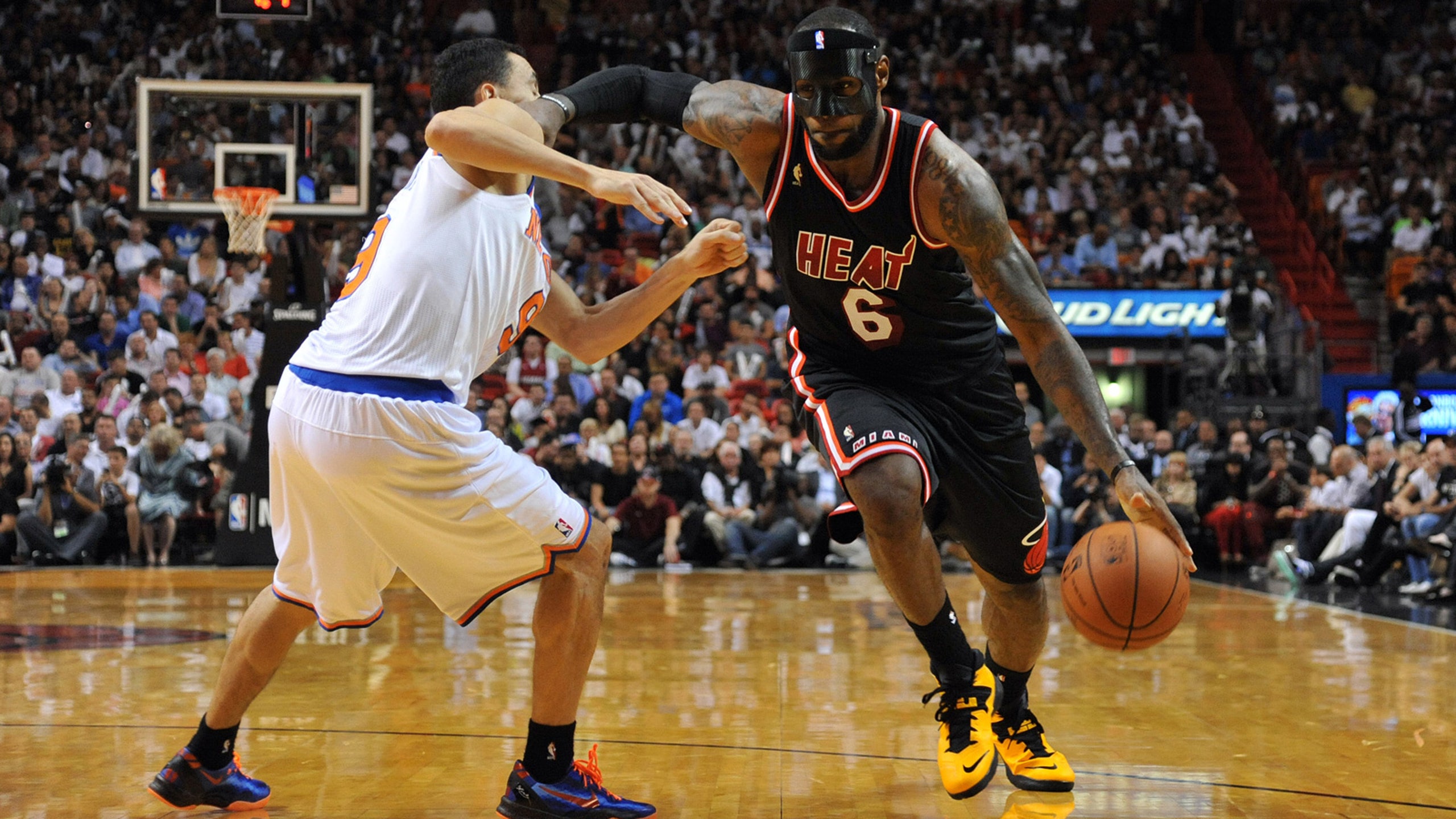 New look, same result as LeBron James takes control for Heat
BY foxsports • February 28, 2014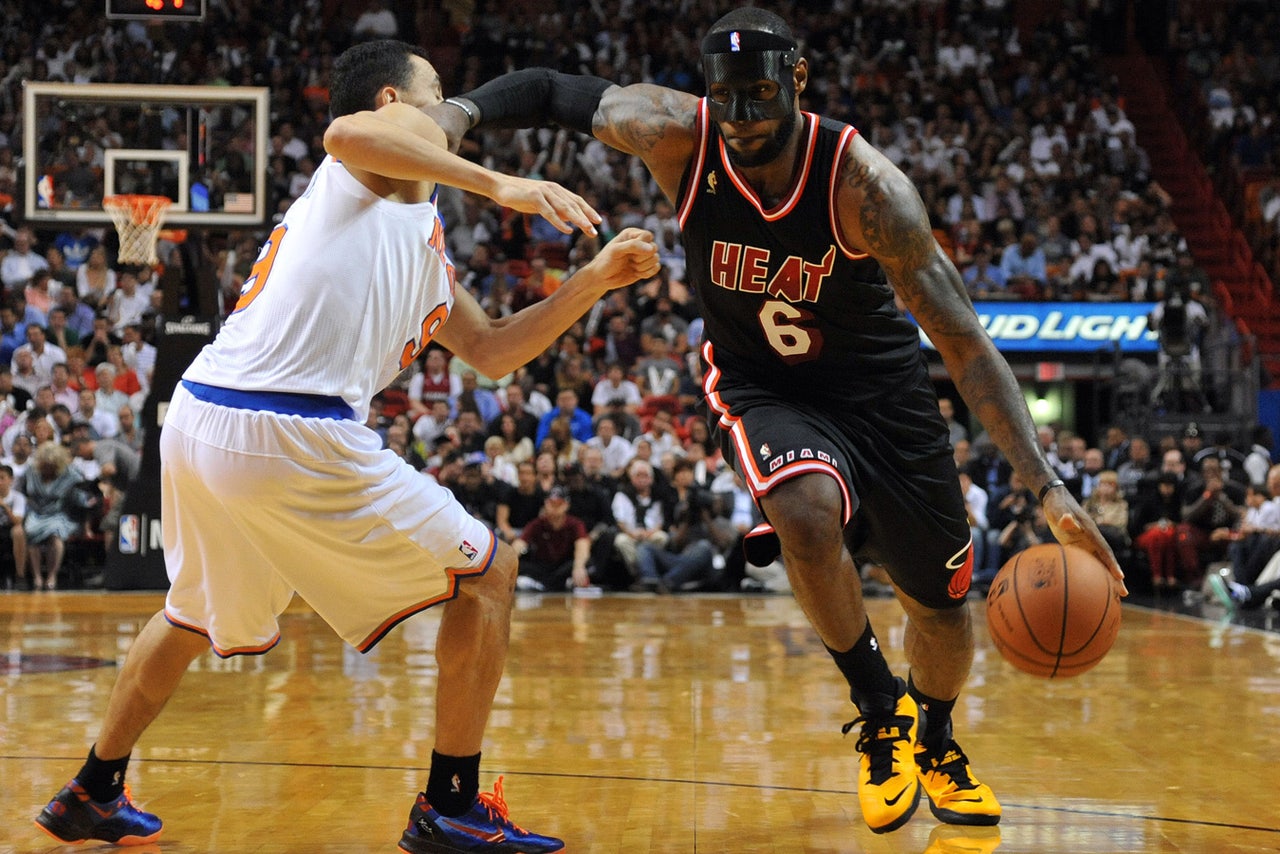 MIAMI -- Ever the showman, LeBron James kept secret specifics about the mask he planned to wear upon returning to action Thursday night.
Count the NBA and his Heat teammates among those surprised when James put on a black mask moments before the opening tip of Miami's 108-82 victory against the New York Knicks.
"No, I didn't have to get it cleared -- I don't think it's in the rulebook that says what color you can wear," said James, whose dark beard and black headband combined with the mask to help create an intimidating appearance.
"It went with the uniform. I knew we were wearing our (black) throwback uniforms and I was able to get a carbon fiber one which is actually lighter than the one that I've been wearing in practice. And it came through at the last minute, so I went with it."
He sure did. James scored 31 points and hit 13 of 19 shots in 36 minutes, 38 seconds of mask time.
"It was awesome," center Chris Bosh said. "He played like Batman out there. It was great."
"How does Batman play?" forward Michael Beasley yelled from several lockers away.
"Don't question my soundbite," Bosh said. "But he played great."
Forward Shane Battier, who finished with eight points, five assists and five rebounds, agreed with Bosh that their masked King resembled a superhero. He just disagreed on which one.
"People said Batman. I'm going more old school and say Kato from Green Hornet," Battier said. "All he needed was a driver's cap, and he's Bruce Lee.
"I don't think that it will inspire people to go out and break their nose, but if they're going to do it, he looked kind of cool. Only Lebron can make breaking your nose look cool."
James certainly added some suspense before busting out a black mask after having worn a clear one in practice on Wednesday. The protective gear was made necessary after the Heat star suffered a broken nose at Oklahoma City a week earlier.
"That was my first time seeing it, when you guys saw it," said Dwyane Wade, who had 23 points. "It was cool -- I wouldn't expect anything else with LeBron. The element of surprise was pretty cool."
"It was sweet. It was swag," back-up point guard Norris Cole said. "I didn't expect anything else from LeBron. It was fitting for a member of the Heatles. He's impressive."
James' most spectacular moment on Thursday night was an emphatic driving dunk from the lane after a feed from a surrounded Battier.
"I was stuck on the baseline, going into the trees," Battier said, "and luckily out of the corner of my eye I see this guy start to streak down the of the lane and I found him. He made me look good."
While James, himself, looked ...
"Menacing," coach Erik Spoelstra said. "As long as he was aggressive, that was the big key."
James, who sat out a home win against Chicago on Sunday, wasn't the only player on the AmericanAirlines Arena court wearing a mask. New York guard J.R. Smith wore one to protect a fractured cheekbone.
Asked if he and Smith compared looks, James chuckled as he said: "No. Some things don't need to be said."
James wore a clear mask, similar to Smith's, after suffering his own broken cheekbone in December 2004 when playing for Cleveland. He liked the new one better.
"It's different in the fact the carbon fiber makes it lighter and it's pretty cool," he said.
Before the game, James said he was worried the facial gear might affect his peripheral vision. Afterward, he appreciated the job it did when he was hit several times during the game.
"It went well," he said. "I definitely felt the impact but the mask was able to shield it enough where it didn't bother me. So it's a success, again.
"I got a good feeling now I'll probably be receiving some emails from mask makers that want to make me whatever I want, so we'll see."
You can follow Charlie McCarthy on Twitter @mccarthy_chas or email him at mac1763@bellsouth.net.
---