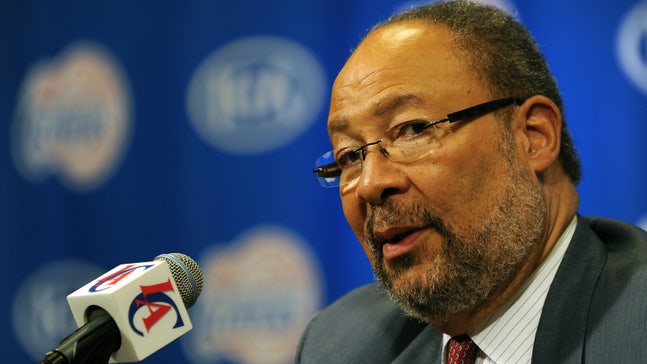 New CEO Dick Parsons aiming to keep Clippers focused
Updated
Mar. 5, 2020 2:03 a.m. ET

LOS ANGELES -- Dick Parsons took his first steps as Clippers interim chief executive Monday, meeting with team management and staff and telling a news conference later that a prolonged fight for the team by deposed owner Donald Sterling and his wife Shelly "is in no one's interests."
"I would hope that we could avoid that," Parsons said, "but that's not my job."
Parsons, wearing a Clippers pin in his suit lapel, called himself a conservator of the team rather than an owner and said he had not yet met with Clippers players. He won't attend Game 5 of the team's playoff series Wednesday in Oklahoma City because his wife is having surgery Tuesday morning.
"It just seems to me the players have other things on their minds they need to be focused on, and I don't want to be a distraction," he said.
Speaking on a conference call from Oklahoma City, head coach Doc Rivers said he is confident the Clippers are in good hands.  
"He's going to make a big difference," he said. "Obviously, he's just gotten in the door, but he's going to make a big difference, especially for the folks downtown. They have lives and careers and they want to know if they're safe and where do we go from here."
Parsons said he is precluded from speaking with Donald Sterling, who was banned for life by NBA commissioner Adam Silver two weeks ago, but said he expects to speak with Shelly Sterling, who has said she intends to fight to retain her half ownership in the franchise.
But Parsons, while saying he believes the final result will be new ownership, said he will not be involved in either finding a buyer or in any prolonged courtroom battle.
"If it's prolonged, that's not a good thing," he said. "Part of my job will be to tell the folks here, 'Stay focused on the business.' I believe the outcome is inevitable, and certainly I have to manage this as if the outcome is inevitable."
He also said of any legal fight between the NBA and one or both of the Sterlings, "I have a belief, and my personal belief is that the league will prevail, which means there will be an ownership change."
Richard Parsons on #Clippers: "I really think this is going to become America's team if we get this right"

— Los Angeles Clippers (@LAClippers) May 12, 2014
Parsons, who is in semi-retirement, said he expects to spend part of his time in Los Angeles and part in New York, where he resides. He said the league is paying his salary but he does not report to Silver or other owners.
Asked about the sincerity of Donald Sterling's apology in a televised interview with Anderson Cooper of CNN, Parsons said, "Those questions are hard for me to answer because I don't know the man. I would observe, as most Americans would, that he's a little late, to be sure. I'm here to turn one of the burners off under the pot, not turn it up higher."
Parsons, 66, spent about 30 minutes answering questions before he was shuffled off to catch a flight to New York to be with his wife. He said her post-surgery condition would determine whether he could return to L.A. for Game 6 Thursday night at Staples Center.
He flew into town Sunday night specifically to meet with the organization's business staff.
Common reaction after Dick Parsons press conference: "I like that guy" #Clippers

— Madelyn Burke (@MadelynBurke) May 12, 2014
But he couldn't avoid answering questions about the team's ownership or about how the team would move forward. He said the turmoil involving Donald Sterling's ouster could benefit the Clippers.
"I really think it's going to be America's team if we get this right," he said. "America loves a story where someone gets knocked down and then gets back up into the ring. This team has talent."
Parsons also said he heard Donald Sterling's comments about Magic Johnson in which Sterling said, "I just don't think he's a good example for the children of Los Angeles."
"Everybody loves Magic," Parsons said. "The Magic I know is a terrific guy and a great role model."
---