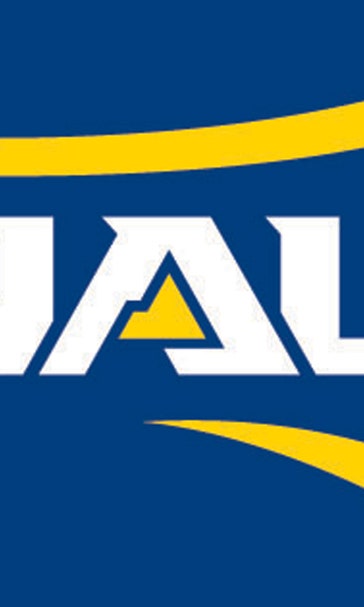 NAU women fall at Oregon
BY foxsports • December 13, 2014
The Northern Arizona women's basketball team, after a nearly 90-minute power outage, rallied against Oregon but came up short in a 59-47 loss on Saturday in the Matthew Knight Arena in Eugene, Ore.
Sophomore Brittani Lusain led the Lumberjacks with 14 points, and junior Mariah Willadsen chipped in 12 points as NAU (4-4) fell shy after closing within one point after halftime.
"To say that was an odd game would be an understatement, so I was really proud that our team stayed focused and didn't skip a beat," said head coach Sue Darling.
"They actually stepped up their level in the second half. We felt like we beat ourselves on a lot of occasions. We fouled too much, we turned the ball over too much and they beat us on the offensive boards, and those three things stuck the dagger in us. We were in a position to win the game and we couldn't take the reins to do it."
The Lumberjacks were not intimidated in front of a crowd of 1,286 in a Pac-12 venue, taking an early 11-6 on a 3-pointer by Lusain and a layup by senior Erikka Banks. However, NAU endured a seven-minute scoring drought following Banks' basket before another jumper by Lusain with 7:46 left in the half. NAU trailed by just three, 16-13, despite its offensive struggles.
Lusain brought the 'Jacks within 19-18 with 6:14 before halftime, but once again NAU had to fight through an offensive drought. The Lumberjacks missed their final six shots of the half as the Ducks went into halftime with a 30-18 lead.
Just minutes before the start of the second half, the game was thrown a curveball as a power outage struck the entire University of Oregon campus. The outage caused a significant stoppage, yet the Lumberjacks came out of the gates firing once play resumed.
Although NAU started hot offensively, it was not able to dent the deficit until a layup by sophomore Bradlee Cotton started an 8-0 run with the 'Jacks trailing 40-31 five minutes into the half. Willadsen followed with three consecutive baskets, the last coming on a layup off an assist from sophomore Rene Coggins that got NAU within 40-39.
Oregon quickly stretched its lead back to six before Willadsen converted on her fourth field goal of the half to get the Lumberjacks as close as 46-42 with seven minutes remaining. The Ducks again answered with a run, scoring seven straight points to take a double-digit lead it would not relinquish down the stretch.
Both teams made 19 field goals and shot less than 34 percent for the game, with the difference in the game coming at the free throw line and on the glass. Oregon made 16 free throws compared to just six for NAU, in large part due to the Lumberjacks committing 23 fouls. The Ducks also held a 47-40 rebounding advantage.
Lusain added six rebounds and two steals to her 14 points, while Willadsen's 12 points were a high for the first-year Lumberjack. Senior Raven Anderson grabbed seven rebounds and led the team with three assists and a career-high five steals. Banks finished with nine points and eight rebounds.
NAU will play host to Pepperdine at noon on Tuesday.
---