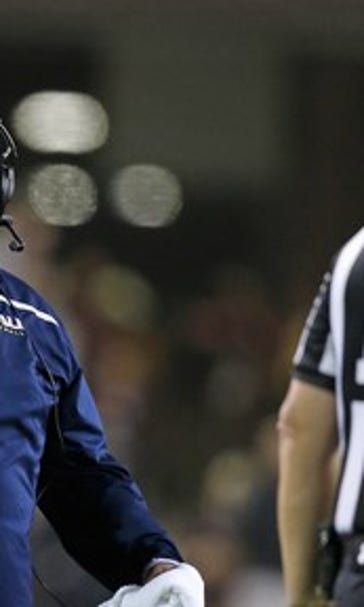 NAU rallies around Souers in his final season
October 19, 2017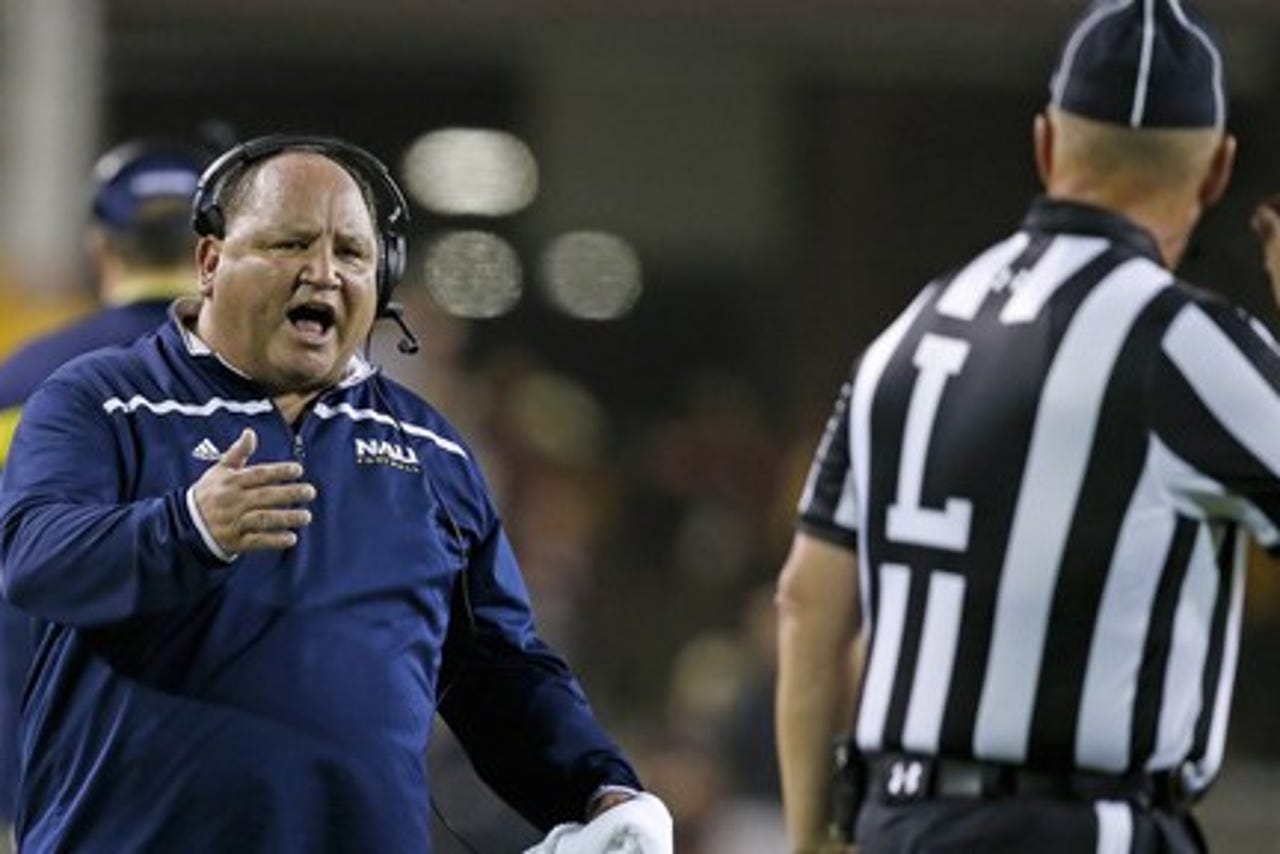 Unbeaten teams Columbia, Dartmouth and South Dakota as well as Austin Peay and nationally ranked Elon and Western Carolina are staging surprising turnarounds in the FCS this season.

But the sentimental team in the FCS might be Northern Arizona.

Athletic director Dr. Lisa Campos announced on Sept. 11 that 20th-year football coach Jerome Souers will be allowed to finish the season, but won't be brought back next year.

The Lumberjacks had an 0-2 record at the time. They're 4-2 now overall and 3-0 in the Big Sky as they get set to host UC Davis on Saturday.

The players are likely using the imminent change to rally around the popular 59-year-old Souers, who won't go out on his own terms despite holding Big Sky records for overall wins (116), conference wins (79) and years as head coach.

"I think our coaches and players are doing a phenomenal job of staying in the moment," Souers said. "What we do out there on the field - the practice field or the game field - is we do for each other. Our players are very close to each other and we have guys that care a great deal about the team and what happens to it. There's some things here that are clearly out of our control, but we're going to deal with it and we're going to manage the things we can control, which is how we see it - what our attitude looks like, the way that we conduct ourselves."

Northern Arizona started the season by losing to Arizona and a Western Illinois squad currently ranked 10th in the FCS. The Lumberjacks even lost one of the nation's top wide receivers, Emmanuel Butler, to a season-ending injury in the second game.

But each of their four wins has been by at least 18 points, including a blowout of then-No. 11 Illinois State. Wide receiver/kick returner Elijah Marks, the FCS leader in all-purpose yards per game, has been phenomenal since Butler's injury and quarterback Case Cookus has thrown 14 touchdowns without an interception - also catching a touchdown pass - during the four-game winning streak. The defense ranks first in the Big Sky against the pass.

Cal Poly coach Tim Walsh, whose team lost to Northern Arizona last month, embraces the competitive friendship he's had against Souers through decades in the conference together. Prior to arriving in Flagstaff in 1998, Souers coached in the Big Sky for 12 seasons at Montana, including as defensive coordinator when the Griz won the 1995 FCS national title.

"You knew when you played against his team that you better be ready to give your best," Walsh said. "And, obviously, he's doing a tremendous job this year. I think that's one of the things that I respect is how hard his guys play. To beat them, you know you've beaten a good team. And I think every coach in the league feels that way."

Northern Arizona, which has a small senior class, has continually gotten better this season, and Souers says the Lumberjacks haven't reached their ceiling as a team. They trail Eastern Washington by a half-game in the Big Sky standings.

It would be ironic if their lame-duck coach leads the Lumberjacks to either a conference title or an FCS playoff berth, or both. They won the conference in 2003 and have appeared in three playoffs under Souers.

"Coach (Andy) Thompson, our defensive coordinator, mentioned it first, our kids have shown a lot of guts, and I think I'm really proud of that," Souers said. "It's funny, we're halfway through the season and we're finally starting to get a picture of who we are and what we're about. You usually are what you emphasize and we've really tried hard to emphasize ball security on offense and the return game and creating turnovers defensively, and being a disruptive force on the field.

"Our guys, they love to compete, they love to play the game and they're very passionate. It's been fun to see them develop."
---