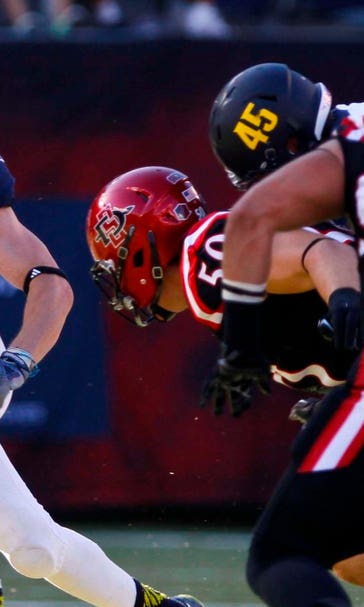 NAU falls two spots to No. 25 in Sports Network poll
September 1, 2014

PHILADELPHIA, Pa. -- Northern Arizona was voted No. 25 in The Sports Network FCS Top 25 Poll, released Monday. NAU also earned a No. 24 ranking in the College Sports Madness Weekly Poll.
The Lumberjacks opened the season Aug. 30 with a loss to reigning Idaho Potato Bowl Champion San Diego State at Qualcomm Stadium.
The Lumberjacks fell to the Aztecs 38-7 in their season opener against the Mountain West Conference foe. Junior quarterback Kyren Poe connected with junior wide receiver Alex Holmes five times for a total of 106 yards – the first 100 yard receiving game of Holmes' career. Junior running back Casey Jahn rushed for 62 yards.
Senior Blake Bailey led NAU with nine tackles, while Eddie Horn registered eight tackles and grabbed one interception.
NAU will travel to Abilene Christian on Sept. 6 for a 4 p.m. kickoff against the Wildcats at Shotwell Stadium.
The Sports Network FCS Top 25 Poll
| | | | | |
| --- | --- | --- | --- | --- |
| 1. | | 1-0 | 3,830 | 2 |
| 2. | | 2-0 | 3,804 | 1 |
| 3. | | 1-0 | 3,553 | 3 |
| 4. | | 0-1 | 3,064 | 5 |
| 5. | | 1-0 | 3,028 | 7 |
| 6. | | 0-1 | 2,998 | 4 |
| 7. | | 0-0 | 2,661 | 8 |
| 8. | | 0-1 | 2,634 | 9 |
| 9. | | 0-1 | 2,580 | 6 |
| 10. | | 0-1 | 2,488 | 12 |
| 11. | | 1-0 | 2,423 | 11 |
| 12. | | 0-1 | 2,242 | 10 |
| 13. | | 0-1 | 1,793 | 14 |
| 14. | | 1-0 | 1,701 | 15 |
| 15. | | 1-1 | 1,484 | 17 |
| 16. | | 0-1 | 1,402 | 16 |
| 17. | | 1-0 | 1,323 | 20 |
| 18. | | 1-0 | 1,109 | 22 |
| 19. | | 1-0 | 1,004 | 21 |
| 20. | | 0-1 | 965 | 18 |
| 21. | | 0-1 | 945 | 19 |
| 22. | | 0-1 | 829 | 13 |
| 23. | | 0-1 | 540 | 24 |
| 24. | | 1-0 | 469 | 25 |
| 25. | | 0-1 | 352 | 23 |
---