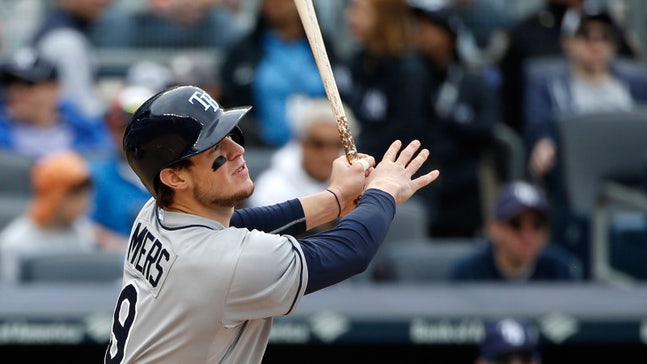 Myers' inside-the-park HR helps support Bedard in Rays' win
Updated
Mar. 5, 2020 12:43 a.m. ET

NEW YORK (AP) -- Yankee Stadium is already a home run haven for Wil Myers -- whether he hits the ball over the fence or not.
Myers had an inside-the-park homer, his latest big blow against the New York Yankees, and drove in four runs as the Tampa Bay Rays battered an ineffective CC Sabathia in a 5-1 victory Sunday.
Erik Bedard earned his first win as a starter since last June, and Evan Longoria had an early RBI double to help the Rays finish 5-5 on a trying trip that included a doubleheader sweep Thursday in Boston and a 14-inning win Friday night in New York.
''One of the best we've ever had,'' manager Joe Maddon said. ''We talked about the possibility of getting a little bit of a bump from the three games in Boston. Apparently, we have.''
Desmond Jennings, who hit home runs in his previous three games, had three hits and Logan Forsythe scored twice. Tampa Bay has taken consecutive series for the first time this season, and won eight of its last 10 games in the Bronx.
Asked if he remembered the previous time he hit an inside-the-park homer, Myers said: ''I don't know. Not since I was 8?''
The struggling Sabathia (3-4) gave up 10 hits and five runs in 3 2-3 innings, his shortest start since lasting 2 2-3 innings on Oct. 2, 2009, at Tampa Bay. He was late covering first on a potential double play and got booed during an outing that raised his ERA to 5.75.
''I would have booed myself today, too. I wouldn't want to come to the ballpark and watch that,'' Sabathia said.
Peyton Manning and his brother, Eli, showed up to watch buddy Derek Jeter play one last time during his final season. The star quarterbacks sat in Jeter's suite along the first base line but didn't see much of a show -- a slumping Jeter went 0 for 4 and stranded four runners. He was 4 for 30 (.133) on New York's 3-5 homestand and is hitless in 13 at-bats.
Bedard (1-1) pitched six-plus effective innings for his first win as a starter since June 26 for Houston against St. Louis. He had been 0-9 in 15 starts since, though he did win in relief on Sept. 4 against Minnesota.
''I didn't realize how long it's been,'' Bedard said. ''But yeah, it's nice.''
Forsythe, the first batter Sabathia faced, doubled off the wall in left and scored on Longoria's ground-rule double to right.
''He was out of sync from the get-go,'' Yankees pitching coach Larry Rothschild said. ''He didn't warm up particularly well. I was kind of watching to see what we could do, but there wasn't much.
With runners at first and second in the third, Myers sent a long drive to right-center beyond the reach of Jacoby Ellsbury. The ball hit the top of the wall near the 385-foot sign, caromed off a leaping Ellsbury and rolled away along the warning track.
Last season's AL Rookie of the Year jogged out of the batter's box, then turned it on while rounding first base. He scored standing up without a play after second baseman Yangervis Solarte couldn't handle a one-hop throw from right fielder Carlos Beltran, who was late backing up.
''Off the bat, I thought it was gone,'' Myers said. ''Wasn't stoppin'. Wasn't stoppin'.''
It was Tampa Bay's 11th inside-the-park homer and first since Ben Zobrist's against Toronto at Tropicana Field on Sept. 25, 2011. The previous player to hit an inside-the-park home run at Yankee Stadium was Jeter against Kansas City on July 22, 2010, according to STATS.
Myers also homered Saturday and had a tiebreaking single in the 14th inning of the series opener Friday night. He has hit safely in all 13 of his games at Yankee Stadium, the longest streak to start a career at the new or old versions of the ballpark.
Myers is batting .375 with four homers and 14 RBIs in seven games against New York this season -- compared to .202 with no homers and four RBIs against everyone else. Seven of his 17 career homers have come against the Yankees.
Solarte tied it at 1 with a sacrifice fly in the second, but it was all Rays after that. Jake McGee, Joel Peralta and Grant Balfour finished with scoreless relief.
''We didn't really hit at all," Yankees cleanup man Mark Teixeira said. ''That was a pretty lackluster performance all the way around.''
Alfredo Aceves, called up from the minors Saturday, relieved Sabathia and pitched shutout ball the rest of the way, saving New York's bullpen.
NOTES: Rays manager Joe Maddon rested the slumping Zobrist to give him consecutive days off, including Monday's off day. Tampa Bay opens a six-game homestand Tuesday night against Baltimore. ... Longoria made his first start of the season at DH, with Forsythe replacing him at third base. ... New York completed a 3-5 homestand. ... RHP David Phelps moves into Michael Pineda's rotation spot Monday night when the Yankees begin a three-game series at the Los Angeles Angels. Pineda is serving a 10-game suspension for having pine tar on his neck and is expected to miss three to four weeks with a strained muscle in his back near his surgically repaired shoulder. ... Yankees INF Brendan Ryan (spine) is close to coming off the DL, manager Joe Girardi said.
---