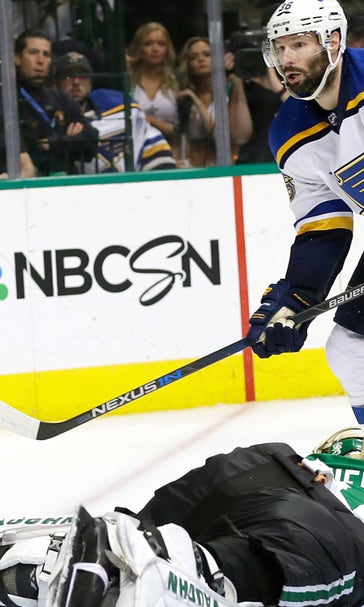 Mr. Game 7: Brouwer's experience aids Blues' playoff run
May 12, 2016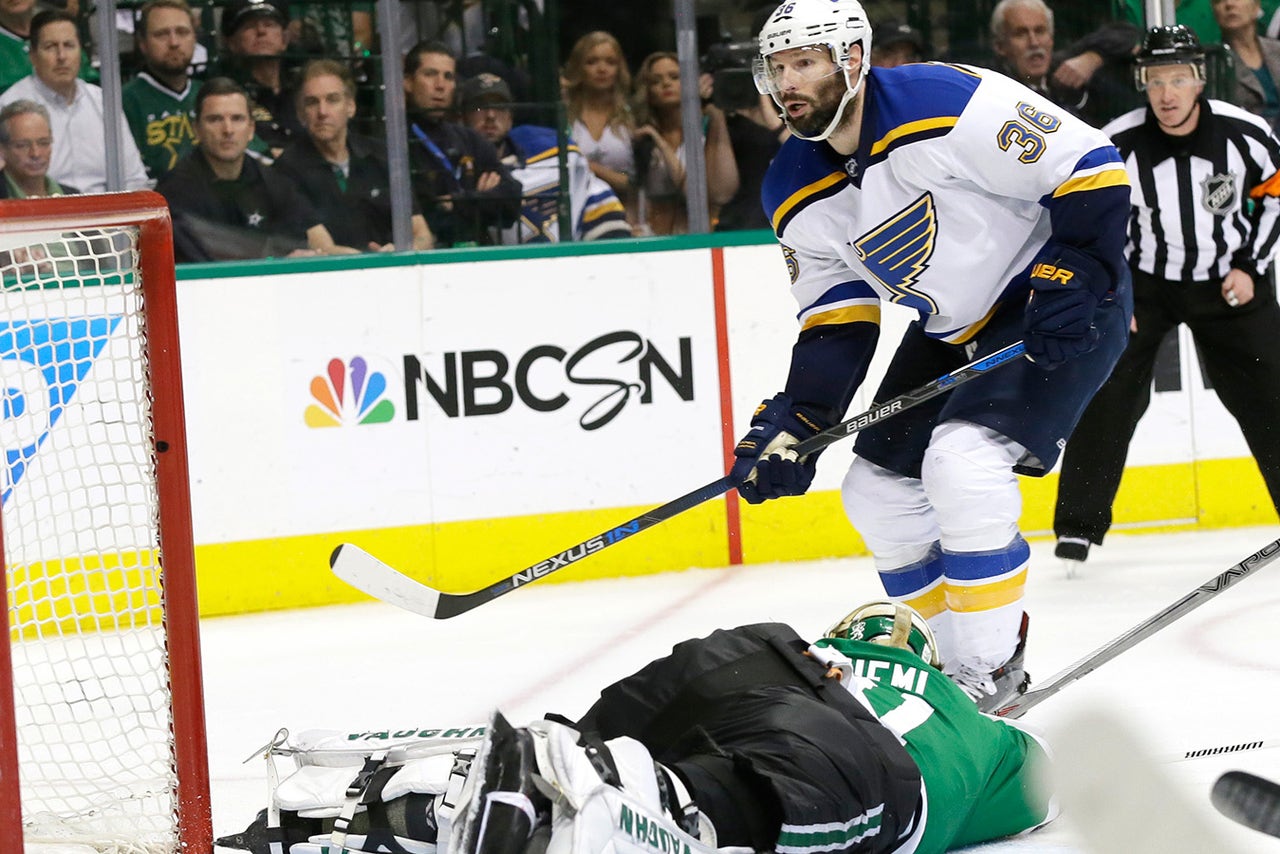 ST. LOUIS -- The St. Louis Blues said goodbye to fan favorite T.J. Oshie last summer and hello to a proven postseason commodity in Troy Brouwer, who has the remarkable distinction of playing in eight consecutive playoff series that ended in Game 7s.
His calm, seasoned perspective is a major reason the Blues are in the Western Conference finals for the first time since 2001 -- and he stepped it up in both Game 7s for the Blues this spring, too.
Brouwer got the deciding goal in the deciding game against the defending Stanley Cup champion Chicago Blackhawks and had a goal and two assists in Wednesday's 6-1 blowout at Dallas. Brouwer's line was an overall standout with Paul Stastny and Robby Fabbri also having three-point nights.
"We've got a lot of chemistry lately," said Brouwer, who has five goals and five assists in the playoffs. "We love playing with each other."
The Blues have annually been one of the top regular-season teams in the NHL. But before this spring they'd been eliminated in the first round three consecutive years.
The 30-year-old Brouwer has been a difference-maker for a long-suffering core including star Vladimir Tarasenko, David Backes, Alexander Steen, Patrik Berglund and defenseman Alex Pietrangelo. Before the clincher against the Blackhawks, the rest of the roster had played in a grand total of six Game 7s.
The experience factor: "Troy and then Troy, what, a few more times?" Backes said with a laugh. The 10-year veteran and team captain then went out and finally played in his second Game 7, against the Stars.
Brouwer won a Stanley Cup in 2010 with the Blackhawks, totaling four goals and four assists, and his run of Game 7s began the following year when Chicago lost in seven games to Vancouver. Last summer, Brouwer left a team that would go on to win the President's Trophy, but he "absolutely" recognized untapped potential when he arrived for Blues training camp.
"It was impressive just to see even the names that you didn't really know that well because I've been in the other conference for so long, how good they were," Brouwer said. "Struggles can be struggles for a lot of reasons."
Since 2012, the Blues had been largely stymied by Western Conference elites just a notch above. The Kings swept them in the second round in 2012 en route to a Cup. St. Louis had a 2-0 series lead in 2013 against Los Angeles, then lost four straight, and in 2014 they had a 2-0 lead before losing four in a row to Chicago.
The exception was last spring when they were knocked out in a six-game series against the Wild and hot goaltender Devan Dubnyk, a disappointment that really stung after Minnesota was bounced the following round.
Owner Tom Stillman resisted the notion to rebuild. Coach Ken Hitchcock got another chance and now comes the reward.
"So, it may not have been because they weren't able to do it, they were just up against phenomenal opponents," Brouwer said. "I think we've really risen, we've really come together as a team."
The Blues survived several personnel blows during the season, finishing with 107 points despite long absences by Stastny, Steen, Schwartz, Berglund, Steve Ott and both goalies.
The resiliency gave Hitchcock reason for optimism his deep and relentless team could neutralize Chicago stars Patrick Kane and Jonathan Toews, and prevail against the Stars' superior speed.
The gritty Backes led all players in the Dallas series with eight points, four goals and four assists.
"You can have all kinds of good players, but you've got to be a real good team," Hitchcock said. "I just knew we were going to get their best when it mattered, and that's what we've done all playoffs."
The Blues won three games on the road against Dallas, compensating for two losses at home. Now, they'll have home ice advantage for the rest of the postseason.
"We're putting ourselves in a good situation to continue going forward," said Brouwer, who then cautioned: "We're only halfway there."
---
---