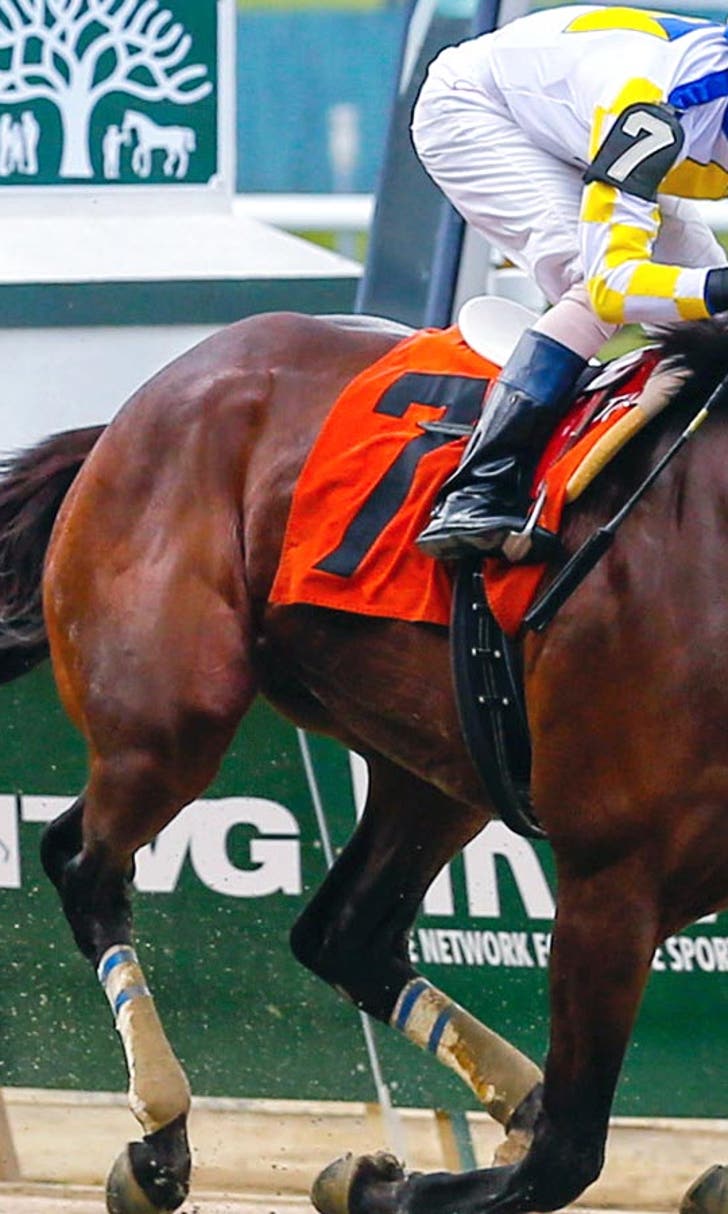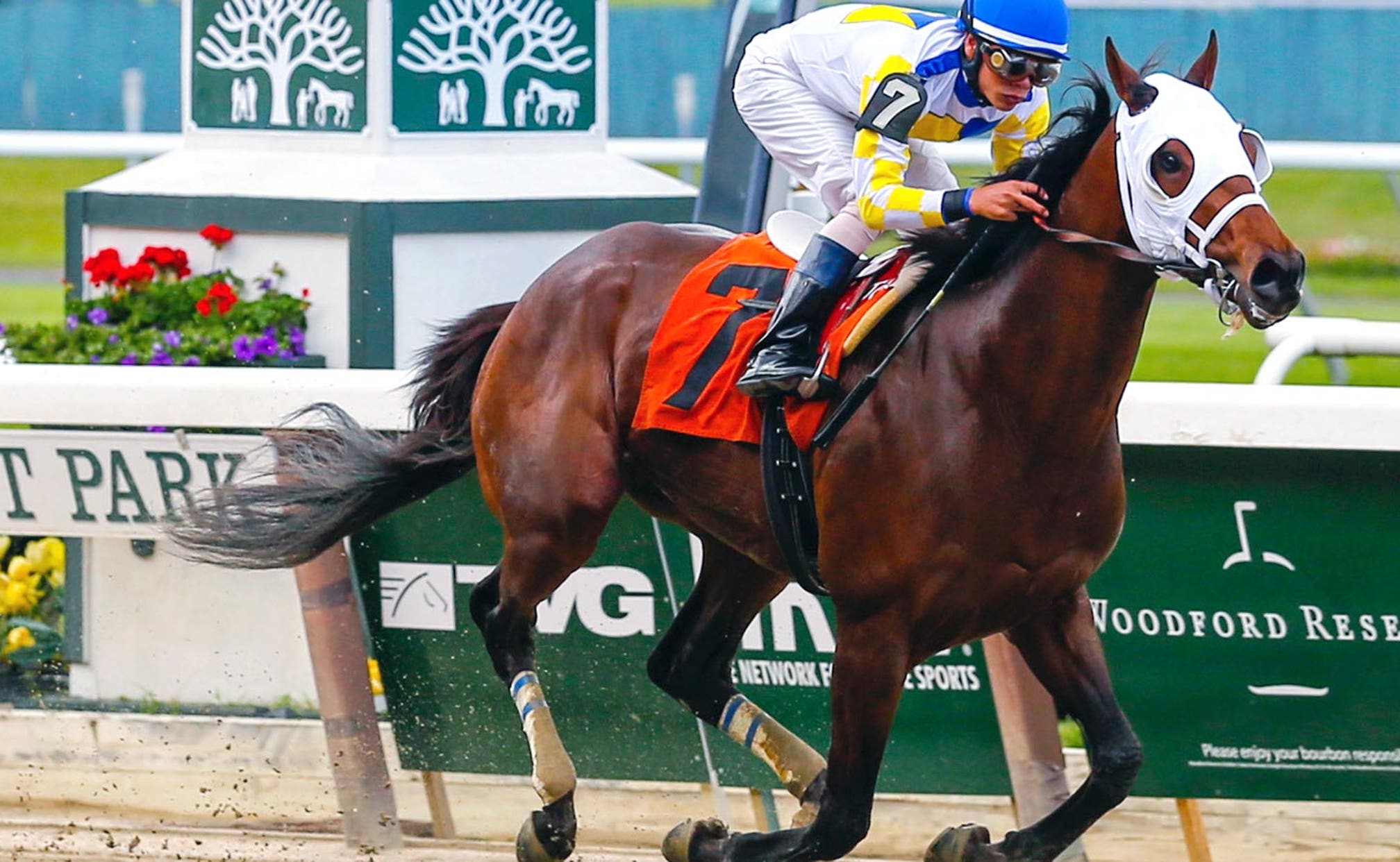 Moreno's trainer believes the longer the race the better as Jockey Club Gold Cup awaits
BY foxsports • September 25, 2014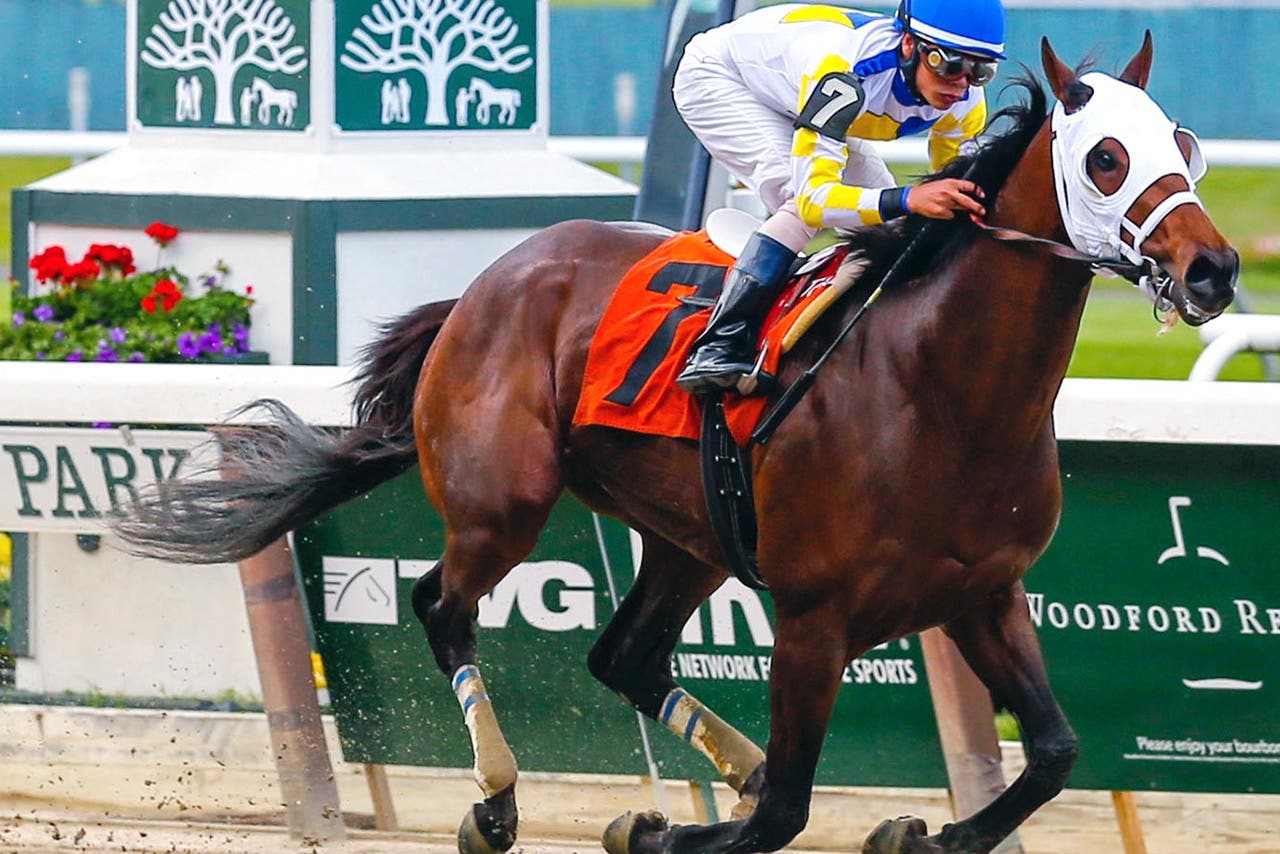 If you want to stay on the good side of trainer Eric Guillot --€" and not wind up as the subject of one of the Louisiana native's infamous voodoo dolls --€" do not even think about telling him that Moreno is a miler.
Sure, the 4-year-old gelding has an abundance of early speed, and shorter races would seem a natural fit for him, but as Guillot will emphatically point out, as far as distance goes, it's the more the merrier for Moreno.
"A mile and a quarter is better for him," Guillot said Tuesday during a National Thoroughbred Racing Association teleconference, "and a mile and a half would be even better, probably. Watch him gallop out, and you'll see how much talent he has."
Moreno's speed and the 1¼-mile distance are among the focal points of Saturday's $1-million Jockey Club Gold Cup at Belmont Park, where he will face, among others, three of the leading 3-year-olds in V. E. Day, Wicked Strong and Tonalist, the 1-2-3 finishers in last month's 1 1/4-mile Travers at Saratoga.
There's no mystery about Moreno. He's fast and Guillot wants his horse on or just off the lead each and every time.
"You don't want to reinvent the wheel," he said.
That strategy worked to perfection in the 1 1/8-mile Whitney Stakes at Saratoga Race Course when Moreno held a clear lead on the backstretch and cruised to a 1 1/4-length victory over Itsmyluckyday in the $1.5-million race for the smack-talking Guillot and namesake owner Mike Moreno of Southern Equine Stable.
Itsmyluckyday hounded Moreno more closely in the Grade 1 Woodward Stakes on Aug. 30 at the Spa and defeated him by a half-length after an exchange of bumps in the stretch that has Guillot believing his horse was anything but second best in the race.
"The only reason I got beat in the Woodward was not because my horse got outrun by Itsmyluckyday. It's because Itsmyluckyday jammed on top of me and pounded me for an eighth of a mile," he said in his Cajun draw. "He won it because he's got horse and Moreno is going, 'Hey, what the hell? What's this guy doing?' Then on the gallop out I got five in front of him again."
Now comes a longer and different challenge in the 1¼-mile Jockey Club Gold Cup.
The distance doesn't faze Guillot as he contends Moreno's best effort came when he finished second by three lengths to Zivo, another Jockey Club Gold Cup candidate, in the Grade 2 Suburban Handicap, a 1¼-mile contest at Belmont on July 5.
"From watching him for 2½ years, the Suburban at a mile and a quarter was his best race. Everyone told me the 11 [post] was deadly with the configuration of the track and the starting gate, and sure enough I broke with them and I was three lengths behind the pack," Guillot said. "So we had to shake him and use him up to make up those three lengths and then got pressed by another horse for three-quarters of a mile. Put him away and got pressed by one of the favorites down the lane. Put him away and then the horse that beat me came from 20 lengths off after I did all the running. The final time was 2:00 2/5, which is a fast mile and a quarter."
Some may point out that Moreno is 0-for-3 at 1¼ miles, but Guillot shrugs it off. Aside from the Suburban, Moreno lost by a nose to Will Take Charge in the 2013 Travers and was injured while finishing 10th in last year's Breeders' Cup Classic.
"He may be 0-for-3, but it's two of his best races," Guillot said.
Looking over the competition, Itsmyluckyday is sitting it out. But in a year that has seen attrition eliminate the likes of Palace Malice, Will Take Charge and Game On Dude from the ranks of the older horses --€" "I'm the last of the Mohicans," Guillot says about the notion his colt may be the best older dirt horse still in training -- it's a trio of 3-year-olds that could pose the biggest threat. V. E. Day, Wicked Strong and Tonalist are experienced at the distance after V. E. Day beat stablemate Wicked Strong by a nose in the Travers with Tonalist 2½ lengths behind them.
Tonalist is also highly accomplished in distance races at Belmont Park, having won no less of a test than the Belmont Stakes in June.
Guillot, though, looks at the :26.33 final quarter in the Travers and believes the youngsters will have to do better than that to catch Moreno.
"The last quarter of the Travers left a lot to the imagination," Guillot said. "If my horse runs back to his form and races and gets everything his way, I think they're going to have to pick up the pace a little in the final quarter."
A complication in the Jockey Club Gold Cup could be the arrival from California of the equally speedy Big Cazanova, who set track records for a mile and then 1 1/8 miles in his last two starts at Del Mar. Those wins came in allowance races on a synthetic surface, but the presence of Big Cazanova means a challenger like Tonalist, who became the sacrificial lamb in chasing Bayern in the Travers, can sit back and let someone else try to soften up Moreno.
"Am I scared of him beating me?" Guillot said of Big Cazanova. "No. Am I scared of him hurting Moreno's chances? Of course. Maybe I'll sit off it. Moreno doesn't have to be on the lead. What he doesn't like is when there are four or five in front of him, and he's behind a wall of horses getting dirt kicked in his face. That's the difference. He's been off the pace before."
One of those times Moreno was a disinterested trailer rather than a front-runner came on June 7 in the Metropolitan Handicap, a.k.a. the Met Mile, when the son of Ghostzapper was seventh early on and finished 12th in a field of 12 in the Grade 1 stakes.
"I ran the horse in the Met Mile for one reason: so people would stop asking me about making Moreno a miler. It's that simple," said the always loquacious Guillot. "Because he always has the lead, everyone around me, my family, [Mike Moreno], my friends, my assistant trainer, jockeys, said now that he's more mature take the blinkers and ear plugs off and try him in the Met Mile. It's a lot of money, you know. I'm like, 'Guys, this is not an average horse.' Everybody says he's so consistent, but he's consistent because he has a ton of ability but he's a quirky-headed thing.
"When he ran dead last in the Met Mile, I wasn't surprised at all," he continued. "He put himself in the race and then said, [expletive deleted] I can't keep up with 45 [seconds] and change and he pulled himself up. Then he came back, and look at the form after that. It wasn't like he had a problem or an issue or didn't handle the track that day. There was no excuse other than I know my horse and that's not him. He's not a miler."
---