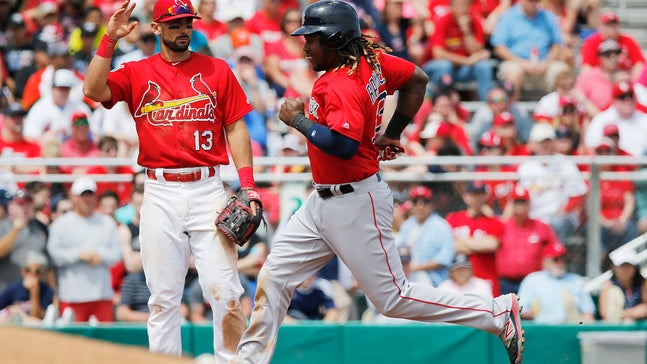 Molina gets his first hit of the spring, but Cards fall 4-3 to Red Sox
Published
Mar. 21, 2016 4:45 p.m. ET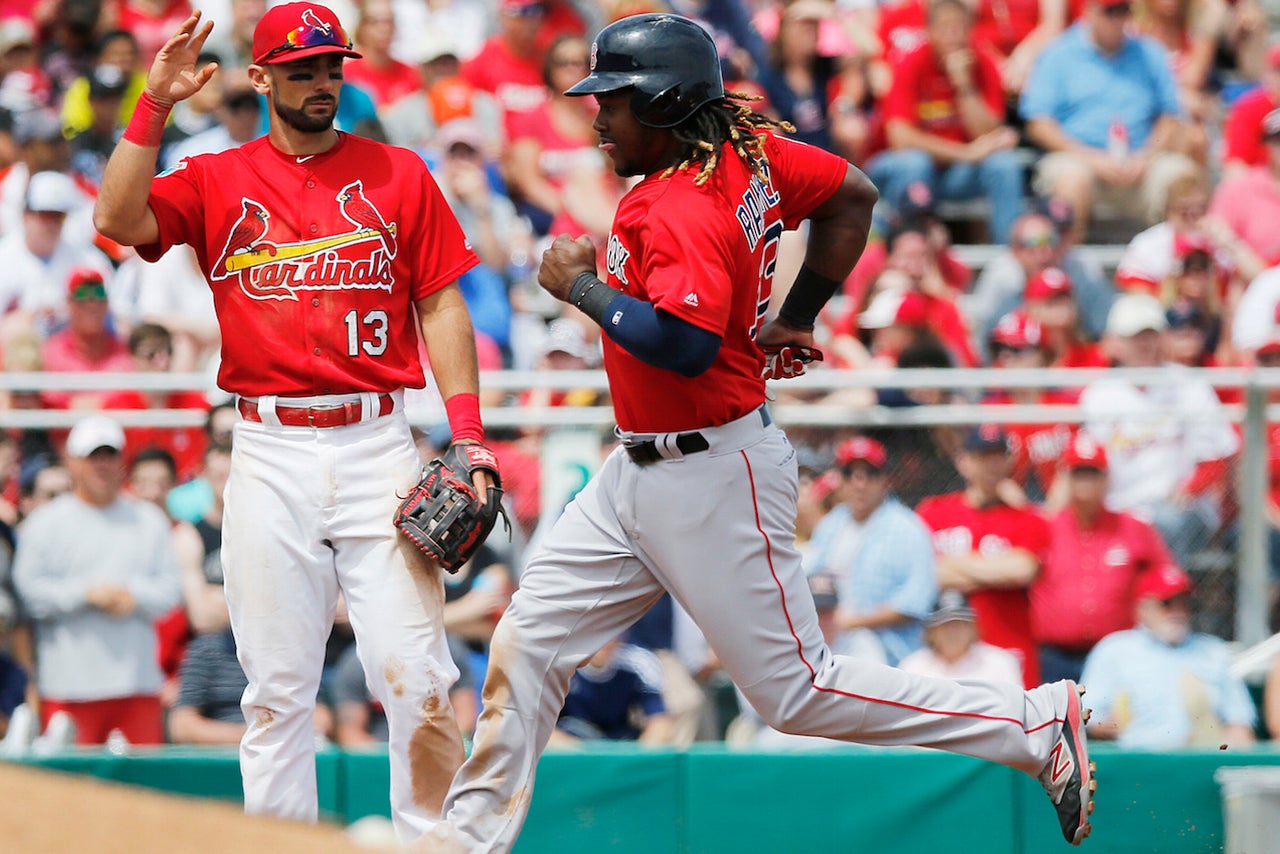 JUPITER, Fla. -- Clay Buchholz pitched into the fifth inning, Pablo Sandoval and Jackie Bradley Jr. each drove in two runs and the Boston Red Sox beat the St. Louis Cardinals 4-3 Monday.
Buchholz gave up one run and five hits in 4 2/3 innings. He missed much of last season with an elbow strain.
"I thought today was a better outing for him," Boston manager John Farrell said. "I thought he threw the ball well, a higher number of strikes today."
Buchholz had allowed four earned runs in 5 1/3 innings earlier this spring. He'll get two more starts before the regular season.
"The changeup was the pitch that I was wanting to throw more today because it hasn't been quite there yet," Buchholz said. "I threw a lot of good changeups today."
Red Sox reliever Carson Smith left after only five pitches with forearm tightness. Manager John Farrell called the move precautionary and said Smith was returning to Fort Myers to be evaluated.
In his 11th Grapefruit League at-bat, Cardinals catcher Yadier Molina got his first hit of the spring, a single over shortstop Xander Bogaerts. Molina is still trying to strengthen his left hand following offseason thumb surgery.
Jeremy Hazelbaker took the Cardinals' spring home run lead with his second, a two-run shot in the ninth.
Travis Shaw doubled twice and singled for Boston.
STARTING TIME
Cardinals: Marco Gonzales needed 51 pitches to get through two innings, allowing two runs. Afterward, St. Louis optioned him to Triple A Memphis.
HE'S ON FIRST
Red Sox 1B Hanley Ramirez showed quick reactions by snagging a liner by Brandon Moss that was destined for the right-field corner in the second inning.
"He's done a great job over at first base defensively," Farrell said. "Whether it's some balls in the 3-4 hole, I think he's, in a short order, had a good read on what balls to attempt and what balls to give up and go anchor the bag. And to me, that would be one of the more difficult ones on the infield because you have dual responsibilities at that position."
SUBBING FOR SKIP
With Cardinals manager Mike Matheny absent from camp to attend to a family issue, bench coach David Bell handled the managerial duties.
"These games are so planned out, but they're still fun because things happen during a game where you adjust and you react," Bell said. "And you still try to win, especially toward the end. We think that's important."
ANOTHER LOOK
Monday would normally have been Jaime Garcia's turn in the rotation for the Cardinals, but he elected to throw against minor leaguers on the back fields of the Roger Dean Stadium complex, where he could better control the outing.
UP NEXT
Cardinals: St. Louis has its final off day of the Grapefruit League on Tuesday. Carlos Martinez takes the mound against Miami on Wednesday.
---
---