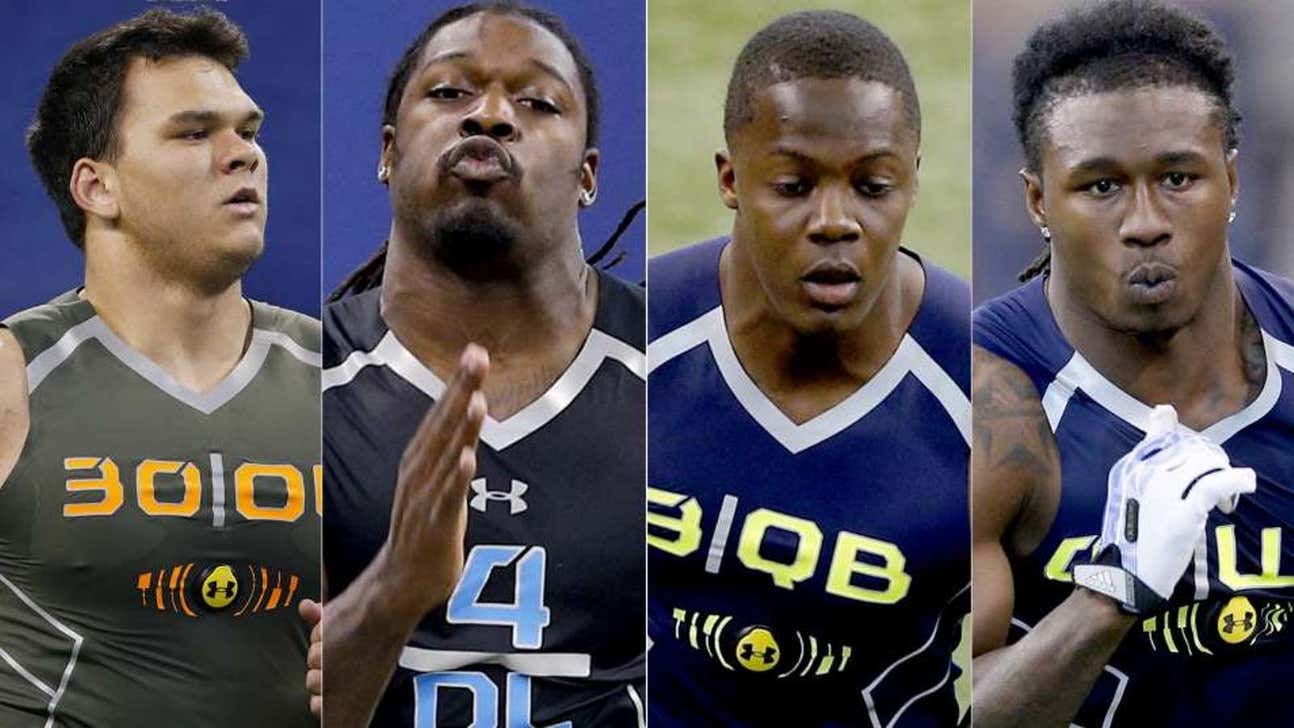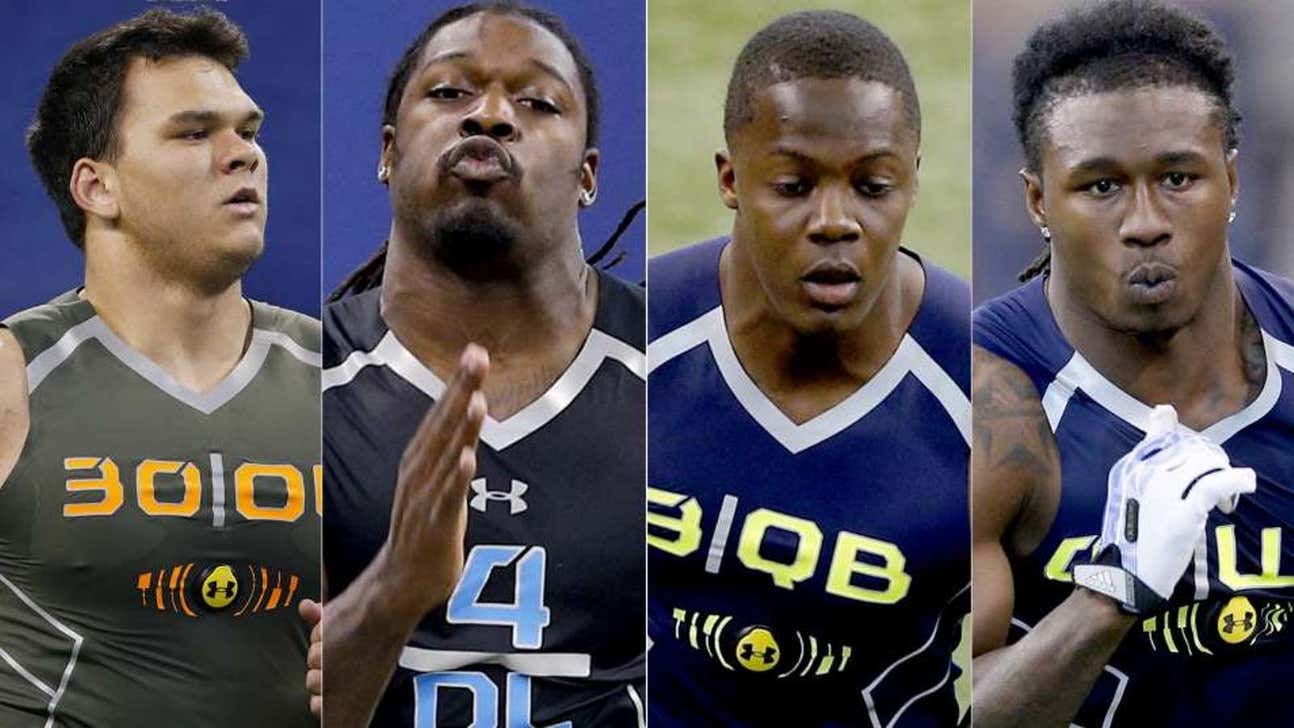 Mock Draft 1.0: Picks for entire first round with Combine now complete
Published
Feb. 26, 2014 6:21 p.m. ET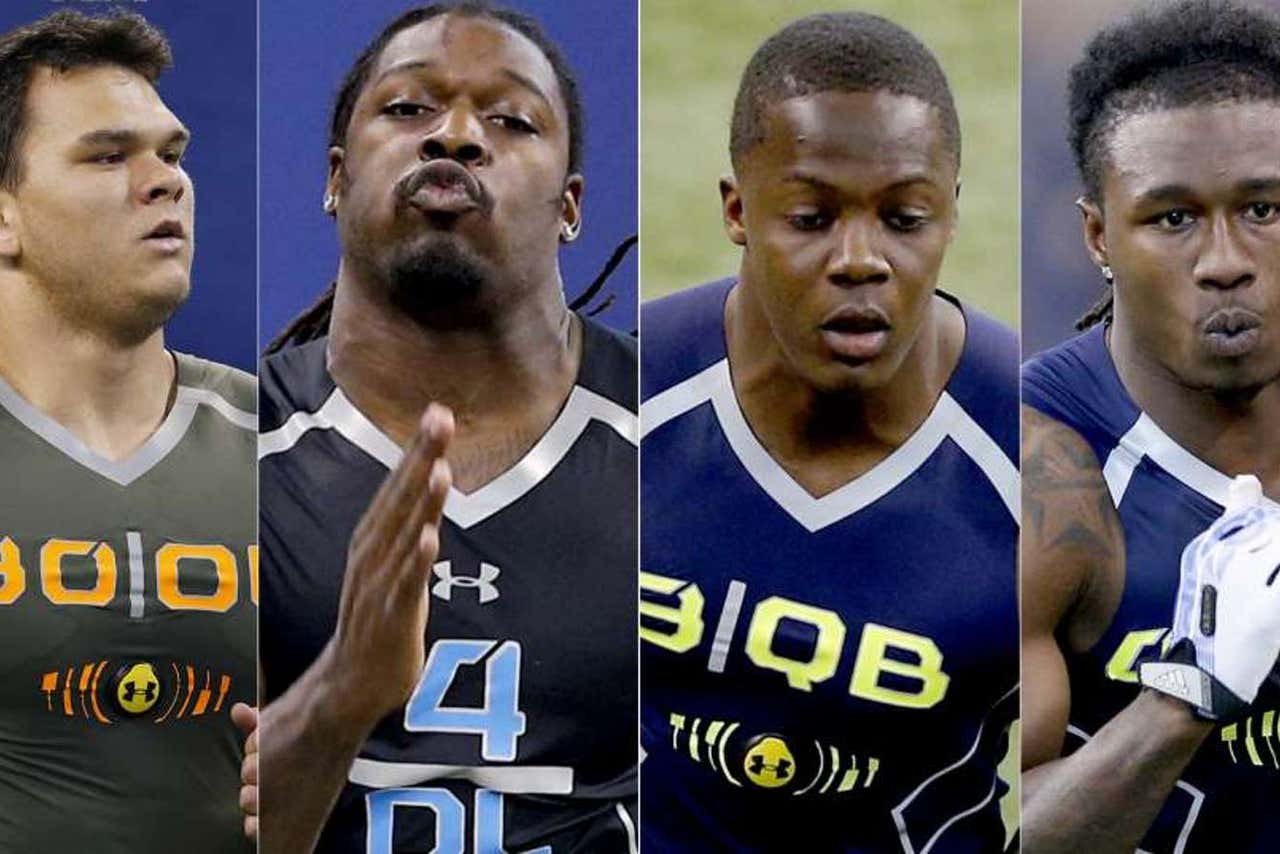 Earlier this month, we took a crack at projecting the top 10 picks in the 2014 NFL Draft.
Now with the NFL Scouting Combine behind us and much more information at the disposal of teams, let'€™s extend out our mock draft to the entire first round and project the first 32 picks to come off the board.
It's worth remembering that May 8 is still a long ways away, and teams are in the early stages of wrapping their arms around the 2014 class. Opinions can, and do, change as the evaluations are parsed and draft boards are lined up.
With that said, here's my first-round mock draft 1.0 with the Combine complete.
(One note: We can't predict draft day trades, so this projection doesn't consider potential board movement that could shake up the order.)
1. Houston Texans
Jadeveon Clowney, DE, South Carolina: With all of the red flags that exist, the Texans should choose the player who could turn out to be their best defender within three years. Clowney is that dominant (when he wants to be).
2. St. Louis Rams
Jake Matthews, OT, Texas A&M: Matthews is the most pro-ready tackle on the board, and in the NFC West the Rams do not have time for a project. They need help up front, and Matthews is an excellent player with a high football IQ and ability.
3. Jacksonville Jaguars
Johnny Manziel, QB, Texas A&M: The Jags have lots of needs, but the most glaring is at the QB position. Furthermore, they are desperate for help at the gate and with overall appeal in their own city, and Johnny would help in both areas.
4. Cleveland Browns
Blake Bortles, QB, UCF: Before the season, not many people knew who Bortles was, but they do now. Prototype size and ability for the NFL and has a very high ceiling.
5. Oakland Raiders
Teddy Bridgewater, QB, Louisville: Oakland does not have the answer at the QB position, and they haven't for a very long time. Bridgewater is a plug-and-play QB with terrific feet and football IQ. He was taught the game well, and therefore the NFL learning curve will not be steep for him.
6. Atlanta Falcons
Greg Robinson, OT, Auburn: Robinson is a wonderful athlete for his size and is an elite run blocker right now. Has to work on pass protection, but he moves so well it should not be a problem.
7. Tampa Bay Buccaneers
Anthony Barr, OLB, UCLA: Has played only two years of defense after switching from running back when Jim Mora became head coach at UCLA. Best upside of any player not named Clowney.
8. Minnesota Vikings
Khalil Mack, OLB, Buffalo: Vikings have to find a QB, but with the top three gone at this point they will take the best player available, which is Mack. Explosive pass rusher who is always around the ball.
9. Buffalo Bills
Sammy Watkins, WR, Clemson: Dynamic playmaker with home run potential is exactly what Bills quarterback EJ Manuel needs. Watkins is a true No. 1 WR.
10. Detroit Lions
Darqueze Dennard, CB, Michigan State: Questions about his top-end speed were answered in Indy with his 4.51 40 time. Great cover skills and tremendous character and leadership will help him become elite.
11. Tennessee Titans
Ha Ha Clinton-Dix, FS, Alabama: He is the most natural back-end player in the draft. Terrific instincts and cover ability in the middle of the field, and he is strong in run support.
12. New York Giants
Taylor Lewan, OT, Michigan: Lewan ran the fastest 40 at the combine among the OL, and his athleticism is off the charts for his size. This is a great value as he would have easily been a top 10 pick in previous years.
13. St. Louis Rams
Mike Evans, WR, Texas A&M: Having two picks inside the top 13 this year is like having two picks in the top 8 in other years. In a deep draft the Rams upgrade at OT and get a sizable top receiver target for Bradford.
14. Chicago Bears
Timmy Jernigan, DT, Florida State: The Bears have to get younger and more explosive on the DL. After a wonderful weekend at the Combine, Jernigan seems like a perfect fit.
15. Pittsburgh Steelers
Justin Gilbert, CB, Oklahoma State: Some believe Gilbert is the best corner in the draft, but there are questions about his work ethic. Gilbert will be a quality special teams performer and line up well against big receivers.
16. Dallas Cowboys (won coin flip vs. Baltimore)
CJ Mosley, LB, Alabama: They need help in the secondary, but they would be overdrafting if they took a C or FS here. The best defensive player available is Mosley, and it is a great value.
17. Baltimore Ravens (lost coin flip vs. Dallas)
Marqise Lee, WR, USC: Ozzie Newsome tends to draft based on film and talent rather than need, and he will be happy to see Lee at 17. Great production two years ago and played with toughness last season, making plays in big situations.
18. New York Jets
Eric Ebron, TE, North Carolina: Very athletic and can provide the Jets with a true scoring threat in the red zone. They will have to pass on receivers Brandin Cooks and Kelvin Benjamin, but Ebron could be the next great NFL TE.
19. Miami Dolphins
Zack Martin, OT, Notre Dame: So many questions about who is going to be on the OL for the Dolphins next fall, and one of those questions will be answered with Martin.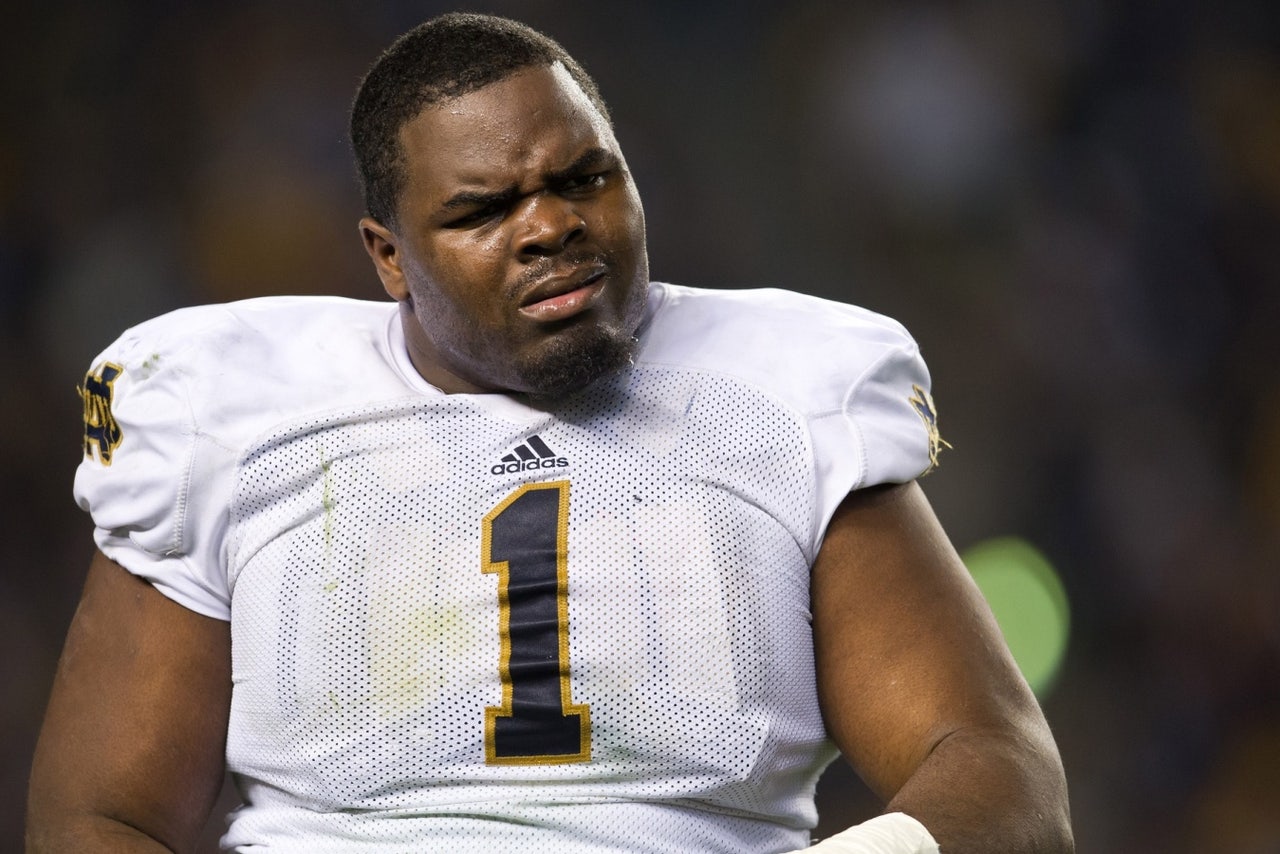 20. Arizona Cardinals
Louis Nix, DT, Notre Dame: Cardinals are becoming an elite defensive team, and Nix (right) will solidify an aging defensive line. If he can keep his weight down, he should contribute with agile feet and an explosive first step.
21. Green Bay Packers
Austin Seferian-Jenkins, TE, Washington: Wasn't medically cleared to participate at the Combine, but his size and playmaking ability are awfully enticing for Aaron Rodgers. Terrific talent for his size and has hands -- like a WR.
22. Philadelphia Eagles
Calvin Pryor, FS, Louisville: Physical player who really fills a void for the Eagles. They are very solid on the offensive side, but the back two levels of their defense need work and Pryor will provide the help.
23. Kansas City Chiefs
Brandin Cooks, WR, Oregon State: Cooks ran a 4.33 at the Combine and showed the type of ball skills that a prototype No. 1 receiver displays. He is small but runs the entire route tree extremely well, and Andy Reid will love having Cooks as a weapon.
24. Cincinnati Bengals
Jason Verrett, CB, TCU: Verrett is the best nickel corner prospect in the Draft, and the Bengals need help at corner. In today's NFL there are constantly three or four WR on the field, so a quality nickel is a must.
25. San Diego Chargers
Dee Ford, OLB, Auburn: Ford was unstoppable in Mobile at the Senior Bowl, getting to the QB whenever he wanted to. Health is a concern right now, because he was not cleared to participate at the Combine.  
26. Cleveland Browns
Jace Amaro, TE, Texas Tech: Amaro is a true split TE similar to Jimmy Graham, but he has more physicality in the run game. Amaro runs great routes and will occupy the middle of the field, allowing Josh Gordon more space to operate.
27. New Orleans Saints
Aaron Donald, DT, Pittsburgh: Donald had one of the most impressive Combines in Indy. At 285 pounds, he ran a 4.68 40, which could be even more impressive than Clowney'€™s 4.53. He was also the best player in Mobile and the best defensive player in the country last season.
28. Carolina Panthers
Kelvin Benjamin, WR, Florida State: Benjamin has elite skills and size but also a reputation for dropping easy catches. Cam Newton needs more weapons, and Benjamin gives him a true No. 1 WR.
29. New England Patriots
Ra'Shede Hageman, DT, Minnesota: NE has to get younger on the DL, and more depth is a must with the injuries they suffered last year. Hageman is big and athletic -- a perfect fit in New England.
30. San Francisco 49ers
Kony Ealy, DE, Missouri: Ealy is a terrific four-down player who can get to the QB and plays tough against the run. He and Michael Sam were a two-man wrecking crew last season, and the attention opposing offenses had to pay to Ealy led to 11.5 sacks for Sam.
31. Denver Broncos
Bradley Roby, CB, Ohio State: Denver struggled on defense, and it's not getting any younger in the back end. With Chris Harris Jr. and Dominique Rodgers-Cromartie needing some help, Roby's aggressive style will be welcomed.
32. Seattle Seahawks
Jordan Matthews, WR, Vanderbilt: Matthews fits exactly the type of guy who would flourish with Pete Carroll. Smart, tough, productive and has a chip on his shoulder. Excellent production in the SEC and will compete for the ball in every area of the field with his above-average size.
Joel Klatt is a college football and NFL analyst for FOX Sports 1, appearing on FOX College Saturday, Fox Football Daily and other programming. He played quarterback at Colorado, and you can follow him on Twitter @joelklatt.
---