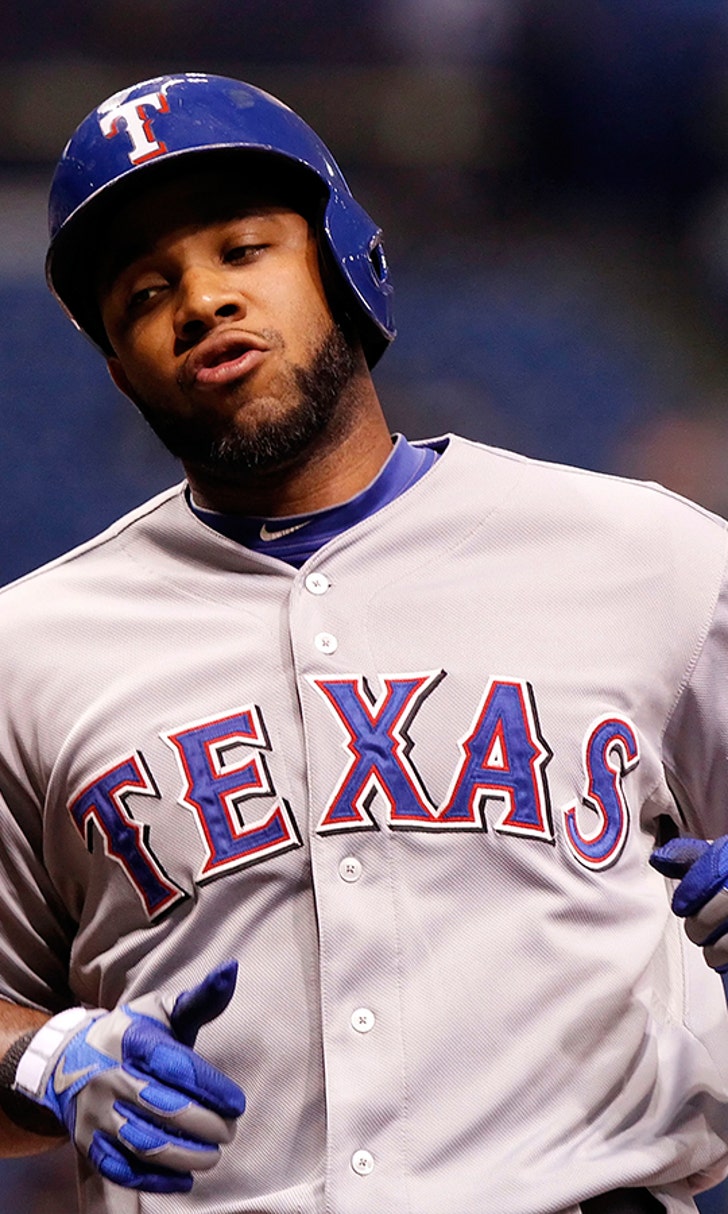 MLB Rank Differences
BY foxsports • February 27, 2014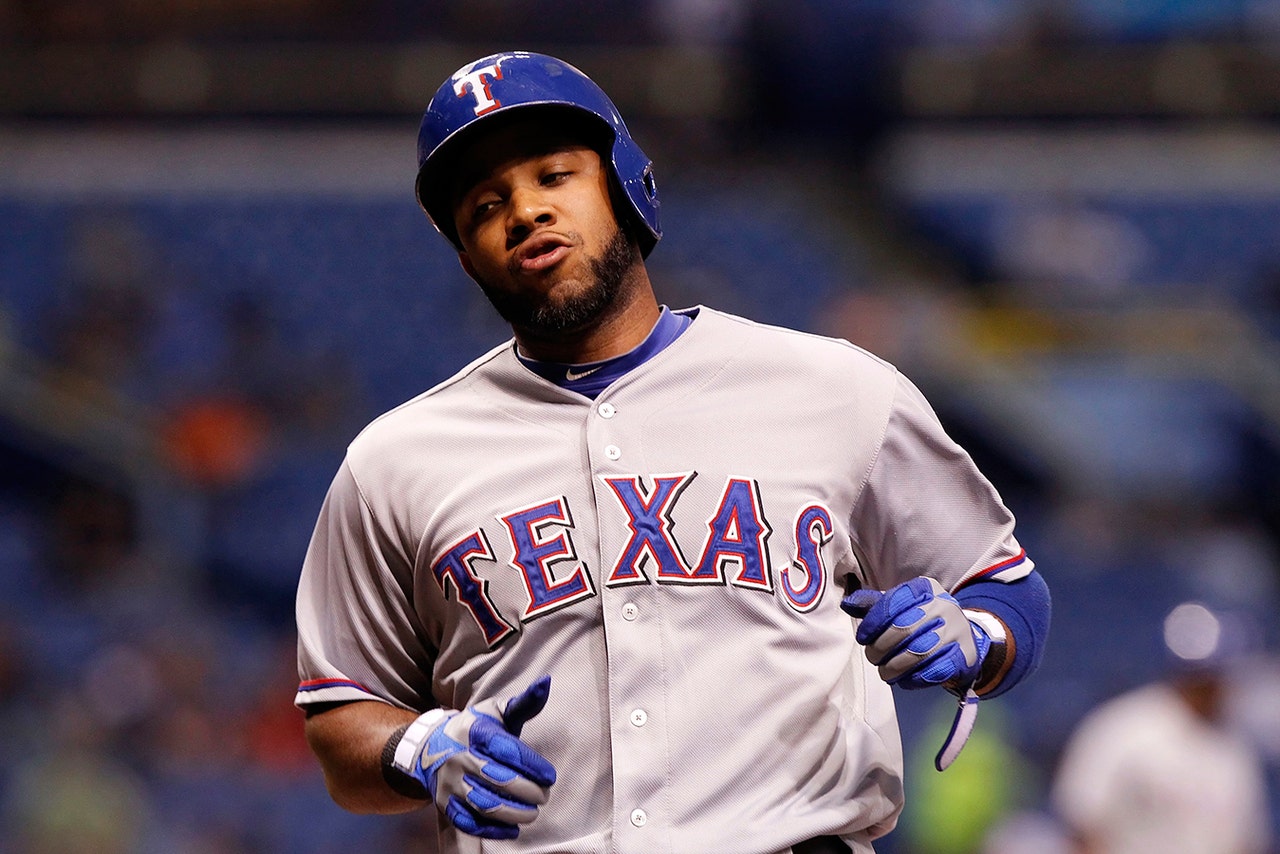 I'm happy to discuss ranks any time of the day (I've got my current Top 250, which won't be published until we get closer to opening day, and will answer specific questions @unSOPable23), but my guess is that you're more interested in where my rankings differ from experts on other platforms. Here are the top ten differences when it comes to hitters and why I feel the way I do.

Elvis Andrus

ESPN (42nd overall - 5th shortstop) Yahoo (92nd overall - 7th shortstop)

Soppe (34th overall --€" 4th shortstop)

 It's easy to forget because he has been "fantasy relevant" for five years, but Andrus is only 25 years of age. His speed makes him an elite option for stolen bases (career best 84% success rate last season) while his teammates make him a strong candidate to record his first 100-plus run season (Prince Fielder, Adrian Beltre, and Alex Rios are expected to bat in succession behind him). The slap hitting shortstop has seen his RBI total increase in back-to-back-to-back seasons (peaking at 67 last year), a trend I like to continue as the Rangers are expected to slot the newly acquired OBP machine Shin-Soo Choo ahead of him at the leadoff spot. Critics of Andrus will point to his increased BB% over the last three seasons (dropped from 9.5% in 2010 to 7.4% last year), but I'm reading that as a good thing assuming that he is batting in that two-hole like we expect. Listen, walks are good for base stealers, but do you really think he is going to see a ton of balls this season? Even if his batting eye isn't perfect, opposing pitchers aren't going to tempt fate and risk putting runners on base (especially ones capable of taking the extra base) in front of arguably the strongest middle of the order in the majors. The decline in BB% tells me that Andrus is being aggressive, and if Choo is getting on base at anywhere near the 42.3% clip he did last season, that is a great thing for fantasy owners. Finally, the Rangers middle infielder possesses a "skill" that few at his position seem to have these days: durability. He has stepped to the plate at least 580 times in each of the last four seasons; averaging 606 AB's over that span. With the exception of Ian Desmond (who I have ranked one spot ahead of Andrus), which of the top ten shortstops come with that limited of risk? Troy Tulowitzki, Hanley Ramirez, and Jose Reyes have had injury issues, Everth Cabrera was caught cheating (and stealing more than people want to remember, only Jose Altuve stole less and was caught more), Jean Segura lacks a track record (not to mention he hit .241 with one homer in the second half last season), Ben Zobrist showed signs of decline in 2013 (lowest stolen base plus home run total since 2008), J.J. Hardy has hit under .240 twice in the last five years, and Starlin Castro went all Starlin Castro on us last season (definition of "Castro-ing": be tabbed as a future batting champion in your first full season, suffer minor across the board regression that we can write off as a "sophomore slump", and then experience at least a 20% dip in four major fantasy categories in your third season despite having plate appearances in your third season). Take that 149 word sentence to your English teacher. Long story short, a 100-5-75-40-.280 season is not out of the question, and even if his steals decline a little bit, the runs spike should keep him as a player to target for his current price in any league I'm not a part of.

Nelson Cruz  

ESPN (156th overall --€" 41st outfielder) Yahoo (155th overall --€" 42nd outfielder)

Soppe (90th overall --€" 27th outfielder)

It feels like every website I look to for Cruz rankings is filled with people who traded for him just before his suspension was levied last season. It has to be that, because I have no other way of explaining him being outside the Top 100, let alone the Top 150. Is there a chance that his power was the result of drugs, and without them he is an aging player looking to cash a few more checks? Sure. But we are still spending a top 15 pick on Ryan Braun, are we not (for the record, I'm high on Braun too: have him at eighth overall)? He's a younger example, but the theory remains the same. Did you know thatCruz hit three more home runs last season than in 2012 despite playing in 50 fewer games? He was on a 40 home run pace, which would have ranked him behind only Chris Davis and Miguel Cabrera. Coulda, shoulda, woulda I get it; but that's a hell of a pace in a pretty decent sample size (109 games). Claim that his power numbers were inflated in Texas (even though he had more homers and a higher slugging percentage on the road last season) all you want, but Camden Yards actually played as a more favorable ballpark than Arlington last season according to ESPN's Park Factor http://espn.go.com/mlb/stats/parkfactor/_/year/2013/sort/HRFactor  . Not only does the ballpark play smaller, Cruz has the opportunity to bat in the middle of potentially the most potent lineup he's ever been a part of. Breakout stars Chris Davis and Adam Jones will bat in front of him (not to mention the emerging doubles machine Manny Machado) while J.J. Hardy (over 27 homers per 162 games with Baltimore) and Matt Wieters (still only 27 years old, don't sell his stock just yet) provide protection on the back end. Health has been hard to come by for Cruz (despite playing 159 games in 2012, he still averages just 126 games per season since 2009), but with his declining defensive grade, the O's are expected to use him at DH with regularity, providing fantasy owners with a little comfort as far as at-bat totals are concerned. I'm not saying you should build your team around him, but would you really prefer Curtis Granderson? How about a 34-year old Coco Crisp or a 38-year old Alfonso Soriano (skip ahead in the reading if you need to be convinced on this one)? I'm waiting on outfielders this season and making Cruz my second option.

Torii Hunter

ESPN (167th overall --€" 44th outfielder) Yahoo (195th overall --€" 51st outfielder)

Soppe (130th overall --€" 36th outfielder)

We've talked a lot about youth and upside up to this point, neither of which applies to Hunter. Yes, he will turn 39 midway through this season, but few players have aged with more grace. He doesn't display the power he did in his early years (although he did slug .465 last season, one percentage point below his career average), but he has transformed into a .300 hitter (batting .308 over the last two seasons after maintaining a .274 average through the first 14 years of his career) and is in an ideal lineup. The acquisition of Ian Kinsler should make the Tigers a more versatile offense and a healthy Victor Martinez should help offset the run-producing void left by Prince Fielder. Hunter is likely to assume the two-hole in Detroit's attack, making another 90-15-90-.300 campaign very attainable. He doesn't offer sparkling upside, but his lack of downside allows you to take a few fliers early in the draft (i.e. Matt Kemp or Wil Myers) without worrying too much about the potential downside. Slide Hunter in as your third outfielder and feel good about another well-balanced season.

Nolan Arenado

ESPN (223rd overall --€" 18th third baseman) Yahoo (146th  overall -17th third baseman)

Soppe (131st  overall --€" 12th third baseman)

The Rockies 22-year-old third baseman ended 2013 on a tear (his batting average rose from .244 to .298) and it should continue as he continues to acclimate to the MLB. There isn't much depth at the hot corner, in terms of fantasy baseball, after the first handful of rounds, so why not wait and grab a player oozing with upside late? Arenando and Michael Cuddyer are expected to be the protection for Troy Tulowitzki and Carlos Gonzalez, a very fortuitous spot to be in. He's been a strong batting average prospect (hit .305 in rookie ball/minor leagues) and playing at elevation still ranks as a major fantasy advantage (top ballpark in terms of runs scored in each of the last two seasons). During his rookie campaign, Arendao was overly aggressive, but his ability to make contact lowers the downside that most free-swingers come with. Will Middlebrooks and Xander Bogarts might be more talented than Arenado, but fantasy baseball is as much a game of skill as it is opportunity, and with Stephen Drew still in the picture in Boston, it is not unreasonable to think Arenado gets considerable more at-bats than either of the BoSox prospects. Chase Headley is another third baseman ranked in Arenado's class, but I refuse to pay for one monster stretch (23 homers in the second half of 2012) that continues to inflate his value. I'd recommend grabbing one of the top six third basemen to man your hot corner, but if you want to wait on CI or UTIL, you could do much worse than this promising youngster.

Evan Gattis

ESPN (241st  overall --€" 13th catcher) Yahoo (206th  overall --€" 11th catcher)

Soppe (163rd  overall --€" 9th catcher)

Grown. Man. Power. That's what Gattis flashed in limited playing time last season, as 24.4% of his hits left the park and 48.8% went for extra bases. His low batting average plays into those statistics, but Gattis displayed plus power as a prospect (32 homers in 142 games played in A, AA, or AAA) and should continue to place his far share of balls in the bleachers. With Brian McCann now cashing checks in the Bronx, the Braves are likely to allow the versatile Gattis (he actually played more games in left field than behind the plate) to play a regular role. I like the sounds of that when you consider that the Braves have as much upside on offense as any team in the league: they ranked 13th in the league with B.J. Upton (.184 batting average and more than twice as many strikeouts as hits), Justin Upton (career lows in batting average and OBP since breaking out in 2009), and Jason Heyward (appeared in only 104 games and saw his slugging percentage drop 72 points from 2012) all struggling in a major way. I'm waiting on drafting a catcher (as are you if you're considering Gattis as a starter) this season and I'll gladly take a player who could lead his position in home runs.  

Adam LaRoche

ESPN (272nd overall --€" 28th first baseman) Yahoo (259th overall --€" 36th first baseman)

Soppe (208th overall --€" 24th first basemen)

Maybe I'm nit picking a bit here, but there are enough first basemen for you to grab your starter and then wait a long time to satisfy your corner infield spot. His batting average is a bit hit-or-miss, but his power is legitimate (at least 20 homers in every season in which he made at least 111 appearances) and he projects to bat in a very fantasy friendly spot in the Nationals loaded offense (behind the likes of Ryan Zimmerman/Bryce Harper/Jayson Werth and ahead promising talents in Ian Desmond and Anthony Rendon). LaRoche's fantasy value is tied to his ability to drive in runs (at least 83 RBI in six straight seasons before last year's disappointment), and at his current price tag, that's fine. He has consistently been more productive from a fantasy standpoint against right handed pitchers (.254/.350/.451 batting line against RHP as opposed to a .221/.282/.391 line against LHP during his time in Washington), so why not draft him a few rounds early and use him as a plug-and-play option? His power and opportunity make him an intriguing player to target if you're behind in RBI/HR (maybe you drafted Joey Votto early or loaded your outfield with speedsters), and "reaching" for him will require 20th round selection (most sites have him ranked behind the unsigned and generally irrelevant Stephen Drew) at the earliest, even by my rankings.

David Wright

ESPN (19th overall --€" 3rd third baseman) Yahoo (20th overall --€" 4th third baseman)

Soppe (28th overall --€" 4th third baseman)

A star player on a bad New York team? Carmelo Anthony fans probably shouldn't use an early round pick on Wright this season if they want to maintain their sanity. I'm not saying Wright will be a useless fantasy option, especially given the limited depth at the third base position, but I have a hard time seeing him ending this year with comparable fantasy numbers to players like Bryce Harper, Carlos Gomez, or Prince Fielder. Name me one player in the league that can rank among the fantasy elite while on a team that has the potential to have six regulars (seven if you include the pitchers spot) bat under .250 http://www.rotochamp.com/baseball/TeamPage.aspx?Team=NYM . Good luck. In addition to a lack of support around him, Wright lacks an important "skill" when I create my Top 20: health. After missing a total of 37 games in six seasons, Wright has now missed at least 50 games in two of three seasons, a major red flag for a player who just turned 30. Citi Field isn't going to do him any favors either (second lowest scoring ball park in the bigs last season) nor is the division (the Nationals and Braves boast impressive pitching rotations and the Phillies have three starters capable of striking out 200 batters). Wright showed some signs of forcing the issue (he swung at 26.4% of pitches outside of the strike zone, the second highest figure of his career) and his decline in production against righties (batting average down 27 points from 2011-2013) is worth monitoring. He's a late second round pick if he plays 150-plus games, I just don't think he does.

Joey Votto

ESPN (20th overall - 5th first baseman) Yahoo (15th overall --€" 3rd first baseman)

Soppe (25th overall --€" 6th first baseman)

My worries about him have as much to do with the team around him as they do his skill set. Let's start with what he can control: his approach. Votto is out to make the Reds a better team, and getting on-base with regularity does just that, but it doesn't really supply his fantasy owners with good value in the late second round. In three short seasons, his isolated power (slugging percentage minus batting average) has dropped 90 points, making him more of a 75-80 RBI player instead of a 100-plus option. That 75-80 may even be a bit optimistic when you consider he knocked in 73 runs last season, and that was with Shin-Soo Choo getting on base over 42% of the time. Billy Hamilton is an explosive athlete and Zach Cozart can do some nice things, but it is entirely possible that neither one of them records an OBP north of .300, a big problem for the RBI upside of Votto, especially if his power numbers continue to decline. The Great American Ball Park gets an unfair reputation as a hitter friendly stadium because of its high home run rate. It is true that the Reds home ranked second in home runs allowed (you're no longer drafting Votto for his 30 homer upside), but it is also true that it ranked, albeit minor, as a pitchers park in terms of runs scored and hits. Much like Wright, Votto will produce viable fantasy numbers, but they won't be worth the second round selection he'll cost you in most leagues.

Joe Mauer

ESPN (61st  overall --€" 3rd catcher) Yahoo (52nd overall --€" 2nd catcher)

Soppe (104th overall --€" 5th catcher)

If JoeMauer gets 200 hits and nobody is on-base or on deck to witness it, does he make a fantasy impact? I'm saying no.

Typically I love catcher eligible players that will play elsewhere as it means a decided advantage in games played, but Mauer is the exception. Power hitters can produce decent fantasy numbers on bad teams, but I have my doubts about a singles/doubles hitter providing top notch numbers in such a situation. Mauer will be "protected" by Brian Dozier, Josh Willingham, and Trevor Plouffe: not exactly murders' row. The Twins catcher clubbed 28 homers in 2009 after hitting 29 in the three prior season and just 33 since, making that outburst something we like to call an "aberration". Batting average is the most difficult of fantasy statistics to count on, and while Mauer is a good bet to contribute in a positive fashion there, his impact on your team simply won't be enough to justify picking him over the upside of a player like Starling Marte, Jason Heyward, or even Kyle Seager in my opinion. There are catchers you can get that have twice the ADP of Mauer and offer better counting numbers to go along with a serviceable batting average. Wait on the position and let someone else waste the early selection.

Alfonso Soriano

ESPN (144th overall --€" 38th outfielder) Yahoo (128th overall --€" 38th outfielder)

Soppe (190th overall --€" 49th outfielder)

Torii Hunter and Soriano both produced huge fantasy numbers given their advanced age, but not all aging stars are created equal. While Hunter seems to be improving his plate discipline and shortening his swing, Soriano has remained the same free-swinging player at 38 that he was at 28. We overlooked Soriano's declining batting average (five straight seasons below his career .272 average) last season because he stole 18 bases, something he simply is not going to repeat (he only attempted to steal 17 bases in the previous three seasons). Not only am I not buying the skill set that we saw last season, I'll gladly take the 'under' on 581 at-bats. There is a reason the Yankees inked not one, not two, but three outfielders to new deals this offseason, and with Derek Jeter back in the mix, it is hard to pencil Soriano in as a consistent DH. Assuming I've got that right and he doesn't see as consistent playing time as he did last year, it is going to be difficult to get extremely hot (20 homers, including five multi homer games, in a two month span) like he did last year. Soriano projects as much more of a specialist (his batting average rose 56 points against lefties last season and his slugging percentage jumped 115 points at home) in 2014, something that is not reflected in his top 40 ranking at his position. The Yanks fourth outfielder recorded a career-high 0.91 ground ball per fly ball ratio and his line drive rate (20%) was under his career average.  He's a fringe OF5 for power hungry fantasy teams, but I'd rather have Brandon Moss if that's what you're after.


---