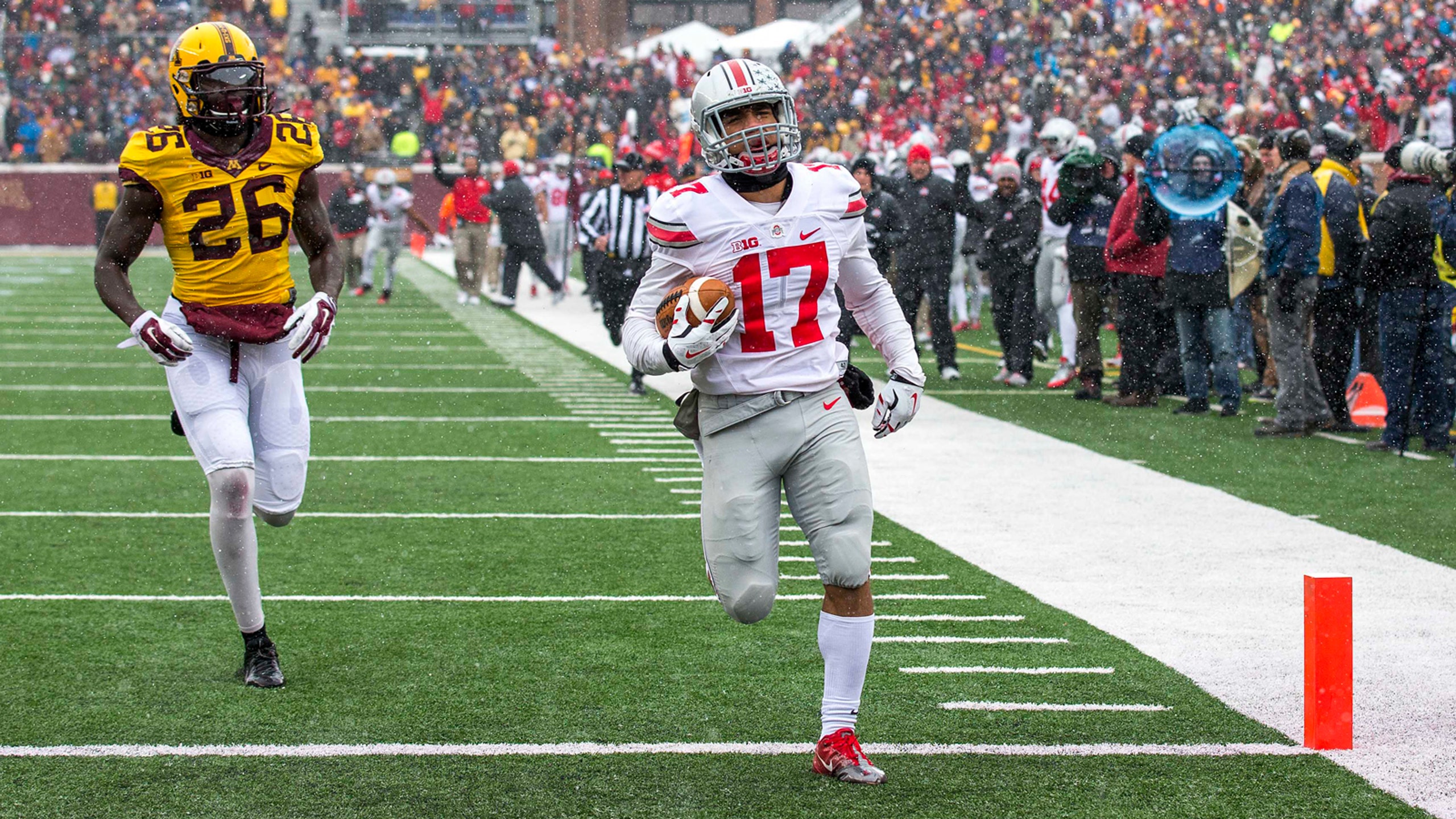 Miscues cost Minnesota chance at eye-opening upset of Ohio State
BY foxsports • November 15, 2014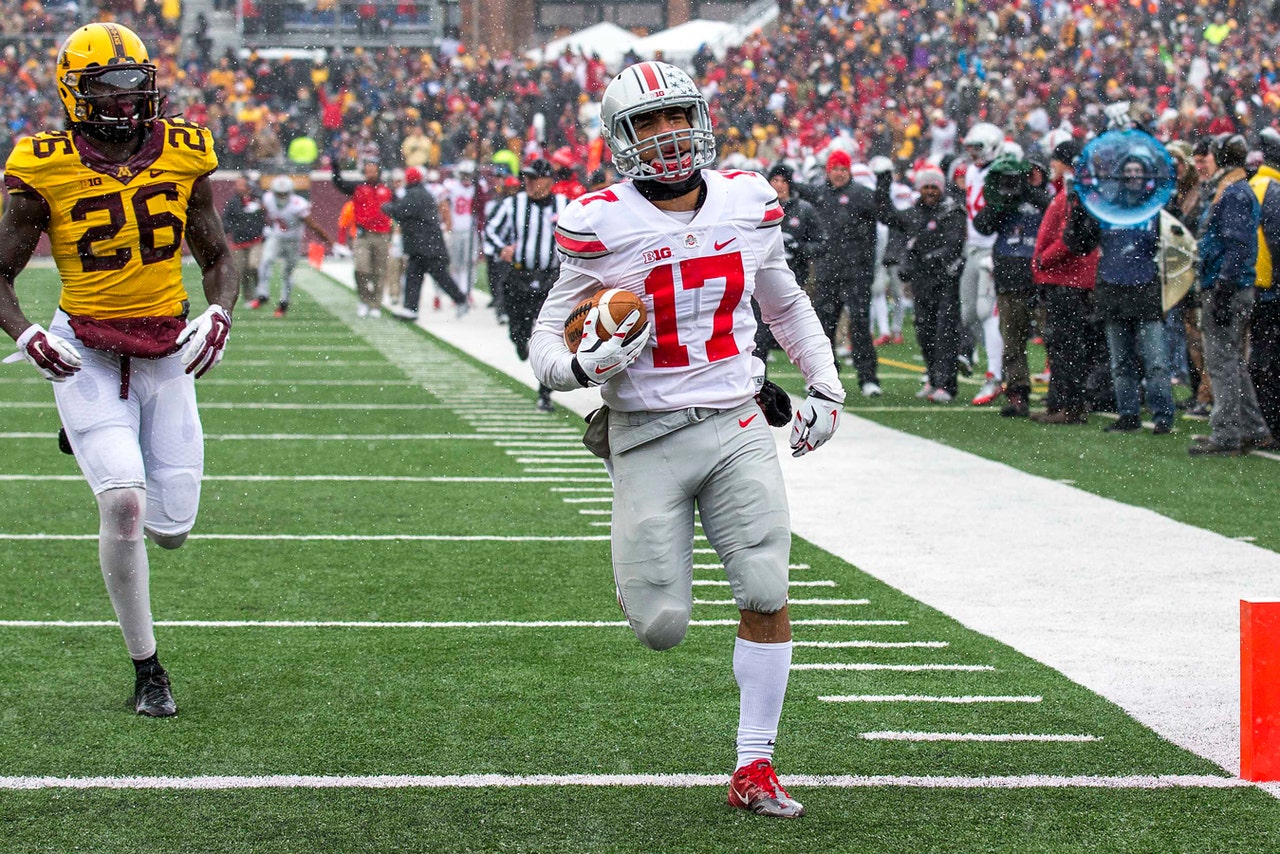 MINNEAPOLIS -- There was certainly not a lack of confidence in the Minnesota Gophers' locker room following Minnesota's 31-24 loss to Ohio State.
Gophers linebacker De'Vondre Campbell went so far as to say he didn't think the eighth-ranked Buckeyes were better than Minnesota. Campbell added that TCU, whom the Gophers played earlier in the season, was better than Ohio State.
In the end, though, the Gophers made too many costly mistakes in the second half, something they couldn't afford against a team of Ohio State's caliber. Considering very few people gave Minnesota a chance to win Saturday, let alone put together a competitive game, the Gophers were about as upbeat as they could be following a loss.
"We'll see them again in three weeks," Campbell said of the Buckeyes.
That, of course, was a reference to the Big Ten Championship game, which remains a possibility for Minnesota despite Saturday's defeat. The Gophers face Nebraska and Wisconsin on the road in their final two games of the regular season. Two wins, and Minnesota could earn a spot in that game.
If that's going to happen, the Gophers can't afford the types of mistakes they made in the second half of Saturday's loss. Minnesota was flawless in the turnover department in the first half and even forced a pair of Buckeyes turnovers to make it a 17-14 Ohio State lead at halftime. Gophers cornerback Briean Boddy-Calhoun intercepted Buckeyes quarterback J.T. Barrett to set up a Minnesota touchdown, and he later forced a fumble as OSU threatened to extend its lead. The fumble ended up in the end zone and Campbell recovered for the Gophers. Thanks to those two takeaways, Minnesota held its own before halftime.
The second half was a different story. Coming out of the locker room trailing by just three to the Buckeyes, Minnesota had too many miscues to fend off Ohio State.
One of the most glaring mistakes by the Gophers was an illegal formation penalty that moved Minnesota from 3rd-and-1 at its own 38-yard line to 3rd-and-6. On the very next play, quarterback Mitch Leidner threw his second interception of the second half. Ohio State's Vonn Bell stepped in front of a pass thrown into tight coverage, keeping it at a 24-14 Buckeyes lead at that point.
After the game, Kill was asked about the illegal formation penalty, which was called when Minnesota was whistled for having five men in the backfield as the wide receivers were too far off the line of scrimmage.
"That's why I'm not smiling right now," Kill said in his postgame press conference. "Bad coaching."
There were other mistakes that cost the Gophers before that penalty, too. Kicker Ryan Santoso missed a 52-yard field goal at the end of a nine-play Minnesota drive early in the third quarter. His kick hit off the right upright as the Gophers failed to tie the game at 17. There were plenty of "what-ifs" for Minnesota on Saturday, and that field goal was one of them when the Gophers made a late surge.
Ohio State scored six plays after the miss by Santoso when Barrett hit a wide-open Michael Thomas for a 30-yard touchdown. No Gophers defender was anywhere close to Thomas, and Kill said the coaching staff had an issue with their headsets due to the cold temperatures. Minnesota's sideline noticed that the secondary was out of position but couldn't adjust in time.
"We had a lack of communication there," Kill said. "I'm not a guy that makes excuses, headset or not. You've still got to get stuff done. That has nothing to do with it."
Minnesota can take plenty of silver linings from Saturday's loss. For starters, the Gophers held an Ohio State team averaging 46 points per game to just 31. The Buckeyes had previously scored 50 or more points five times this year. The 31 points Saturday tied for the second-fewest OSU has scored all year.
The Gophers were competitive in a game played on national television against a team that has an outside shot at earning a spot in the college football playoffs.
"You can take away a lot of things, just like every game," said Boddy-Calhoun. "Today, we proved to ourselves that we can hang with the top (teams). That's the No. 8 team in the country and we proved we can hang with (them) and not only hang, but we had a really strong chance of beating them if we don't make some of the mistakes on defense."
Leidner took some of the blame for the loss, too, saying that he has to play better after completing just 7 of 19 passes for 85 yards and a pair of interceptions. Gophers running back David Cobb had a big day, rushing for 145 yards and all three of Minnesota's touchdowns.
The defense was solid in stretches. Boddy-Calhoun single-handedly kept the Gophers in the game in the first half. But Minnesota did allow Barrett to pass for 200 yards and run for 189 more as the Buckeyes' redshirt freshman did his part to dash the Gophers' hopes.
Minnesota's hopes for a Big Ten title weren't dashed just yet, though
"When you play a team like Ohio State that has great athletes, you can't make many mistakes or they'll beat you," Cobb said. "I don't think there's any doubt. We have full confidence that we'll handle business in these next two weeks. Every guy on our team believes that we're a good enough team to win those games."
Follow Tyler Mason on Twitter
---