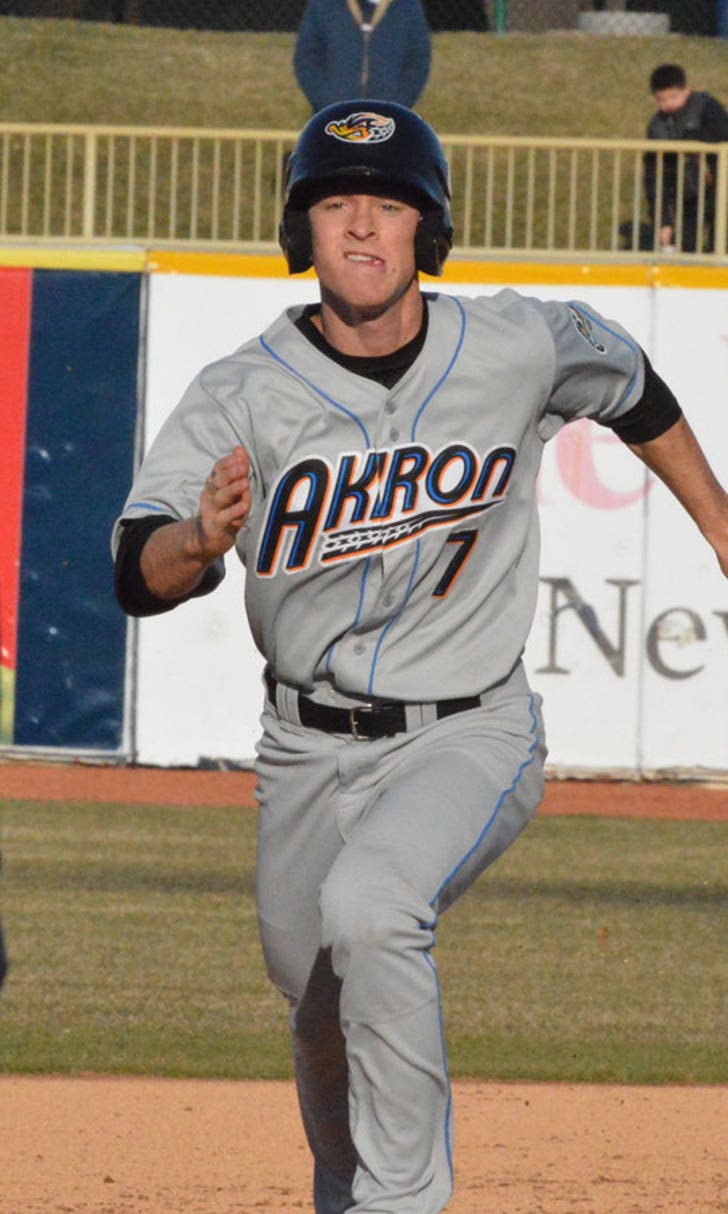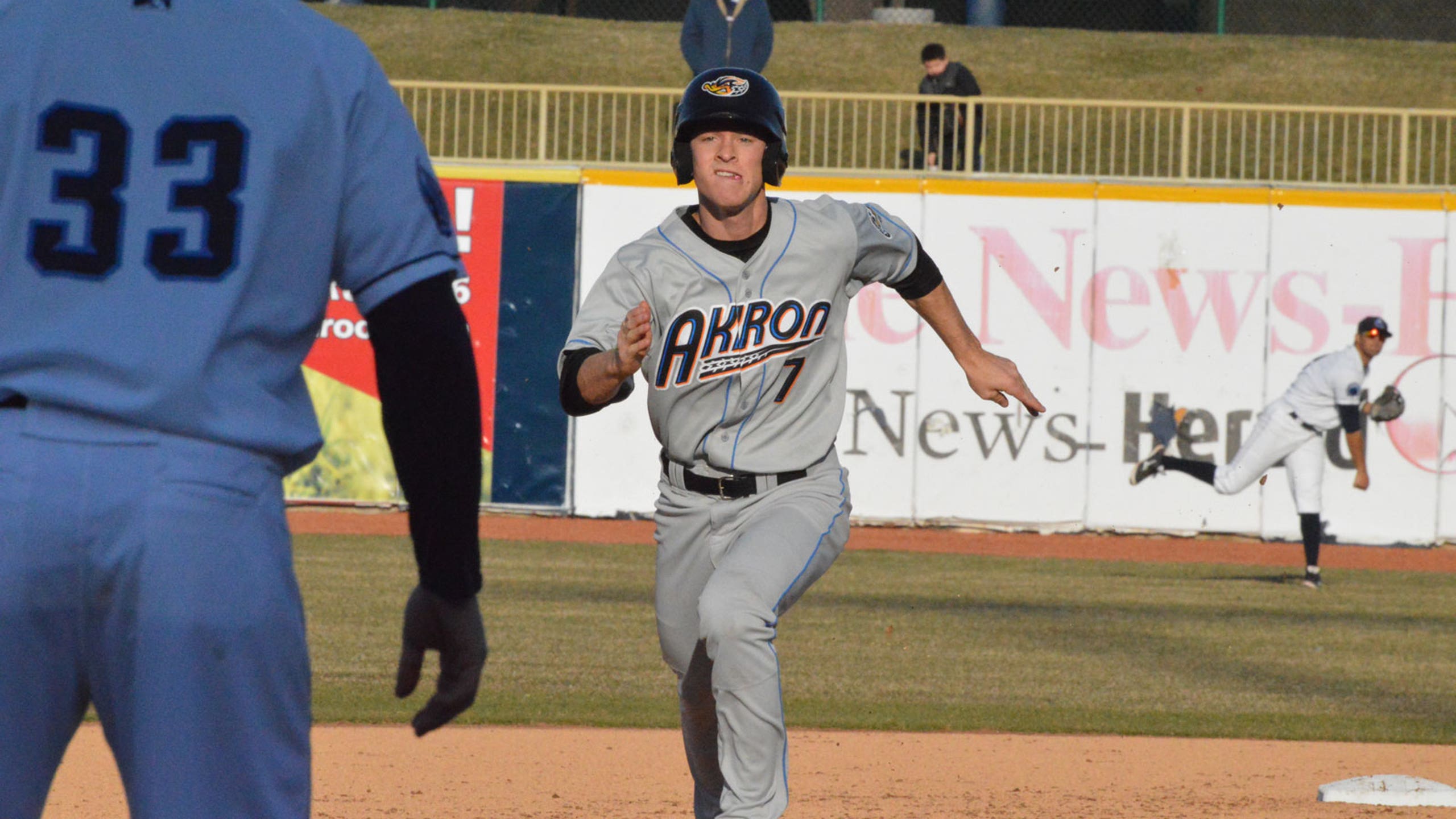 Minor League Report: Akron RubberDucks
BY foxsports • June 13, 2014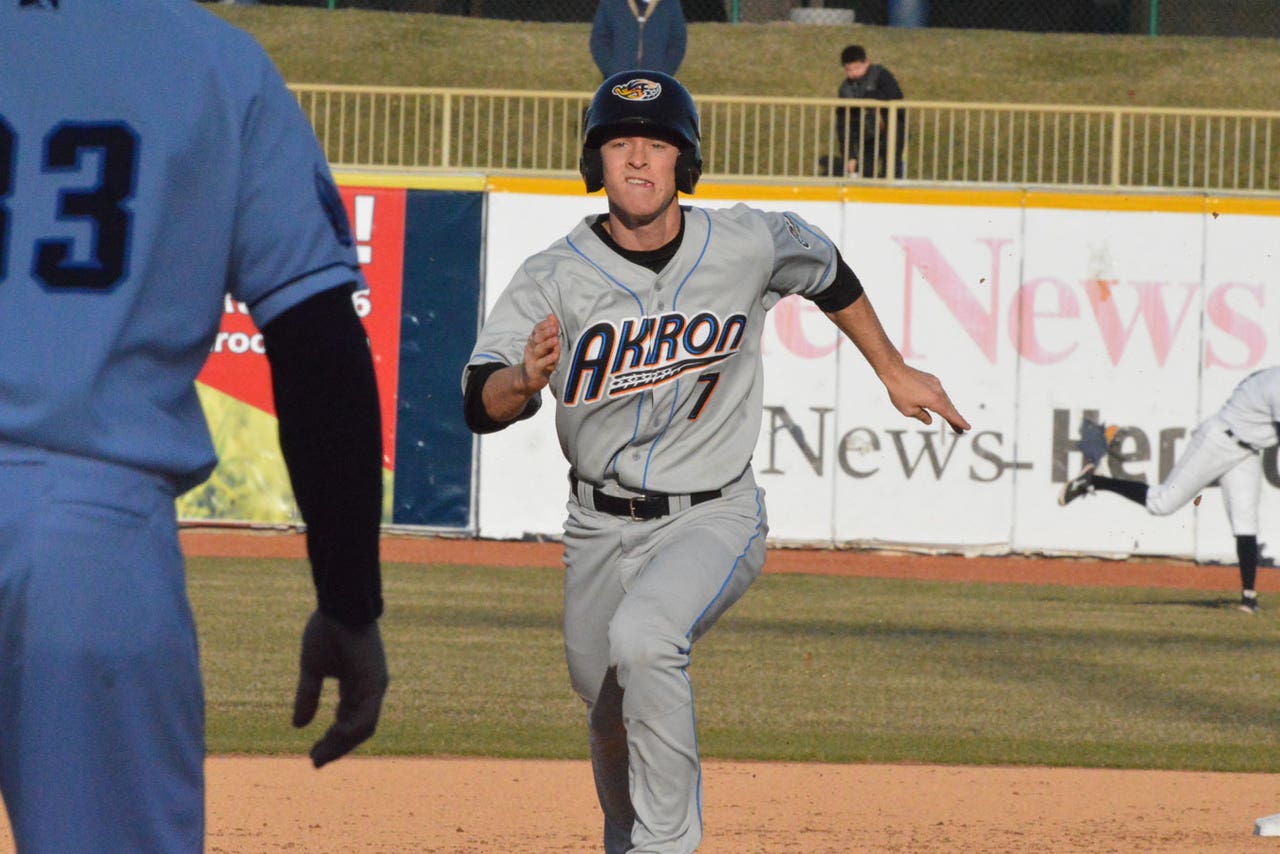 The Double-A Akron RubberDucks are a rare example of a minor league affiliate both playing well and loaded with talent. Often times talent and upside doesn't equal wins in the minor league standings, but that has been the case this season for the Cleveland Indians' most exciting minor league affiliate to watch.
Just the Facts
Akron (39-28) sits in first place in the Eastern League's Western Division though has just a ½ game lead over Richmond (37-27). They have cooled off of late losing four in a row and six of their last seven games.
The lineup has been solid all season and ranks 4th out of 12 teams in the league in hitting (.266), 6th in runs scored (301), 8th in doubles (107), 12th in home runs (32), 6th in total bases (834), 1st in walks (231), 5th in strikeouts (459), 3rd in stolen bases (72) and 10th in OPS (.710).
The pitching is where they have had a lot of success ranking 2nd in ERA (3.55), 11th for most hits allowed (546), 5th for most home runs allowed (50), 9th for most walks allowed (182), 5th in strikeouts (449) and 1st in WHIP (1.25).
Who's Hot?
Tyler Naquin, Outfielder
15 G, .453 AVG (29-64), 16 R, 2 2B, 2 3B, 2 HR, 8 RBI, 6 BB, 11 K, 4 SB, 1.134 OPS
Naquin is as hot as anyone in all of minor league baseball as he is currently in the midst of a 15-game hitting streak and has recorded a hit in 23 of his last 24 games and 29 of his last 31 games. He has been locked in at the plate and spraying the ball all over the diamond, showing improved discipline and finally showing his plus hit tool on a consistent basis. One of those homers was also an inside-the-park shot to dead center.
Will Roberts, Right-handed pitcher
2 GS, 1-1, 2.84 ERA, 12.2 IP, 9 H, 7 R (4 ER), 0 HR, 3 BB, 12 K, .205 BAA
Roberts has been steady on the mound for Akron all year giving at least 5.0 innings in all of his 12 starts and has gone at least 6.0 innings in half of them. He's a command and control specialist who relies more on getting quick outs and pitchability than pure stuff, but he has the size and strength to throw a ball past a batter at 94-95 MPH every once in a while. He is 5-7 with a 4.02 ERA on the season and continues to solidify himself as a back of the rotation starting pitching prospect.
Who's Not?
Jordan Smith, Outfielder
14 G, .167 AVG (8-48), 6 R, 2 2B, 0 HR, 7 RBI, 6 BB, 6 K, 2 SB, .463 OPS
It has been a rough year to date for Smith overall as he is hitting just .197 with 0 HR, 18 RBI and .491 OPS in 58 games at Akron. He has had trouble squaring up balls and his once good approach and discipline at the plate has eroded significantly from his close to 1:1 walk to strikeout ratio to almost a 3:1 strikeout to walk ratio this season. He needs to turn it on soon or he risks being reassigned back to High-A Carolina.
Cody Anderson, Right-handed pitcher
3 GS, 0-1, 6.60 ERA, 15.0 IP, 17 H, 11 R/ER, 4 HR, 5 BB, 9 K, .283 BAA
It has been a tough year for Anderson as he has been unable to find any consistency on the mound at Akron. Ranked unanimously as a top 10 prospect in the organization, and top five by most, he has had a disappointing season to date compiling a 2-4 record with a 4.86 ERA in 13 starts. Most disappointing has been his strikeout rate which has dropped considerably 8.1 K/9 last year to a below average 5.5 K/9 rate this season.
Parting Shots
- Outfielder Anthony Gallas joined the team from High-A Carolina on Wednesday. In his first two games with Akron he is 3-for-9 with a solo homer. He hit .276 with 8 HR, 31 RBI and .810 OPS in 58 games with Carolina. He is a Cleveland native and played college baseball at Kent State University.
- Gallas was called up because outfielder Bryson Myles suffered a torn meniscus injury to his knee and had surgery over the past week. He will miss the next several weeks of the season as he recovers and then rehabs the knee. In 54 games he was hitting .282 with 3 HR, 22 RBI and .774 OPS.
- Shortstop Francisco Lindor is having a solid season and has for the most part been very consistent at the plate. He is hitting .279 with 4 HR, 36 RBI and .747 OPS in 62 games, and also has 18 stolen bases and a 34-41 walk to strikeout ratio. The consistency is shown in his monthly numbers as he hit .281 with a .769 OPS in April, .278/.764 in May and is hitting .279/.656 so far in June.
- Right-handed reliever Tyler Sturdevant is having a sensational return from injury. In 22 appearances out of the pen he is 1-1 with a 0.93 ERA, and in 29.0 innings has allowed 16 hits, 7 walks and has 29 strikeouts. He has racked up 15 consecutive scoreless appearances covering 22.1 innings during the streak. He is a potential pen arm to keep an eye on who could impact the Cleveland roster later in the year.
- Right-handed pitcher Joseph Colon has struggled his last two times out but overall this season he has been strong and pitched very well. In 13 starts he is 5-4 with a 3.05 ERA, and in 73.2 innings has allowed 64 hits, 3 homers, 29 walks and has 50 strikeouts. He has firmly established himself as one of the Indians best starting pitching prospects and is a sinkerballer who can eat innings. He is in the big league mix as a starting option sometime next season -- even this season if the Indians are desperate.
---