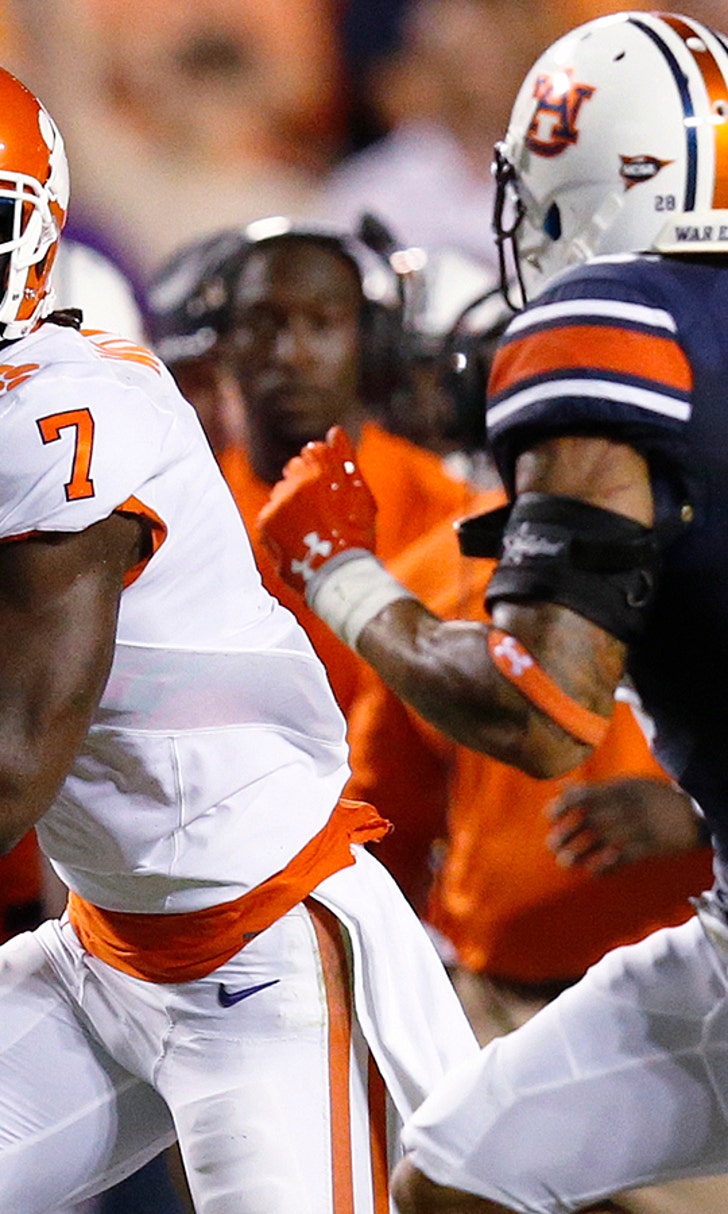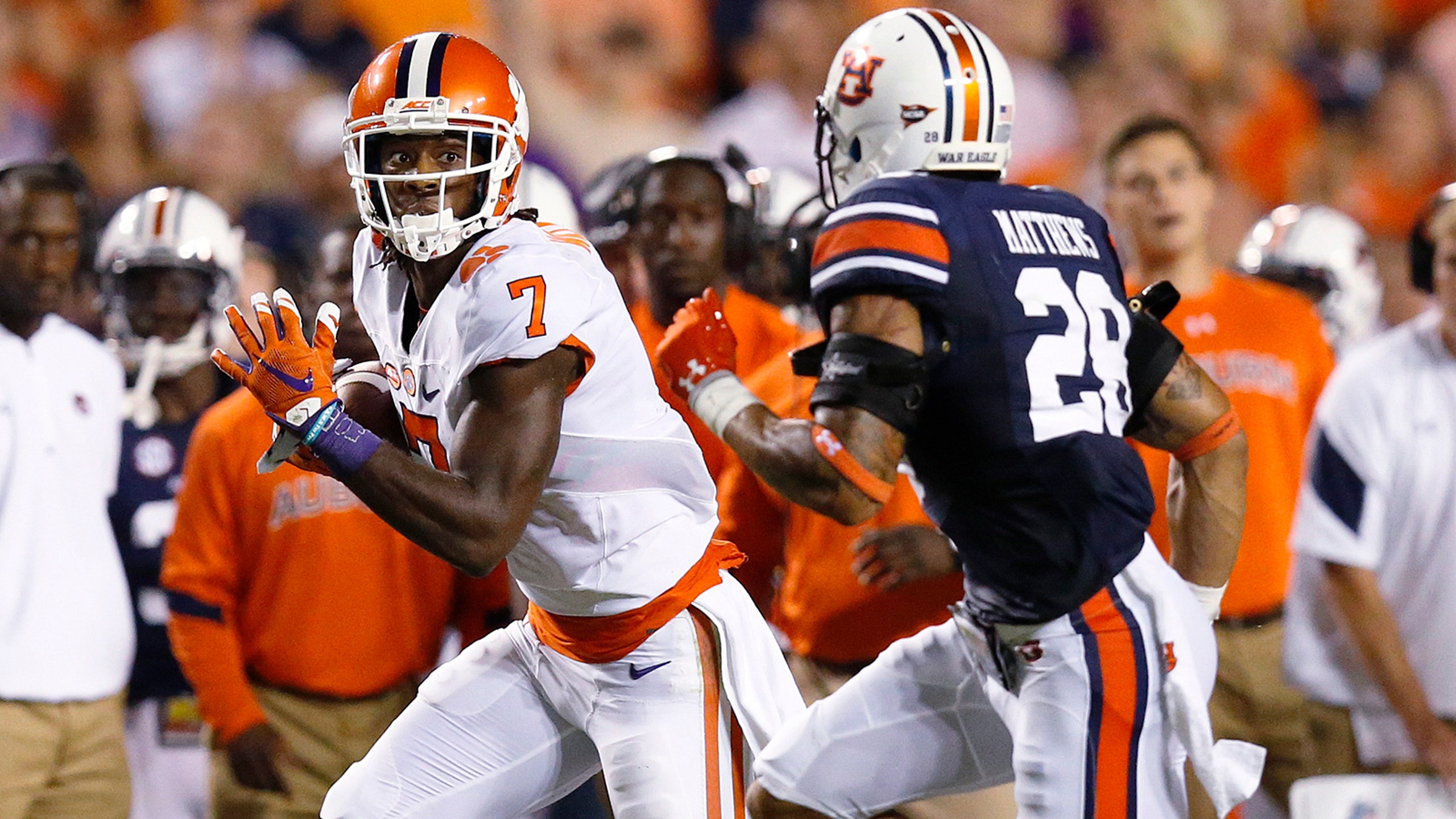 Mike Williams' career night helps lift No. 2 Clemson over Auburn
BY foxsports • September 4, 2016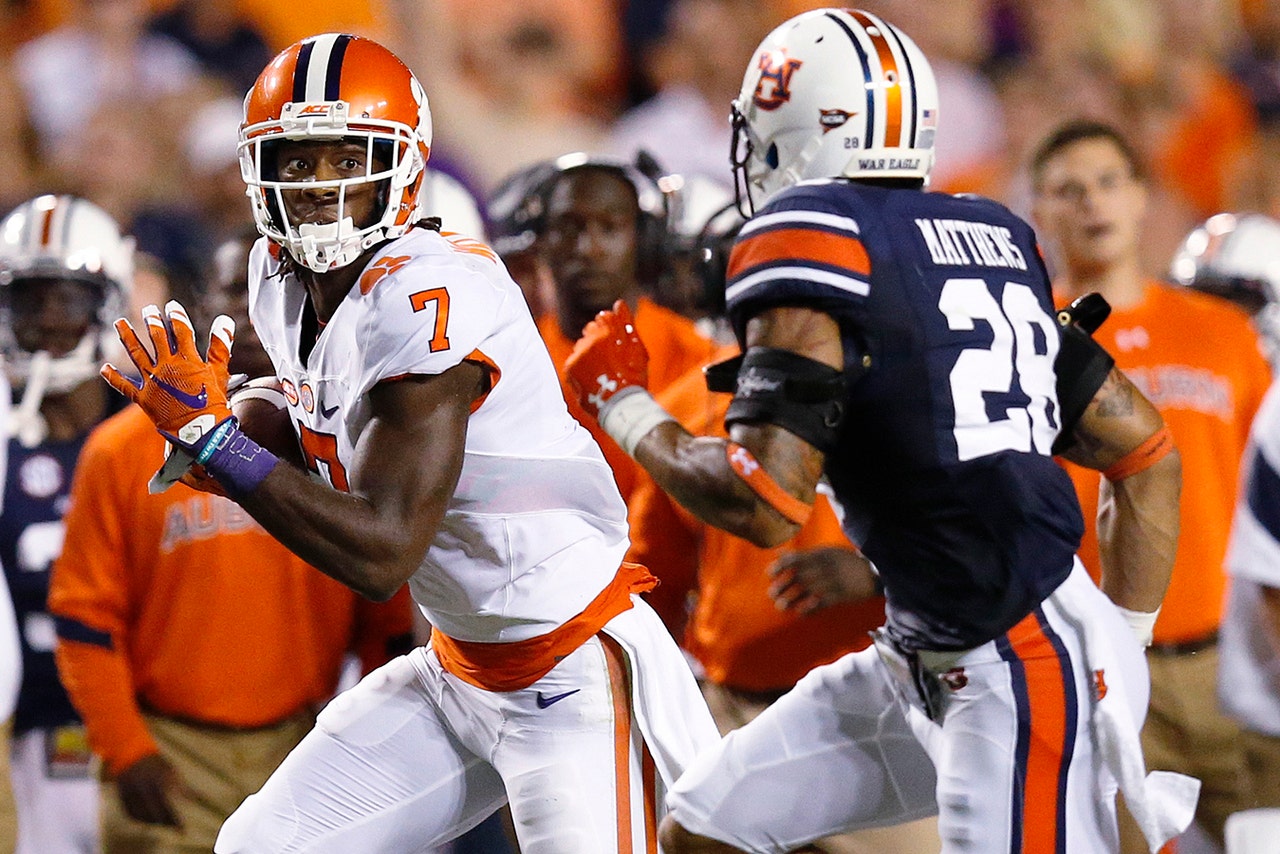 Auburn, Ala. — Mike Williams recalled the exact moment when his official return to the field led to his reemergence as one of college football's best receivers.
"After the first quarter they came to the sideline and said, 'We're about to get you the ball,'" Clemson's standout senior receiver said. "Second quarter (they) did it and everything started flowing real good."
In No. 2 Clemson's 19-16 road win at Jordan-Hare Stadium on Saturday night, Williams became both catalyst and safety valve. Last season's national finalists likely do not escape the road environment with an unblemished record without their downfield threat as Auburn relentlessly stacked the box to shut down the Tigers' ground threat with record-breaking mobile quarterback Deshaun Watson and 1,500-yard rusher Wayne Gallman.

"They played a lot of odd front, a lot of overhangs. They gave us a lot of Bear (defensive front) tonight," Clemson coach Dabo Swinney said, noting that his staff entered the game unsure of how Auburn would gameplan defensively. "Again, it was 100-something yards by Gallman and we made some big plays. You've got to give something up. When you're playing all that single safety and one-on-one coverage, that opens up opportunities."
That something was Williams.
That something was unavailable a year ago.
Williams' 2015 season ended, appropriately enough, in an endzone. During Clemson's season-opening rout of Wofford, Williams sprinted past his assigned defensive back on the inside shoulder, streaking behind the Terriers' secondary and turning his head just as Watson released the pass. Williams reeled the ball in, somehow keeping his feet inbounds. But the maneuver required an awkward landing, propelling him head-first into the padding around the goalpost. He fractured a bone in his neck on the first drive of the season, requiring him to miss the remainder of the Tigers' run to the national title game.
In the moment — and especially in retrospect — Watson & Co. running up 40 points against the nation's No. 1 defense on college football's biggest stage without a preeminent NFL receiving prospect, a 6-foot-4 1,000-yard receiver as a sophomore, was borderline inexplicable. (That the team's third-leading receiver Deon Cain also missed the game is a further testament to the Tigers' depth at the skill positions.) It took just one half to refresh the sport's memory on just how vital Williams is for Jeff Scott and Tony Elliot's uptempo attack.
Not that Elliot was caught off-guard by Saturday's performance or anything.
"From the day that he stepped out there and the first day that we were out on the practice field, he went down low, head hit the ground and he popped right back up," Clemson's co-offensive coordinator said. "We knew that he was ready to go.
" ... We thought that if they came out and played him aggressive in bump-and-run coverage that he could have a big night. We also saw from Day 1 in camp that he was a different guy and was focused. We knew that we needed to target him."
Despite that quiet first quarter, half of Watson's first-half targets ended up being directed at the senior. At times, Williams was a one-man wrecking crew. On Clemson's first touchdown drive, Williams did most of the marching, hauling in catches of 11, 26 and 14 yards. He finished his first official half since Wofford with six catches for 105 yards.
He padded that total against a stingy Auburn defense in the second half, finishing with a career-high 174 yards — placing him near the top of the national leaderboards for college football's opening weekend.
"It could've been a lot more," Swinney laughed. "He missed two or three that he normally makes. One was a wide-open touchdown."
Williams did not disagree: "I fumble on that drive. I feel like I could've had two touchdowns. I dropped two touchdowns, one an easy slant." Still, he provided necessary balance and his 20-yard third-down reception with two minutes remaining likely drained just enough clock to help thwart Auburn's too-close-for-comfort comeback attempt, which finished two hailmary incompletions shy of a stunning upset.
As Clemson's 19 points suggests, Williams' impressive reemergence highlighted an otherwise unimpressive outing. Auburn's best talent resides on defense, particularly a potentially scary line led by Carl Lawson and Montravius Adams, and, in hostile territory, nothing quite clicked. Watson's Heisman campaign launch was pedestrian (248 yards, one touchdown, one interception) and drives repeatedly stalled as Clemson converted just seven of its 20 third- and fourth-down conversions. Aerial shots to the end zone — most aimed at Williams — repeatedly came up empty and turnovers proved costly.
This is the type of scrutiny Clemson's offense will face over the next four-plus months. Some of it is self-inflicted. When Watson or All-ACC center Jay Guillermo declares the offense can be the "best ever in college football," the enthusiasm is understandable — the Tigers are overflowing with talent — but such statements also raise the stakes. Nineteen points, regardless of the opponent, does not inspire that type of confidence. Clemson will eventually need more. As Swinney said, "Great teams get better."
Still, on a quiet night for a Heisman frontrunner and many of his top receiving threats from a year ago, Williams' career night offered a healthy reminder: The Tigers made it all the way to the national championship without their top wide receiver a season ago. He's back. Now what happens if all the pieces fall into the place?
---
---