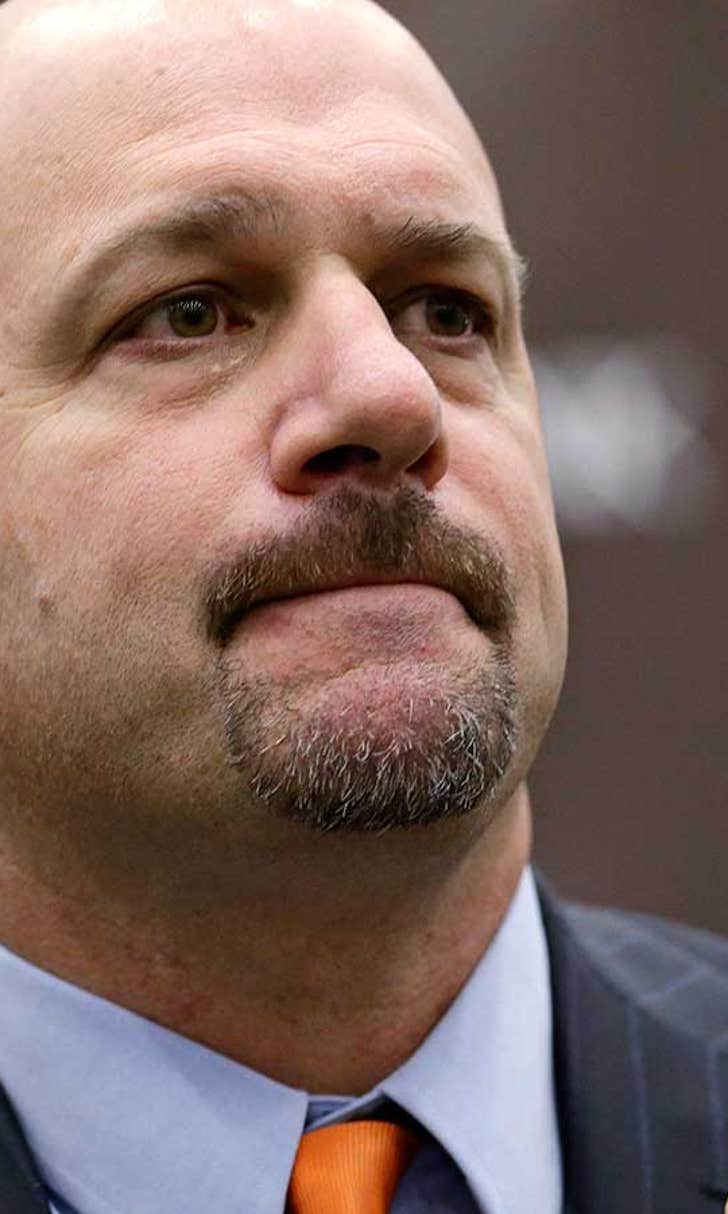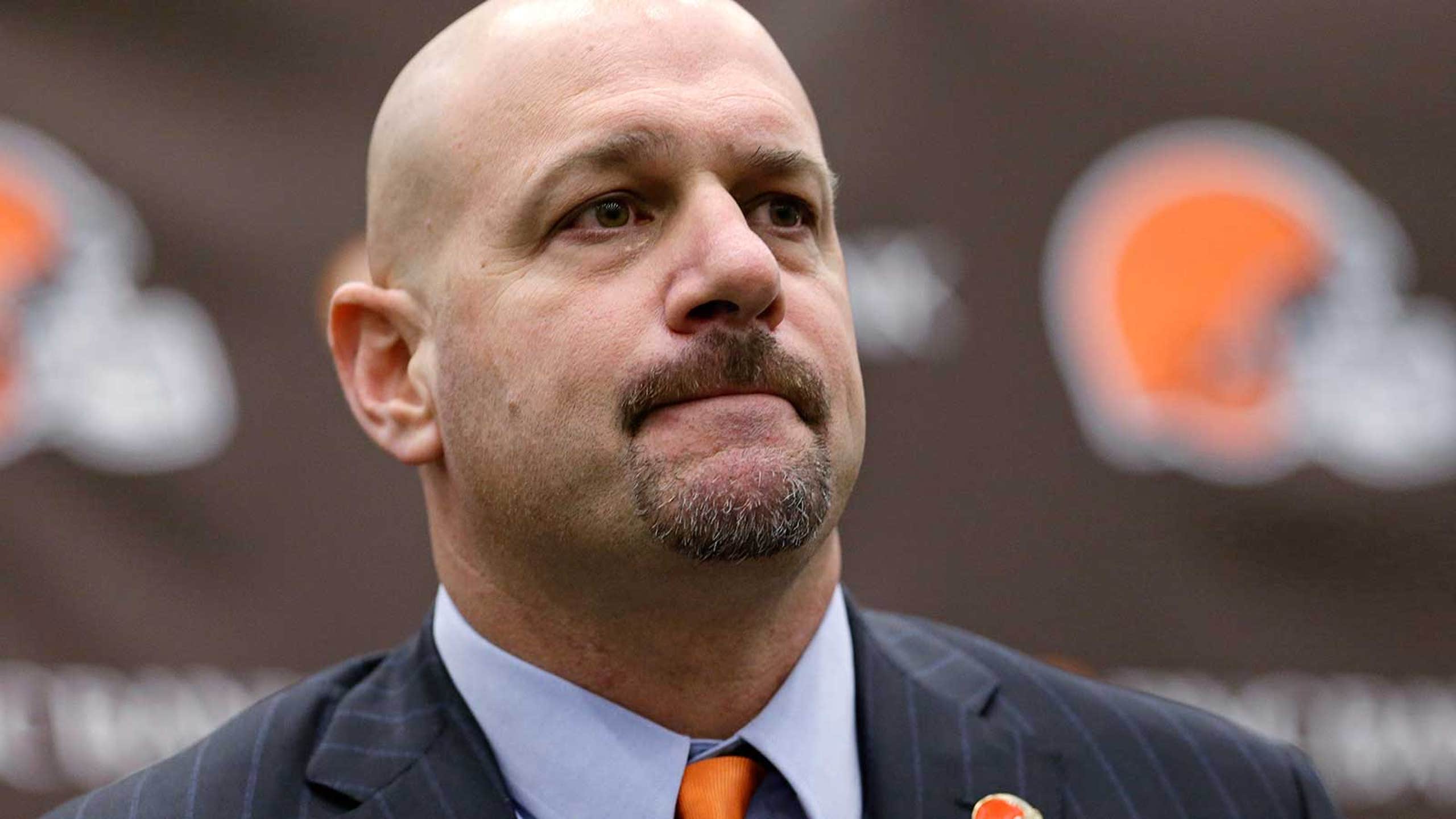 Mike Pettine Q & A: Browns coach answers questions about current roster
BY foxsports • February 22, 2014
INDIANAPOLIS -- Browns coach Mike Pettine met with the Cleveland local media Saturday morning and then with the national media afterwards. Here are some of the topics he addressed, including wanting to meet soon with potential unrestricted free agent Alex center Mack.
Q: Are you hopeful of meeting with Alex Mack soon since he said he wanted to meet the coaching staff before free agency?
"Nothing (is) scheduled, but I welcome that because once he sits down and he senses where we're headed and I can lay out the philosophy and the program from A to Z, and hopefully, we have that shared vision of what it should look like going forward and it's something he wants to be a part of. I am confident when he sits in front of (offensive coaches) Kyle (Shanahan) and Andy (Moeller) and George DeLeone, that he'll feel the same way."
Q: How does the present OL fit in with what Shanahan wants to do?
"I think we're close. It's an athletic group. We'll look to add some pieces. We're not technically married to that scheme. We will be zone emphasis, but there will be some down hill runs in it. Again, we're going to pick the best guys to be Cleveland Browns and fit what we do to what they do."
Q: Any thoughts on T.J. Ward's future with the Browns?
"That's something when we leave the combine, those decisions are looming, but that's not something I'm going to comment on at this time."
Q: Do you expect D'Qwell Jackson on the team?
"Yeah, he's currently under contract. He came into town. He and I sat down and had a great meeting. It's easy to see why he's so highly thought of, the leadership ability and the intangibles to me are off the chart."
Q: What about his contract status?
"He's currently under contract. I'm not going to speak on the future of that contract. We'll make that decision in the coming weeks."
Q: Have you met Jackson?
"It was within the first week I was hired. He was in town and bounced right up to the office and you could tell he's special."
Q: Thoughts on Greg Little and where does he stand?
"I know Greg was high on our draft board where I was (in 2011). He's a big, explosive athlete. I know he had some struggles this year. I really can't speak to why. He's a guy I know our offensive staff is looking forward to getting back on campus and getting a chance to work with."
Q: What stood out to you about Kyle Shanahan in hiring him?
"His experience. He's a guy that called plays in the NFL for six years. He started out young. I've got a soft spot for coaches' kids, being one myself. Because he started so early, his time is almost like dog years. I think he's been coordinating since he was 26. And he's been successful in a variety of ways. That was the most encouraging thing to me, that there wasn't just one way he got it done. He did it with a quarterback like Matt Schaub, got it done with RG3. Did it with a premier wideout like Andre Johnson, then he did it with the likes of Pierre Garcon in Washington. He's been in the top in the league in rushing statistics, also in passing statistics. There isn't one way that he got it done."
Q: Jairus Byrd has said he's interested in the Browns, comments?
"Unfortunately, it's a cliche. He's under contract with another team. I really can't comment. I had a great time with him in Buffalo. He's an outstanding player."
Q: Could Tashaun Gipson move to strong safety?
"We don't talk about our guys in terms of free and strong. Our guys are interchangeable. I think that's key to our success, having guys who have the interchangeable skill set to do both. Teams can force safeties to change jobs anyway because of some of the things they can do pre-snap. So we want guys who can do both."
Q: Can Gipson do both?
"In studying him so far in the offseason, he's a solid player."
Q: Thoughts on Barkevious Mingo?
"Yeah, he was a guy we very highly rated in Buffalo. He'll definitely be one of our outside linebackers. The obvious question that's come up with him is his size and the ability to put weight on. That's something that's going to be a priority for us. I had some communication with Alex Mack when he was in Brazil and I know that Mingo's down there. So the P.S. on my email said, 'Make sure he's getting enough to eat.'
"...I think that's something that will definitely be a priority. We'll sit down and make sure it's not bad weight, that we do it the right way. He has freakish ability. I think putting on weight, it's one of the easiest things to do. It's harder to get more explosive, it's harder to get more athletic. But adding muscle mass, that's one of the easier things to do when you approach it the right way. We're looking forward to getting him back on campus and attacking that head on."
Q: Is running back a priority for the Browns?
"It's a priority, but we're not going to be in the business of drafting for need. I think there are a variety of ways to fill the roster out. We'll look at what's available in free agency. We'll get back from the combine and continue to churn through the tape of the college prospects. We want to put ourselves in the position when we draft that we're taking the highest rated player at that spot as opposed to need. While running back is a critical thing, I think it's something that we'll definitely have a plan for."
Q: Have you studied Jadeveon Clowney yet?
"Not yet, in the coming days."
Q: Could he fit in the Browns system?
"We're always looking to have explosive athletes. That to me, you want to be successful in the NFL, you need guys with size and explosion and he certainly fits into that category."
Q: What are your overall thoughts on the offense presently?
"I think there's some explosive players. I think our offensive staff did a good job getting in and evaluating what was on campus first. I don't think you can start looking elsewhere until you've evaluate your own. I think it's a mix of some good veteran players with some young explosive talent and then we're looking forward to the draft, with 10 draft picks, and our cap space to supplement that talent we have."
Q: Thoughts on Sammy Watkins?
"Explosive athlete. I think anytime that you can add somebody to your team that can score points, that can make explosive plays, that's what the NFL's all about. Being a defensive coach, you think about, 'Hey, we're going to play great defense, run the football,' I don't think you can win that way anymore in the NFL. You have to have players that when they get their hands on the ball are special, and I think he falls into that category."
Q: Will you run the 3-4 or 4-3?
"Yes. We're multiple. We'll be in both fronts and if you can draw the front, we'll likely be in it. I think that's been the key to our success, whether it was Rex (Ryan's) tenure in Baltimore, when I took over in New York, certainly in Buffalo, that we'll be multiple front, multiple coverage."
Q: How does 3-4, 4-3 versatility affect how you look at guys in draft, do you need to find two inside linebackers?
"What I think it does is I think it opens up our options. We're not limited in the type of football player we can take. If there's a guy that's an explosive athlete that can make plays for us defensively, then we'll find a spot for him. Fitting the system to the players, not the players to the system. We won't have guys who we'll circle on the board and say, 'Well, he's not really a fit for us schematically.' If he's an outstanding player that can be productive in this league, we'll find a home for him."
Q: What are your thoughts on bigger cornerbacks?
"It is a copy cat league so people are going to try to copy the Seattle model. I'm confident in our system. We've had success with corners of all shapes and sizes. We are looking for the best players with press-man abilities on the outside. Sometimes, those guys are taller, sometimes they're a little shorter but have great length to them or timing or jumping abilities. I don't think you can say, 'Hey, we're going to eliminate evaluating these players because they aren't tall enough.' If they have exceptional ability then you are willing to relax your size standards a little bit."
Q: Thoughts on Leon McFadden?
"He's a guy we evaluated in Buffalo and had a decent grade on. It didn't surprise me where he was drafted. We are looking forward to getting Leon on campus and see how he performs in our system."
---