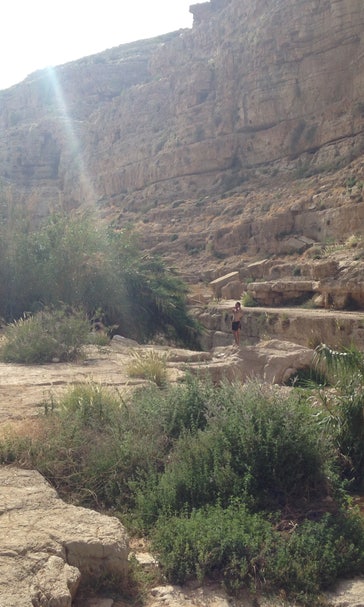 Mike Bruesewitz: Looking back, ahead after first pro season
July 3, 2014

Its been an eventful month home as I have had plenty of catching up to do both with family and friends as well as the entrepreneurial side of my life that I have been working on for the past few months. My time at home has been wonderful and I have enjoyed every minute of it but I really hope it slows down. I feel as if I just came home and within a few short weeks I will be off playing roulette with the world and starting the second chapter in my career as a basketball player.
I arrived in Minnesota nearly four weeks ago and the more time I have spent at home the more I realize just how much fun I had in my first season as a pro and my first long-term experience abroad. Going through a nine-month season with getting almost no playing time can be rough. It definitely tested me and my mental toughness as a basketball player but I still have the same love and passion for the game as ever and I can not wait to get back overseas again.
Since returning home my first couple of days were spent just readjusting to the several differences between living abroad and in the U.S. The first and most obvious difference is the change in colors and just how spread out everything is. Jerusalem is very bright and all the buildings are made out of limestone. The surrounding scenery is somewhat green with hints of desert scattered in. All the buildings are stacked right on top of each other, and parking lots are not the norm in Israel. Coming back to Minnesota I see nothing but green and I really feel like I have lots of extra elbow room.
There are several things that I have enjoyed about being back including spending time with my family and friends, and being able to understand and communicate fluently. I love being able to pump my own gas as well as never having to convert anything to a metric unit of measurement. I also am thankful for spicy food, and particularly Mexican (Chipotle).
There are several things I do miss about Israel and the longer I have been away the more I realize just how much I really enjoyed my time. The food was simply amazing and I really loved the way people ate overseas. I miss having a clear night sky almost every night and a street food vendor two blocks away. I miss my teammates as I had some of the greatest group of guys I have been around in quite sometime. But most of all I miss Shabbat and I will actually be organizing and doing my own Friday night Shabbats a few times this summer.
I learned a ton in my first year overseas both in basketball and in life. I learned that in every profession things will not always go your way and politics are very frustrating to deal with at times. I learned how to be a professional and ways to stay in shape and perfect my craft that I will continue to do throughout my career. I learned to be patient and to keep working through the process even when results do not always come. I learned about a new culture and a new way to think about the world I am living in. I now know how much adversity I can handle and I am looking forward to overcoming new challenges that will undoubtedly happen in my career as a basketball player.
I learned several things about myself during my time in Israel. Since I had so much down time and spent quite a bit of time in isolation I really learned about myself and all the things I want to do with my life. I have more confidence in myself and really figured out who I am and what I want to be/stand for in my life. I am not comfortable in my own skin and I am excited to continue to grow as a person. I also rediscovered my inner nerd and now have a profound passion for both learning and personal growth.
During my time overseas I made sure I took advantage of the awesome opportunity that basketball gave me. Yes there were a few times I would sit around my house and binge watch a TV series or two but for the most part I spent much of my time exploring both myself as well as the beautiful country. I made several trips to the Dead Sea, Tel Aviv beach and even had a few religious experiences. I am proud to say I am a basketball player but I am even more proud to say that I am now a world traveler and will continue to be for the rest of my life.
A huge thanks goes out to Dave Heller and Fox Sports Wisconsin for letting me be a guest blogger. I really enjoyed the time and I hope everyone enjoyed reading about my experience. I will be in Minneapolis for the rest of the summer and will be finding out where and who I will be playing for in the upcoming weeks. I am now working on running a couple of basketball camps as well as a personal training service in the Twin Cities area. Thanks again for reading and I look forward to starting this again next season.
-- Bru
(Note:You can find the archive of Mike Bruesewitz's Imported Bru stories and photo galleries here.)
---