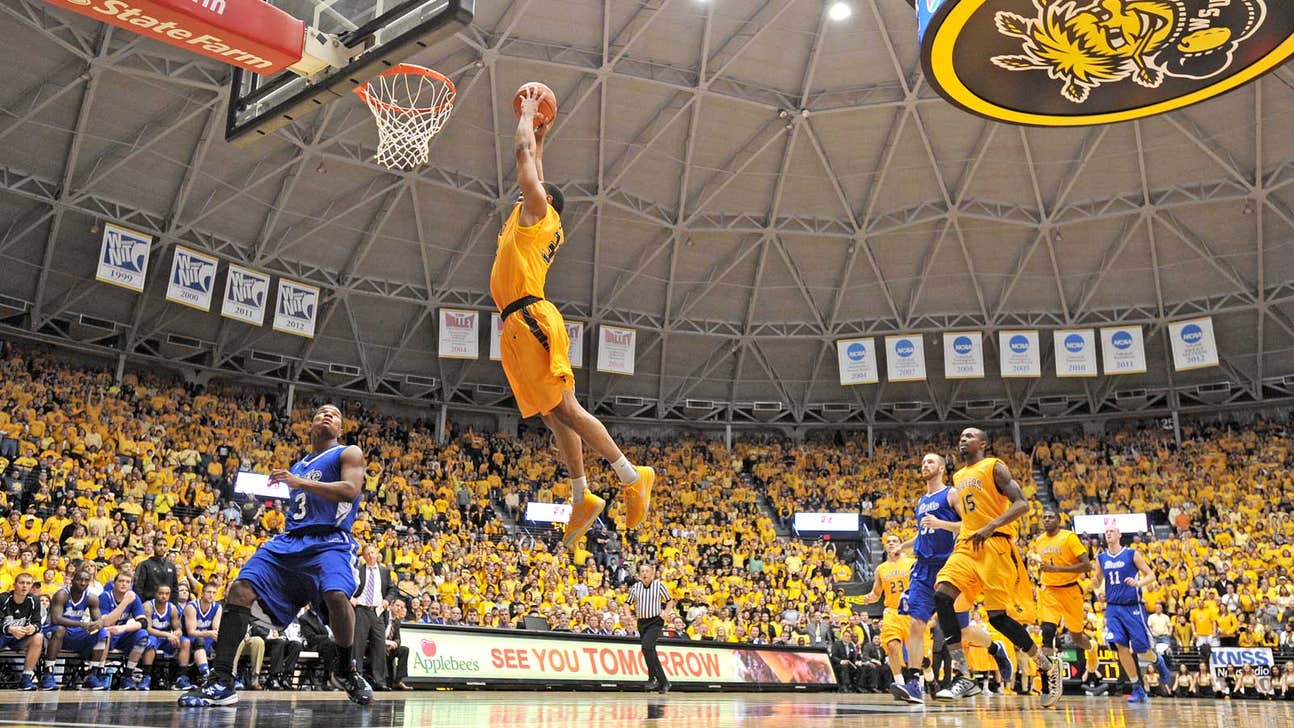 Midwest Regional breakdown: Will Wichita State be a David among basketball goliaths?
Published
Mar. 17, 2014 1:05 a.m. ET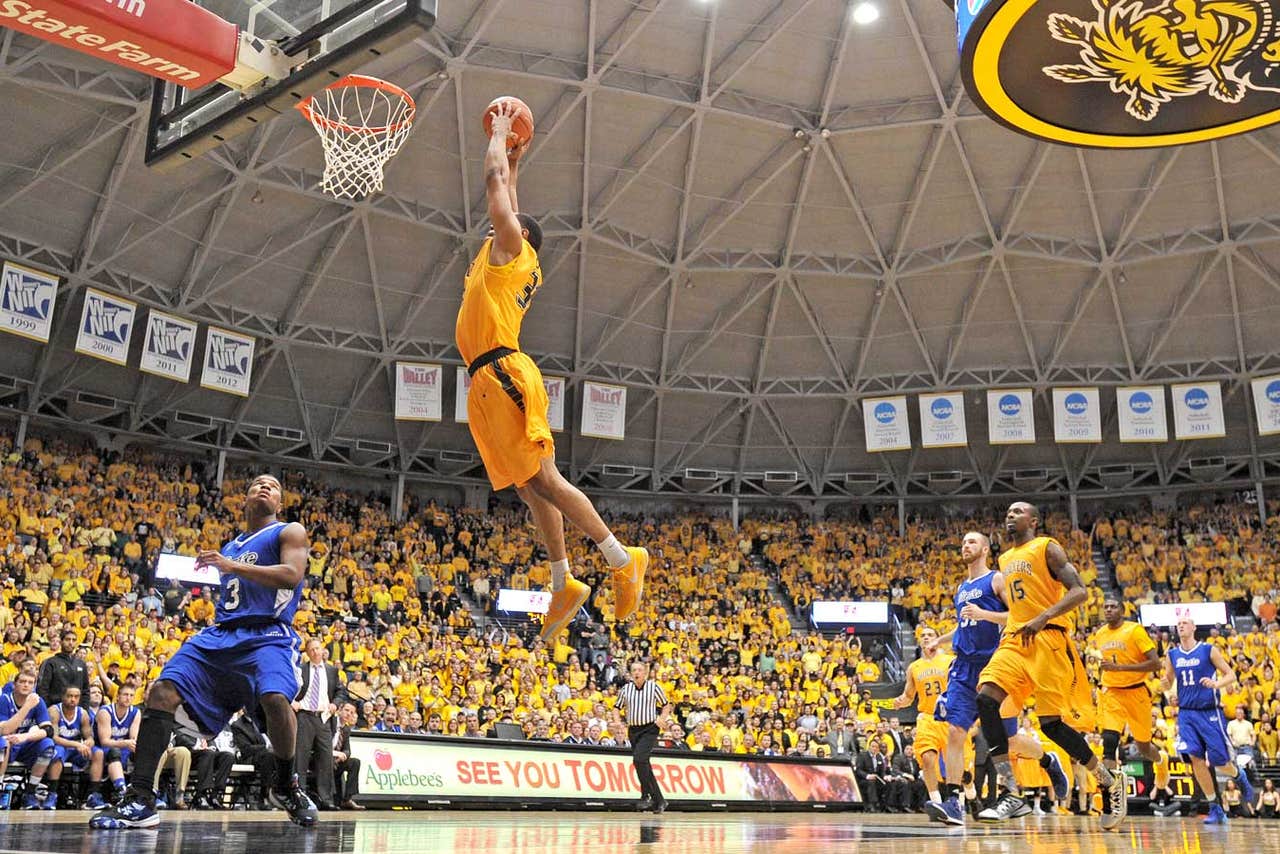 KANSAS CITY, Mo. -- In Mexico, they'd call it Grupo de la Muerte -- the "Group of Death."
In Sweden, they'd call it Giganternas Kamp -- the "Battle of Giants."
In Bracketville, they call it the Midwest Region -- and good luck making it out of this one, pal.
Of last March's four national semifinalists, three -- Wichita State (the 1 seed), Michigan (the 2 seed) and Louisville (the 4 seed) -- are lumped together in a single quarter of the 2014 NCAA Tournament bracket. And did we mention Duke is the 3, Texas is the 7 and Kentucky is the 8? Throw a stone in this region, chances are pretty good you'll hit a blue blood right between the eyes.
Welcome to No-Respect Zone, where everybody has something to play for, something to prove. The Old-Money Club (lookin' at you, Kentucky, Louisville, Duke and Michigan fans) see Wichita State as this year's Gonzaga, a "soft" 1 seed that easily can be tossed from the throne.
For the Shockers, the "reward" for a 34-0 start is a road with more potential potholes than the Long Island Expressway. Or a chance to silence the rest of their doubters in the national and provincial media for good. We're pretty sure which angle coach Gregg Marshall will be taking with his crew once the party starts.
You like stars? The Midwest has Jabari Paker, Julius Randle, Montrezl Harrell, Russ Smith, Fred VanVleet, Cleanthony Early and Ron Baker. You like subplots? No. 5 seed Saint Louis has been sinking like a small stone; 11th-seeded Iowa -- coach Fran McCaffery's son was recently diagnosed with thyroid cancer -- has been sinking like a cartoon anvil.
You like crazy? The Wildcats and Longhorns are young, talented and wildly enigmatic, capable of winning four or five in a row against quality competition and equally as capable of defecating on the proverbial mattress the first time out. It's a region of quandary as well as quality: The Midwest is home to three of the top 10 "least experienced" teams in Division I (Kentucky, Texas and Michigan) according to StatSheet.com and three of the top 10 "most experienced" squads in Mercer, Texas Southern and SLU.
The Shockers are the first team to open a season with 34 straight wins since UNLV in 1991. Those Runnin' Rebs, a 1 seed in the West, drew Montana as a 16, Georgetown as an 8, Utah as a 4 and Seton Hall as a 3 en route to the national semifinals, where Team Tark fell to eventual national champion Duke. That was hard; Wichita's path to glory, 23 tourneys later, appears to be light-years harder than that. Last season, the Shockers made it a point to play angry. After this draw, their fans have cause to be downright furious.
WICHITA STATE. The Shockers are real and they're spectacular -- even if the Missouri Valley Conference, which swapped Creighton for Loyola of Chicago, wasn't. All you need to know is that, besides being crazy-good defensively, Wichita has one of the best backcourts and one of the best coaching staffs in the country -- and at this time of year, that combination brings an awful lot of gravitas. Detractors have pointed out, ad infinitum, the Shockers' middling strength of schedule rank (98th as of Sunday night), but two other stats from the dance card don't get cited nearly as often: One, the Shox's non-conference strength of schedule checked in at No. 28 nationally. Second, Wichita faced five teams in its pre-conference slate (Tulsa, UNC-Central, BYU, Tennessee and Saint Louis) that made the field of 68. Michigan and Duke played four apiece; Louisville, three.
THE BEST BETS
WICHITA STATE, LOUISVILLE, DUKE. The Shockers'€™ resume speaks for itself. Louisville is coming into its own at the perfect time, winning 12 of its last 13 and torching its last three foes by a combined 100 points. But the Devils'€™ Parker, a 6-foot-8 skywalker, might be the standout player of the bracket, let alone the region, the kind of singular talent who can carry a great team through two weekends --€" and maybe even three.
THE SLEEPER
TENNESSEE. It seems to happen almost every year -- one of the "last teams in" uses that First Four game in Dayton as a springboard to a Cinderella run through at least the Sweet 16. The Hawkeyes absolutely have the goods, but have been in a mental fog for nearly a month and might be too far gone to turn the ship around again. The Wolfpack are frisky and Xavier is physical, but the sexy Dayton sleeper this time around might well be Cuonzo Martin's Volunteers. UT is a top-40 team nationally in two very, very important categories in a neutral/tourney setting -- total rebounding percentage (fourth in the country) and defensive efficiency (No. 31).
THE BEST OPENING-ROUND GAME
LOUISVILLE (4) vs. MANHATTAN (13). Like Tennessee, the Jaspers tick a lot of the right boxes, defensively, to pull off some upsets, sitting 36th nationally in lowest opponent effective field-goal percentage and 26th in defensive efficiency. One problem: They drew arguably the hottest team in the country, right out of the chute. Most folks are riding the Rick Pitino bandwagon hard, and deservedly so, but this one has the potential to get very, very interesting.
THE UPSET WAITING TO HAPPEN
XAVIER (12/Projected First Four winner) over SAINT LOUIS (5). Old Atlantic 10 pals reunited, and the first team to 55 wins. The Musketeers have won two straight in the series, dating to 2012, and four of the last six.
THE MATCHUP WE MOST WANT TO SEE:
WICHITA STATE (1) vs. KANSAS STATE (9). In the Sunflower State, Kansas is Marcia, Kansas State is Jan, Wichita State is Cindy with crazy eyes and a carving knife. Marcia hasn't played Cindy since 1993. Jan hasn't played Cindy since 2003. Neither of the Big 12 big-boys in Kansas seems terribly inclined to schedule the resurgent Shockers, even with politicians getting in on the act to try to enforce a shotgun marriage. Plus, you've got the added lunacy of Jayhawks, Wildcats and Shockers fans all convening in St. Louis, all pretty much rooting like crazy against one another. Louisville vs. UK, we've seen. Wichita vs. K-State, we haven't. Not for a very, very long time.
THE PLAYERS TO WATCH
JABARI PARKER, F, DUKE (19.8 ppg, 8.8 rpg, 1.2 apg). Want to know why so many NBA teams are getting accused of tanking this winter? He's why.
FRED VANVLEET, G, WICHITA STATE (12.1 ppg, 3.9 rpg, 5.3 apg). Chances are, the cats in your office pool weren't talking about the Shockers' point guard much before St. Patrick's Day. We'll bet you a Guinness they'll be talking about him afterward. A lot.
THE PICK
LOUISVILLE. The longer you stay in Bracketville, and the nastier the region, the more coaching pedigree matters. Rick Pitino has been slotted as a 4 seed with Louisville four other times before this bracket; on two of those occasions, he steered the Cardinals all the way to the Final Four. It won't be easy, but mark the man down for a third. In pencil, of course.
You can follow Sean Keeler on Twitter at @seankeeler or email him at seanmkeeler@gmail.com.
---