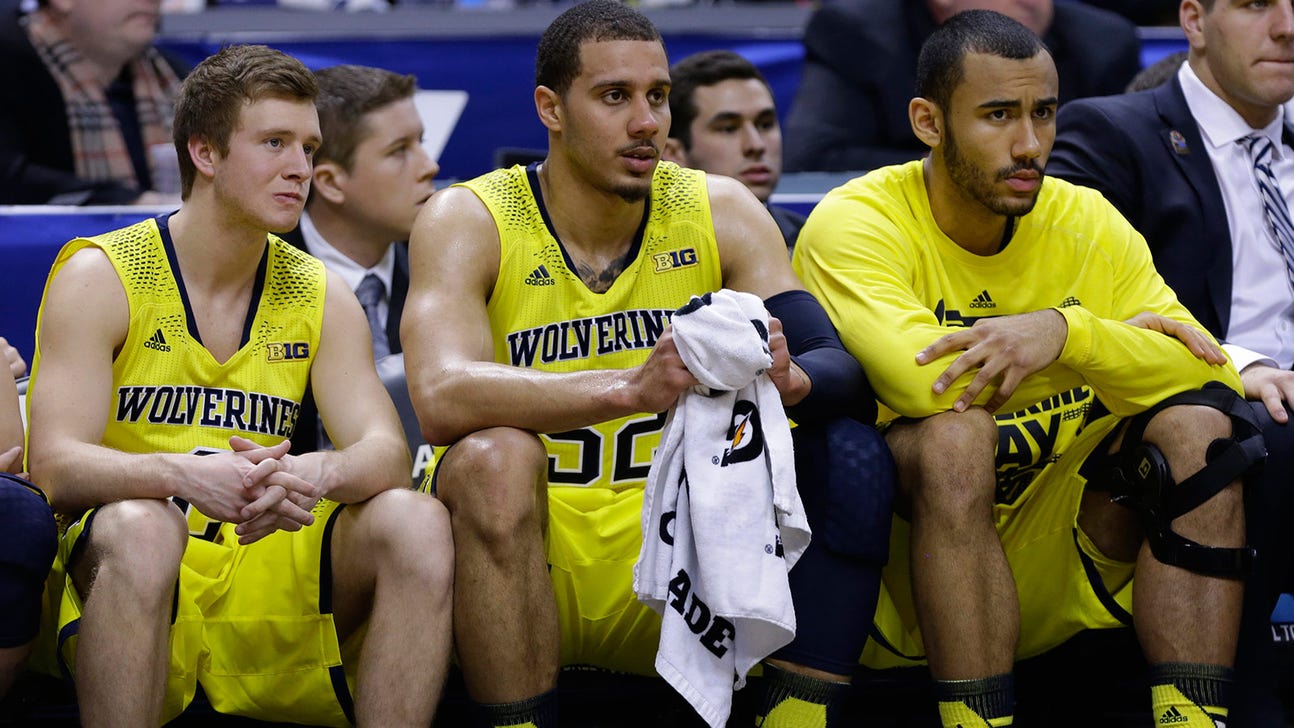 Michigan's NCAA tournament expectations have turned upside down
Published
Mar. 19, 2014 4:25 p.m. ET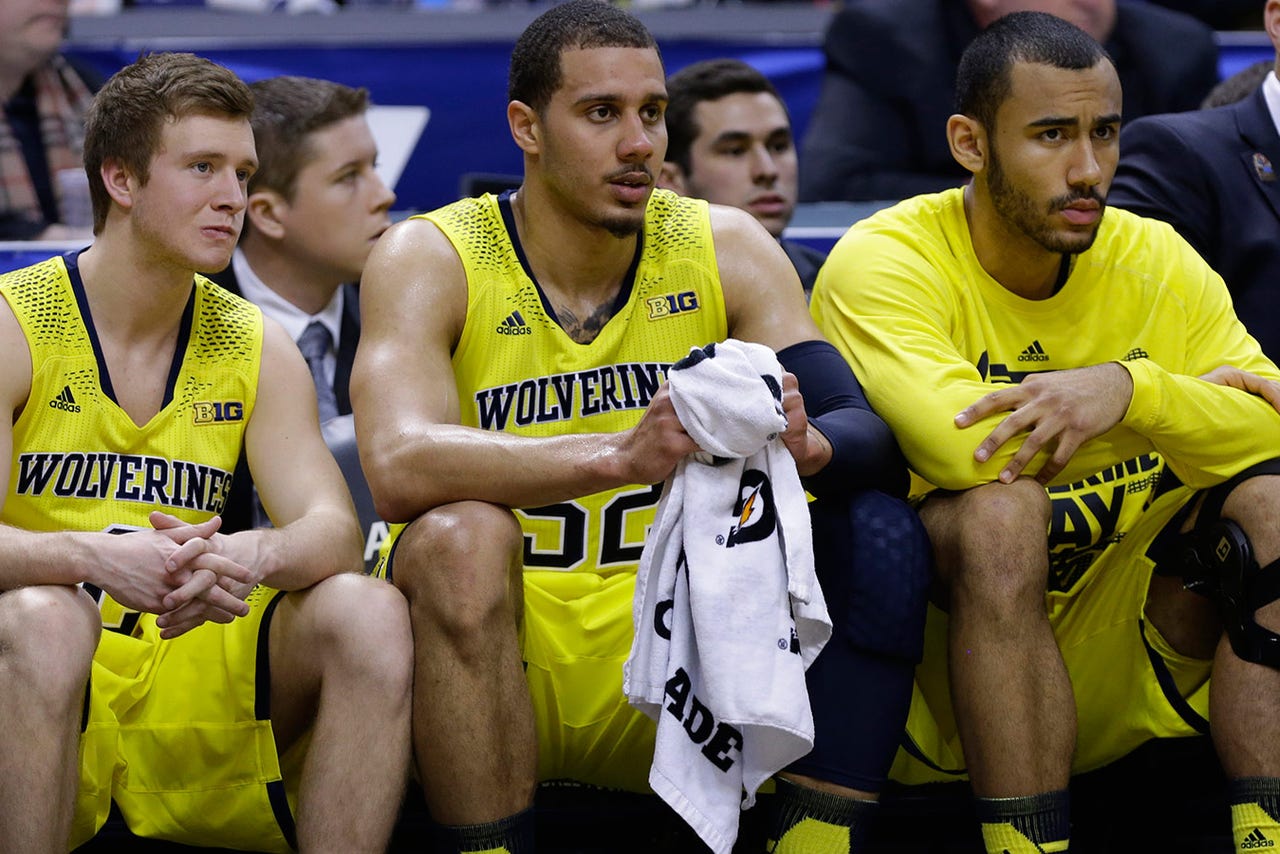 In 40 minutes Sunday, Michigan's NCAA tournament expectations turned upside down.
Before the Big Ten championship game against Michigan State, the Wolverines were seen as a strong championship contender. They had won the conference's regular-season title by three games -- a stunning accomplishment in one of the country's top leagues -- and they were expected to be the fourth No. 1 seed when the 68-team field was announced.
By the time the bracket was actually announced, hardly anyone remembered that the Wolverines still existed.
Michigan was badly outplayed by the Spartans in the championship game, lost the No. 1 seed to Virginia and found themselves in a brutal Midwest Region with undefeated Wichita State, Duke and, of course, Louisville -- the same team that beat them in last year's championship game.
To make matters even worse, they couldn't have missed the rush to crown Tom Izzo and the Spartans as the new kings of college basketball. Michigan State -- a team the Wolverines had beaten home and away during the regular season -- were suddenly everyone's choice to win the title.
Did everything really change on Sunday afternoon or are the Wolverines now underdogs only because people overreacted to one game?
It's pretty easy to build a case that John Beilein's team is just as good today as it was before they took the floor against the Spartans. Michigan went into Sunday's game facing its arch-rival -- a very good basketball team that was determined not to lose three times in one season to the Wolverines, and one of college's best postseason coaches in Tom Izzo.
As soon as the game started, things went wrong. Jordan Morgan and Jon Horford were immediately in foul trouble, meaning that little-used Max Bielfeldt had to play 13 minutes against Adreian Payne. That went about as well as you would expect -- Payne scored 18 points on nine shots, while Bielfeldt looked helpless on both ends of the floor.
The Wolverines can usually shoot themselves out of any hole, but that wasn't happening on Sunday, either. Caris LeVert, Glenn Robinson III and Derrick Walton went a combined 1-for-11 on 3-pointers, and while Nik Stauskas hit three triples, he was ineffective when trying to get to the rim, missing eight of his nine shots inside the arc.
"We got beat today by a really good team," Beilein acknowledged after the game. "They were exceptional in everything they did. Their defense was really good, they got steals, and their offensive rebounding took possessions away from us. They were much better than us today, and they deserve the championship."
That's all true, but even the always-gracious Beilein knew that the 69-55 score could have easily been much closer.
"All that being said, if a couple breaks go our way, it could have been a three or four-point game at halftime," he said. "Then we come out for the second half, get some great open looks and can't knock them down. Caris LeVert had a couple 3-pointers that he makes every day that just wouldn't go down. All of a sudden, it was a 15-point game."
It's going to be quite a while before Michigan faces another defense like Izzo threw at them on Sunday. Wofford certainly shouldn't be a challenge for the Wolverines, and neither Texas nor Arizona State can come close to the healthy Spartans on that end of the floor.
Even Duke, the team that Michigan would most likely face in the Sweet Sixteen, doesn't play tough defense. By Ken Pomeroy's ratings, the Blue Devils rank 101st defensively in the country, but have gone 26-8 because of the second-best offense. That means that a game against Michigan -- the third-best offense and No. 111 on defense -- would be the kind of shootout that would favor the Wolverines.
After that would come a regional final against one of two top-10 defensive teams, Louisville or Wichita State. The Wolverines know all about the Cardinals, of course, but the Shockers are fairly untested against top opposition.
Is this Michigan team as good as the one that made it to the championship game a year ago? Probably not. Even with all of the players who have stepped up their games this season, it is hard to see how they could improve after losing Trey Burke, Tim Hardaway Jr. and Mitch McGary.
Still, that team didn't win the Big Ten's regular-season title, much less by three games, and they didn't make it to the conference-tournament final. This year's group has favorable matchups all the way to the regional final, and they have the shooters to beat anybody on a given night.
Yes, Michigan State has all of the popular support going into the tournament, but Michigan probably shouldn't be discarded quite yet.
---