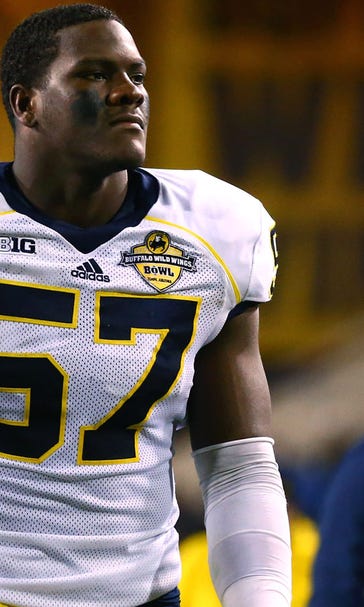 Michigan's Frank Clark arrested for domestic violence
November 16, 2014

Michigan defensive end Frank Clark was arrested for domestic violence Saturday night in Ohio, and is in jail awaiting a Monday hearing.
In a story first reported early Sunday morning by MGoBlog, Clark was arrested in Perkins Township, which is located in Erie County between the Ohio Turnpike and Cedar Point. He is a Cleveland native, and the Wolverines had a bye this weekend.
Clark was arrested in 2012 after stealing a laptop from another student's dorm room, and sat out the first game of that season. This newest arrest will bring more bad publicity to a reeling football program, especially since he is at least the fifth player arrested in the last 12 months, starting with Taylor Lewan's arrest for assault on Dec. 1.
Graham Glasgow (DUI), Jake Butt (disorderly conduct) and C'sonte York (assault) have been arrested in 2014, with York being thrown off the team.
If Clark is suspended for the final two games of the regular season, the Wolverines would lose one the leaders of the defensive front seven that has carried them to a 5-5 record. He had an outstanding game in last weekend's 10-9 victory over Northwestern, including getting the pass rush that broke up the Wildcats' attempt at a game-winning two-point conversion.
A university spokesperson said that the team is aware of the report, but was still gathering information.
---