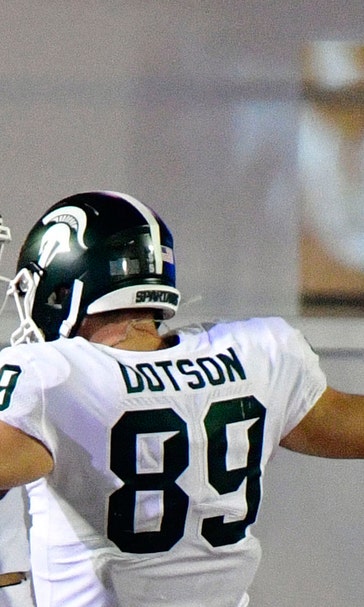 Michigan State gets tricky to hold off Indiana 35-21
September 23, 2018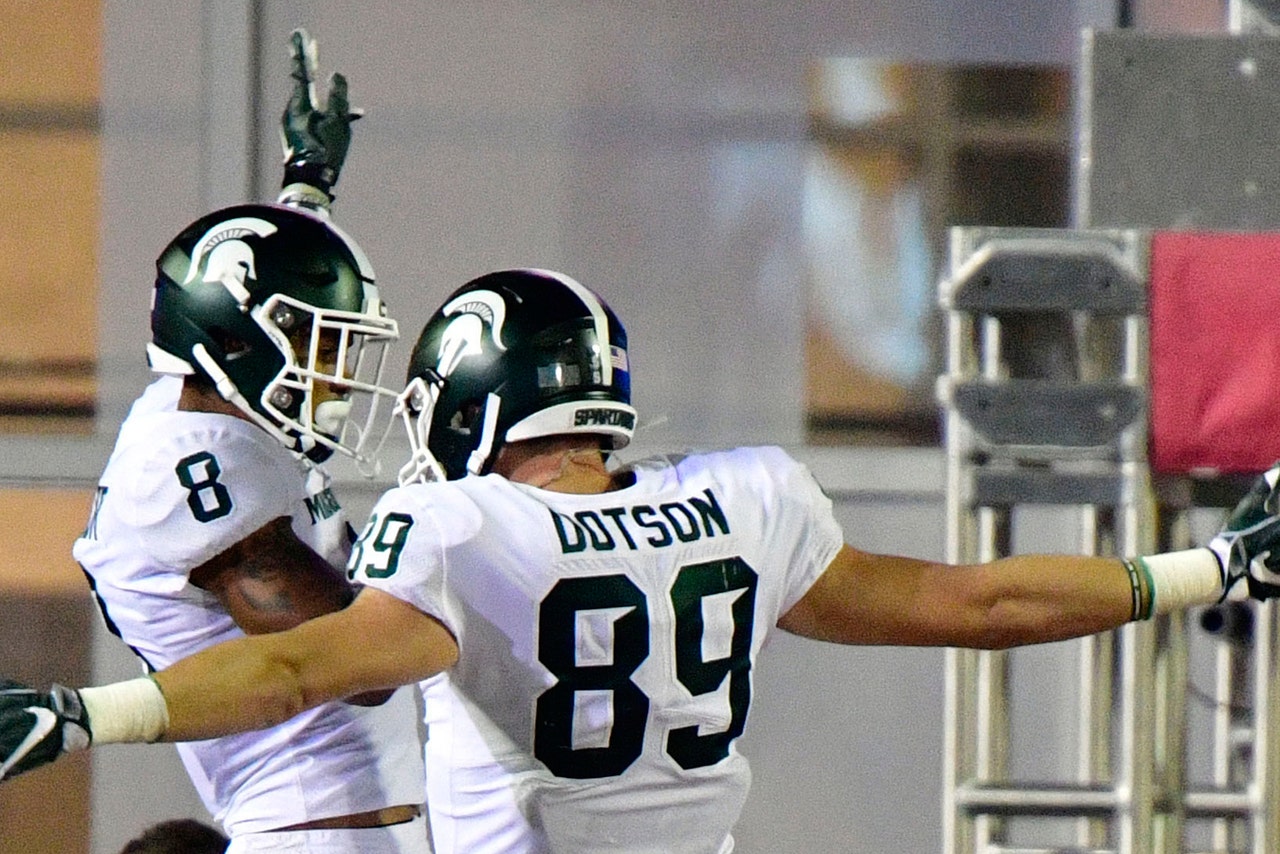 BLOOMINGTON, Ind. (AP) -- Michigan State coach Mark Dantonio went deep into his bag of tricks Saturday night.

Brian Lewerke made each one look like magic.

The junior quarterback threw two touchdown passes, had his first career reception and made a perfectly timed pitch to kicker Matt Coghlin for a 6-yard touchdown run, helping the 24th-ranked Spartans pull away from Indiana 35-21.

"I felt like this would be the time and I told our guys `don't be surprised if we fake one,'" coach Mark Dantonio said. "I don't want to let them down too often, so that's what we did."

Michigan State (2-1, 1-0 Big Ten) desperately needed the win after narrowly escaping Utah State before losing on a late field goal at Arizona State two weeks ago.

The ensuing bye week helped the Spartans make corrections -- and allowed them to plug in a couple of surprising new play that also made a difference.

Lewerke's stellar start and Shakur Brown's 69-yard interception return for a TD helped the Spartans take a 21-7 halftime lead and then after catching a 6-yard pass from receiver Cody White in the third quarter, Lewerke saw Coghlin uncovered on a fake field goal and quickly flipped the ball to the unsuspecting sophomore kicker.

He caught it and barely crossed the goal line to make it 28-7.

"I just threw my hands up like `What's going on, I'm not supposed to be here,'" Coghlin said. "I was shocked."

Indiana (3-1, 0-1) rallied late but never fully recovered.

Lewerke finished 14 of 25 with 213 yards though Indiana converted two late interceptions into 10 points to stay close -- until Michigan State receiver Jalen Nailor broke away on a 75-yard run off of a jet sweep with 3:17 left.

Nailor finished with three carries for 79 yards and caught a 16-yard TD pass for the game's first score.

For the Hoosiers, it was another frustrating failure in the Old Brass Spittoon series.

"We had a great opportunity as a program and didn't take advantage of it," coach Tom Allen said. "But the bottom line is it's one game and we'll build off this, we'll learn from this, we'll press on."

The Hoosiers have lost 13 of the last 15 in this series though this time they nearly chased down the Spartans after two chip-shot field goals, Whop Philyor's 65-yard TD reception and Nick Westbrook's 2-point conversion catch, both from Peyton Ramsey, got Indiana within 28-21 with 3:28 to play.

But they couldn't get the stop they needed to force overtime -- thanks in part to Dantonio's tricky play-calling.

"At some point in time, I think the head coach has got to take some chances, too," he said. "You can't put it all on the players."

THE TAKEAWAY

Michigan State: The Spartans never trailed but they sure struggled to close it out. They got a crucial road win, which should help them stay in the Big Ten hunt but they need to develop a knockout punch.

Indiana: The Hoosiers had momentum heading into this game bur rushed for only 29 yards and couldn't get in rhythm against Michigan State's stout defense. They need to figure out a solution fast.

SURPRISE, SURPRISE

Philyor and Michigan State receiver Felton Davis III both played big roles Saturday after slow starts.

Davis had eight catches in the first two games and had five for 69 in the first half. He was shut out in the second half.

Philyor had five catches in Indiana's first three games but had eight in the first half and finished with 13 for a career high 148 yards. He also tied his single-game career high for receptions.

YOU MAKE THE CALL

Allen was clearly upset with some multiple calls throughout the evening but two stood out -- an 11-yard TD catch by Michigan State's Matt Dotson's with 19 seconds left in the first half and a targeting call against Indiana defensive back-linebacker Marcelino Ball in the third quarter that led to his ejection.

Ball also will miss the first half next week.

"Trust me, he (Ball) is not the only one that's been a victim of that call. It's just the way it is right now," Allen said. "Obviously, I felt like there was offensive interference on the touchdown and they, obviously, didn't agree with me."

UP NEXT

Michigan State: The Spartans play their first home game in a month next Saturday when Northwestern visits.

Indiana: The Hoosiers hope to rebound at Rutgers next Saturday.
---