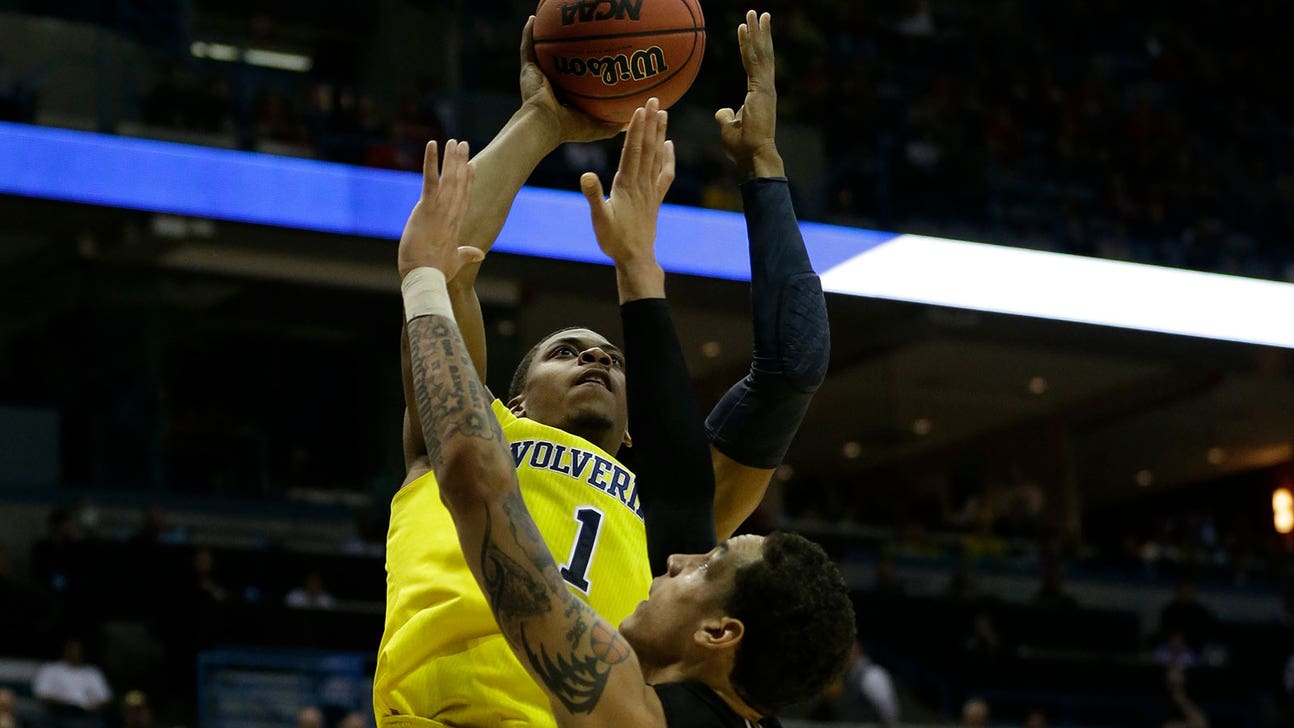 Michigan advances with rout of Wofford
Published
Mar. 20, 2014 9:19 p.m. ET

Michigan didn't play well Thursday.
Luckily for the Wolverines, that didn't matter against Wofford.
Glenn Robinson III had 14 points and seven rebounds in front of his father's NBA fans, and the second-seeded Wolverines clunked to an ugly 57-40 victory over the No. 15 Terriers in Milwaukee.
Robinson's father, who played the first eight seasons of his career with the Milwaukee Bucks, watched the game from the stands behind Michigan's bench
"It was great to play on the same stage where Dad has so many big moments," Robinson said on the CBS postgame show.
The elder Robinson got one of the biggest cheers of the night when he was shown on the Bradley Center scoreboard, while his son was frustrated by Michigan's offensive problems. The Wolverines are usually one of the nation's most explosive teams, but they had trouble just bringing the ball up the floor against Wofford.
"It was a struggle for us on offense," Robinson said. "We had to will the ball in the basket a few times down the stretch when they made it close.
"Our defense got a lot of stops, but we've got to play a lot better than this if we want to keep going in this tournament."
Michigan's shooting wasn't bad -- they hit 47 percent from the floor, including 41 percent on 3-pointers -- but they weren't doing the little things. They turned the ball over eight times in the first half, almost matching their season average, and scored only 24 points in a low-tempo second half.
Robinson took a lot of the blame for that, feeling that he should have been able to dominate the much-smaller Terriers.
"I knew I had to be aggressive because I didn't think they could stop me going to the basket," he said. "I just didn't take the ball strong to the rim.
"Luckily, it didn't matter because my teammates played great defense and we got the win."
A tough opening game doesn't mean much heading forward -- remember that Michigan trailed South Dakota State for most of the first half at the Palace last year -- but that isn't enough to satisfy John Beilein.
"We had some sloppy plays -- there were a few turnovers that they didn't really create," he said in the postgame press conference. "We just threw the ball away a couple times, and I think we had three charges in there, but they are a really good defensive team.
"They aren't real tall, but they get underneath and don't let you get by them."
The lack of offensive production meant that Michigan had to focus on the defensive end -- something that hasn't exactly been a strength this season. The Wolverines are ranked as the third-best offensive team by KenPom.com but come in at 93rd defensively.
That's why Wofford was a perfect draw. The Terriers came in rated 256th on offense, with guard Karl Cochran as their only real weapon.
Cochran, guarded by freshman Derrick Walton Jr., got in foul trouble early and never made a big impact. Cochran did finish with 17 points, but was 1-for-10 on 3-pointers, and none of his teammates reached double figures.
"Cochran can score on anyone, so we really had to think about who we wanted on him," Beilein said. "At the end, we decided to put the freshman on him because he's a great defender.
"He made Cochran take a lot of tough jobs and did really well against him off the ball."
Michigan will almost certainly be better offensively Saturday, but they don't want to lose the defensive edge.
"Most of the time, we're not going to have much trouble scoring the basketball," senior captain Jordan Morgan said. "We know we are only going to go as far as our defense takes us, so we want to make sure we play every game defensively like it be our last chance."
---