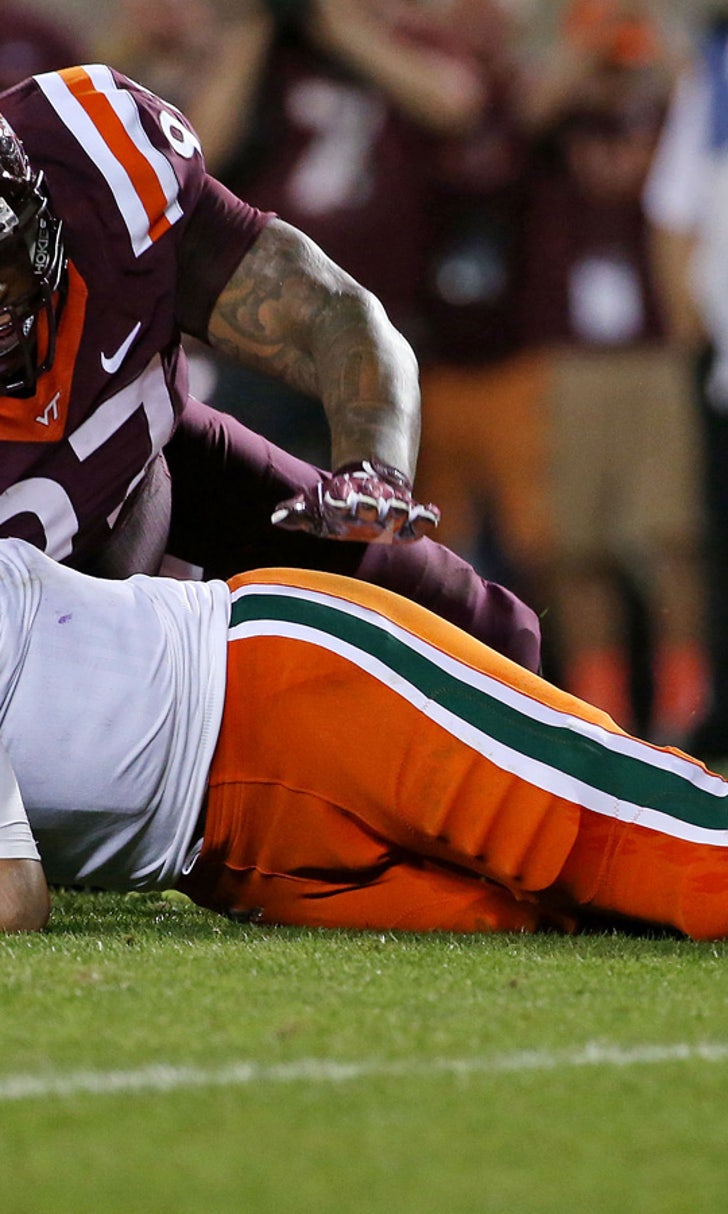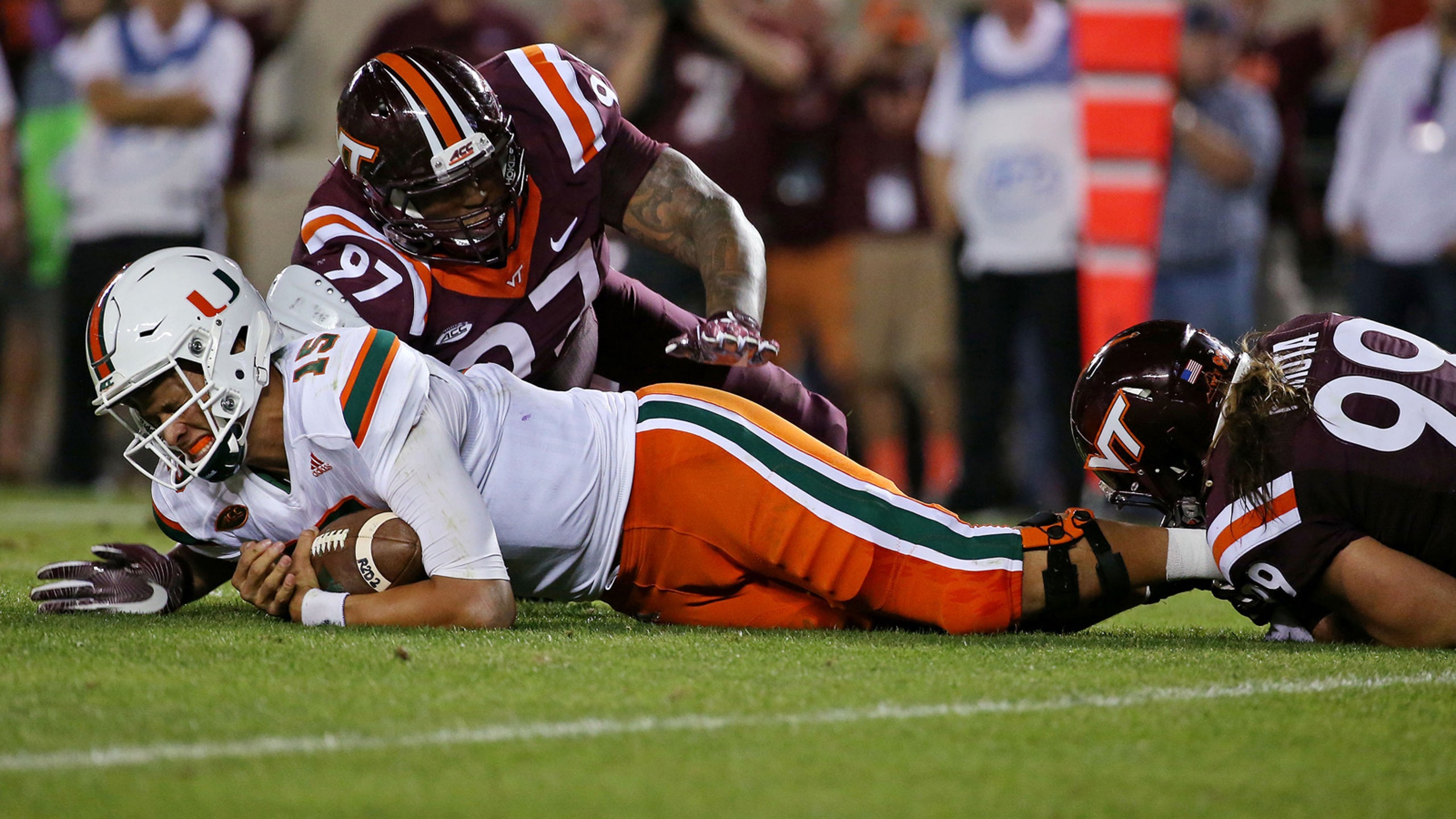 Miami's slide continues with road loss to Virginia Tech
BY foxsports • October 20, 2016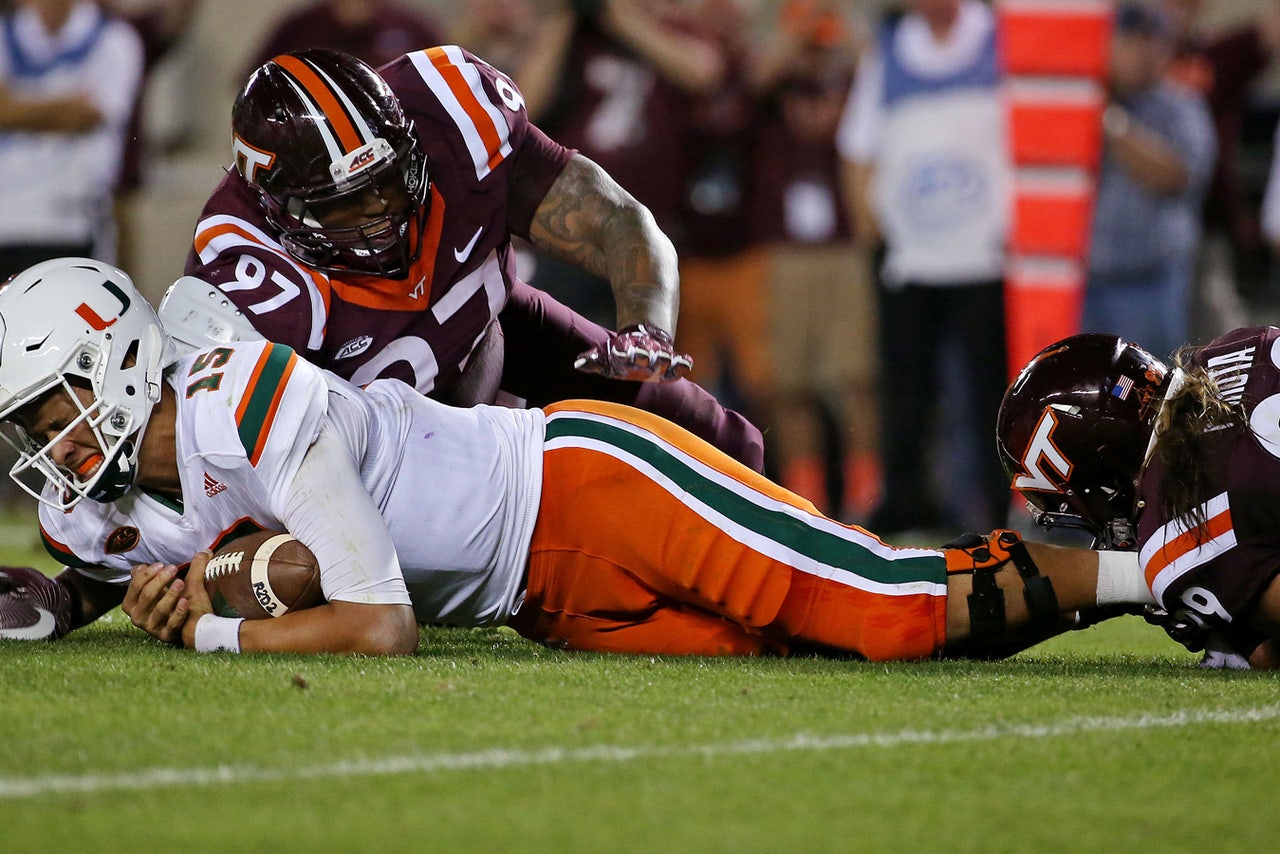 BLACKSBURG, Va. (AP) -- Virginia Tech didn't let a surprising loss five days ago linger, and they are once again atop the ACC's Coastal Division race.
Jerod Evans threw for two touchdowns and ran for a third and the Hokies (5-2, 3-1 Atlantic Coast Conference) beat Miami 37-16 on Thursday night, pulling into a tie with No. 22 North Carolina atop the division as they start the second half of the regular season.
Evans hit Bucky Hodges with scoring throws of 7 and 12 yards, and Travon McMillian ran for 131 yards for the Hokies.
"There were certain plays we put in this week that I had a feeling I was going to get the ball on, and the coaches just dialed it up," Hodges said after leading the team with seven receptions for 66 yards.
Brad Kaaya threw for 323 yards and two touchdowns for the Hurricanes (4-3, 1-3), but he also was sacked eight times as they lost their third in a row. The Hokies limited Miami to 42 rushing yards on 29 carries thanks to the sacks, which cost Kaaya 55 yards.
"Obviously the key for us was we needed to stop the run and make Miami one-dimensional, and we were able to do that," Hokies defensive coordinator Bud Foster said. "We really did a great job attacking the line of scrimmage, keeping the lanes and the gaps tight, keeping those backs in a phone booth, so to speak."
Joe Yearby had a 41-yard run for the Hurricanes, but otherwise managed just 18 yards on his eight other carries.
"The defense was playing tough, stacking the box," he said. "They did everything we expected them to do."
Woody Baron had 2 sacks for Virginia Tech, and Vinny Mihota had two despite having his shoulder pop out late in the first half. Redshirt freshman defensive end Trevon Hill, who left the team Tuesday after his grandmother died and returned Wednesday night, had 1 sacks.
"I'm not going to throw anyone under the bus," first-year Hurricanes coach Mark Richt said. "Sacks have to do with a lot of things."
Fullback Sam Rogers threw his first career touchdown pass in the third quarter.
THE TAKEAWAY
Miami: The Hurricanes have never won the Coastal Division since joining the ACC in 2004 and won't win it again this year. Their defense was supposed to be a question entering the game, and they were without three starters and had four freshmen in the starting lineup, but their inability to generate a running game put all the pressure on Kaaya, and while he put up some good numbers, an offensive line that allowed eight sacks isn't good enough to win most games against top level teams.
Virginia Tech: Evans was virtually mistake-free again, and their plethora of weapons in the pass game seems to be opening up the running game as well. Evans added 98 rushing yards, including a 34-yard score, as the Hokies piled up 253 yards on the ground.
"The quarterback misled me sometimes," Miami defense end Joe Jackson said. "I didn't do a good enough job of staying with him."
POLL IMPLICATIONS
Apart from their 31-17 loss at Syracuse last week, the Hokies have been playing Top 25 -level football. In their other four most recent games, they have outscored Boston College, East Carolina, No. 22 North Carolina and now Miami 174-36.
UP NEXT
Miami visits Notre Dame next Saturday. The Fighting Irish are off this weekend, and have lost four of their last five.
Virginia Tech plays its second consecutive Thursday night game when it visits Pittsburgh, which is off this weekend.
---