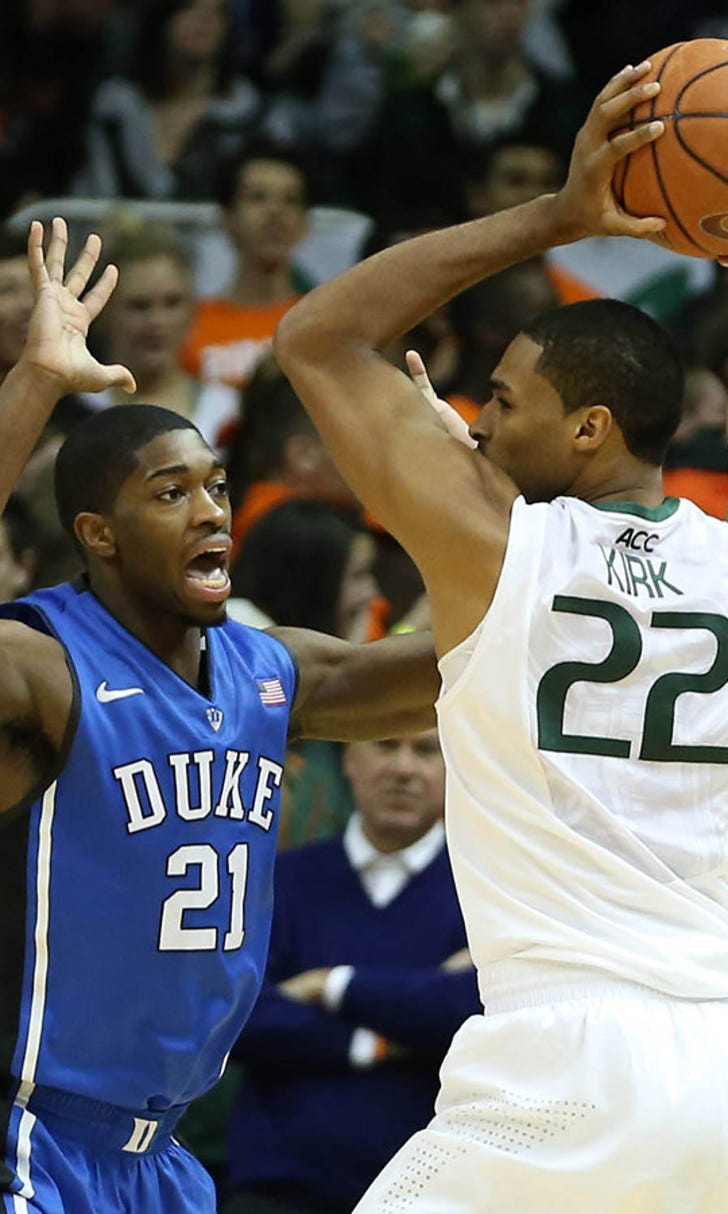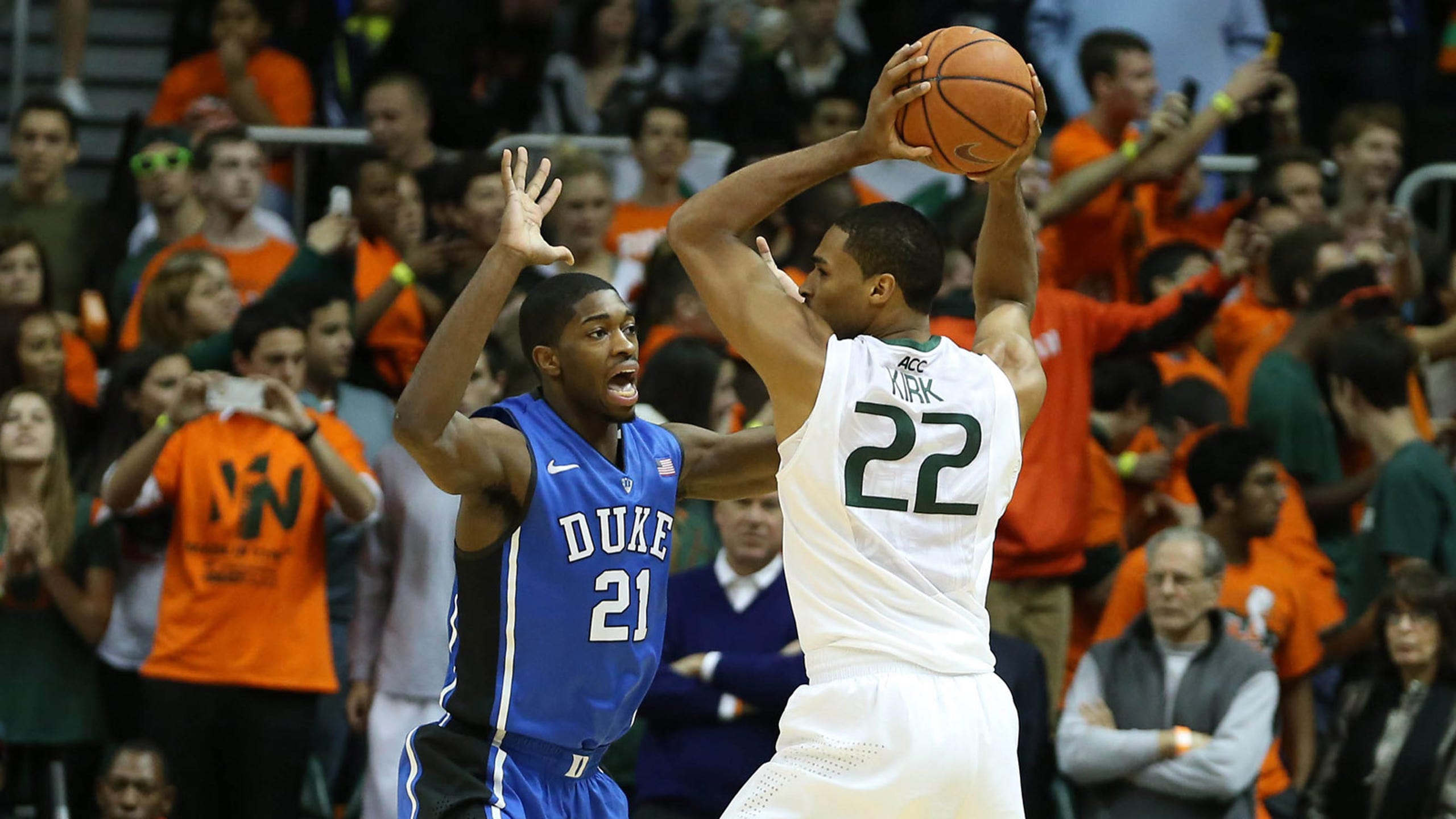 Miami's poor shooting proves costly against No. 18 Duke
BY foxsports • January 22, 2014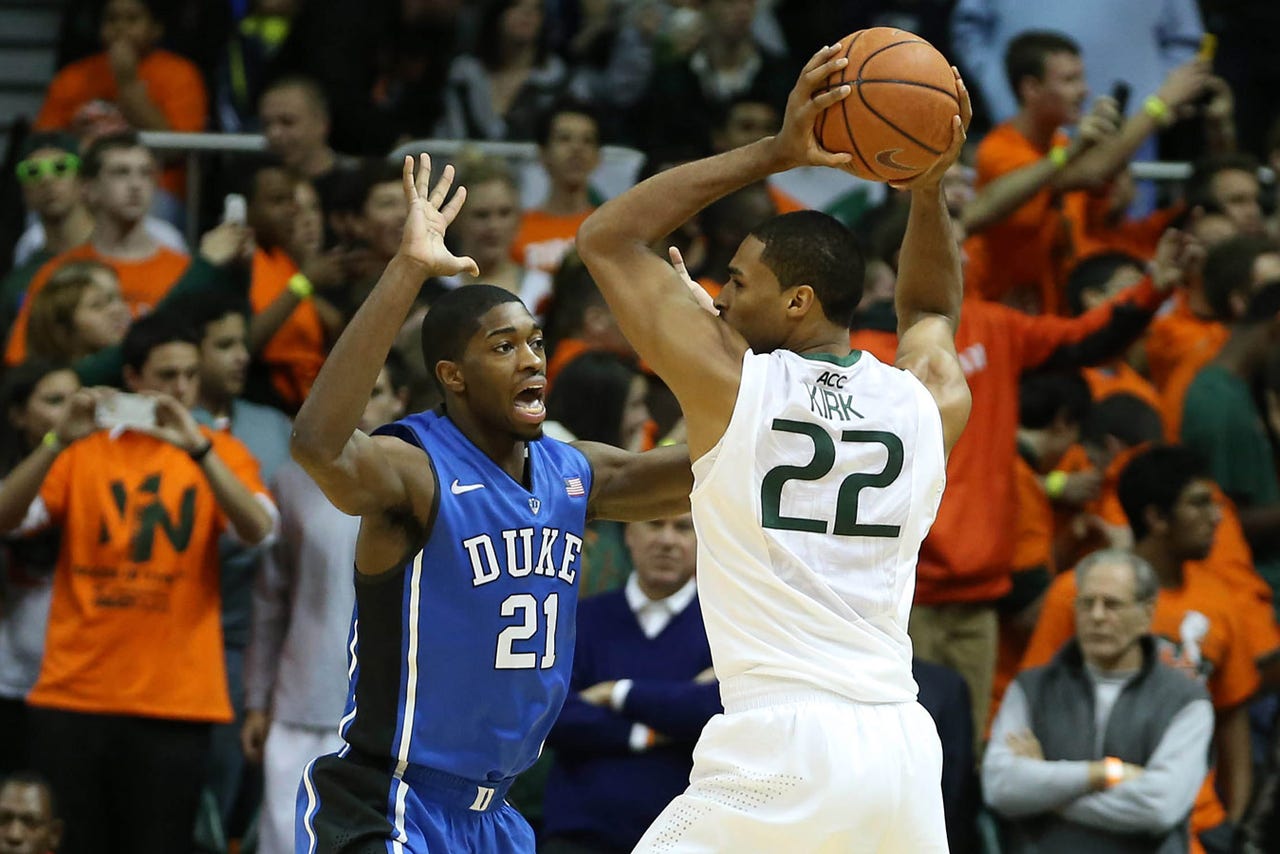 CORAL GABLES, Fla. (AP) -- Celebrity spectator Dwyane Wade amused the Duke-Miami crowd at halftime Wednesday by taking some shots from half-court, including several with his back to the basket.
He went 0 for 6. The home team didn't do much better.
Stymied on offense and pounded on the boards, the Hurricanes trailed from the start, shot 35 percent and lost to No. 18 Duke, 67-46.
A sellout crowd included Wade, LeBron James and Kobe Bryant, all of whom played in the Olympics for Duke coach Mike Krzyzewski.
"They're pretty good players," Hurricanes coach Jim Larranaga said. "I would have liked to have had them in a U uniform."
Defending conference champion Miami (10-8, 2-4 Atlantic Coast Conference) remained winless in three league games at home. The Hurricanes will try to bounce back Saturday, when they play host to No. 2 Syracuse.
"It's really a matter of effort," Larranaga said. "We've got to play harder."
Freshman Jabari Parker had 17 points and a season-high 15 rebounds to lead Duke. James and Wade sat in the first row across from the Blue Devils bench, and Krzyzewski said they caught his eye after Parker scored on a strong inside move.
"You could see LeBron and Dwyane go nuts, because that's was a big-time play," Krzyzewski said. "Those are great guys, and I appreciate them coming."
Parker, who visited briefly before the game with Wade, said he was also pleased to have the celebrity audience.
"It's a blessing to get their support, to see those superstars give support to the little guys," Parker said.
Parker helped the Blue Devils to a 42-28 advantage on the boards, which allowed them to overcome a poor shooting night. Duke outscored Miami 22-7 on second-chance points.
"I'm a little bit -- maybe a lot -- surprised by the way we played," Larranaga said. "We were like deer in the headlights with all the attention this game got, and all the celebrities that showed up. I think we froze in that environment."
The Blue Devils (15-4, 4-2) avenged a 27-point loss the last time they played in Coral Gables. That was a year ago, when Duke was ranked No. 1.
"Because of last year's embarrassment for the program, we just wanted to redeem ourselves," Parker said.
Duke improved to 1-2 in the league on the road after losing at Notre Dame and Clemson. The Blue Devils are 4-4 away from home overall.
They've won their past two games by a combined 56 points. Krzyzewski earned his 899th win at Duke, which leaves the NCAA men's career leader in victories one shy of joining Syracuse's Jim Boeheim with at least 900 wins at one school.
A methodical pace should have been to Miami's liking, but while Duke made only eight of 25 3-pointers, the offensively challenged Hurricanes were even worse. They went 2 for 10 from behind the arc.
Donnavan Kirk led Miami with 11 points. Rodney Hood had 12 points and six rebounds for Duke, while Amile Jefferson added eight points and seven rebounds.
But the biggest force on the boards was the 6-foot-8 Parker, who had six of Duke's 15 offensive rebounds. He also blocked three shots.
"He's a long way from dominating," Krzyzewski said. "He's in a process of getting better. The potential is there to be an outstanding player, and he was really good tonight."
Miami stayed close for most of the first half, in part because Duke missed nine consecutive 3-point shots. But the Blue Devils forced three turnovers during an 11-0 run near the end of the half, and they led 33-21 at halftime.
Duke then scored the first six points of the second half to take command. When Miami cut the margin to 47-35, Parker converted a three-point play and Rasheed Sulaimon sank a 3-pointer to restore Duke's comfortable cushion.
A dunk by Hood with 3 minutes left gave the Blue Devils their first 20-point lead. At that point, James -- and many other spectators -- headed for the exits.
The Blue Devils stayed in the lead early by hitting the boards hard. Of their first 17 points, 14 came following offensive rebounds.
"We didn't have that much effort as a team," Miami center Tonye Jekiri said. "The aggressiveness wasn't there going for the rebound."
---