Miami Heat at Toronto Raptors Game 5 preview
May 11, 2016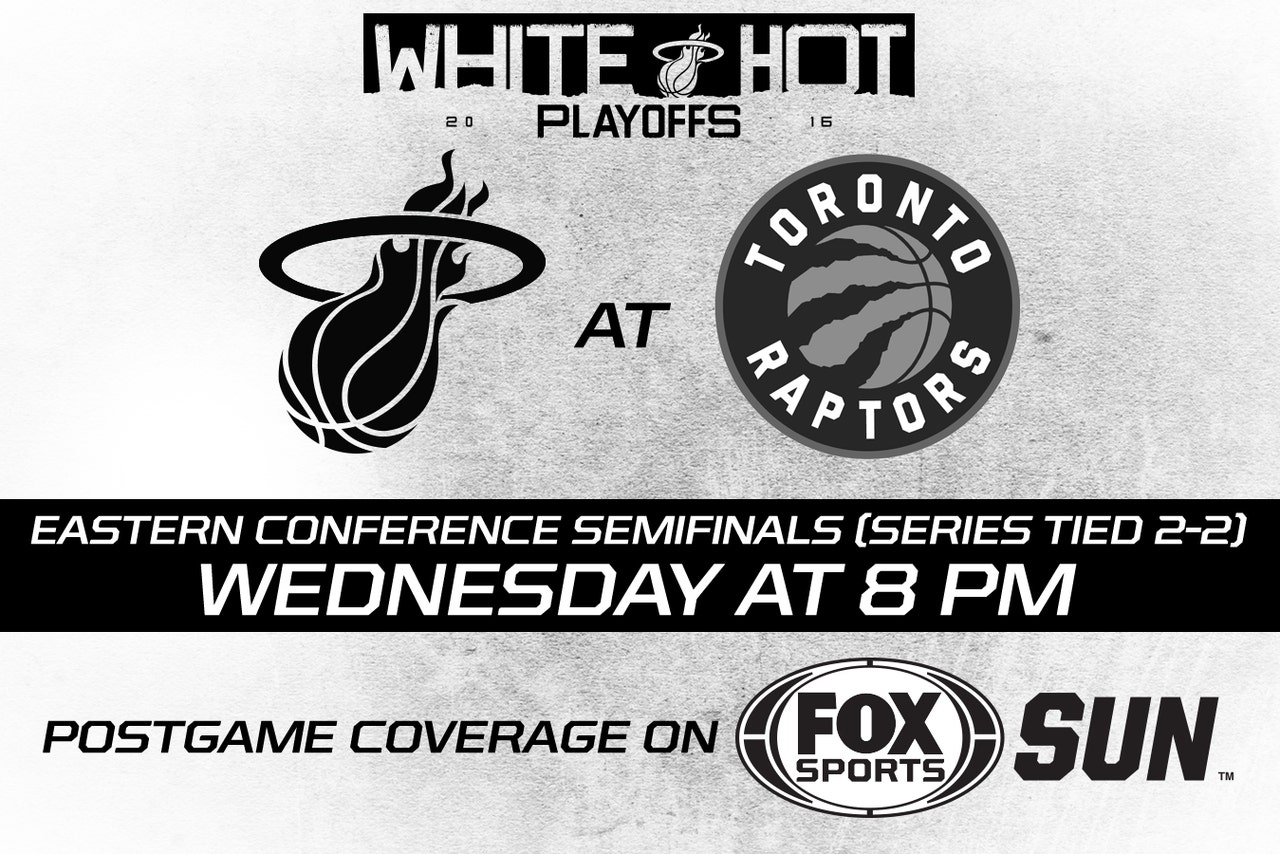 TV: TNT
Time: 8 p.m.; postgame coverage live on FOX Sports Sun
In his desire to show his respect for Canada and the Toronto Raptors, Dwyane Wade made sure to cut his warmup time before Game 4 of the Eastern Conference semifinals.
As it turned out, he didn't really need all that much.
The Miami Heat star will look to continue his high-scoring performances Wednesday night in front of what could prove an especially unwelcoming crowd in Toronto.
Wade was part of some controversy in Game 3 in Miami on Saturday when he decided to take a couple more shots instead of joining his teammates in line for the Canadian national anthem. He quickly tried to make amends after the 95-91 loss.
"No disrespect at all from me," Wade said. "I apologize for Canada thinking I would disrespect them as a county. So today, I just adjusted how I normally get ready for a game."
Wade was the first in line for the singing of "O Canada" before Monday's Game 4 and scored 30 points in a 94-87 overtime victory that tied the series. He had nine points in the final 6 1/2 minutes of regulation to lead the Heat's comeback and a finishing dunk in the third game against Toronto that's required additional time.
Wade totaled 68 points while making 26 of 49 shots in the two games in Miami. He had 17 on 7-of-17 shooting in his latest one in Toronto, a 96-92 overtime loss Thursday.
"I'm as confident as I've been all season now," Wade said. "Every other day we're playing and it's taxing, but I love that every time I come out on the court I feel just as good as I did the last game. It allows me to go out there and play the game I love the way I can. I'm enjoying this."
The Heat are returning north without center Hassan Whiteside, who will try to continue healing from a sprained ligament in his right knee. He had a combined 29 rebounds in the first two games in the series, including 17 in a 102-96 overtime victory in the opener May 3.
The Raptors won't have their center, Jonas Valanciunas, for the rest of the series because of a sprained right ankle. Like Whiteside, he was injured in Game 3.
Valanciunas averaged 18.3 points on 64.9 percent shooting and 12.7 rebounds in the first three games. Without him, the Raptors saw their shooting percentage drop from a postseason-high 47.1 in Game 3 to a series-worst 39.3 on Monday.
Toronto stars Kyle Lowry and DeMar DeRozan were a combined 6 of 28 from the floor and totaled 19 points with Lowry going 0 for 6 from 3-point range.
The Heat tried to keep both players from reaching the paint and taking advantage of Whiteside's absence.
"Lowry and DeRozan, they're going to take their shots. We're trying to make it tough for them," point guard Goran Dragic told the Heat's official website. "(In Game 3), we felt like we didn't shrink the floor well and tonight we did an amazing job."
DeRozan has shot 33 percent and 3 of 19 from beyond the arc this postseason, but he averaged 22.8 points in his previous four games before Monday's dismal effort even while dealing with an ailing thumb. Lowry has connected at 33.1 percent and 19.7 from 3 but looked like he had broken his slump in Game 3.
He had 33 points on 11-of-19 shooting and was 5 of 8 on 3-pointers. He went 2 of 11 from the floor in Game 4, however, and scored 10 points before fouling out late in the fourth quarter.
"It's not like we're just going to bench Kyle and DeMar, and go away from them. They're our guys. We believe in them," coach Dwane Casey said. "They're our two All-Stars and sooner or later they're going to come through or be a part of what we're trying to do."
---