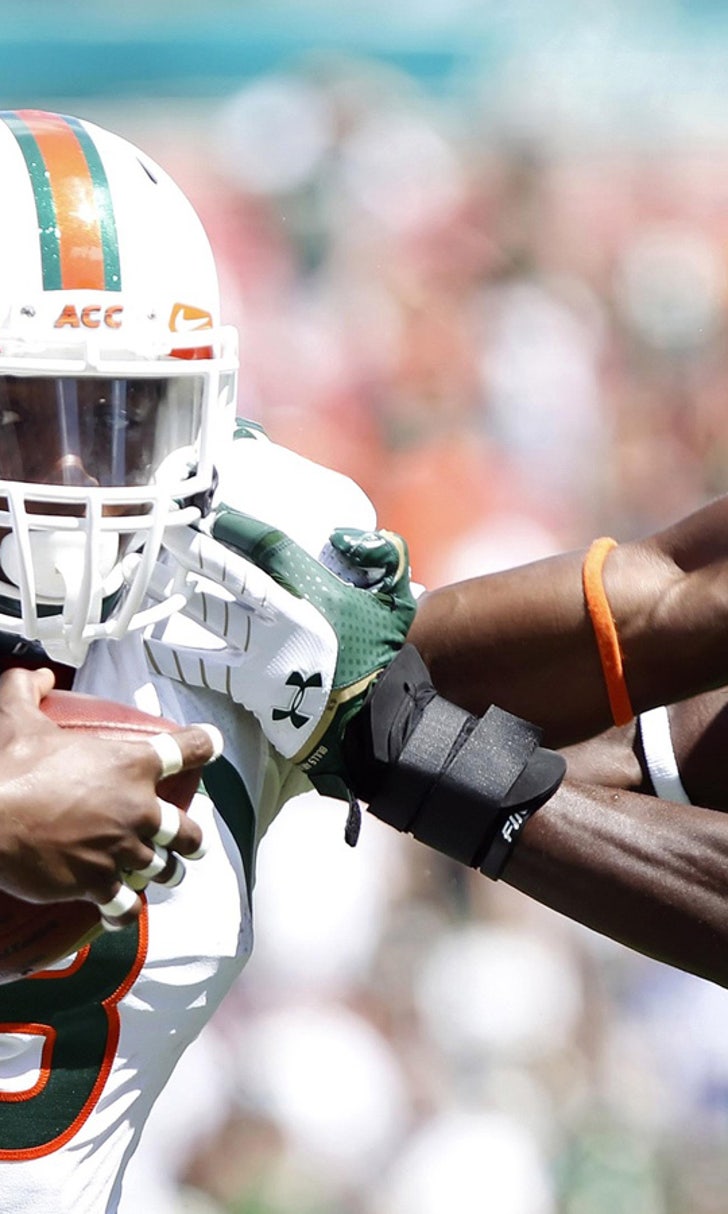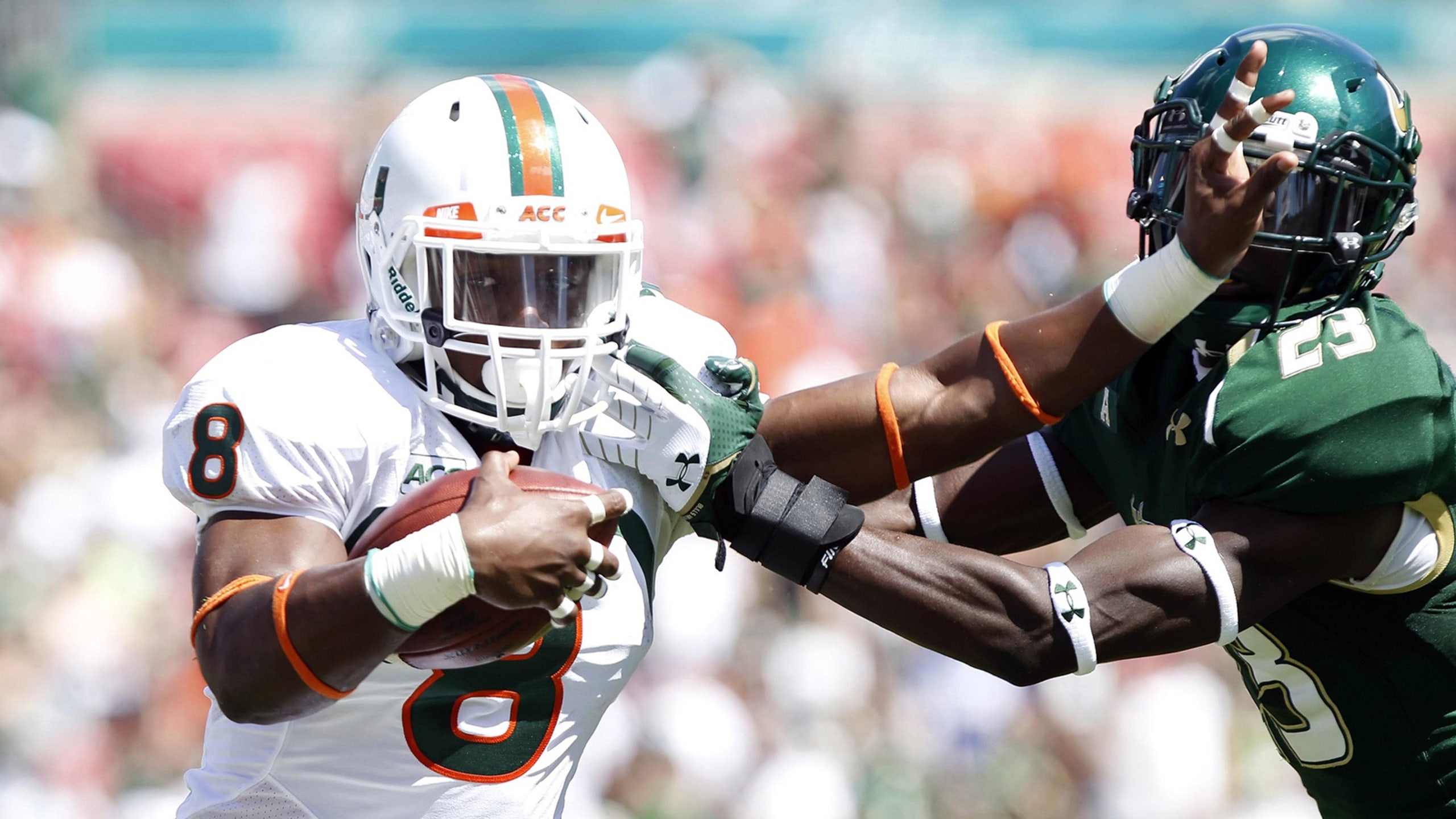 Miami has had tough luck with its 5-star recruits in past decade
BY foxsports • February 3, 2014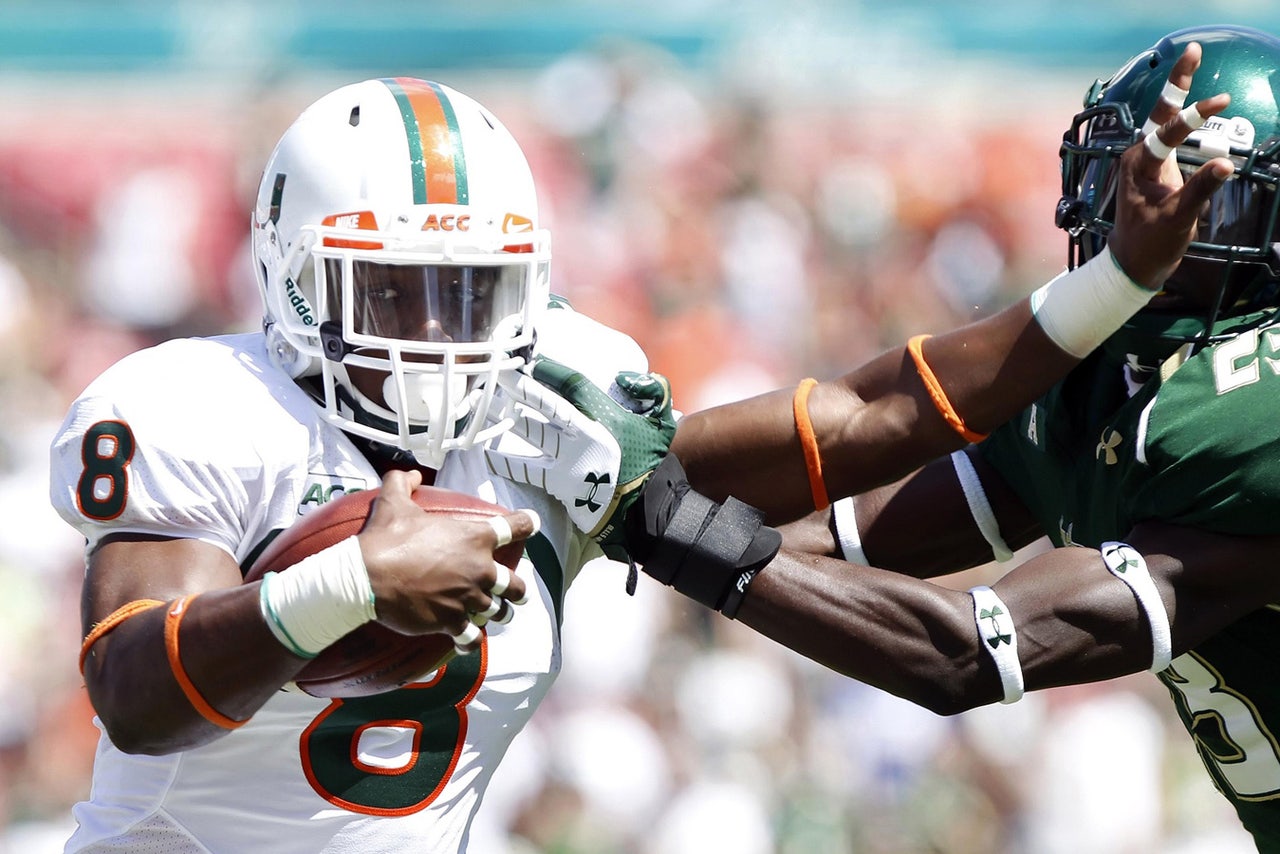 The nation's elite high school football players earn five-star status for their prowess on the gridiron and raw athletic talent.
But predicting how teenagers will develop in college requires more than a crystal ball.
It's a less-than-exact science with factors such as coaching, intrinsic motivation, health and competition.
Over the past decade, Miami failed to nab a five-star recruit twice -- in 2009 and 2013.
Two in the Class of 2014 -- offensive lineman Kc McDermott and running back Joseph Yearby -- are already enrolled on the Coral Gables campus. A handful of others are in the mix to sign with the Hurricanes.
Since 2004, few have lived up to the hype. Some transferred and succeeded elsewhere. The remaining guys saw better days.
Here is a breakdown of what Miami's five-star commitments (via Scout.com) from 2004-2013 accomplished as Hurricanes and where they are now:
2004
LB Willie Williams: On the same day the nation'€™s top linebacker signed his Letter of Intent, it was revealed he had been arrested 11 times. Williams missed his freshman season with a knee injury and played 10 games as a backup in 2005, recording 17 tackles. He would transfer four times. According to LostLettermen.com, Williams currently resides in Kenton County Jail in Covington, Ky., after he was found guilty of second-degree burglary and being a persistent felony offender last March.
RB Charlie Jones: Regarded as one of South Dade High's all-time best players, the running back completed his Miami career with 713 yards and 10 touchdowns on 190 carries over three years. His best game came against Virginia Tech in 2005 when he tallied 97 yards on 24 rushes. Twice he lost a starting job to Javarris James before transferring to Memphis after the 2007 season, adding 255 yards and six touchdowns to his resume.
OL Tyler McMeans: A junior college transfer, the 23-year-old U.S. Marine Corps veteran immediately moved into the starting lineup as the right guard. McMeans started the first six games before sustaining a knee injury. His senior year, he started all 12 games and was selected as the team'€™s most improved player. McMeans signed with the Chicago Bears as an undrafted free agent, but never played a down in the NFL.
2005
S Kenny Phillips: Phillips got off to a fast start at UM, earning All-ACC Freshman honors after starting 11 games at free safety. As a sophomore and junior, he was named All-ACC first team and second team All-America. The New York Giants selected Phillips in the first round of the 2008 draft. He is the last UM player to be taken in the first round. Over five seasons, he played in 56 games (41 starts), collecting eight interceptions and 200 tackles. He set career highs in 2011, but the Eagles released him before the 2013 season and he remains a free agent.
TE DajLeon Farr: Considered one of the nation'€™s top tight ends, Farr played in just 18 games (two starts), catching four passes for 30 yards over his first two seasons. He added another 11 games (four starts) with six catches, 104 yards and three touchdowns in 2007 before transferring to Memphis. As a Tiger, he started five games, collecting 14 receptions for 76 yards and one score. The Buffalo Bills placed him on the practice squad-injured reserve list in 2013.
OL Reggie Youngblood: The offensive lineman battled through injuries his four seasons at UM. Youngblood made seven starts as a sophomore. Named by Shapiro as one of the players he gave impermissible benefits to, Youngblood is no longer in football.
2006
RB LeSean McCoy: Originally committed to Miami, the running back sustained a major ankle injury in high school that threatened his career. McCoy decided to attend Milford Academy in New York for a year before choosing Pittsburgh. He has played five seasons for the Philadelphia Eagles, amassing 5,473 yards and 39 touchdowns.
2007
RB Graig Cooper: The team's leading rusher each of his first three seasons, Cooper sustained a torn ACL at the Champs Sports Bowl and never fully recovered. He finished his time at UM third in program history with 3,864 all-purpose yards and fifth with 2,387 rushing yards. The Eagles signed him as an undrafted free agent, but then released him during their final cuts. Philadelphia did it again in 2012.
DL Allen Bailey: Known as a unique physical specimen, the defensive lineman made All-ACC first team as a junior by leading the Hurricanes in sacks (7) and tackles for a loss (11). He earned second-team honors as a senior. The Kansas City Chiefs picked Bailey in the third round of the 2011 draft. He has played in 41 games (four starts), recording 36 tackles and two sacks. He did play more frequently in 2013, when he saw three starts and a career-high 30 tackles.
WR Kayne Farquharson: A junior college transfer, the wide receiver was also mentioned in Shapiro's allegations. Farquharson caught 27 passes for 355 yards and four touchdowns over two seasons. He is out of football.
2008
DL Marcus Forston: A member of Miami Northwestern High's state championship team, the defensive lineman earned accolades as a freshman when he played in 12 games and made 18 tackles (4.5 for a loss) with three sacks. During his junior year, Forston sustained a season-ending knee injury. He elected to leave school early (he was also listed in Nevin Shapiro's allegations), and the New England Patriots signed him as an undrafted free agent in 2011. Forston made the team, then got waived before resigning to the practice squad. The same thing happened in 2013. Forston has played in three NFL games, collecting three tackles.
LB Arthur Brown: The nation's top linebacker struggled during his freshman year and moved from weakside to inside his sophomore campaign. Brown left the program in February 2010 amidst the impermissible benefits scandal. Once considered a bust, he became an All-American and 2012 Big 12 Conference Defensive Player of the Year while at Kansas State. The Baltimore Ravens took him in the second round of the 2013 draft. He played in 14 games as a rookie, totaling 15 tackles, 0.5 sacks and one forced fumble.
DB Brandon Harris: Twice named a semifinalist for the Jim Thorpe Award, the defensive back started 32 of 39 games in three seasons. Harris recorded 132 tackles, nine tackles for a loss, four interceptions, five forced fumbles, two sacks and 28 pass break-ups. The Houston Texans picked him in the second round of the 2011 draft. He has played in 31 games, tallying 29 tackles but no interceptions. He appeared in every game in 2013.
WR Aldarius Johnson: It started out good for the sure-to-be NFL star: The wideout was the team leader in receptions (31) and yards (332) as a freshman. But he suffered a sophomore slump with just 16 catches and then 15 as a junior. Head coach Al Golden suspended him indefinitely for a violation of team rules as a senior. He is out of football.
2010
OL Seantrel Henderson: Named the second-best recruit in the country, his collegiate career provided plenty of drama. When the NCAA banned USC from postseason play, the offensive lineman wound up in Miami. Henderson started nine games as a freshman yet just two as a sophomore. As a junior, he was named an All-ACC honorable mention and third-team All-ACC in 2013. At last month'€™s Senior Bowl he admitted to marijuana use, which was responsible for a few of his suspensions. He awaits the 2014 NFL draft.
2011
DL Jalen Grimble: The defensive tackle saw action in 15 games as a reserve over two seasons, registering six tackles (all as a sophomore). Grimble was not listed on the depth chart entering camp last year. He transferred to Oregon State in August, sitting out the 2013 season per NCAA rules.
DL Anthony Chickillo: Miami's first third-generation Hurricane, the defensive lineman has started the last 34 games. He has yet to top the five sacks he notched his freshman year, though he set a career high with 46 tackles in 2013. In December, Chickillo decided to return for his senior season.
2012
CB Tracy Howard: Considered the nation's top cornerback prospect, Howard made just one start as a freshman, finishing with 17 tackles and four pass break-ups. That changed in 2013 as a sophomore when he started 12 games, tallied 35 tackles and intercepted a team-high four passes to garner an All-ACC honorable mention honor.
RB Duke Johnson: The Duke of Coral Gables has come as advertised. The nation'€™s top running back recruit ran for a UM freshman record 947 yards and 10 touchdowns and set a single-season record with 892 kick return yards and two scores, compiling 2,060 all-purpose yards for the second-best mark in program history. Despite a season-ending ankle injury in 2013, Johnson still managed All-ACC accolades. He rushed for 920 yards and six touchdowns in eight games, adding 396 yards on kick returns.
You can follow Christina De Nicola on Twitter @CDeNicola13 or email her at cdenicola13@gmail.com.
---