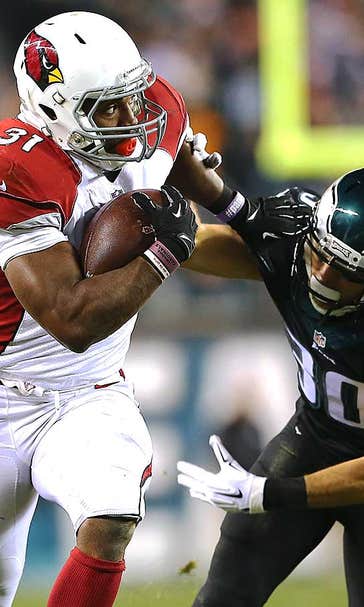 Meyer: fantasy football running back draft strategy rankings
May 9, 2016

With the 2016 NFL Draft in the rearview mirror and most NFL free agents with their new squads, here are the FOX Fantasy department's way-too-early 2016 fantasy football draft strategy rankings.
There's a new era of running backs who have cracked the Top 10 in this year's fantasy rankings. Owners were nervous to draft Todd Gurley in 2015. We knew he'd miss the first few games, but Gurley jumped to "elite status" almost immediately. He had a four-game stretch where he rushed for at least 120 yards in each contest. Gurley finished with the eighth-most fantasy points among his colleagues.
I also have David Johnson, Devonta Freeman, Ezekiel Elliott, and Thomas Rawls in the RB Top 10. Freeman finished 2015 with the most fantasy points in the running back rankings. DJ didn't earn a full-time starting job until December, yet he still compiled 195 fantasy points (ninth-most).
Elliott is joining a great offense and will compete with two guys who are at least 28-years-old (Alfred Morris and Darren McFadden.
Rawls will also compete for the starting job in Seattle. Marshawn Lynch is retired and Rawls led the Seahawks last year with 830 rushing yards and four rushing TDs.
You can click on the links below to switch between FOX Fantasy experts' draft rankings and positional rankings:
Meyer: QB | RB | WR | TE | Fowler | Halpin | Foster
| | |
| --- | --- |
| Player | Bye Week |
| 1. Le'Veon Bell (Pit - RB) | 8 |
| 2. Adrian Peterson (Min - RB) | 6 |
| 3. Todd Gurley (StL - RB) | 8 |
| 4. David Johnson (Ari - RB) | 9 |
| 5. Devonta Freeman (Atl - RB) | 11 |
| 6. Lamar Miller (Hou - RB) | 9 |
| 7. Doug Martin (TB - RB) | 6 |
| 8. Ezekiel Elliott (Dal - RB) | 7 |
| 9. C.J. Anderson (Den - RB) | 11 |
| 10. Thomas Rawls (Sea - RB) | 5 |
| 11. Mark Ingram (NO - RB) | 5 |
| 12. Eddie Lacy (GB - RB) | 4 |
| 13. Jamaal Charles (KC - RB) | 5 |
| 14. LeSean McCoy (Buf - RB) | 10 |
| 15. Jonathan Stewart (Car - RB) | 7 |
| 16. Ryan Mathews (Phi - RB) | 4 |
| 17. Carlos Hyde (SF - RB) | 8 |
| 18. Jeremy Hill (Cin - RB) | 9 |
| 19. Latavius Murray (Oak - RB) | 10 |
| 20. Matt Forte (NYJ - RB) | 11 |
| 21. Justin Forsett (Bal - RB) | 8 |
| 22. Jeremy Langford (Chi - RB) | 9 |
| 23. T.J. Yeldon (Jac - RB) | 5 |
| 24. DeMarco Murray (Ten - RB) | 13 |
| 25. Melvin Gordon (SD - RB) | 11 |
| 26. Matt Jones (Was - RB) | 9 |
| 27. Danny Woodhead (SD - RB) | 11 |
| 28. Duke Johnson Jr. (Cle - RB) | 13 |
| 29. Rashad Jennings (NYG - RB) | 8 |
| 30. Frank Gore (Ind - RB) | 10 |
| 31. Giovani Bernard (Cin - RB) | 9 |
| 32. Ameer Abdullah (Det - RB) | 10 |
| 33. DeAngelo Williams (Pit - RB) | 8 |
| 34. Chris Ivory (Jac - RB) | 5 |
| 35. LeGarrette Blount (NE - RB) | 9 |
| 36. Derrick Henry (Ten - RB) | 13 |
| 37. Arian Foster (FA) | N/A |
| 38. Karlos Williams (Buf - RB) | 10 |
| 39. Charcandrick West (KC - RB) | 5 |
| 40. Tim Hightower (NO - RB) | 5 |
| 41. Bilal Powell (NYJ - RB) | 11 |
| 42. Darren McFadden (Dal - RB) | 7 |
| 43. Ronnie Hillman (Den - RB) | 11 |
| 44. Charles Sims (TB - RB) | 6 |
| 45. Jay Ajayi (Mia - RB) | 8 |
| 46. Theo Riddick (Det - RB) | 10 |
| 47. Christine Michael (Sea - RB) | 5 |
| 48. Cameron Artis-Payne (Car - RB) | 7 |
| 49. James White (NE - RB) | 9 |
| 50. Denard Robinson (Jac - RB) | 5 |
| 51. Kenneth Dixon (Bal - RB) | 8 |
| 52. C.J. Prosise (Sea - RB) | 5 |
| 53. Devontae Booker (Den - RB) | 11 |
| 54. Jordan Howard (Chi - RB) | 9 |
| 55. Tevin Coleman (Atl - RB) | 11 |
| 56. James Starks (GB - RB) | 4 |
| 57. Kenyan Drake (Mia - RB) | 8 |
| 58. Javorius Allen (Bal - RB) | 8 |
| 59. Darren Sproles (Phi - RB) | 4 |
| 60. Isaiah Crowell (Cle - RB) | 13 |
| 61. Keith Marshall (Was - RB) | 9 |
| 62. Paul Perkins (NYG - RB) | 8 |
| 63. Tyler Ervin (Hou - RB) | 9 |
| 64. DeAndre Washington (Oak - RB) | 10 |
| 65. Wendell Smallwood (Phi - RB) | 4 |
| 66. Jerick McKinnon (Min - RB) | 6 |
| 67. Spencer Ware (KC - RB) | 5 |
| 68. Shaun Draughn (SF - RB) | 8 |
| 69. Andre Ellington (Ari - RB) | 9 |
| 70. Chris Johnson (Ari - RB) | 9 |
| 71. Alfred Morris (Dal - RB) | 7 |
| 72. C.J. Spiller (NO - RB) | 5 |
| 73. Ka'Deem Carey (Chi - RB) | 9 |
| 74. Alfred Blue (Hou - RB) | 9 |
| 75. Mike Tolbert (Car - RB) | 7 |
---