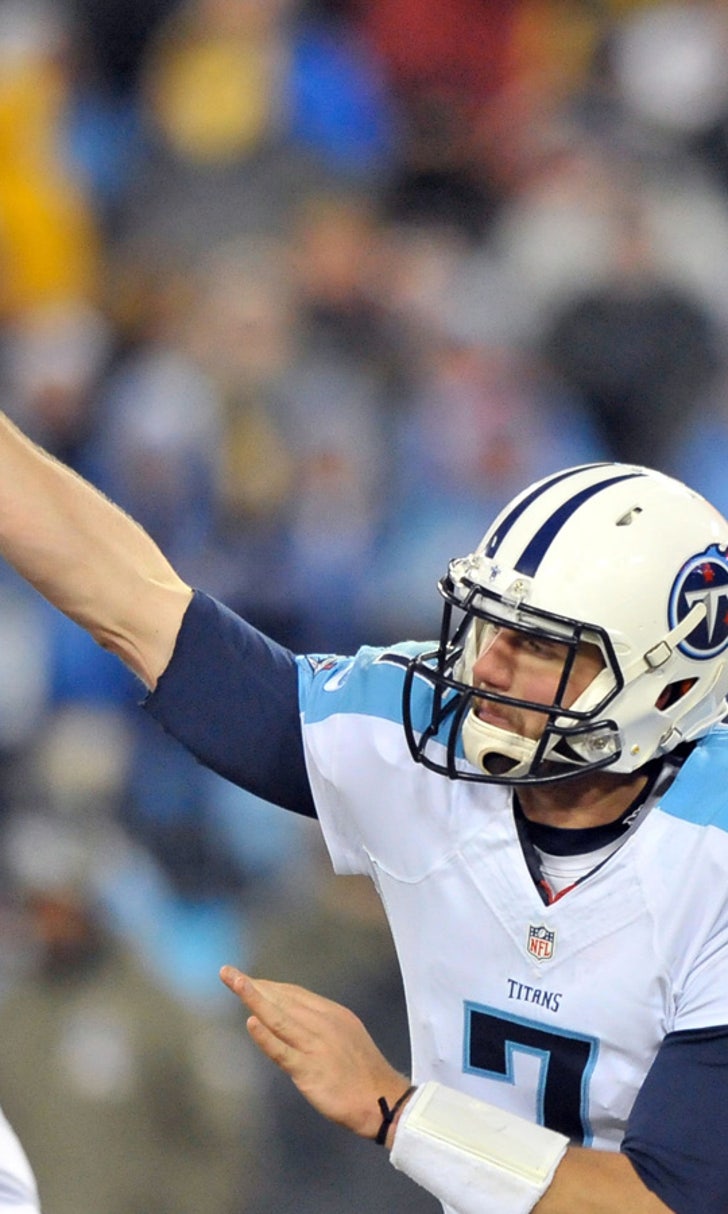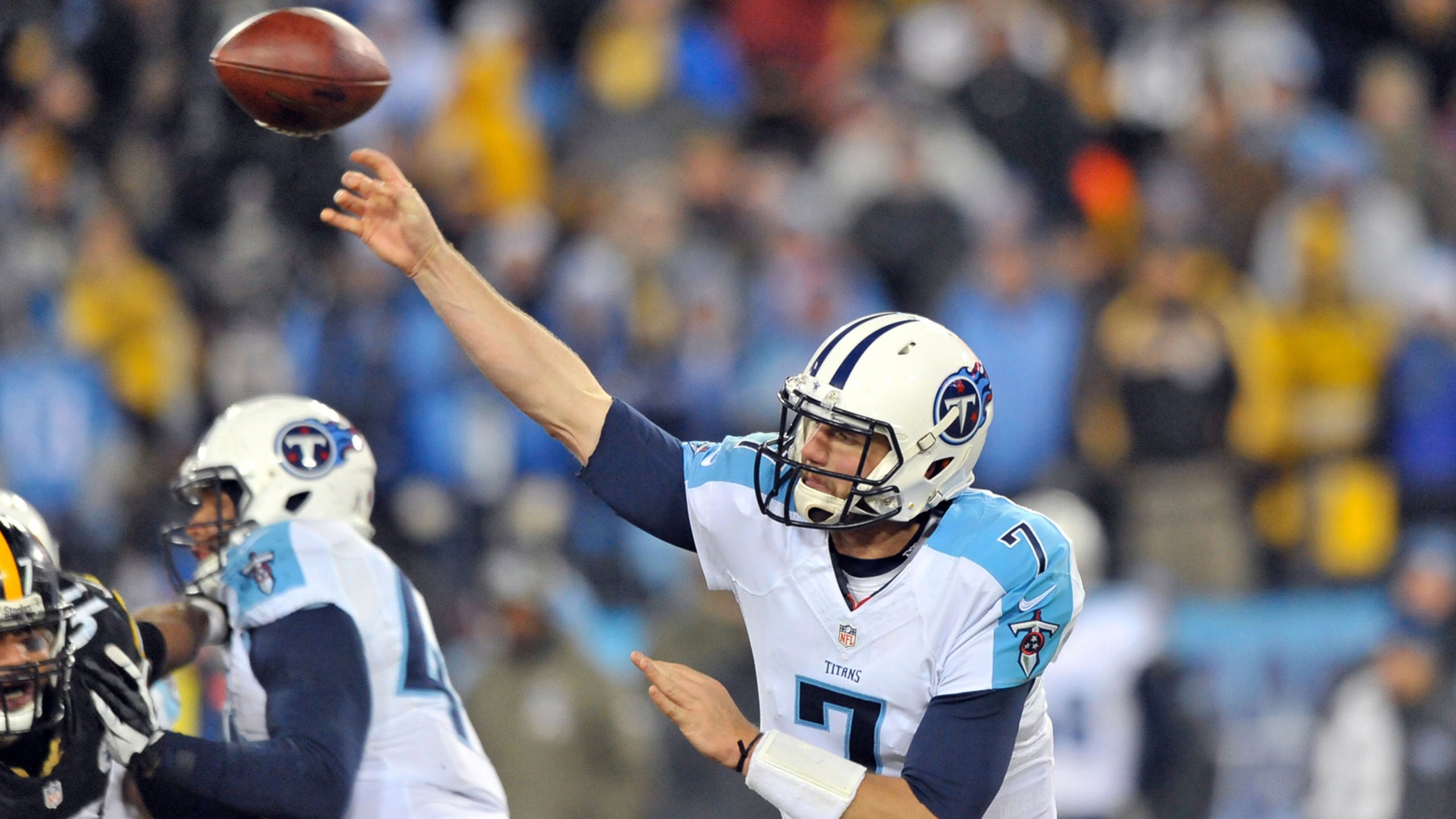 Mettenberger doing well growing up on the job
BY foxsports • November 25, 2014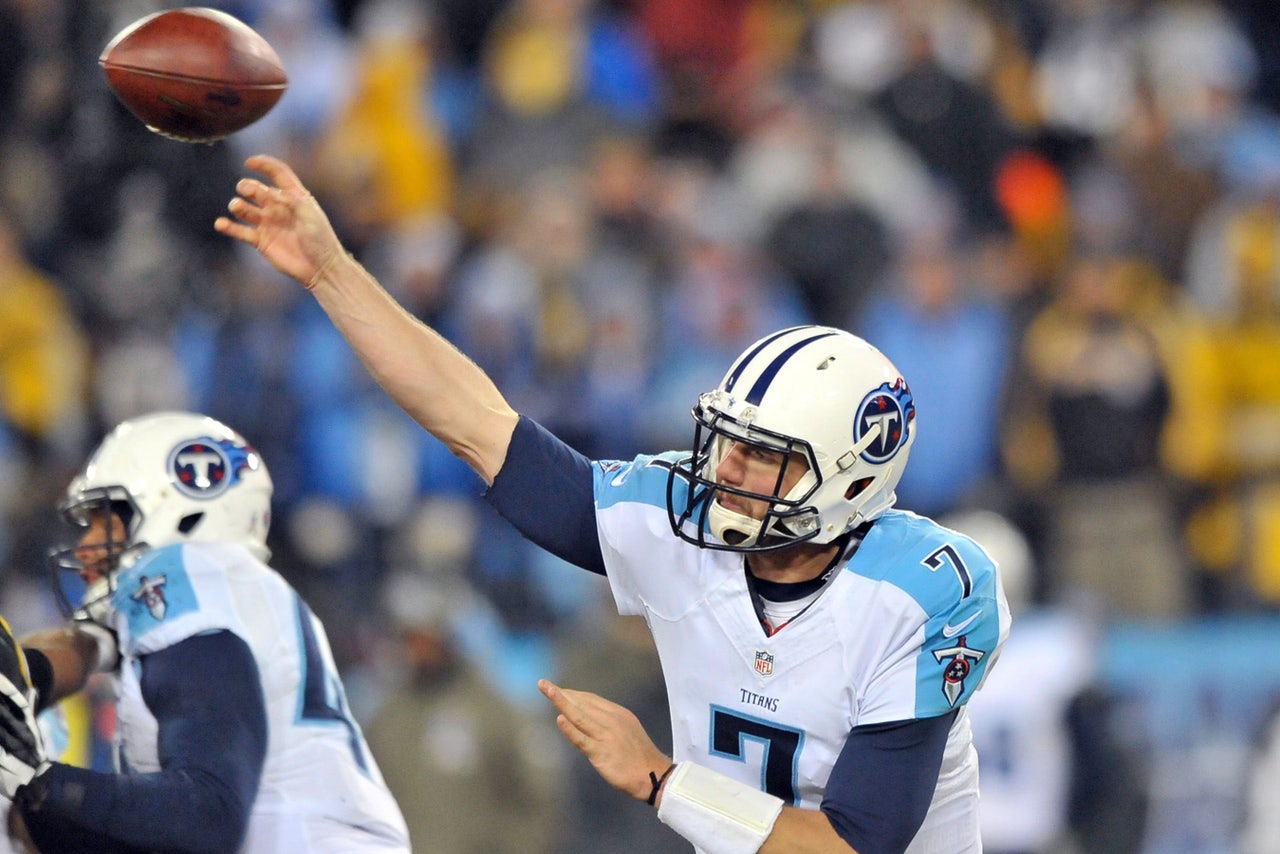 NASHVILLE, Tenn. -- The nine-game test Zach Mettenberger wants to pass to become the Titans starting quarterback next season is hitting a mid-term exam.
It's a return visit Sunday to the Texans (5-6), the team Mettenberger faced in his first start after replacing fourth-year veteran and oft-injured Jake Locker. The Titans (2-9) have lost all four of Mettenberger's starts, and five overall to push the team's losing skid to nine out of 10.
While general manager Ruston Webster and first-year coach Ken Whisenhunt have many more questions than answers concerning the roster going forward, the decision whether Mettenberger -- the sixth-round draft pick out of LSU -- is to be the starter next season is getting most attention from coaches, media and fans alike.
But it was Mettenberger's actions just hours before kickoff of the 30-16 loss to the visiting Texans on Oct. 26 that drew immediate scrutiny. He sent a "selfie" out on social media before his first NFL start, leaving Texans defensive star J.J. Watt to question the quarterback's focus on game day.
It also brought into question Mettenberger's maturity.
But since that game, he has shown leadership qualities through a subtle confidence, bolstered by a strong arm and innate ability to stand strong in the pocket and take a hit. He was sacked five times and hit another four in last Sunday's 43-24 loss at the Eagles.
"I think that he's got some good guys in the room with him that help with that," Whisenhunt said of Mettenberger maturing as a quarterback on and off the field, "And he's doing a good job of understanding the urgency about preparing for that position. We haven't specifically spoken about that, but he's doing a nice job with it."
So, will Mettenberger again fire off another "selfie" prior to playing the Texans on Sunday? It seemed to bother Watt and a few other Texans before, during and after the previous meeting. Then again, Watt sacked Mettenberger and forced a fumble on the same play.
Whisenhunt pays little attention to all that. His focus is helping Mettenberger be the quarterback he hitches to lead the offense, an eventually, the team. There have been more good moments than bad thus far for Mettenberger, who has completed 80 of 136 passes (58.8 percent) for 1,103 yards with seven touchdowns, five interceptions and respectable 86.7 rating.
"He's doing a much better job at moving around within the pocket," Whisenhunt said of the 6-foot-5, 224-pound Mettenberger. "We've seen progress of that (Sunday). That's an encouraging thing, but you're going to take some shots back there as a quarterback. I don't think there are very many times you get through a game cleanly, but yes, he is tough."
Mettenberger's best game came a week ago Monday night, in a loss to the Steelers. After throwing an interception that was returned for a touchdown on his first pass, he still completed 15 of 24 passes (62.5 percent) for 263 yards with two touchdowns and 110.2 rating.
Despite throwing for a franchise rookie record of 345 yards -- and most by any NFL rookie this season -- last Sunday against the Ravens, he still regressed somewhat by completing 20 of 39 passes (51.3 percent) with two touchdowns, one interception and an 88.1 rating.
"Obviously, it's not looking really good for us for the playoffs," Mettenberger said of the Titans, who are assured a third-straight losing season and fourth in five years. "Really, it's about pride. There's a lot of pride in that room. We've got a lot of good guys in this locker room.
"The work is there. The extra time putting in is there. We can't seem to get it all going at once. We're just trying to play for keeps really, as corny as that sounds."
After missing the Steelers' game with a concussion suffered the previous week against the Ravens, veteran tight end Delanie Walker returned against the Ravens to continue as the Titans' top receiver. His team-leading 667 receiving yards are second among AFC tight ends, while his 43 catches are both second on the team and AFC tight ends.
Walker has been impressed with Mettenberger's progress thus far.
"I think it's going to work out fine for him," said Walker, who had five catches for a career-high 155 yards against the Eagles. "He's got great poise, and he sits in the pocket. He's not scared. When you're a young quarterback and you're showing that early, he's got signs of being something great.
"When we can establish a run game, they're not going to be able to put all of that pressure on Zach, and he can sit in there and make the throws he needs to make."
Not making matters any easier for the Titans' offense are injuries to rookie left tackle Taylor Lewan (sprained left ankle), the team's first-round draft pick, second-year center Brian Schwenke (sprained MCL) and possible concussions to running backs Bishop Sankey and Dexter McCluster.
All that only adds to the angst for a coach that inherited a team and fan base eager to return to the playoffs for the first time since 2008, a team that has not won a postseason game since 2003. The prospect of producing one of the worst teams in franchise history is not a welcoming idea.
"No, I have a sick feeling in my stomach all the time," Whisenhunt said. "Nothing changes that except when you win. It's not a lot of fun. I enjoy working with these guys. I enjoy being here. The fans have been good with me, but it's not fun.
"We want to win. It's fun. Football's fun. I love being around our guys. I love doing this job, but you still feel sick when you don't do what you're supposed to do."
---
---