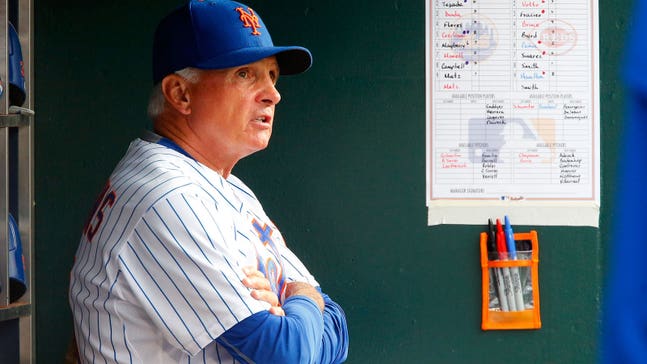 Mets' hitting problems come from above
Updated
Mar. 4, 2020 4:07 p.m. ET

Baseball, I would argue, passes judgement more than any other sport.  It's simple arithmetic, really.  Even a great ballclub is going to lose around 60 or so games in a season.  That's 60 different opportunities to analyze, to figure out what went wrong, to figure out who screwed up.  The NBA and NHL seasons, and drafts, are now in the rear-view mirror, and so we focus much of our summer on figuring out what our favorite MLB teams are doing wrong.  It's just the nature of the thing.
Right now, the New York Mets are deep in the thick of that process, thanks largely to the fact that their season began with hope, optimism, and a place atop the division for the first time in years.  But they've now lost nine of their last thirteen games, scoring just 22 runs in that span. On the heels of back-to-back shutout losses to the Cubs, everybody's looking for someone to hold accountable.  And Lord knows there's no shortage of candidates.
You can blame the hitters who haven't hit (Michael Cuddyer, Wilmer Flores, Juan Lagares; you can take your pick).  You can blame the manager, Terry Collins (and once again the sharks are circling, unsurprising given the prevailing narrative that 2015 was a "make or break" year for him). You can blame GM Sandy Alderson, who, most everyone agrees, sent this team into the season with a tissue-thin lineup, and hasn't added any offensive help.  (Last week, Alderson told reporters at Citi Field that thanks to a still developing trade market, "At least for the time being ... we need to get the job done with what we have.")  You can also blame the baseball gods, because there's little question that injuries to David Wright, Travis d'Arnaud, and Daniel Murphy have been major blows to an already limited lineup.
So yes, there's no shortage of targets, and none of it is entirely unfair. Everyone is well compensated, everyone understands the pressures, and everyone is accountable when things go sour. Well, almost everyone. Because as the negativity continues to build in Queens, it's easy to lose sight of one important, fundamental fact. Right now, this is a baseball team in the biggest market in the majors, with a payroll befitting a small-market club.
According to Spotrac, the Mets have a payroll around $103 Million, ranking them 21st in Major League Baseball, between the Minnesota Twins and the Atlanta Braves.
For anyone interested in an in-depth treatment of the Mets' finances, Howard Megdal literally wrote the book on the subject. In a nutshell, Fred Wilpon was one of the many "victims" of Bernie Madoff's massive pyramid scheme, in the sense that hundreds of millions of dollars disappeared when the bottom finally fell out.  Except it's hard to consider Wilpon a victim, given that for years he benefited from truly absurd rates of return.  For years, Madoff was the Mets' golden goose, until the whole thing went belly up and Wilpon ended up with golden egg on his face. As the sports media world gleefully celebrated "Bobby Bonilla Day" (good heavens that's a lot of #content), it's worth remembering that a major reason the Mets offered the long-term payout in the first place was confidence that their dealings with Madoff made it cost-effective.
Debate has long raged about how much Wilpon knew, and how much he should have known, of Madoff's misdealings.  Such questions are obviously important, when it comes to legal culpability, settlements with trustees, etc.  But in assigning guilt for the Mets' payroll plight, they're ultimately irrelevant.  Whether Wilpon was a clueless sucker or a savvy shark, the result is the same.  Thanks to his decisions as owner, the Mets have spent the last six years digging themselves out of a fiscal sinkhole, with few understanding how deep it truly goes.
The consequences of all of this have ranged from eye-opening to downright farcical.  There are the massive loans ownership took against its stake in SportsNet New York.  There are the minority shares of the team that were offered for sale, including one purchased by comedian Bill Maher.  (New Rule: When your prayers for financial salvation are answered by one of the country's most famous atheists, you need to reconsider your relationship with the almighty dollar.)  Finally, there was the settlement, struck in 2012, and adjusted in the years since, whereby the Mets ownership now owes approximately $75 million to the trustee recovering money for Madoff's victims, payable in 2016 and 2017.
Through it all, the team has maintained that clear skies are on the horizon, and that (say it with me, Mets fans), "the team can increase payroll at any time."  Except that here we are, nearly seven years after the Madoff collapse came to light, and the team still struggles to find money for salaries in the sofa cushions.  Citi Field is now home to one of the strongest young pitching staffs in baseball, but thanks to a budget that hasn't kept pace, when it comes to the lineup, the Mets find themselves in a position many New Yorkers are familiar with, priced out of the market.
Perhaps the most frustrating part for Mets fans is that there's no way of knowing what might have been, no way of playing out the hypotheticals in a world where the team actually flexed its big city muscles.  Might the team have been able to get into the mix for Giancarlo Stanton?  Who knows!?  Could they have positioned themselves to acquire Troy Tulowitzki? Perhaps! Would Jose Reyes have stuck around if the team had made him a proper offer. Or really, any offer?  All we can do is wonder.
Many also wonder whether, through it all, Wilpon's personal relationship with Bud Selig is the real reason he's still in charge.  Later this month, Molly Knight's new book, The Best Team Money Can Buy, will be released, chronicling the rebuilding of the Los Angeles Dodgers after Frank McCourt was forced, largely due to pressure from Major League Baseball, to sell the team.  There has been no such pressure upon Wilpon, who has had Selig, Rob Manfred, and MLB in his corner the entire way.
And so, the story continues, same as it ever was, in our ownership economy.  If the Mets continue to struggle, there will undoubtedly be consequences, eventually, for the players, for Collins, for Alderson.  But, despite a series of massive mistakes that have fundamentally hurt the team's competitiveness, there will likely be no consequences for Fred Wilpon.  Is this fair? Of course not.  But as we continue, inevitably, to dole out blame in the weeks and months ahead, it's worth remembering that yes, there's plenty of it to go around, but no, not everyone is forced to shoulder their fair share.
---
---