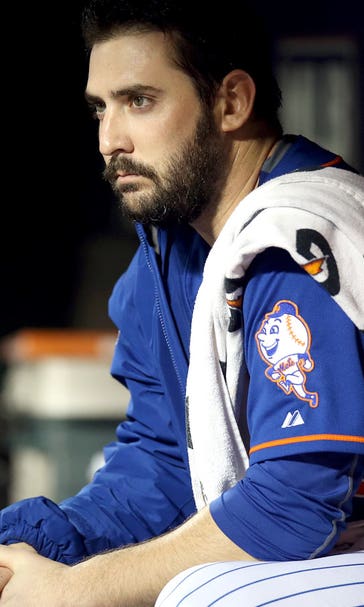 Mets' Harvey argues his way into ninth, pays for it dearly
November 2, 2015

Like everyone else, I was playing along with Game 5 on Twitter during Sunday night's World Series clincher, a Royals' 7-2 victory at the Mets in 12 innings. With the Mets carrying a 2-0 lead to the ninth inning of Game 5 — a Game 5, of course, that they had to win, or be eliminated — everyone asked the same question: Would Terry Collins let Matt Harvey, who had pitched so brilliantly for eight innings, come out for the ninth?
Everyone seemed to have an opinion. I did not, for the simple reason that there was too much I didn't know. I didn't know what pitching coach Dan Warthen was telling Collins about Harvey's stuff. I didn't know what closer Jeurys Familia's mood was like, having already blown two saves in this World Series. I didn't know how well Harvey and Familia might match up against the Royals' first two or three hitters in the ninth. And these are all things I would want to know.
Now, my inclination is to go with the relief pitcher. Generally, your best relief pitcher is better than even a great starting pitcher who's already thrown 102 pitches. Which is one of the reasons why complete games have nearly died. Before Game 5, Harvey had started 68 games as a major leaguer, and completed exactly one of them. He's got one shutout in his career, one complete game.
Still, this was a special situation and when you hire a manager and a pitching coach, you have to trust them to know more about their players than anyone else knows. Certainly more than a bunch of jokers on Twitter. So I decided that whatever decision Collins made, I wouldn't second-guess it.
Collins decided to pull Harvey from the game, and instead ask Familia for three outs. An arguable decision, to be sure. But also a reasonable one, and (again) one I wouldn't second-guess, because Collins and Warthen should know their players better than we know them.
Familia's not a great relief pitcher, but he's good and good relief pitchers will nearly always give up either one run or none in an inning, regardless of who's batting.
Bottom line, I trusted Terry Collins.
The only problem was that he didn't.
As we all saw, Warthen told Harvey his outing was finished.
Harvey argued with Warthen, which wasn't going to do any good. So then he argued with Collins. Which did a great deal of good, for the Royals anyway. Because Collins changed his mind. Leading to this obvious question:
To be sure, Collins was in a terribly tough spot. If the lead gets blown by Harvey or Familia, he's going to get killed. But if he leaves Harvey in the game, regardless of the outcome, at least he had the fans on his side.
One more rationale: Maybe Harvey's "opinion" was important. Maybe Collins was truly conflicted, just perched atop the fence before finally deciding on Familia. But once he realized just how badly Harvey wanted this one, just how confident Harvey was, Collins fell on the other side of the fence.
Which is about as charitable as we can be.
Harvey, who'd issued just one walk in the first eight innings, actually got ahead of Lorenzo Cain, leading off, but wound up walking him.
Collins might have then removed Harvey, who'd now thrown 109 pitches. But he didn't, and Eric Hosmer drove Harvey's second pitch, a low fastball, into the left-field corner. And you know the rest: Hosmer's mad dash home, Duda's errant throw, Salvador Pérez's bloop single, Jarrod Dyson's swipe of second base, unlikely hero Christian Colón's line-drive single, Daniel Murphy's second big error in as many games, more line drives, and finally Wade Davis's inevitable invulnerability.
It's important to mention the players, because ultimately it was their World Series and we'll have more to say about them in the coming days. But in Game 5, both managers left their starting pitchers in for a batter or two too long. Which cost one of them dearly.
---
---