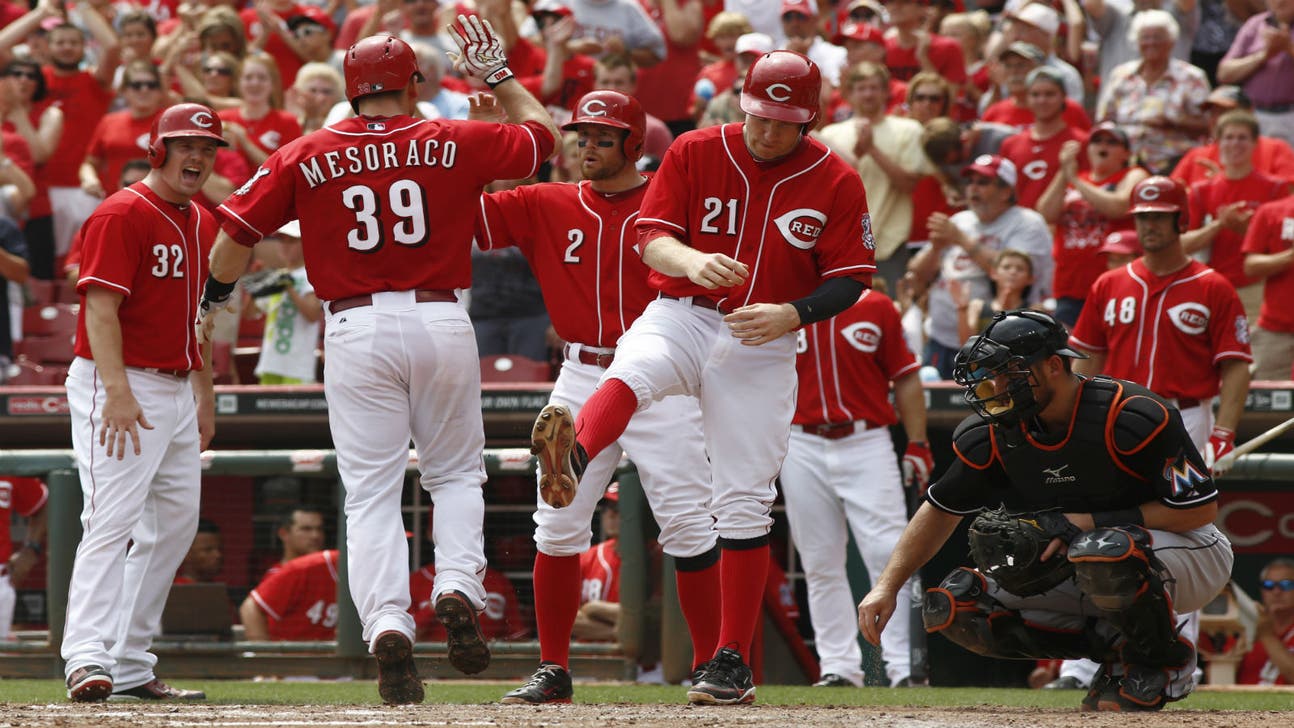 Mesoraco's grand day continues breakout season
Published
Aug. 10, 2014 6:10 p.m. ET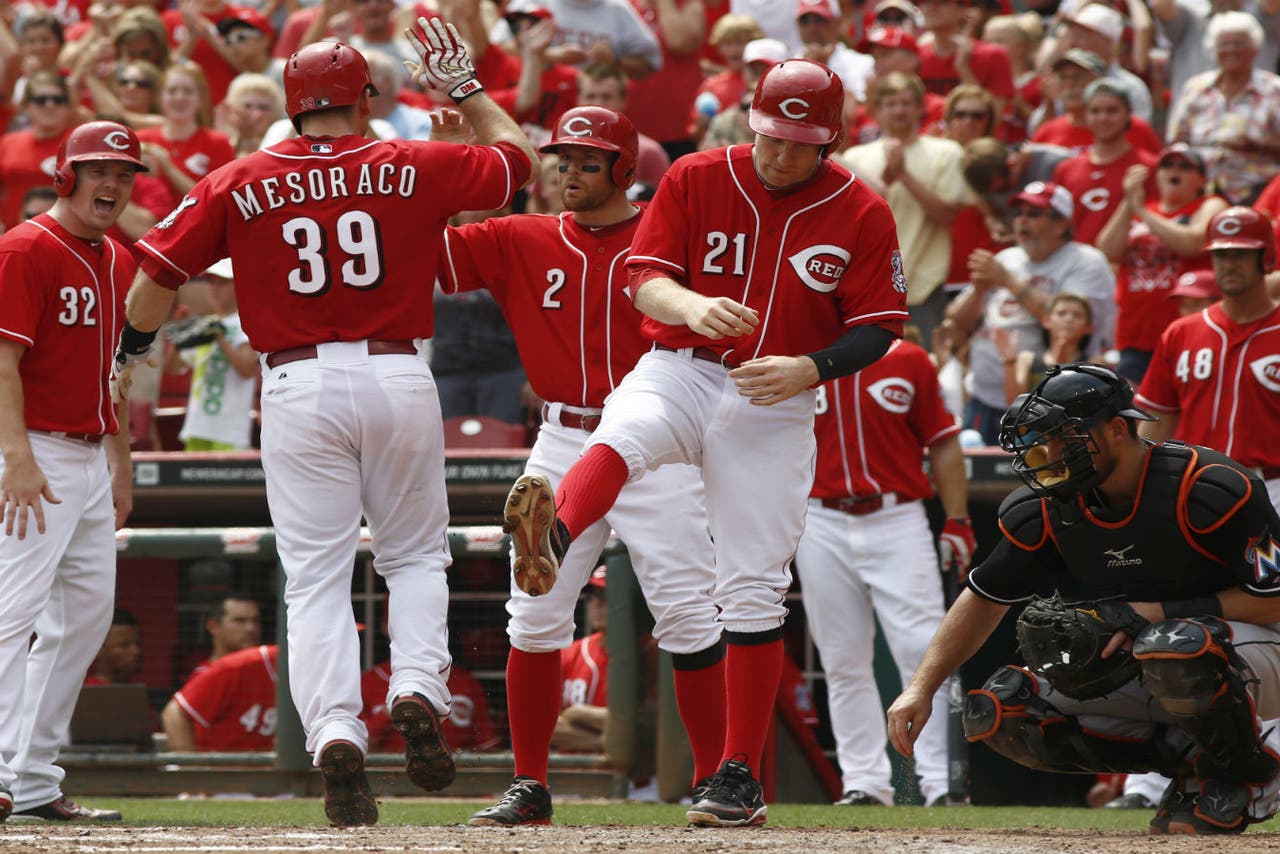 CINCINNATI --€" One thing is evident about Devin Mesoraco when he's at the plate: the guy doesn't get cheated. He might not always get the ball, but he does not get cheated of his opportunities.
Mesoraco got to the ball twice Sunday for home runs, including his third grand slam of the season, as the Reds beat the Miami Marlins 7-2 and avoided a three-game sweep. Mesoraco drove in a career-high six runs and became the first Reds catcher to reach 20 home runs in a season since Eddie Taubensee hit 21 in 1999.
And just think, Mesoraco probably wouldn't have been playing if not for a hamstring injury to Brayan Pena, who has caught the majority of Johnny Cueto's starts this season.
Mesoraco had gotten the chance to speak with Hall of Fame catcher Johnny Bench this week -- Bench is in town as part of the Reds Hall of Fame weekend -- and the two talked their shared craft plus a little hitting. Bench suggested he relax his hands a little at the plate.
He was pretty relaxed in the first inning when he drove a pitch from Miami starter Brad Hand 390 feet to center field with Jay Bruce on base to give the Reds a 2-1 lead. He came to bat in the fifth inning with the bases loaded and Hand feeling more than just the humidity.
Hand had walked just six in his previous 31 2/3 innings but walked three in the fifth inning, including Bruce and Todd Frazier in consecutive at-bats prior to Mesoraco. He didn't expect to face Hand, a left-hander. He thought Marlins manager Mike Redmond would go to the bullpen where right-hander Sam Dyson was warming up.
Redmond left Hand in the game.
"You see the way that those guys took a lot of pitches and were able to not give in and swing at a pitch that he wanted them to, so you go up there a little more patient and just trying to get the one you're looking for in the middle of the plate," said Mesoraco. "I was able to do that."
This was the seventh time this season Mesoraco has come to the plate with the bases loaded. He's now delivered hits six times and driven in 16 runs. His 61 RBI are second on the club to Frazier's 62. He leads the major leagues in home runs by a catcher. He leads the Reds in slugging percentage (.580) and his on-base percentage (.366) is also tops on the team.
Not bad for guy who is in his first season with an everyday position. When the Reds traded with San Diego a couple of years ago and acquired pitcher Mat Latos they sent catcher Yasmani Grandal to the Padres as part of the deal. That sent the message that Mesoraco was their catcher of the future. The trade of Ryan Hanigan to Tampa Bay this past offseason made Mesoraco the catcher of the present.
"I think there's a certain something to be said about knowing that you're going to play even if you get off to a slow start," said manager Bryan Price. "I think the trade of Hanigan created an environment that he took advantage of, and that's that certain amount of ability to relax and not treat every start as the game that might get you more playing time."
Sunday was a rare day for Mesoraco to work behind the plate with Cueto. The Reds' ace and Pena have developed a good chemistry with each other as the season has progressed and there's been no reason to mess with success. Cueto's success continued as he went eight innings, allowing just two runs on five hits while striking out nine and walking two.
There were a couple of times when Cueto stepped off the rubber and had Mesoraco go through the signs again but for the most part the two were on page with each other. It was the fifth time they've been the starting battery for the Reds and the first time since July 13 against Pittsburgh. The Reds are now 4-1 and Cueto's ERA is 2.77 with the two working together.
"We do need to work with each other more but he's an easy person to work with," said Cueto through interpreter Tomas Vera. "When I work with him, he follows what I ask him to do and sometimes I'll listen to him as well. We just need to keep working more and more."
As important as Mesoraco's bat will be to the Reds' lineup the rest of the season, there's no doubt they'll get that work.
---