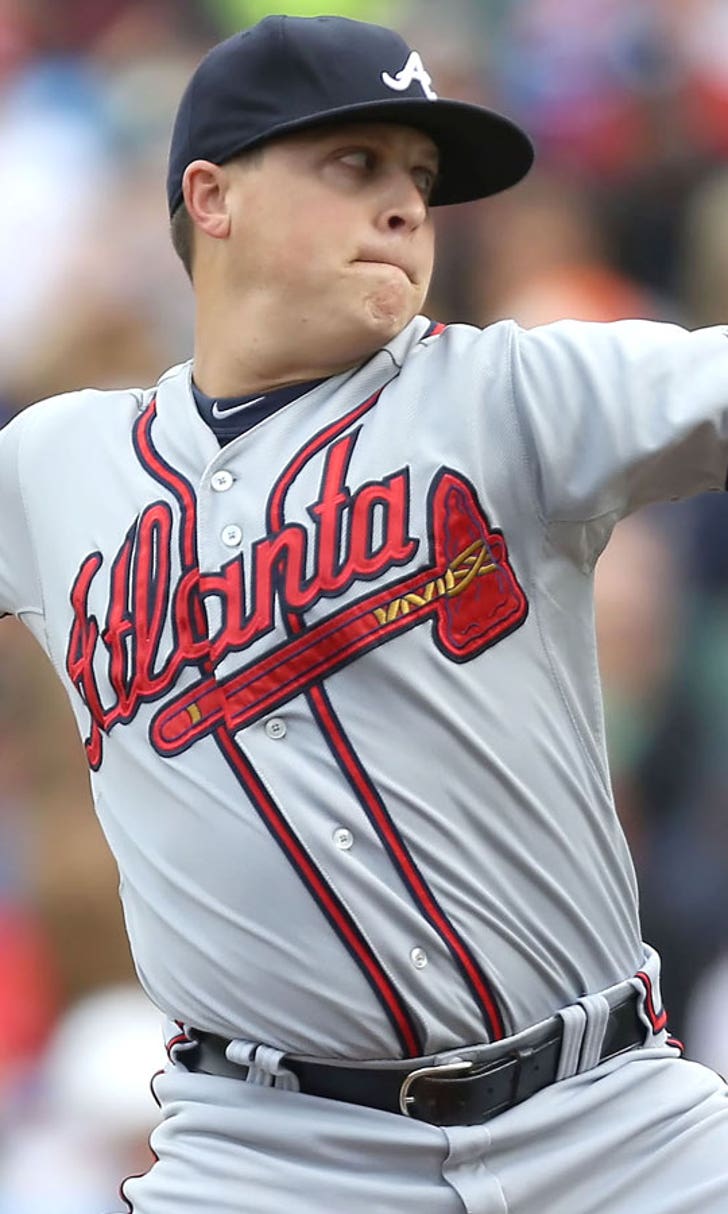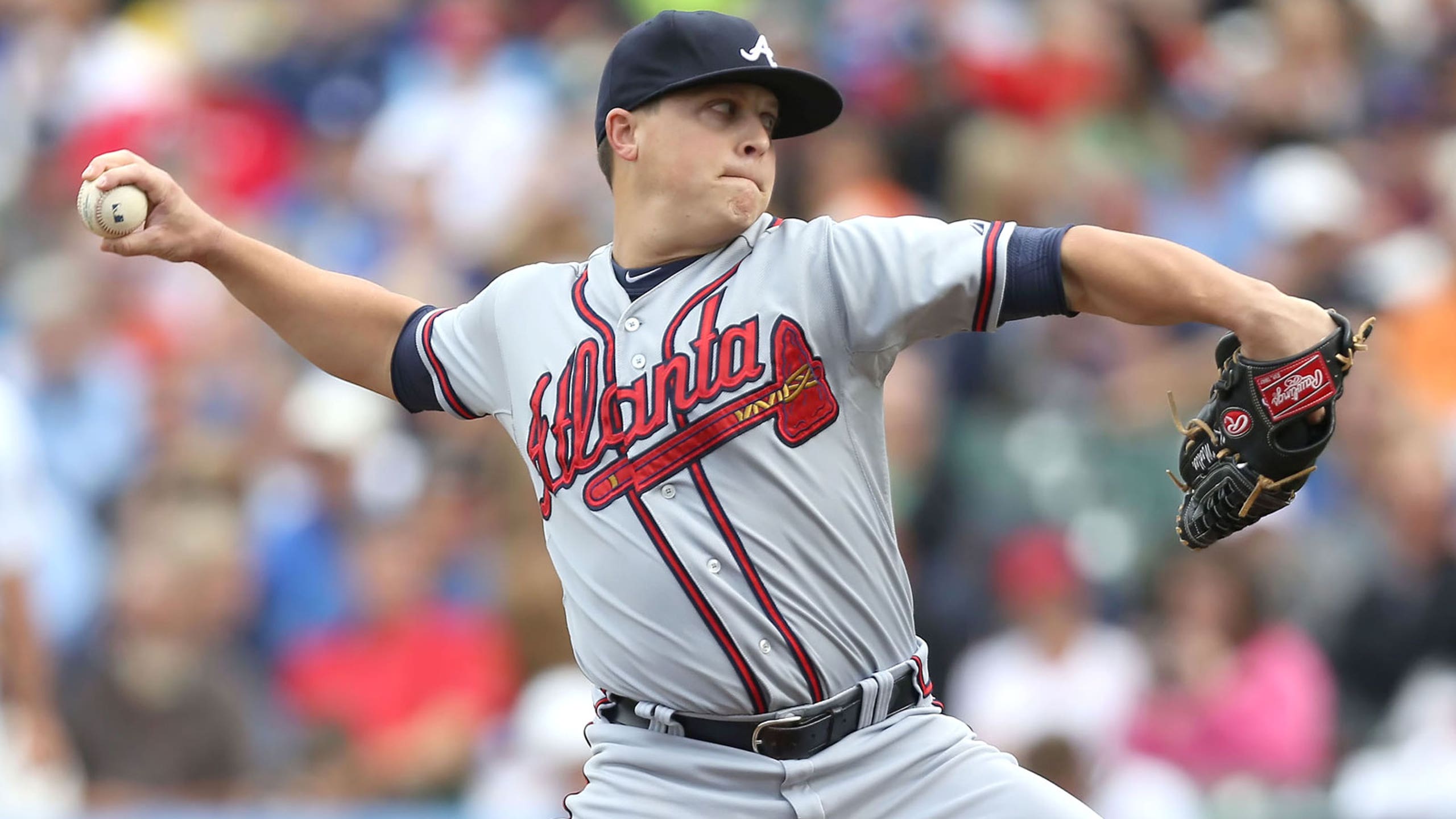 Medlen willing to go extra mile to combat cancer, anchor Braves
BY foxsports • February 19, 2014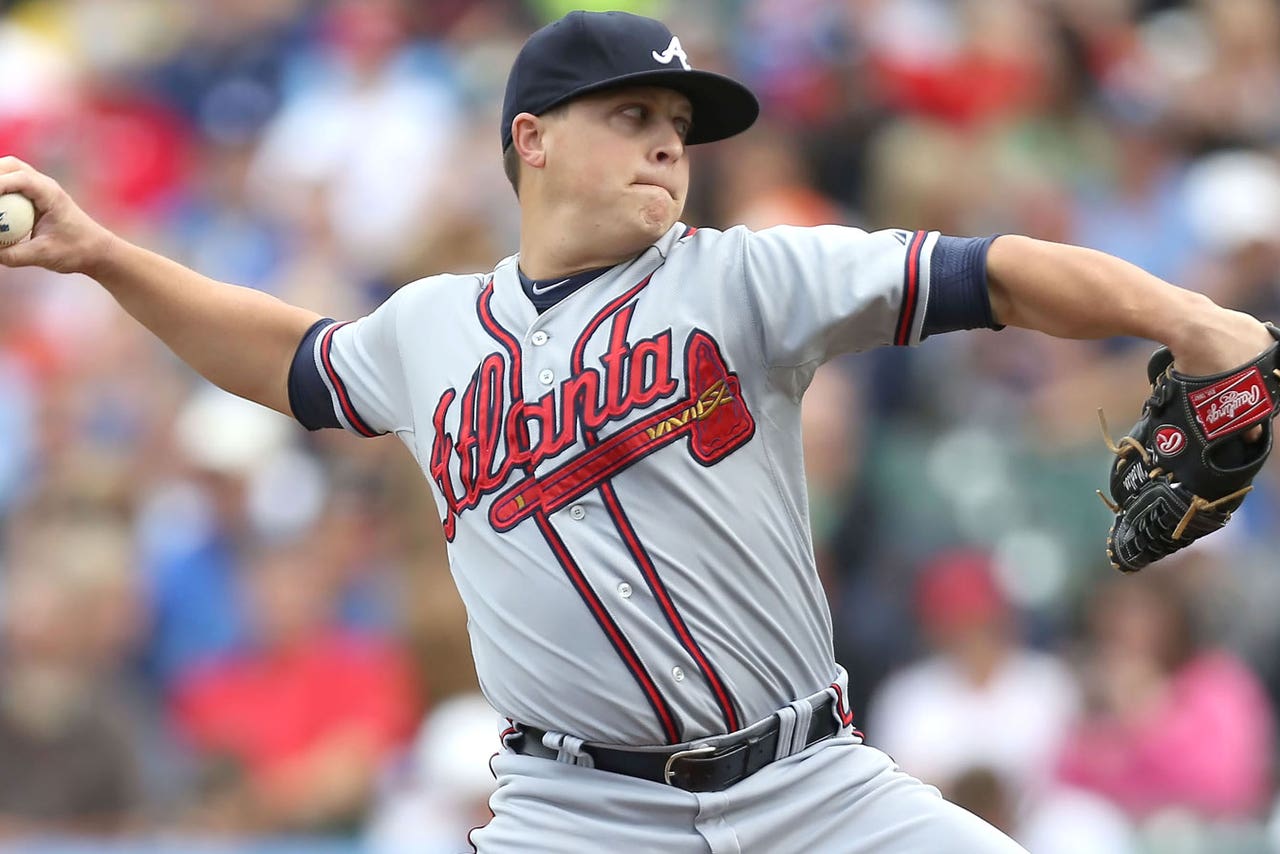 LAKE BUENA VISTA, Fla. -- It's an odd sight, watching someone with a full mop of hair get his head shaved -- before a group of interested onlookers -- without being draped by a barbershop-style cape that funnels the clipped locks to the ground.
But when you're Kris Medlen, one of baseball's hottest pitchers for the second halves of the last two seasons, and willing to go bald on live TV (FOX 5 news in Atlanta), there's also great value in letting the powerful "Braves" emblem/logo emblazoned on his uniform shine throughout such a worthwhile event.
On Wednesday morning, Medlen stepped up and eagerly became the face of the Rally Foundation For Childhood Cancer Research, donating his time, follicles and money to the cause.
In addition to allowing his head to be shaved -- with Gage Worley getting the first turn with the razor -- Medlen will donate $1,000 to the first 10 'Rally vs. Cancer' challenge participants who raise $1,000 for the cause. (For more information, click here.)
"They're all good kids, strong kids, who have been through a lot," says Medlen about the Rally Foundation's base of children, before sharing how he and wife, Nikki, were happy to succeed Brian McCann (signed with the Yankees during the offseason) as the charitable group's spokespeople.
This wouldn't be the first time Medlen underwent radical changes to the head area. In his precocious prep days, he occasionally colored his hair black and then shaved it off. He also has experience with the always-en-vogue 'mohawk' style.
On this day, though, there would be no fits of youthful rebellion, no symbolic means for launching another baseball season full of promise.
Instead, Wednesday's seven-minute shearing, with a host of Rally Foundation supporters and assembled media chronicling the event, was a high-profile show of solidarity for the ultimate goal of eradicating childhood cancer.
"Cut my hair? I'll do it a million times, if it helps raise a million bucks" for cancer research, says Medlen, who welcomed a child into his family in the winter of 2013.
* * *
From May 2 to Sept. 27 last year, spanning 26 starts and one relief appearance (extra-inning game on Aug. 17), Medlen was superb, allowing three or less runs 22 times -- including his final 10 outings.
In that 10-game finish, Medlen also fanned six-plus hitters six times.
The above numbers run complementary to Medlen's surreal 2012 campaign, going 10-1 with a 1.57 ERA, 0.91 WHIP and 157/47 K-BB rate -- over just 20 starts and 138 total innings.
If second-year pitcher Alex Wood exits spring camp as Atlanta's No. 5 starter, it will mark the first time since 1995 the Braves opened the regular season with a five-man rotation of twenty-something pitchers (age-wise).
(The quintet from that championship season -- the only world title for any major sport in Atlanta history -- included John Smoltz, Steve Avery, Kent Mercker and 2014 Hall of Famers Tom Glavine and Greg Maddux.)
The current youth rollout features Wood (23), Julio Teheran (23), Mike Minor (26), Brandon Beachy (27) and the 28-year-old Medlen, the elder statesman of a potential pitching rotation that has logged 237 combined MLB starts in the regular season.
But Medlen has the insight of a guy beyond his age, finding serene comfort in being a family man, the present face of a charitable outreach and the pitching ace of a championship-ready club.
"I wouldn't get rattled by anything like (getting shaved on live TV), since I know what I'm doing it for," said Medlen. "Once you see the (Rally) kids and you meet the kids, they're regular kids ... and I just want to step up to the plate for them. It's a great cause, and I did not hesitate to be a part of it."
Medlen also supports teammates Jason Heyward, Craig Kimbrel, Freddie Freeman and Teheran landing multiyear contract extensions over the last few weeks. Regarding his own situation, Medlen -- who's eligible for free agency after the 2015 season -- says there's value in "being comfortable."
"(Atlanta) is a place that I love. I'm so ingrained in this organization from the minors on up," says Medlen, extolling the virtues of the Braves' comprehensive mantra of playing hard, playing the right way, showing up on time and emphasizing "the little things you need to be successful."
* * *
A decade ago, when the California-based Medlen was a student-athlete at El Camino College (Los Angeles County), his school coolly served as an "on location" venue for the Adam Sandler-led comedy, The Longest Yard (2005 premiere).
He also has vivid recollections of El Camino's football field being bordered with barbed wire (accentuating the film's 'prison' atmosphere), along with his brush with a future football Hall of Famer.
"I saw (longtime Cowboys receiver) Michael Irvin in the parking lot and yelled, 'Michael Irvin'" -- who then flashed a peace sign -- "and I was like, 'Holy crap! That was Michael Irvin and he said hi to me.'"
Fast forward to Wednesday morning. The early-to-rise crowd at Champion Stadium was similarly stoked to see Medlen shear his boyish locks for the Rally Foundation's cause.
They might have also been impressed with how easily the 5-foot-10 Medlen mixes into a crowd. Yes, he has a 19-5 record, 2.04 ERA, 0.99 WHIP and 178/35 K-BB rate for the July, August and September periods of 2012 and '13; but he still flashes the exuberance of a 4-year-old kid fielding grounders for the first time.
Medlen's elite-level numbers in the latter half of the previous two seasons may be easy to break down -- but it's a process that cannot be easily replicated.
Even established veterans need time to develop their pitches every season.
---
---