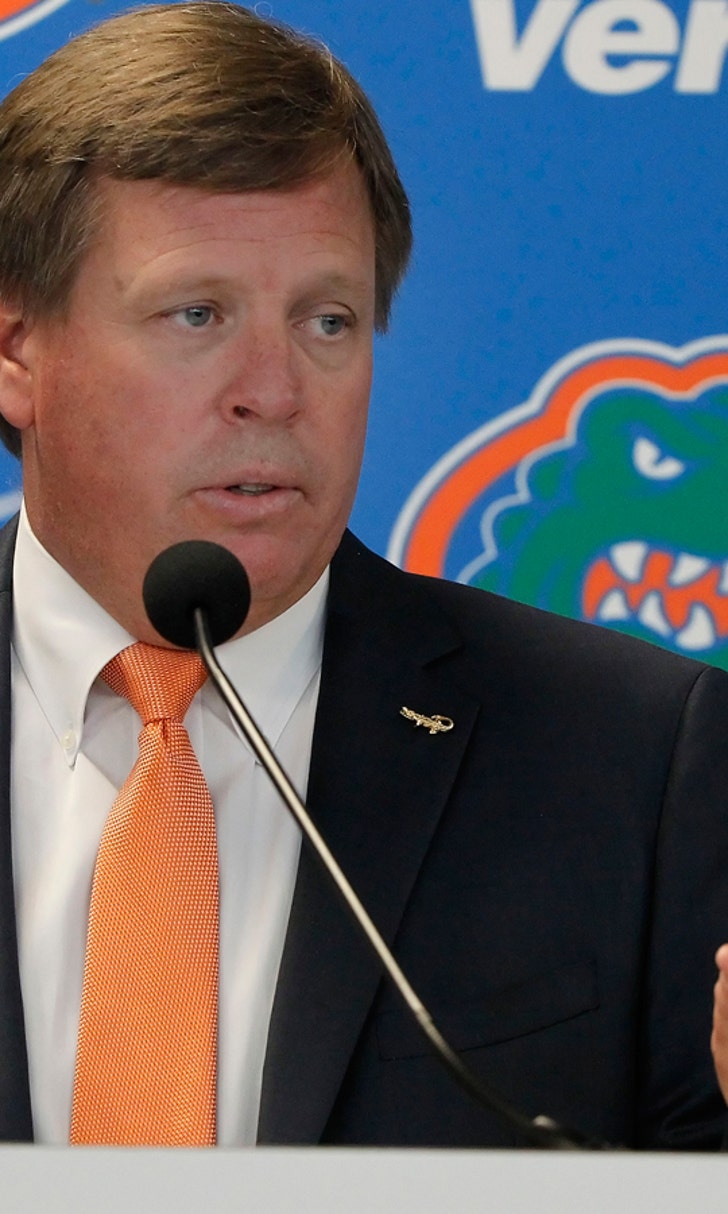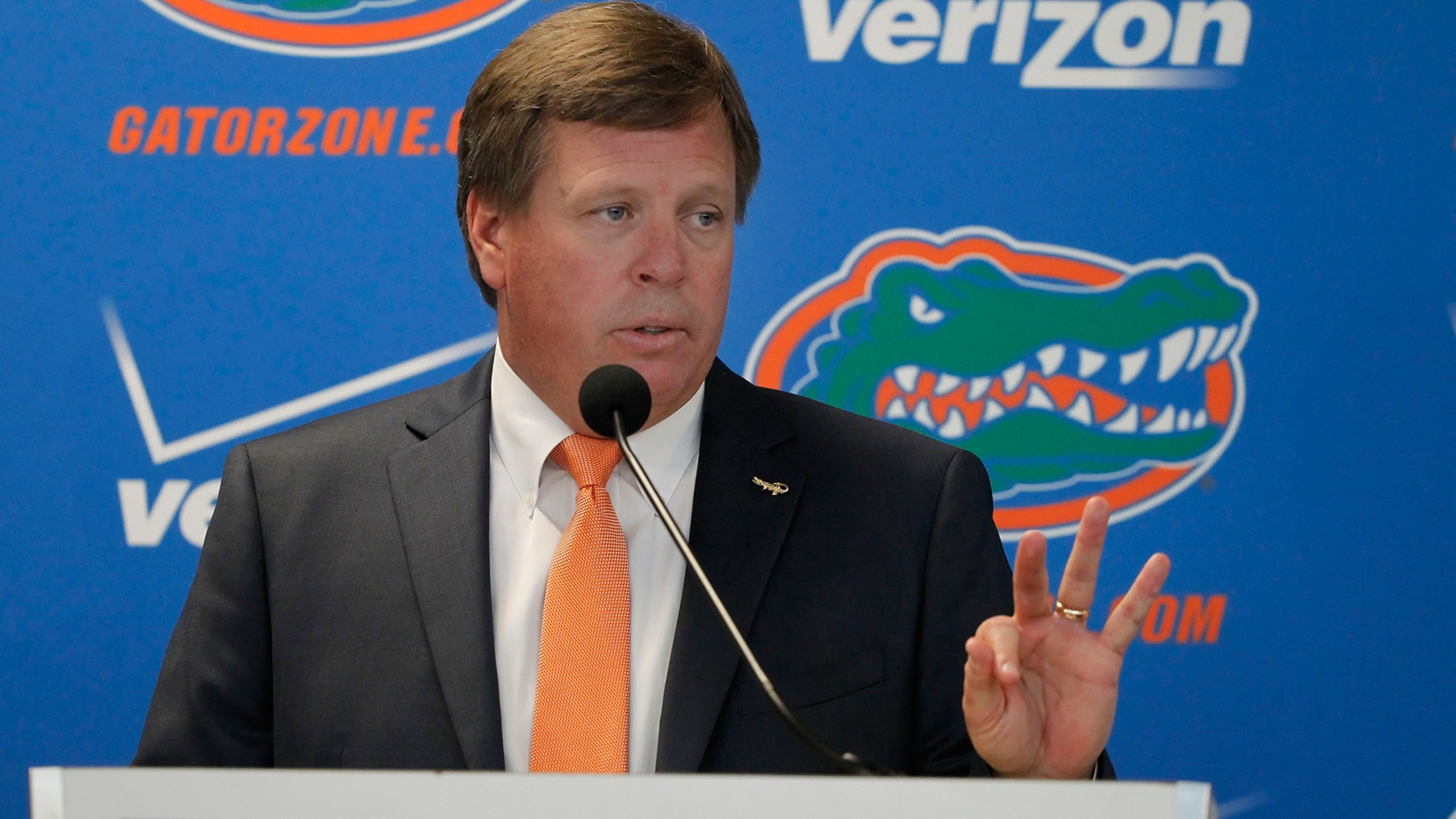 McElwain's first Gators class could get boost on National Signing Day
BY foxsports • February 3, 2015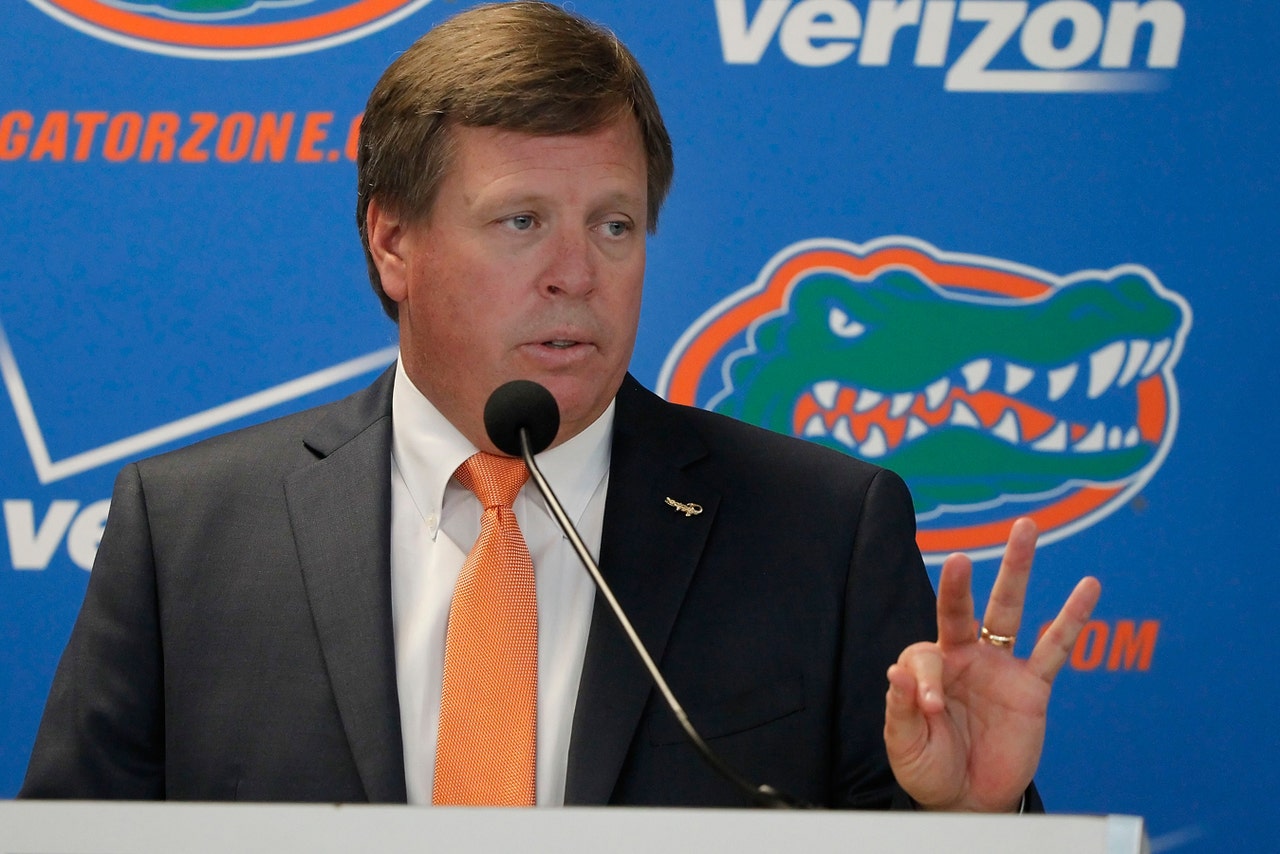 At first glance, Florida's recruiting class should provide more jeers than cheers on National Signing Day.
Scan Scout.com's rankings as of late Tuesday morning, and find a reason to roar. There are familiar SEC brethren in the top three -- Alabama, Tennessee and Georgia -- then Michigan State, Ole Miss and Oregon round out the top 20 and, heck, even Miami checks in tied at No. 34.
But keep looking down, down, down to find the bruised orange and blue, sitting there at No. 51 -- one spot behind Minnesota and one ahead of Indiana -- which is no occasion for pomp or a hearty chomp.
This tumble was predictable, of course. The Gators ushered in the Jim McElwain Era in December, after sweeping Will Muschamp into a dustbin, after a miserable 11-13 run in the past two seasons, after going from living it up in the SEC East's penthouse to mopping its floors with a toothbrush.
The Gators' recruiting class, to be made official Wednesday when hope is born on dotted lines throughout the country, reflects the tectonic shift that has taken place in Gainesville in recent months. Still, there's something to be gained as the program settles into a new reality: The goal for National Signing Day should be building momentum for future classes, not glancing back at failures of the recent past.
"I think it's just about positive momentum," said Brandon Huffman, director of recruiting for Scout.com. "I think it's all about trying to get guys. If you can bring in some of the elite talent, that's great. But I think it's important for them to be able to pull in a couple of (elite) guys, because it would kind of give the coaching staff confidence moving forward, that they can be pretty active on the recruiting trail, that they can get guys in a full-year's cycle rather than just a month-and-a-half's cycle."
There are three names to watch in the Gators' attempt to spark their mojo. There's offensive tackle Martez Ivey, a five-star prospect from Apopka, Florida, who Scout.com considers the best at his position in the country. There's defensive end Byron Cowart, a five-star prospect from Seffner, Florida, who Scout.com considers the second-best at his position in the country. There's defensive end CeCe Jefferson, a five-star prospect from Glen Saint Mary, Florida, who Scout.com considers the third-best at his position in the country.
Bagging one or more of the three would add sizzle to a frigid winter on the recruiting trail for the Gators. Their current list of commits on Scout.com stands at 16, with no five-star talents in the group. There are just two players with four-star rankings: Running back Jordan Scarlett from Fort Lauderdale, Florida, and wide receiver Derrick Dillon from Franklinton, Louisiana.
The possibility of a top 25 class waved "bye, bye" long ago.
Yet a chance to say "hello" for the future remains.
"There's an opportunity for them to build moving forward," Huffman said.
"I think what makes it more important, kids nowadays look and see what the previous class was like. ... If they can close with those (elite) kind of guys, then I think that gives the younger classes a chance to say, 'Hey, CeCe Jefferson bought in, Byron Cowart bought in, Martez Ivey bought in. They had everybody in the country after them, and they took a chance on Florida.' I think that gives them momentum going into future classes."
Gaining momentum should be the goal for McElwain's staff throughout 2015. Gain momentum in earning players' trust. Gain momentum in instilling a vision. Gain momentum on the practice field. Gain momentum on fall Saturdays in closing the gap between what the Gators were in Muschamp's final two years and what they want to be.
Build. Make others believe.
The climb to become a perennial contender again starts with National Signing Day, and the faces that figure to be welcomed at The Swamp will be on the ground level of rebirth. Huffman sees potential in Dillon, whose strengths on Scout.com include "elusiveness with catch," "running ability" and "speed." He also likes the possible ceilings of three-star tight end Daniel Imatorbhebhe -- "Has a chance to be used well in the offense," Huffman said -- and three-star center Tyler Jordan, who Huffman says has a "high football IQ."
"I think they would much rather have the help on the offensive side of the ball," Huffman said, "especially with McElwain being an offensive-minded guy."
That's why snagging someone like Ivey could be so important. Securing his talent to bolster offensive line depth would help. But the message that would come with Ivey's ink would be added icing: Hey, a top prospect, one that heavyweights like Auburn and Alabama coveted, one that considered LSU and Florida State and more, chose Florida.
He bet on the orange and blue for the future. He bet on recovery. He bet on renaissance.
That's McElwain's mission on National Signing Day: Turn hope into reality. Make momentum happen.
After all, there's no time to waste in trying to bring back the roar once more.
KEY ANNOUNCEMENT TIMES
WR Antonio Callaway: 9 a.m. (Miami, Florida, Florida State)
DE Byron Cowart: 9:10 a.m. (Florida, Auburn, Florida State)
OT Isaiah Price: 9:30 a.m. (Maryland, Alabama, Ohio State, Florida)
WR Ryan Davis: 10 a.m. (Florida, Florida State, Auburn, Kentucky)
LB Roquan Smith: 10 a.m. (Georgia, Florida, Michigan) 
RB Dexter Williams: 11 a.m. (Notre Dame, Florida, Louisville)
OT Martez Ivey: 11:30 a.m. (Florida, Auburn)
ATH Jordan Cronkite: 1:15 p.m. (Florida, Miami, West Virginia)
LB Jeffery Holland: 2 p.m. (Auburn, Florida)
DE CeCe Jefferson: 2:30 p.m. (Florida, Ole Miss, Auburn, FSU)
You can follow Andrew Astleford on Twitter @aastleford or email him at aastleford@gmail.com.
---