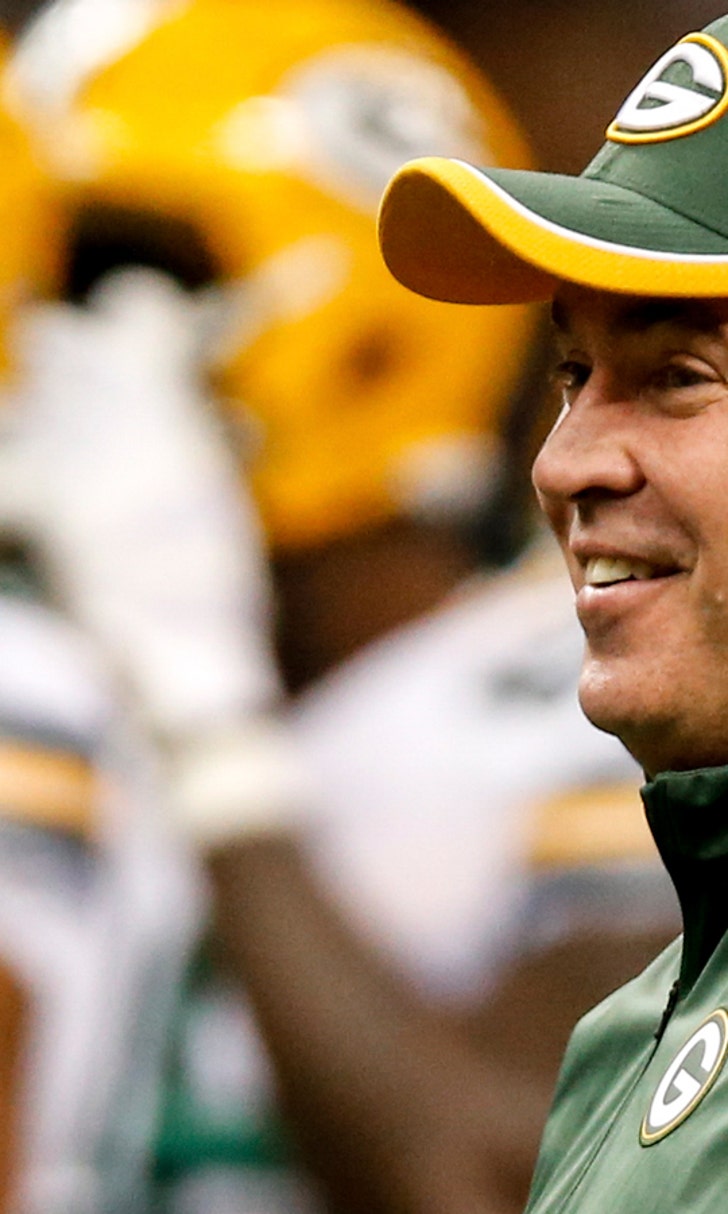 McCarthy happy with close win, looking forward to Packers-Patriots
BY foxsports • November 24, 2014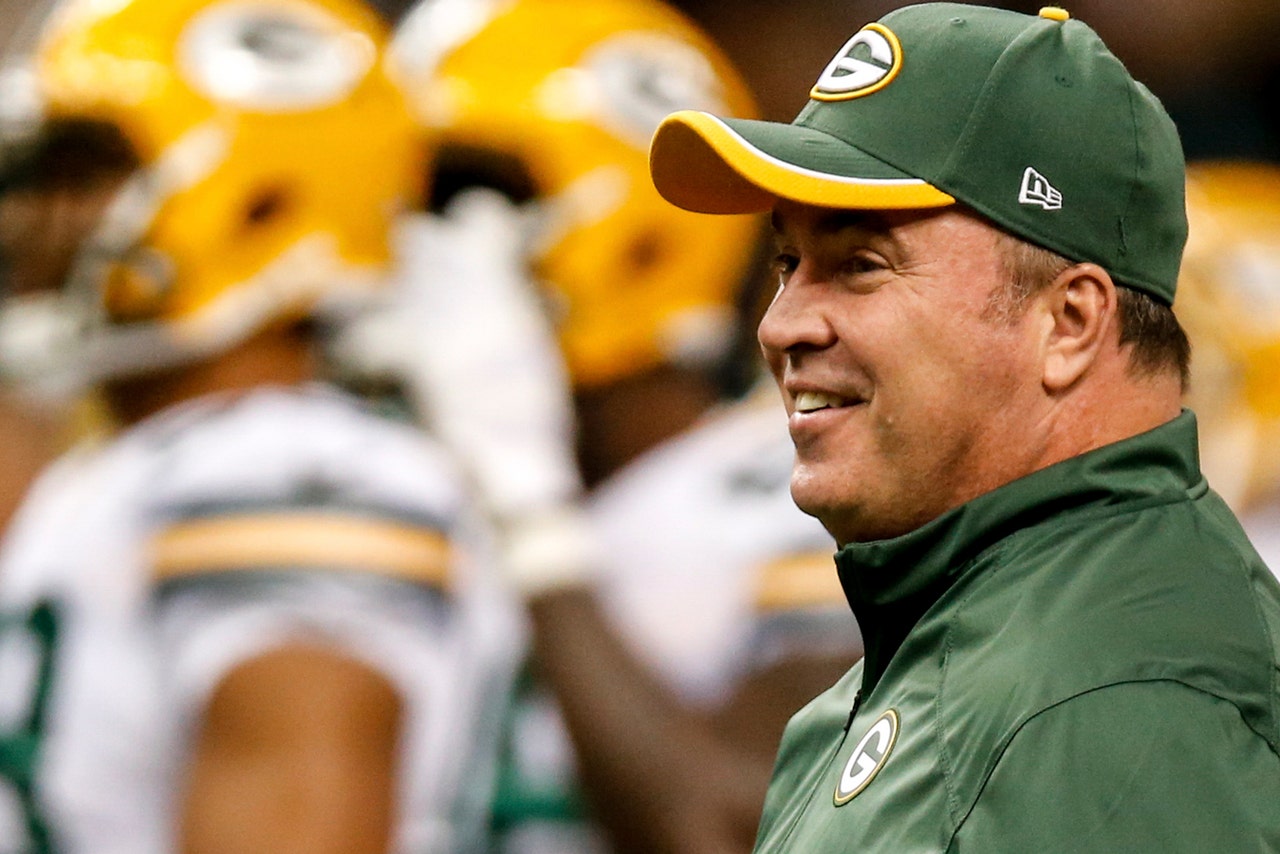 GREEN BAY, Wis. -- There have been a lot of blowout victories enjoyed by the Green Bay Packers recently. While some expected that stretch to continue Sunday against the Minnesota Vikings, it was instead a closely contested game that required success rushing the ball in the final minutes in order to run out the clock and win.
Aaron Rodgers actually had to play in the fourth quarter, Eddie Lacy far surpassed his previous season-high in carries and the Packers defense had to play with a lead no greater than 11 points. That's much different than Green Bay's Week 10 and 11 games when the outcomes were essentially decided by halftime, Rodgers wasn't needed at all in the final quarter and Lacy had fewer carries combined than he did in Minnesota.
But for head coach Mike McCarthy, this was just what the Packers needed.
"It's another experience you can draw from," McCarthy said. "Winning close games is something you have to have in November, December and as you go into playoff football. It's definitely something that you can build off of. Any time you have success, and even when things don't go your way, they are experiences and you can learn from it.
"It was good for us to have that type of win."
That experience could pay immediate dividends as Green Bay's competition now takes a considerable step up. In what could very well be a Super Bowl preview, the 9-2 New England Patriots travel to Lambeau Field this weekend for a showdown of two elite teams.
The roll that New England is on right now is perhaps even more impressive than what the Packers have accomplished. The Patriots are coming off a 25-point home win over the Detroit Lions, a result that gave Green Bay sole possession of first place in the NFC North. Before that, New England went to Indianapolis and beat the Colts by 22 one week after defeating the Denver Broncos by 22.
Those three most recent Patriots victories were against teams that currently have a record of 22-11. The Packers, meanwhile, are 2-2 this season against teams that have winning records through Week 12.
"We have a lot of respect for their football team," McCarthy said. "I'm definitely looking forward to it. These are games that when the schedule comes out, you look at it and you're hopeful both teams are in a very good place, which both teams are. Both teams have good records, and I think it should be a heck of a game."
Far more often than not, Green Bay goes into a game with a distinct advantage at quarterback. Aaron Rodgers is so much better than recent-opponent quarterbacks like Teddy Bridgewater and Mark Sanchez that those teams have to play significantly better than the Packers in other areas just to be competitive. That isn't going to be the case Sunday when Tom Brady arrives.
"When you're playing against these quarterbacks like Brady, it's like having a coach on the field," defensive coordinator Dom Capers said. "Kind of like what Aaron does where he calls a lot of the game and has the flexibility to change things on the field. You have to be on top of your game in terms of the alignments, the disguise, those pre-snap reads. So, hopefully you don't let them get into a rhythm, because he's as good as there is."
The last time Green Bay faced a great quarterback, Drew Brees had his way en route to a 21-point Saints win in Week 8. Brees threw three touchdowns, no interceptions and finished the game with a 138.4 passer rating.
Brady is having another great season to add to his Hall of Fame career, throwing 26 touchdowns and only six interceptions so far.
"There's not a lot of margin for error when you're going against a quarterback that's done it for as long as he's done it with the level of efficiency he's done it with," Capers said. "There's not many things he hasn't seen. If those quarterbacks get a pre-snap read, you don't disguise, they know where they're going with the ball, they're very efficient at getting the ball to the people they want to go to."
The Packers' defense has done well this season against the pass, ranking second in the league with 15 interceptions and 10th in sacks. That gives Green Bay good reason to stick to its gameplan, even when it is about to see the best competition of the season.
"We're not going to make a bunch of changes," McCarthy said. "We like the football team that we are, and we look forward to the competition."
McCarthy had seen film on New England already by Monday afternoon. For obvious reasons, he came away impressed with an offense that ranks first in points scored and a defense that's in the top 15 in the key defensive categories.
But whether it's this already-much-hyped game with the Patriots or the Week 14 matchup against the 4-7 Atlanta Falcons, McCarthy is going to stick to the plan.
Having won seven of the last eight games, that's a plan that has worked. Whether it's good enough to beat New England, that question will be answered soon.
"We're going to get too far away from the video screen," McCarthy said. "We're going to stay true to our process and our preparation regardless of who comes out of the tunnel at Lambeau Field. It's a home game. There will be a great crowd.
"They're an excellent football team. They deserve all the respect that they get right now for not only being an excellent football team this year but what their program and what their organization has done over the last 10 to 15 years. We get all that. We respect that, but we'll be working all week to win the game on Sunday."
Follow Paul Imig on Twitter
---
---